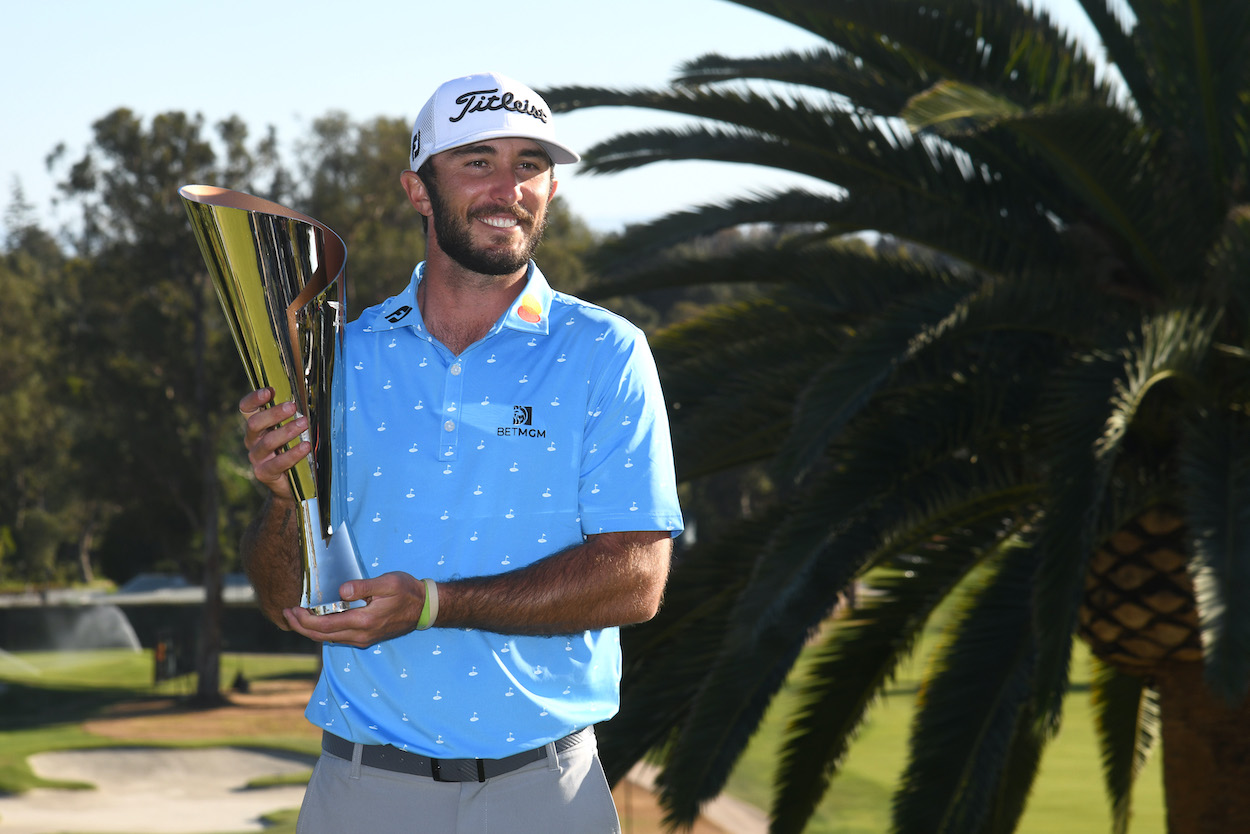 2 Simple Words From Max Homa's Wife Helped Him Shake Off an Embarrassing Blunder to Earn His 'Dream' PGA Tour Win
After missing a three-foot putt to win the Genesis Invitational, Max Homa got some perfect advice from his wife to propel him to victory.
"Forgive quickly."
That's exactly what Max Homa needed to hear after he missed a three-foot birdie putt on the 72nd hole to win the 2021 Genesis Invitational. Instead of walking up the hill to accept the trophy from Tiger Woods himself, Homa had to reset and get back on the course for a playoff against Tony Finau.
Thankfully for him, Homa was able to speak with his wife, Lacey, before the playoff began, and she gave him the perfect advice to bounce back from his embarrassing blunder and earn his "dream" PGA Tour win.
Max Homa misses three-foot putt to win Genesis Invitational
As Max Homa walked up the 18th hole at Riviera Country Club on Sunday, he knew what he needed to do. Homa was tied for the lead with Tony Finau at 12-under par. A birdie on the 72nd hole of the tournament would give Homa the biggest win of his PGA Tour career.
A perfect drive down the middle of the fairway set him up for a green-light approach shot to the back-left pin. Homa calmly stepped up and knocked a wedge to three feet to all but seal the victory. He laughed and joked with his playing partners on his joyous stroll to the green as he soaked in his second career PGA Tour win.
Only, the job wasn't finished. Homa still had a short putt to win Tiger Woods' tournament and a cool $1.6 million. That type of pressure would make even the best players in the world clam up.
Homa, who was 55 of 56 putting from inside five feet on the week, shockingly lipped out his birdie putt on the 18th hole. He tapped in for par, and instead of walking into the clubhouse to sign his winning scorecard, Homa had to come right back out to the course to face Finau in a playoff.
A career-defining victory gone in a blink. How does one bounce back from a missed opportunity like that and regain their focus for a playoff? By seeking the advice of their loving wife, of course.
Max Homa's wife gave him two simple words of advice after his putting blunder
After Homa walked off the 18th green on Sunday, he was able to speak to his wife, Lacey, on the phone. With a whirlwind of emotions swirling in his head, Homa knew who could calm him down.
"I think I kind of choked a little bit," Homa bluntly told his wife on the phone.
"No, you played great, don't worry about it, don't forget to forgive quickly," she responded.
"Forgive quickly." It's the mindset all golfers strive to have, but none can truly master it. The next shot matters just as much as the last, and Homa still had a chance to win despite his missed putt.
Max Homa used his wife's advice to earn his "dream" PGA Tour victory
Thanks to a calming conversation with his wife, Homa was able to shake off his near-disaster and win the 2021 Genesis Invitational on the second playoff hole. Homa incredibly saved par from underneath a tree on the first playoff hole. He made a clean par on the second playoff hole, and when Finau missed his par putt on the same hole, Homa let out the biggest sigh of relief maybe of his entire life.
"I was shaking like a leaf," Homa said after the win. "This tournament means so much to me. My dad's been bringing me here since I was basically a baby. It's truly a dream come true."
Tiger Woods presented Homa with the championship trophy a little later than he would've liked.
"[Woods] told me, 'Way to hang tough' after I missed that putt on 18, and I told him I was embarrassed I missed a shortie in front of the most clutch athlete ever," Homa said. "That was a surreal moment. I have looked up to Tiger my entire life, and to be standing anywhere with him, let alone with the trophy in between us, was pretty cool."