How Much Does It Cost to Play Riviera Country Club?
Initially opened as the Los Angeles Athletic Club Golf Course in 1927, the famed venue now known as Riviera Country Club in Pacific Palisades was, at the time, one of the most expensive golf facilities ever built.
Originally designed by George C. Thomas Jr. and William P. Bell, the 18-hole championship course at Riviera Country Club has undergone several renovations over the years and currently plays as long as 7,322 yards.
Riviera first hosted the PGA Tour event currently known as the Genesis Invitational (formerly the Los Angeles Open) in 1929, also hosting the tournament the following year. After a decade-plus break, the tourney was played there in 1941 and then from 1945 to 1953. After a two-decade hiatus, the event returned in 1973 and has been played there nearly every year since, the only exceptions being 1983 and 1998.
The 1992 edition of the Los Angeles Open served as the PGA Tour debut of a then-16-year-old Tiger Woods, who now serves as the host of the Genesis, which benefits his TGR Foundation. Oddly enough, Woods' name is not included on the list of historic winners at the club, a list that also doesn't feature Jack Nicklaus.
Riviera Country Club was also the venue of the 1948 U.S. Open, the 1983 PGA Championship, the 1995 PGA Championship, and the 1998 U.S. Senior Open.
How much does it cost to become a member of Riviera Country Club?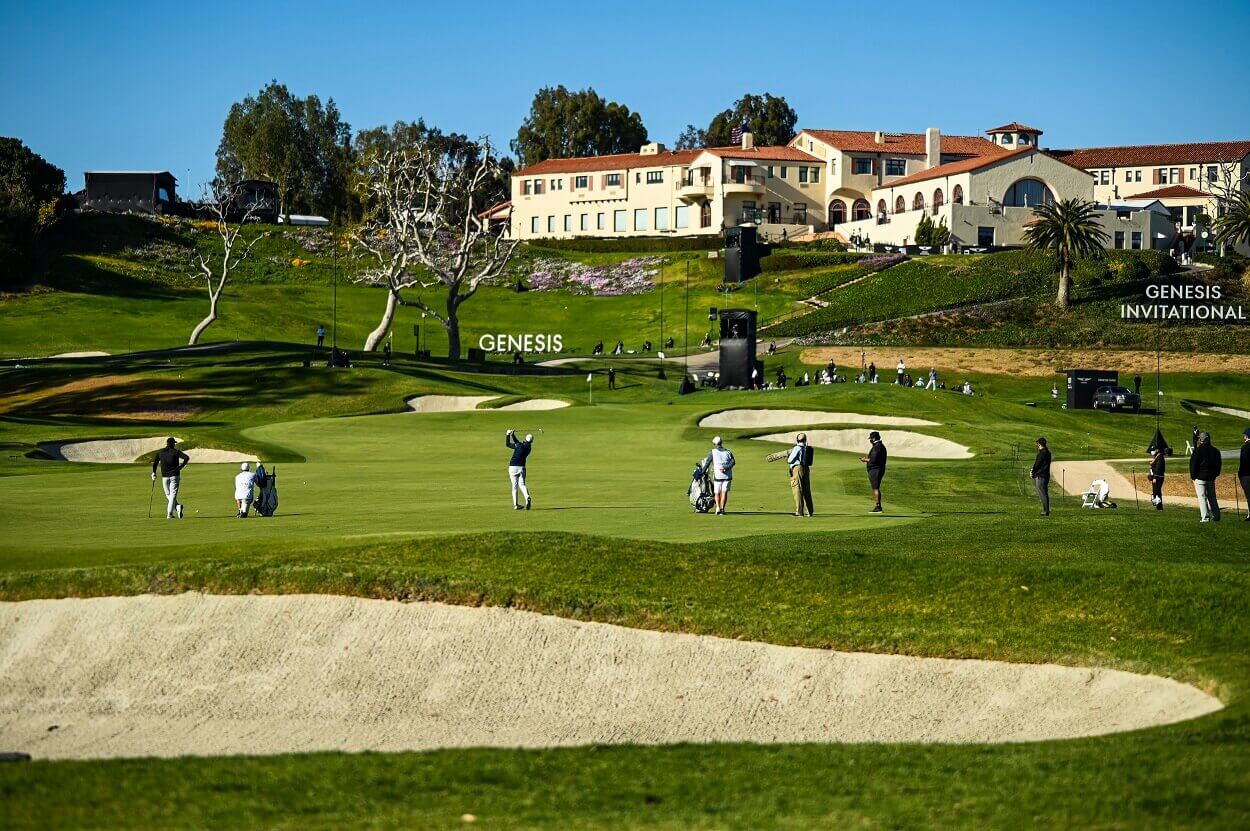 Unfortunately for the general public, Riviera Country Club is a private facility. And a costly one at that.
One of three clubs in the LA area to feature a membership list full of the rich and famous, the other two being Los Angeles Country Club and Bel-Air Country Club, Riviera has a higher number of members than the average country club, boasting a membership of around 1,500.
Initiation fees alone are in the $300,000 range, and that doesn't include the monthly dues. And even if you are lucky enough to know a member and get on, an 18-hole round will still cost you around $350 as a guest. But that's before the caddie fee and, of course, the tip.
But there are cheaper ways to play Riviera than ponying up the $300,000. For about $5,000, you can attempt to nab a spot in one of the charity events held at the club each year. Or you can buy one of the sought-after spots in the pro-am ahead of the Genesis Invitational, which will also run you a few grand.
So if you can swing any of that, you can swing at Riviera Country Club.