Brooks Koepka's Self-Described Perfect Ryder Cup Partner Sure Sounds a Lot Like Mortal Enemy Bryson DeChambeau
Brooks Koepka is looking for an emotional partner in the upcoming Ryder Cup.
The 2021 Ryder Cup is just about a month away, and the U.S. team is starting to take shape ahead of the biannual clash against the Europeans. We know Brooks Koepka will be repping the Red, White, and Blue at Whistling Straits next month, as will his mortal enemy and PGA Tour rival, Bryson DeChambeau.
Koepka has firmly stated that he doesn't want to be paired with his biggest foe at the Ryder Cup, but he just unintentionally described DeChambeau as his perfect partner in the event.
Oops.
Brooks Koepka desribes his perfect Ryder Cup partner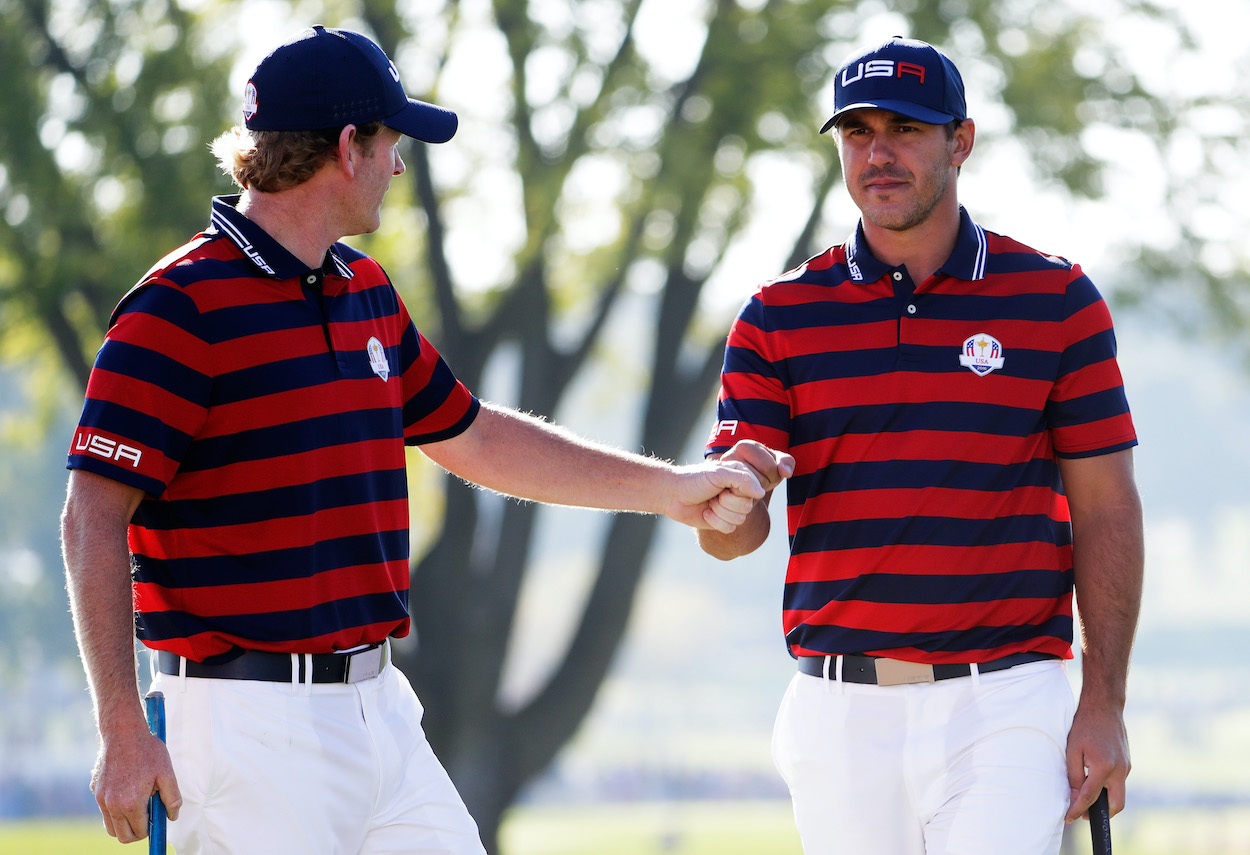 Koepka isn't the most emotional golfer in the world, to say the least. He's become famous for his stoic demeanor on the course at all times, and he rarely succumbs to the unrelenting pressure that comes with being a top PGA Tour player.
So, when the man with no emotions thinks of his perfect match play partner for the Ryder Cup, he understandably looks for a player with some competitive fire to balance him out.
"I like an enthusiastic guy," Koepka said this weekend, per Zephyr Melton of Golf.com. "Like I thought Brandt Snedeker was perfect for me when I played. A guy that gets high, gets low, gets excited. I don't show that. I really don't have those feelings. So it's kind of fun for me when I can kind of experience those."
Koepka played two matches with Snedeker in the 2016 Ryder Cup at Hazeltine, and the duo won both handily. The only other doubles match Koepka played that week was with Dustin Johnson, another one of golf's stoic bombers. They lost 3&1.
"I just prefer when a guy is very enthusiastic," Koepka said. "With that being my first Ryder Cup, I learned what I liked early. I think that's beneficial for me, but you know, certain guys will say different things. You know, said what I like or what I like in a partner that I'm playing with. We'll see. At the end of the day, it's up to them. I don't exactly get to choose who I play with, but you know, they will put the best team out there that they can."
Bryson DeChambeau sounds like the ideal partner for Koepka
OK, so Koepka wants to play alongside a fiery competitor who can bring some rare emotion out of him during the Ryder Cup. Let's see who on the current U.S. squad matches that criteria, shall we?
Collin Morikawa? Definitely not an overly enthusiastic player.
Dustin Johnson? Hard no.
Justin Thomas? Sure, he's got some fire.
Xander Schauffele? He might show even less emotion than Koepka on the golf course.
That leaves us with just one more automatic qualifier for this year's event: Bryson DeChambeau.
Enthusiastic? Check. Wears his emotions on his sleeve? Double Check.
Based on the parameters Koepka laid out for his ideal partner, DeChambeau might just be the best fit.
An unlikely dream pairing at the Ryder Cup
As much as golf fans would love to see Koepka and DeChambeau in the same group at Whistling Straits, it's an extremely unlikely scenario. Just ask Koepka himself.
"I'm not playing with him," Koepka said at the Open Championship last month. "I'm pretty sure we're not going to be paired together, put it that way. I think it's kind of obvious. It doesn't matter. We're not going to be high fiving and having late-night conversations."
Team captain Steve Stricker will have plenty of options in terms of pairings for both players. They might be teammates for a few days next month, but that's all they'll be.