Tiger Woods Gives His Special Blessing for Longtime Caddie Joe LaCava to Carry Another PGA Tour Star's Bag in the FedEx Cup Playoffs
Tiger Woods' longtime caddie, Joe LaCava, has been out of a PGA Tour job for eight months now. Obviously, it hasn't been any fault of his own, as LaCava's boss fractured his leg in multiple places during a scary car accident back in February and has no timetable for his return to professional golf.
But ahead of the Northern Trust this weekend, LaCava has picked up a substitute gig for one of the leading contenders to hoist the FedEx Cup trophy next month: Patrick Cantlay.
Don't worry, he ran it by Tiger first.
Joe LaCava has been sidelined with Tiger Woods for nearly a year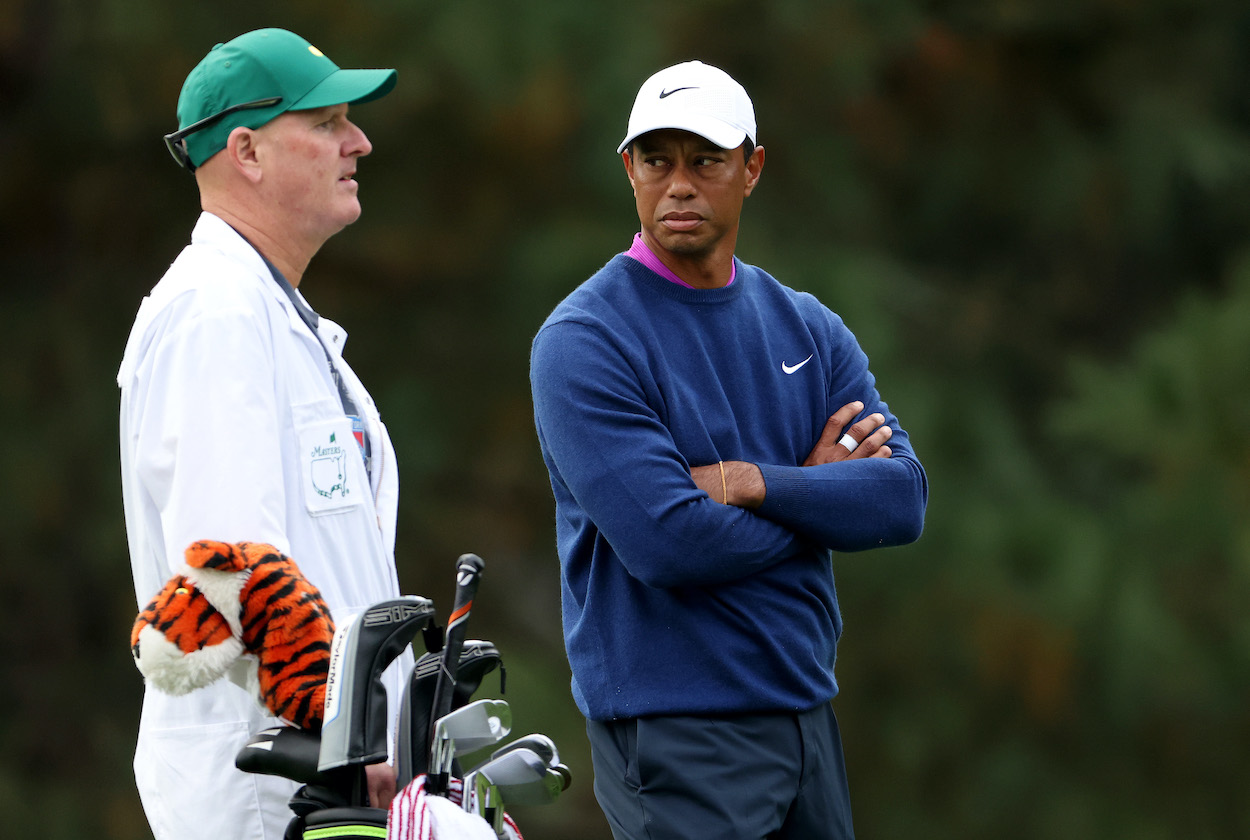 LaCava has held one of the greatest gigs in golf for a decade now. He teamed up with Woods in 2011 and has been on his bag ever since.
The job hasn't come without its fair share of negatives, though. Woods has missed extended periods of time with various injuries over the last several years. In February, the 45-year-old suffered one of his most devastating injuries yet when he drove his car off the road and suffered multiple fractures in his right leg and ankle.
Since Woods hasn't been able to compete on the PGA Tour all year, LaCava hasn't been able to loop. The legendary caddie did pick up the bag for his old boss, Fred Couples, for a PGA Tour Champions event in June, but he hasn't been back on the PGA Tour since last December's unofficial PNC Championship.
That's a long time to go without picking up a paycheck, so LaCava is getting back on the golf course this weekend for another star player.
LaCava back on the bag for Patrick Cantlay at the Northern Trust
LaCava probably didn't expect to be called into action any time soon considering his boss is still months away from even thinking about returning to the PGA Tour, but you always have to be ready to go as a professional looper.
Ahead of this weekend's Northern Trust at Liberty National Golf Course, Cantlay's caddie, Matt Minister, tested positive for COVID-19. He won't be able to carry a bag for the first round of the FedEx Cup Playoffs, so Cantlay pegged LaCava as his replacement.
"I ran it by Tiger first," LaCava said this week, per Bob Harig of ESPN.
Woods' caddie hoping for a $1.7 million performance from Cantlay
LaCava will just be happy to be back on the PGA Tour circuit this weekend, but he wouldn't hate a strong performance out of his new boss.
If Cantlay wins the Northern Trust, he'll bank $1,710,000. With caddies usually receiving 10% of a player's earnings every week, that would give LaCava a hefty $171,000 payday for the substitute gig. And if Cantlay goes on to win the FedEx Cup Playoffs, you'd have to think some of that $15 million prize would go to LaCava as well.
Cantlay is ranked No. 3 in the standings heading into the first round of the postseason, so he's right in the mix with three tournaments left to play.