Collin Morikawa Is Channeling Tiger Woods With His Insatiable Hunger for Greatness: 'I Want More'
Collin Morikawa is drawing comparisons to a young Tiger Woods after winning two major championships in just eight tries. But there was more to Woods than just trophies and clutch shots under pressure. His relentless will to win set him apart from the rest of the PGA Tour during his prime, and it eventually led to 15 major victories.
At just 24 years old, Morikawa already possesses the same killer mentality and hunger for greatness that Woods had at the same age. Could the next Tiger already be in our midst?
Collin Morikawa's early success similar to Tiger Woods'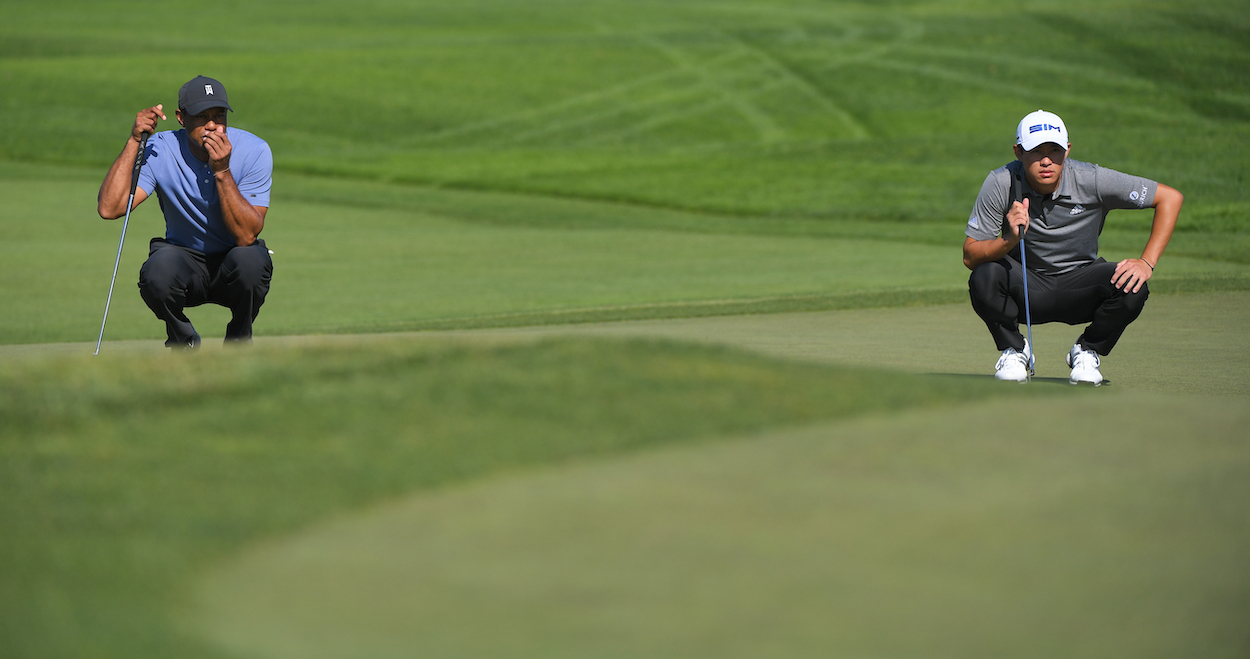 Professional golfers aren't supposed to do what Morikawa is doing so early in his career. The 24-year-old has already won five PGA Tour events and two majors in just two full seasons on golf's premier circuit.
According to Justin Ray of Twenty First Group, Morikawa is the first golfer since Bobby Jones to win two majors in eight or fewer starts. He's also just the second player in history (Woods is the other) to win the British Open and the PGA Championship before age 25.
We haven't seen this type of winning prowess at such a young age since Woods burst onto the professional golf scene in the late 1990s.
A Tiger cub has been born, and he's just starting to roar.
Morikawa has a Tiger-like fire inside of him: "I want more"
There's so much more to winning golf tournaments than just hitting the right shots at the right time. Golf is as much a mental grind as it is a physical grind, and it can chew up and spit out the weak-minded quicker than any other sport in the world.
But Morikawa doesn't fit in that category.
In fact, he isn't even satisfied with his historic success so far on the PGA Tour.
"I want more," Morikawa said Wednesday from the WGC-FedEx St. Jude Invitational. "I can't live in that moment of just being called the Champion Golfer of the Year for the next year because if I do, I could blink and we could be at next year's Open Championship already and me not having done things that I want to complete."
That.
That right there is the mentality Tiger brought to every single tournament during his prime. It's the mentality not many others have been able to replicate over the years, but Morikawa already has.
What's next for the Champion Golfer of the Year?
Morikawa isn't just an elite player with a kill-or-be-killed mindset on the golf course. He's also an extremely mature and self-aware golfer who knows what he needs to improve on to reach his desired level of greatness.
Despite ranking No. 1 on Tour in Strokes Gained: Approach and SG: Tee-to-Green this season, Morikawa ranks 166th in SG: Putting. He's determined to fix that.
"Obviously I don't want to be 160-something on the PGA TOUR in putting," he said. "I wanted to figure out what I need to do better, and I figured that out in L.A. or right before L.A. at the Genesis. I switched to that saw grip with the help of Mark O'Meara, I made strides … overall I knew I was doing something for the better, I was helping myself, I was finding a little more consistency."
Morikawa is already the best iron player in the world, and by a wide margin. If he becomes just a top-50 putter on Tour, Woods better hold on tight to all his cherished records.