Xander Schauffele's Father Watches Him Win Gold Nearly 40 Years After His Olympic Dream Was Tragically Crushed by a Drunk Driver
Xander Schauffele just brought home the first Olympic gold medal for Team USA since 1900, and he fulfilled his father's crushed dream in the process.
Nearly 40 years ago, Stefan Schauffele had hopes of competing in the Olympics himself for the German track and field team, but a car accident caused by a drunk driver cost him a once-in-a-lifetime opportunity. After decades of heartbreak, Stefan was able to relive his dream through Xander at the 2020 Tokyo Olympic Games.
Xander Schauffele's father has his Olympic dream crushed by a drunk driver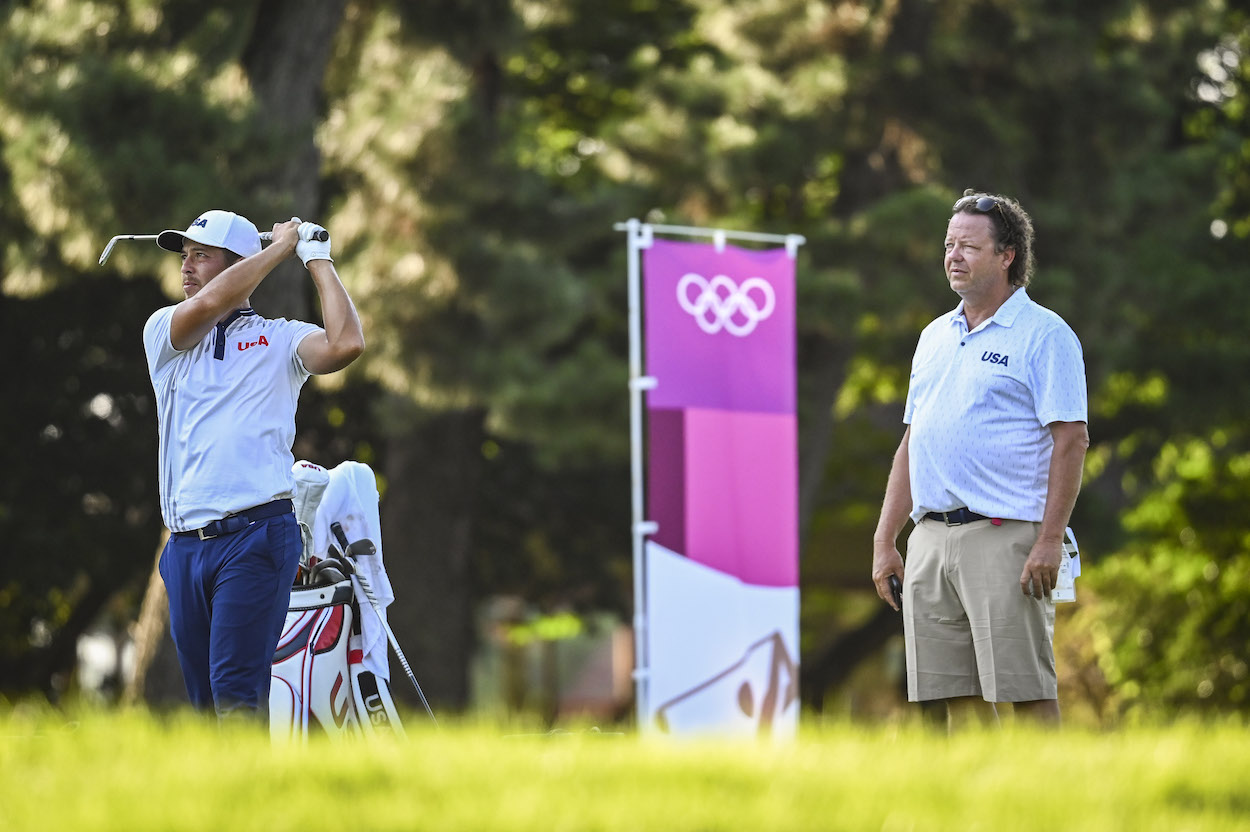 It was nearly 40 years ago when Stefan Schauffele, Xander's father and lifelong swing coach, was preparing to represent Germany in the Olympics. Stefan was a talented decathlete on the German national team, and he had a bright future ahead of him at just 20 years old.
But that future was stripped from him in a tragic way.
While Stefan was on his way to Olympic training one day, a drunk driver struck his car and changed his life forever. A piece of shattered windshield lodged in Stefan's left eye, causing permanent damage to his vision. He's still blind in his left eye today.
Stefan never got to live out his Olympic dream.
"His dream was swiped from him," Xander said of his father last week, per the New York Times. "As a young golfer, I could relate to a situation where something you've worked at for so many years is taken away. It was tragic."
Xander Schauffele fulfills his father's crushed dream with a gold medal
Four decades after his dream was killed, Stefan finally reached the Olympics in a way he probably never expected. Xander got the invite to Tokyo as the fifth-ranked golfer in the world, and Stefan, who also serves as his son's swing coach, was one of the few non-competitors allowed to travel to Tokyo.
A 40-year-old dream come true.
The experience would've been a special one no matter where Xander finished in the men's individual stroke play event, but in prophetic fashion, the American fulfilled his father's dream by winning the gold medal in his first-ever Olympic appearance.
"It's special," Schauffele said after his final round. "That's a word that's thrown around a lot, especially for us golfers. I mean it's so different for us, we're used to playing for money and we play a normal schedule, and this is every four years and it's just kind of a different feel to it. And you're wearing your country's colors and everyone's just trying to represent to the best of their ability. So it does have that sort of special and different feel.
"To have my dad here as well is really special. I gave him a hug off the back of the green there. I know this means a lot to him, so I'm just happy to sort of deliver this."
Stefan couldn't hide his emotions after Xander's win
After Schauffele got up and down on the 72nd hole of the tournament to clinch the gold medal, his father couldn't hide his emotions.
"This is going to take a while to settle in," Stefan said. "I got choked up. I describe today as definitely needing a towel moment. I am very, very proud.
"This is a meaningful (win). It's the most meaningful one so far, just below the majors if you will. It's a great achievement."
Schauffele's Olympic triumph is a heartwarming redemption story we won't soon forget.