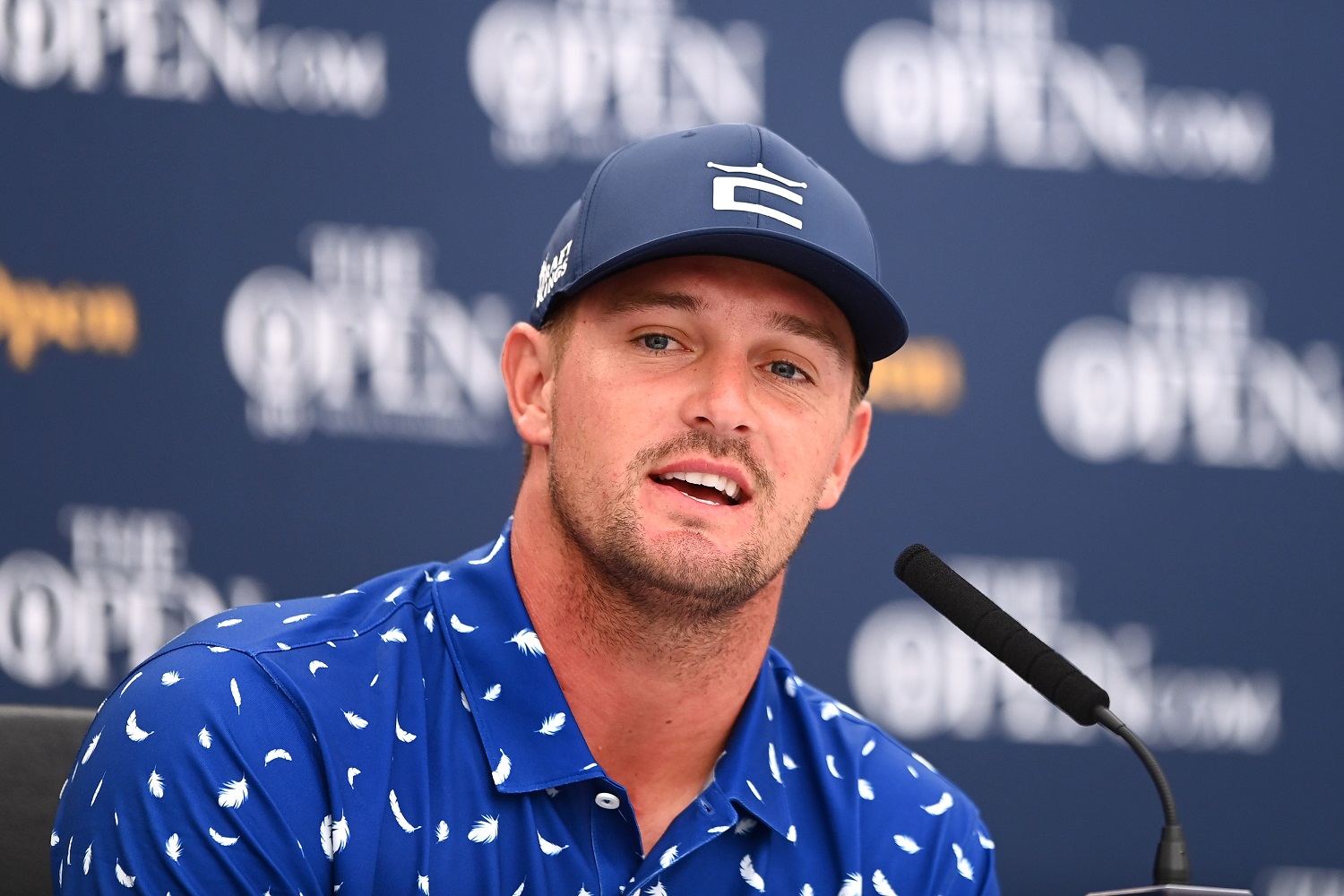 Getting Bryson DeChambeau to Speak Is Tougher for the PGA Tour Than Muzzling Obnoxious Fans
The PGA Tour is granting Bryson DeChambeau relief from hecklers on the golf course, but the 2020 U.S. Open champion has stopped speaking to print reporters, which is unfortunate.
The PGA Tour granted Bryson DeChambeau relief from a figurative unplayable lie. Fans chirping at the 2020 U.S. Open champion, and we're not talking about the noise associated with birdies or eagles, risk expulsion from the course beginning this weekend.
But now that commissioner Jay Monahan has muzzled the hecklers who've aggravated DeChambeau, he needs to prod the eight-time Tour winner into speaking to all the media again.
Bryson DeChambeau erupted after the BMW Championship
Patrick Cantlay outlasted DeChambeau to win a thrilling six-hole playoff at the BMW Championship on Sunday. Afterward, DeChambeau wigged out upon hearing the "Brooksie" taunt one too many times. "Get the f— out," he told the offending spectator.
It wasn't the first time that the taunt, stemming from what may or may not be a contrived feud with fellow pro Brooks Koepka, got under DeChambeau's skin. Until now, however, Monahan had done nothing to address the matter. That changed Tuesday with the announcement that calling DeChambeau "Brooksie" in any context will be grounds for expulsion, Golfweek reported.
Monahan's rationale is that the fans are harassing DeChambeau. Presumably, any comparable actions aimed at another golfer will trigger similar sanctions. All things considered, no two situations are identical. It might have been better to push Koepka to issue a statement asking his fans to leave DeChambeau alone.
If it's too noisy on the course, then it's too quiet in the press tent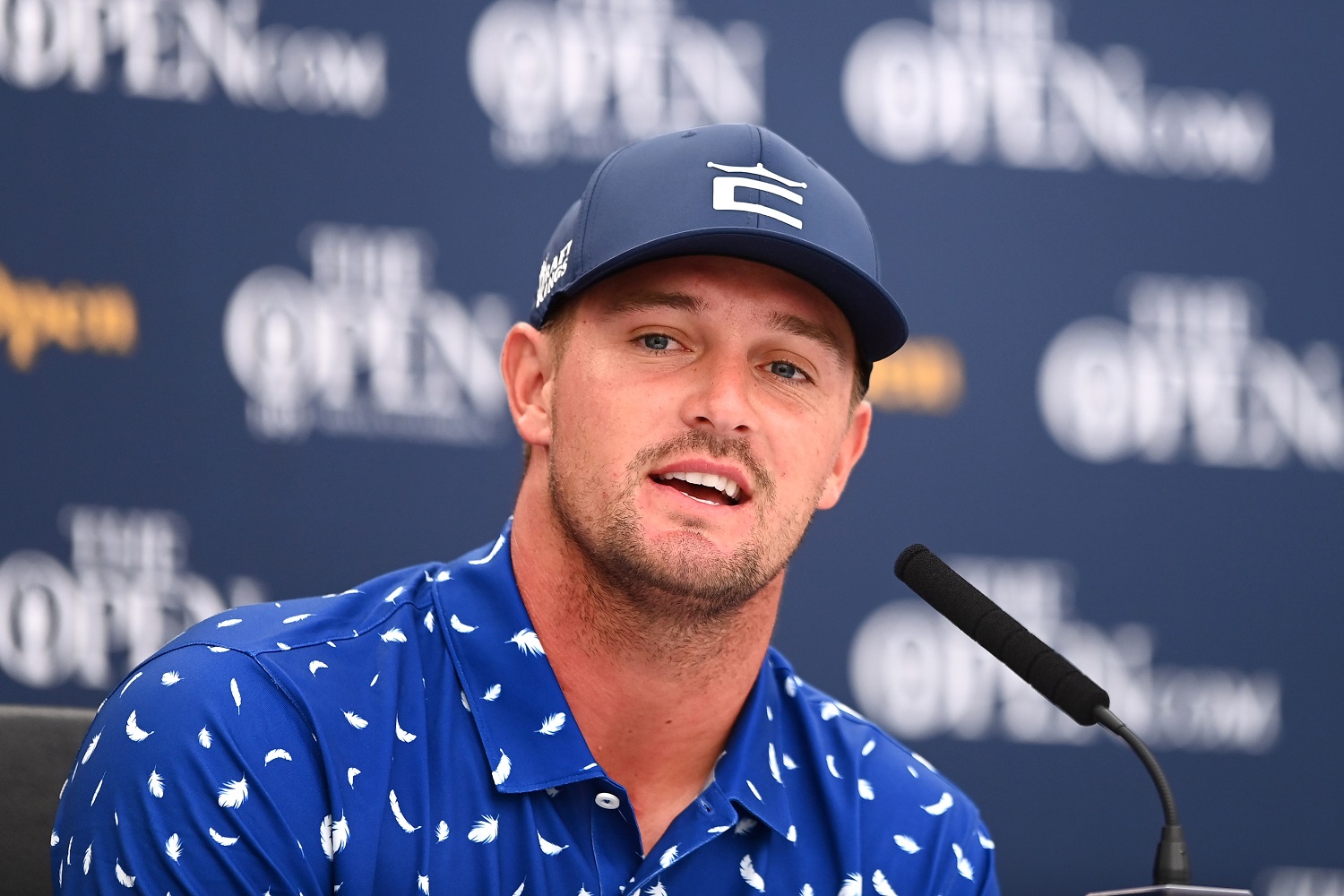 While the attention this summer has been about how fans treat DeChambeau on the course, there's a disturbing silence in the press tent after his tournament rounds. DeChambeau hasn't spoken to print reporters for nearly a month, instead sharing his thoughts only with PGA Tour broadcast partners.
DeChambeau began his boycott at the World Golf Championships-FedEx St. Jude Invitational in Memphis after catching flak over his remarks about declining the COVID-19 vaccination. That was on top of his final-round meltdown at the U.S. Open, the circus atmosphere after he split with caddie Tim Tucker, and the tirade aimed at his equipment manufacturer.
If nothing else, though, DeChambeau is consistent. He remained silent even after nearly putting a 59 on the board during the second round of the BMW Championship.
"I don't think this is the way things are going to be for a long period of time," Monahan said. "I'm hopeful that we'll get back to a steady cadence of communication that he'll have with the media. But he's working through some things and he's going to have my and our support as he continues to do so."
Here's why Bryson DeChambeau needs to start talking again
Kyrie Irving and Naomi Osaka are among the athletes who've boycotted the interview room at times this year. Irving did not offer much of an explanation, contributing to the nearly unanimous criticism that followed. Osaka cited mental health concerns and found a sympathetic reaction from some quarters.
In each case, sports fans were the ultimate losers. Even in the era of the internet and social media, reporters are the conduit between athletes and their fans. Their questions (hopefully) elicit responses that shed light on what transpired in the game or match and help those fans learn more about players.
The questions are occasionally uncomfortable, but the people asking them are trying to acquire insight rather than incite. There's no law preventing the athletes from saying they would rather not discuss a topic.
That's why DeChambeau's recent stance is disappointing. He became one of the best-known golfers on the planet after winning four times in 2018. His conversion to a big hitter off the tee has been one of golf's hottest topics in recent years. Fans want to know more about the athlete and his game.
The PGA Tour's rules are different than what the tennis tours expect of their players. DeChambeau isn't obligated to interact with print reporters. But his fans and, yes, detractors want to hear from him.
DeChambeau still has the Tour Championship and then the Ryder Cup in front of him to wrap up his season. Perhaps some time to reflect after that will give him a fresh perspective and fresh start for next season.
Like Sportscasting on Facebook. Follow us on Twitter @sportscasting19.