Bryson DeChambeau's Former Caddie Spills the Truth About Their Mysterious Breakup: 'We've Had a Very Intense Relationship'
In early July, Bryson DeChambeau stunned the golf world when he parted ways with his longtime caddie, Tim Tucker, on the eve of the Rocket Mortgage Classic. It sure was puzzling timing for a breakup of that magnitude, and PGA Tour fans immediately cooked up conspiracy theories about what might've caused the sudden split.
But Tucker, who recently spoke for the first time since the announcement, just cleared up all the rumors by explaining what really caused the divorce.
The mysterious split between Bryson DeChambeau and Tim Tucker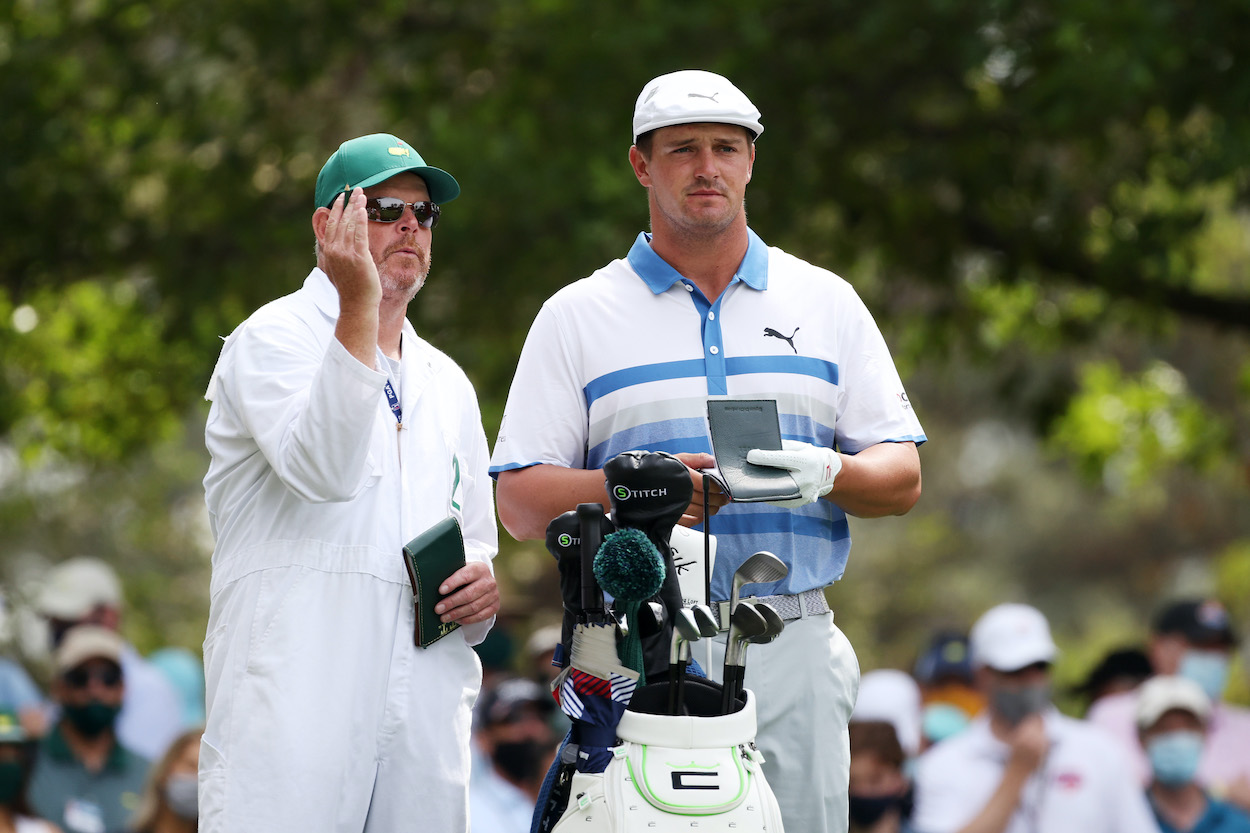 Leading up to the Rocket Mortgage Classic, DeChambeau was going through his typical pre-tournament routine. He played a few practice rounds and a pro-am at Detroit Golf Club during the week, and Tucker was on his bag the entire time, as he had been for much of the last six years.
But when DeChambeau showed up for his first round of the tournament on Thursday morning, Tucker was nowhere to be found. No Laying Up later reported that the World No. 6 and his longtime caddie parted ways on Wednesday night.
Breakups between professional golfers and their caddies aren't exactly rare occurrences on the PGA Tour, but this one just felt different. Tucker was with DeChambeau all week leading up to the tournament. What could've possibly happened Wednesday night that caused the sudden split?
Rumors started popping up from all over golf Twitter, but Tucker dispelled them all with his first comments since the breakup.
Tucker spills the truth
Golf fans have been anxiously waiting for a bombshell report about DeChambeau and Tucker getting into a fist fight and breaking up on the eve of a PGA Tour event, but the real reason for the split isn't that juicy.
Speaking with Luke Kerr-Dineen of Golf.com, Tucker explained the grueling schedule and long hours had taken a toll on him, and it was just time to take a break.
"We were really tired," Tucker said. "The season; the tour schedule was grinding on us, grinding on me. I knew I was working on this business on the side; we've had a very intense relationship where he works a lot of hours. It was a little bit of me not being 100% healthy and happy. We made the best decision for the both of us."
Tucker is more than just a PGA Tour caddie. When he wasn't carrying DeChambeau's bag and giving him precise yardages and wind directions, he was working on a side project: a luxury bus transportation business at iconic Bandon Dunes, the course where Tucker used to caddie. Now, he'll be able to make his side hustle his full-time job.
As much as golf fans wanted a hostile breakup story, the split really did seem to be mutual, and it had been in the works for a while. Tucker said there are no hard feelings between him and DeChambeau.
"I wasn't making a lot of money [in the beginning]. I made a fine living, but then all of a sudden Bryson becomes a superstar," Tucker said. "I was grateful to be part of that success, and the result of our hard work gave me the opportunity to put my kids through college. As a father, what more can you ask for? I owe Bryson a lot."
DeChambeau gearing up for his next adventure with a new caddie
If you didn't believe Tucker that the breakup between the two was mutual, let DeChambeau ease your mind.
"Everybody always thinks there was some kind of falling out, but there really wasn't," he said. "This was in the works for a while. Tim is a really, really great friend of mine. He's somebody that I've cared about, and still care about, and will care about for the rest of my life.
"We're still friends, I'm still gonna talk to him, still gonna call him, hang out. I think from my perspective, it's a great thing for both of us."
DeChambeau will now attempt to continue his incredible success on the PGA Tour with a new caddie: Brian Zeigler. Zeigler is the lead instructor at Dallas National, DeChambeau's home course, and he was instrumental in helping DeChambeau become the longest hitter in PGA Tour history.
"Brian has been a big part of my life for a while now," DeChambeau said. "We did a lot of speed training stuff together. He was the motivator and the hype man. He helped me reach new [personal records] I never believed I would get to."
Coaching DeChambeau on how to swing faster and carrying his bag are two completely different jobs, however. Zeigler must be prepared for long nights, even longer range sessions, and precise air density calculations on the golf course.
It's no wonder Tucker got burnt out after six years.