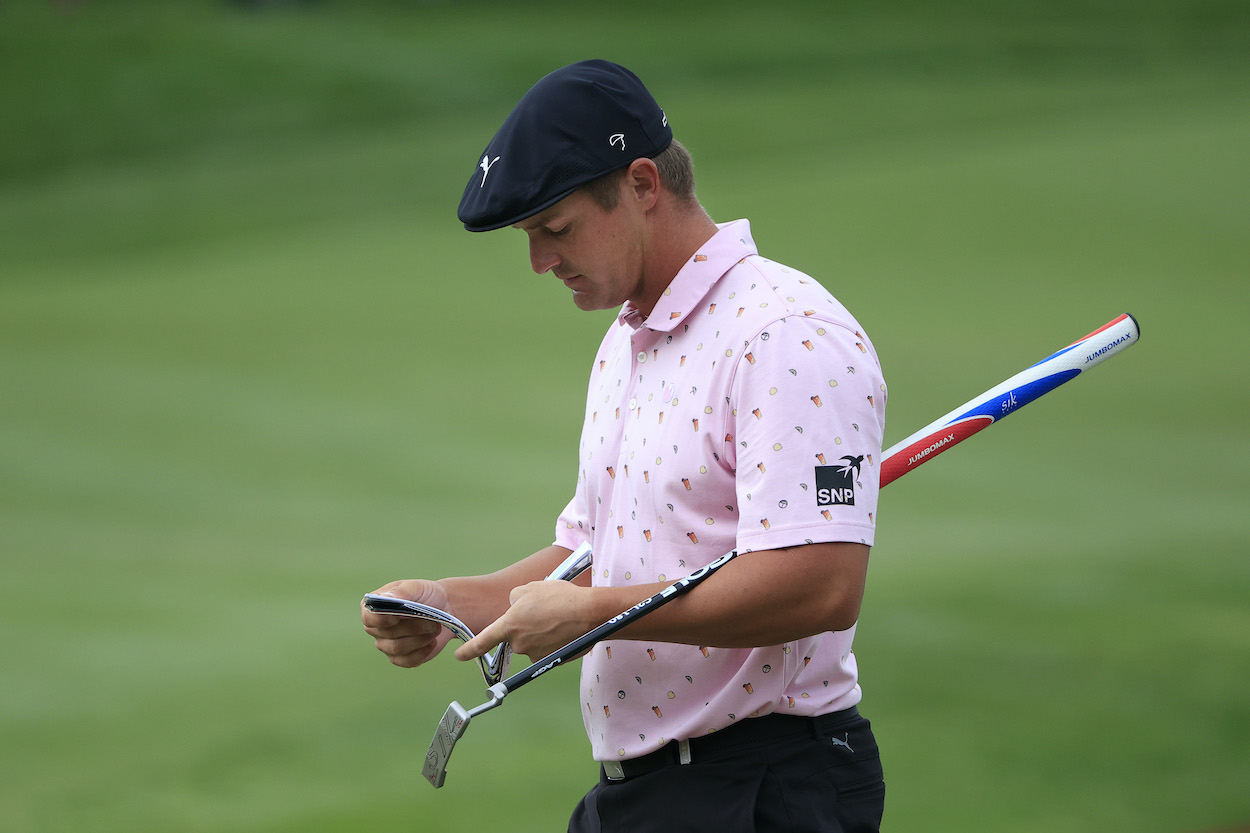 Bryson DeChambeau Will Be Forced to Change His Mad Scientist Ways After the PGA Tour Outlaws His All-Important Cheat Sheet
Bryson DeChambeau won't be happy with the PGA Tour's latest decision to outlaw green-reading books.
Bryson DeChambeau isn't your typical PGA Tour golfer. Whereas most players rely on simple feel and touch to work their way around a golf course, the Mad Scientist utilizes air density, wind vector, and the coefficient of restitution to get the best out of his game. On the greens, DeChambeau religiously uses his green-reading book to pinpoint the correct speed and line of every putt he hits.
But he'll soon be forced to throw away his handy-dandy cheat sheet, forcing him to completely change how he approaches the game of golf.
Bryson DeChambeau relies on his green-reading book to putt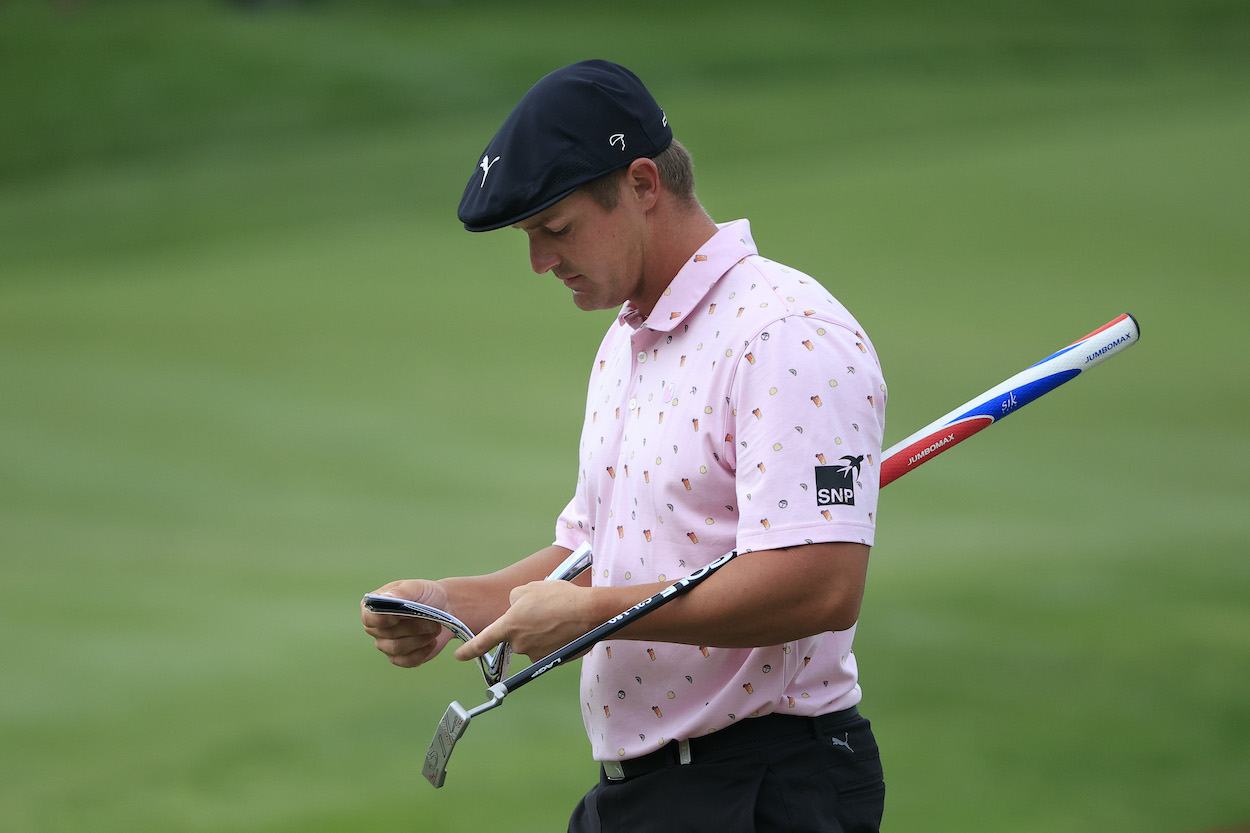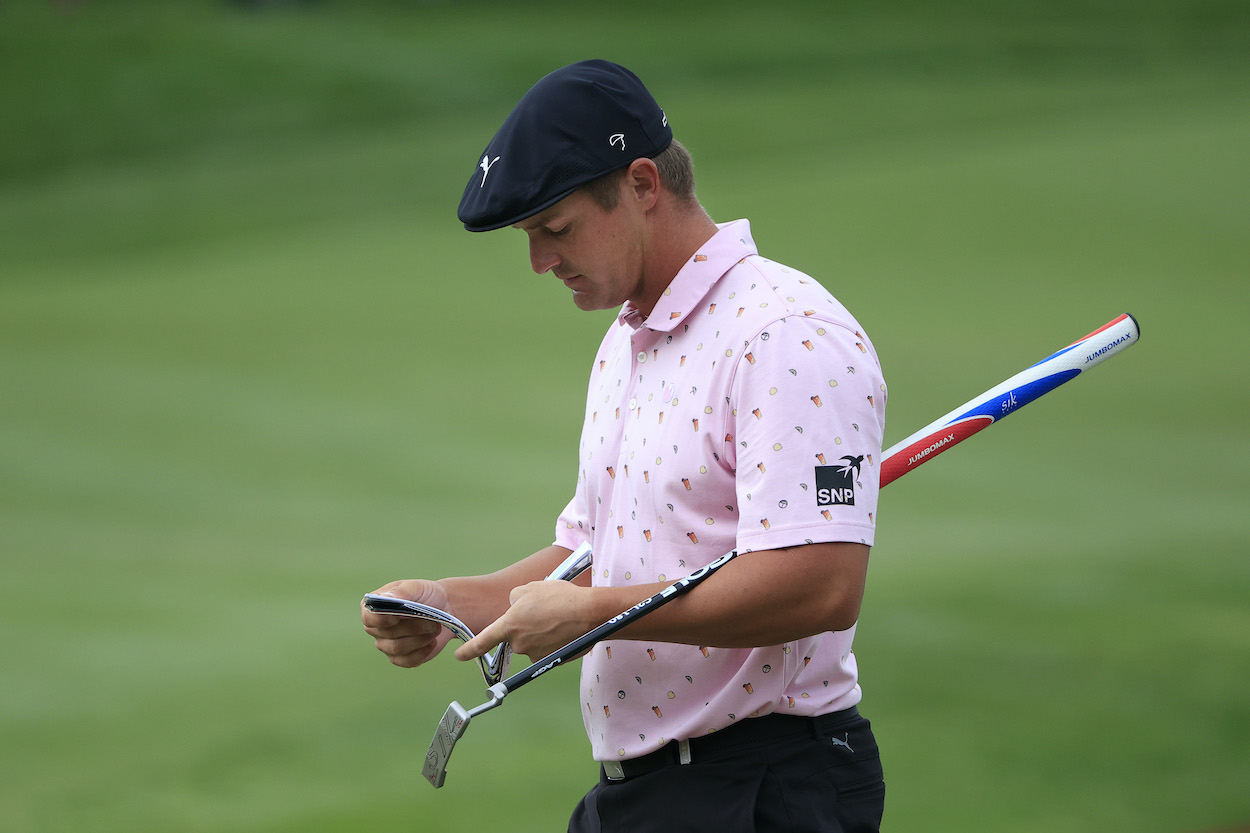 Green-reading books have become popular tools on the PGA Tour in recent years. They contain intricate drawings that show the direction and grade of the slope on nearly every inch of every green on a golf course, so players use them to help decide the line and speed of their putts.
Almost every top golfer on Tour uses a green-reading book nowadays, but no one needs it more than DeChambeau.
As a player who relies on mathematics and physics to go low on the golf course, DeChambeau uses his green-reading book for every putt he strikes. From there, he calculates where to aim his line and exactly how far to take his putter back to hit the perfect putt.
DeChambeau's reliance on the helpful guide is evident when looking at his putting performance at Augusta National Golf Club. The Masters famously doesn't allow players to carry green-reading books on the course, so players have to rely on their own eyes to read the greens. Of the 58 golfers who played eight or more rounds at Augusta over the previous three years, DeChambeau ranked dead last in the group in strokes gained: putting. In five appearances at the Masters, he's never finished better than 21st.
Curious for a player who ranked 10th on Tour in SG: putting last season. I wonder what could possibly be causing that variance.
PGA Tour expected to outlaw green-reading books by next season
DeChambeau is busy preparing his green-reading book for the U.S. Open at Torrey Pines this weekend, but he might not be able to bring his cheat sheet to the course for much longer. The PGA Tour is expected to outlaw green-reading books by the start of next season, as first reported by Eamon Lynch of Golfweek.
The PGA Tour's 16-man Player Advisory Council, which includes the likes of Rory McIlroy, Jon Rahm, and Justin Thomas, voted on whether to ban the books two weeks ago. It was evident right away which way the council leaned.
"It was overwhelming; it wasn't close," an anonymous PAC member told Golfweek. "The books should be banned. Green reading is a skill to be learned."
The decision now turns to the full board of the PGA Tour for a vote as early as next week.
DeChambeau will be forced to change his mad scientist ways
It might take most players some time to get used to reading greens without a helpful guide, but many players only use the green-reading books in the first place because everyone else does.
DeChambeau, on the other hand, is dedicated to the green-reading book more than any other player on Tour. We've seen how his game is affected by not being able to use a book on the course, so he'll have to transform his entire putting approach by the start of next season.
Get those eyes ready, Bryson. That's all you'll have to read greens in a few months.