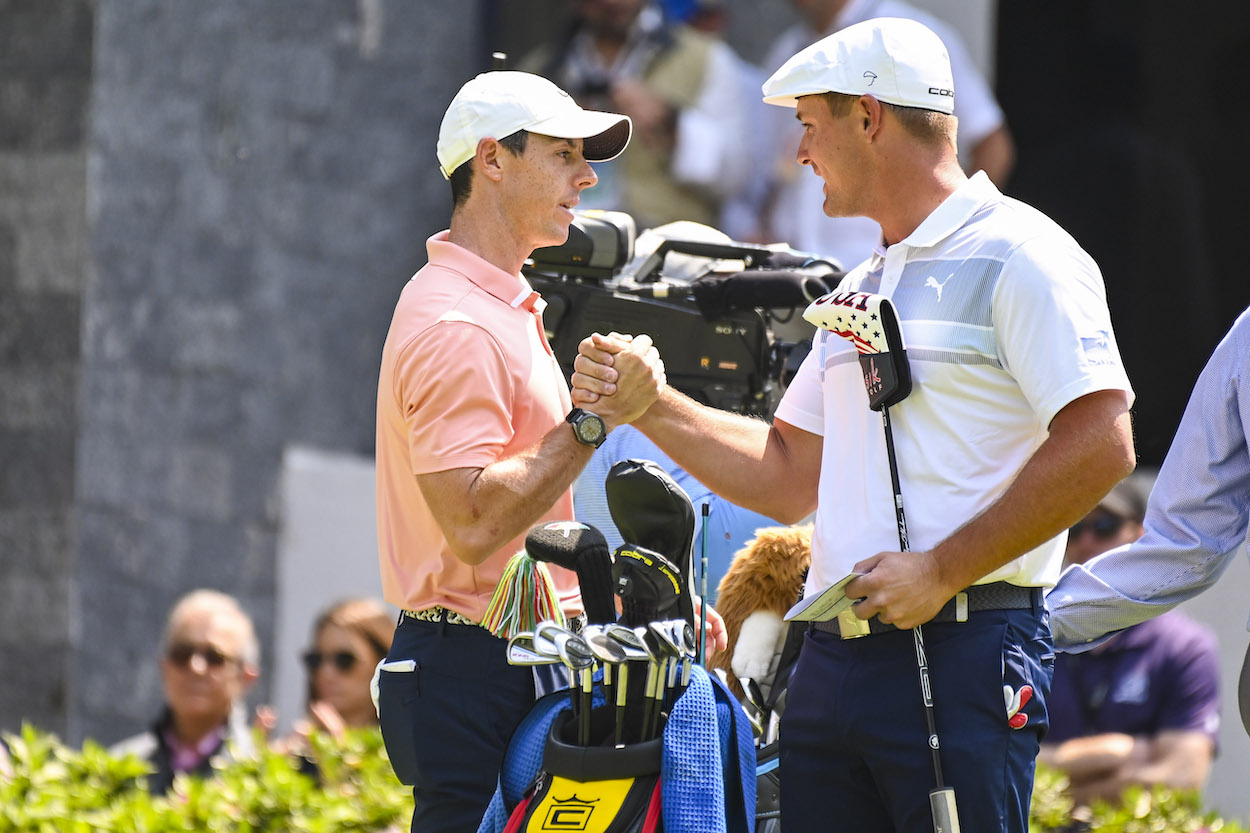 Sympathetic Rory McIlroy Sticks Up for Bryson DeChambeau: 'I Don't Think That You Should Be Ostracized or Criticized for Being Different'
Bryson DeChambeau has a new supporter in his corner in Rory McIlroy.
Bryson DeChambeau doesn't have many people left in his corner.
The big-hitting American has lost his longtime caddie, criticized his own sponsor, and established himself as the biggest villain on the PGA Tour all in the last two months. Now, he's regularly being heckled by golf fans during tournaments and has seemingly lost every ally he once had.
But one PGA Tour star has decided to stick for DeChambeau in light of recent events: Rory McIlroy.
Bryson DeChambeau has endured a tough few months
It's not easy being Bryson DeChambeau nowadays. He might be able to hit a golf ball farther than any other player in professional golf history, and has two wins to his name this season, but DeChambeau is easily the most hated man on the PGA Tour in 2021.
It all started at the PGA Championship back in May when the infamous video of Brooks Koepka rolling his eyes at DeChambeau first surfaced online. Since then, the duo's feud has only intensified, and fans are clearly taking a side.
The next month, DeChambeau's longtime caddie, Tim Tucker, decided to leave his side on the eve of a PGA Tour event. In July, DeChambeau blamed his Cobra driver for his poor play at the Open Championship, which prompted a critical response from his sponsor. The bomber was then knocked out of the Olympics by a positive COVID-19 test. He later admitted he wasn't vaccinated and didn't plan on receiving the vaccine, which struck a nerve with even more fans.
At last weekend's BMW Championship, DeChambeau was mocked with "Brooksie" chants as he's been at every stop for the past four months. The PGA Tour then swooped in and announced any fans who yell "Brooksie" on the grounds will be ejected.
It's been a controversial few months for DeChambeau, to say the least, and he continues to lose more and more allies by the day.
Rory McIlroy sticks up for Bryson DeChambeau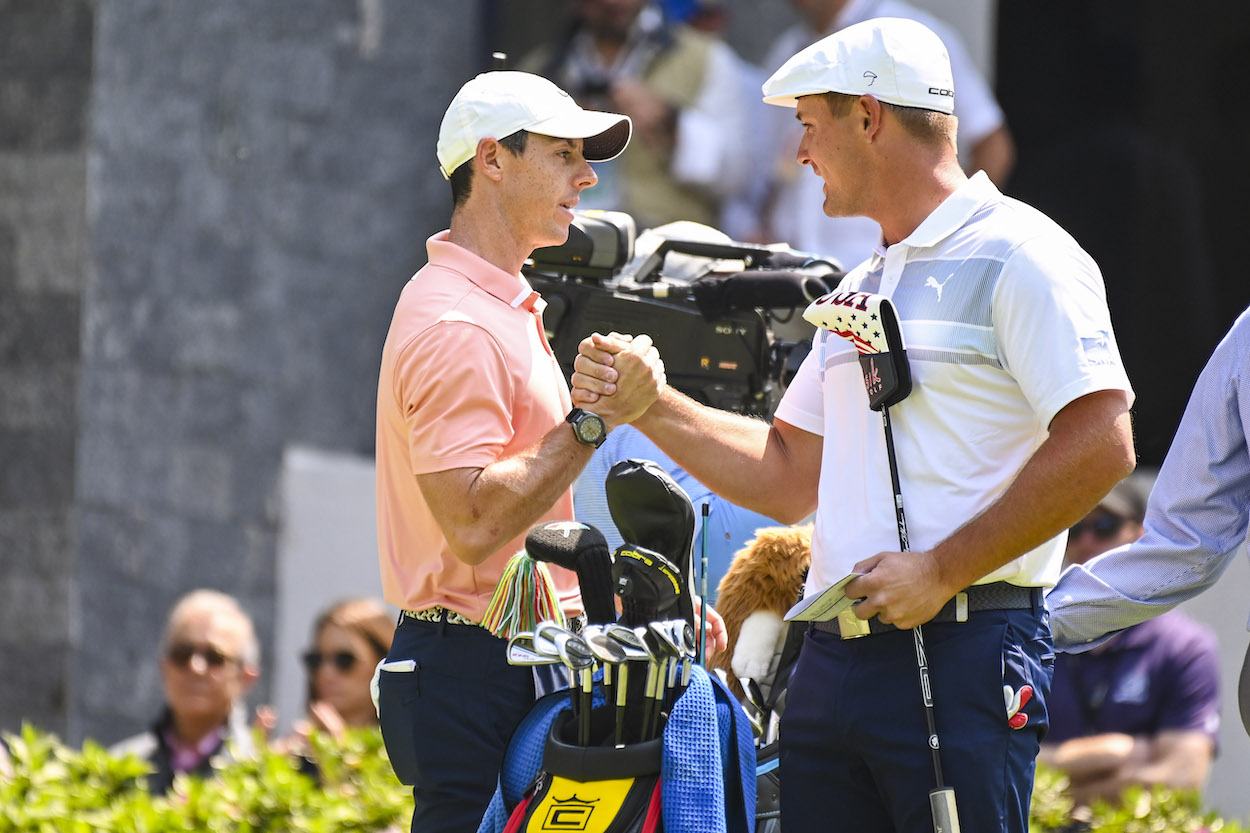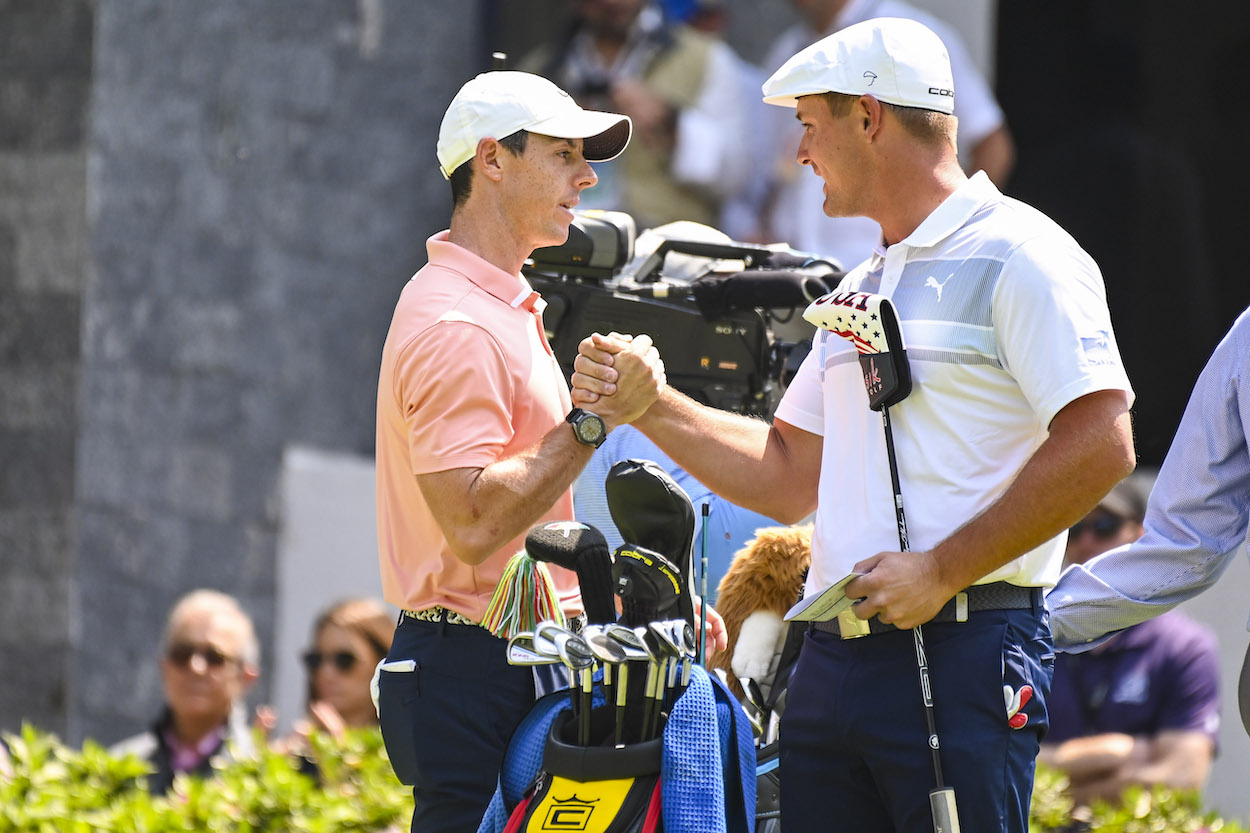 Not many PGA Tour players have publicly spoken out in support of DeChambeau this year. His slow play and his antics on and off the course have turned many of his colleagues against him, but Rory McIlroy has decided to speak out in support of the polarizing golfer.
I certainly feel some sympathy for him because I don't think that you should be ostracized or criticized for being different. And I think we have all known from the start that Bryson is different, and he is not going to conform to the way people want him to be. He is his own person. He thinks his own thoughts, and everyone has a right to do that.

Rory McIlroy
McIlroy has always been a straight shooter when speaking to the media, so he's not just saying that to be nice.
McIlroy admits DeChambeau isn't innocent
McIlroy was surprisingly supportive of DeChambeau when speaking to reporters ahead of the TOUR Championship this weekend, but he also admitted the 27-year-old isn't innocent in all this drama.
"There are certainly things that he has done in the past that have brought some of this stuff on himself," McIlroy said of DeChambeau. "I'm not saying that he's completely blameless in this. But at the same time, I think he has been getting a pretty rough go of it of late and it's actually pretty sad to see because he, deep down, I think, is a nice person and all he wants to do is try to be the best golfer he can be. And it just seems like every week something else happens… I think he's trying to become better and he's trying to learn from his mistakes, and I think everyone should give him a chance to try to do that."
It's a nice sentiment from the Northern Irishman, but good luck convincing DeChambeau's many haters to think the same way.