A Homesick Rory McIlroy Cried His Eyes Out and 'Raided the Minibar' in His Hotel Room After Missing a Cut: 'I Just Remember This Complete Meltdown'
Rory McIlroy is one of the most mentally strong players on the PGA Tour today, but he wasn't always that way. When he was still trying to make a name for himself back in 2008, the Northern Irishman broke down in tears after missing a cut and admittedly "raided the minibar" in his hotel room.
But 13 years and 19 PGA Tour victories later — McIlroy is at least able to laugh about the story now.
Rory McIlroy was still a teenager trying to find his way in 2008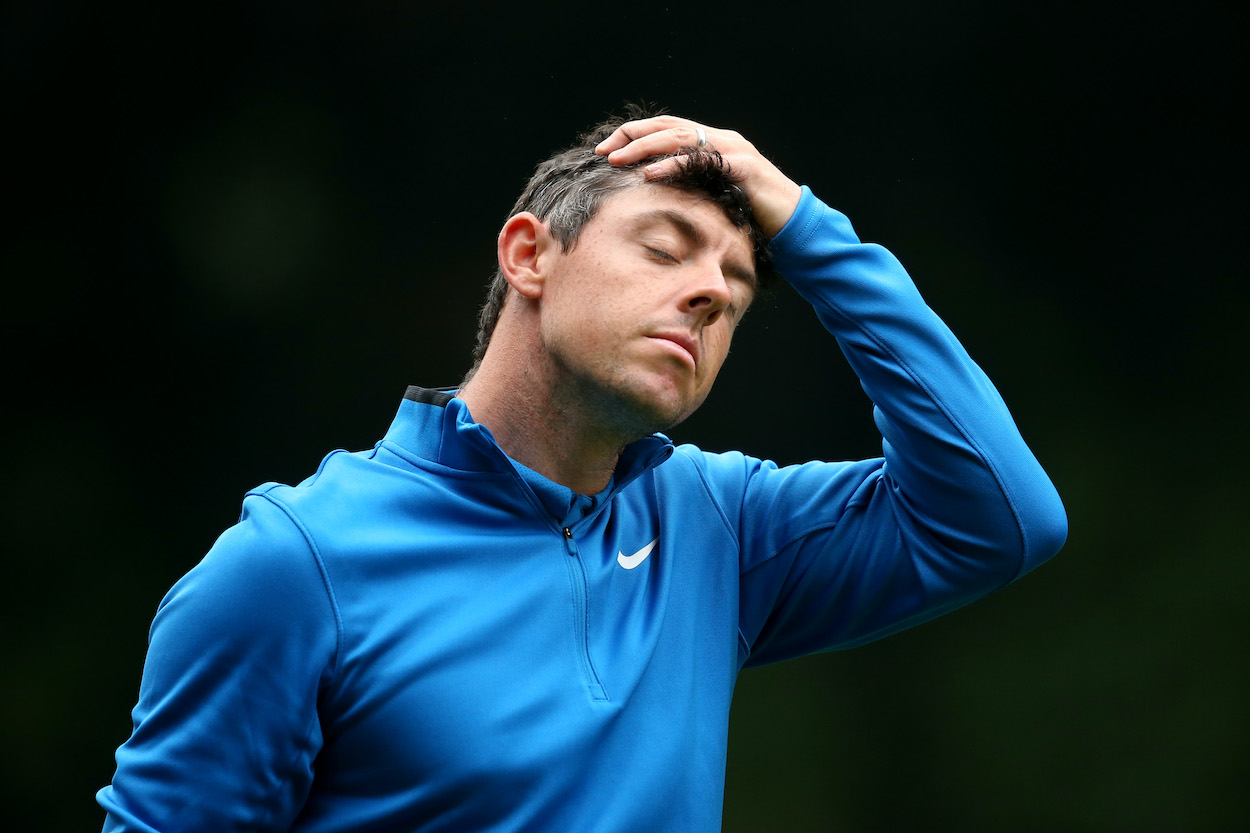 Back in 2008, McIlroy was just a promising teenager with dreams of making it to the highest level of professional golf. He made his PGA Tour debut the year before at the Open Championship, and he impressively finished in a tie for 42nd at just 18 years of age.
McIlroy played the 2008 season on the European Tour, where he recorded six top-10 finishes in 28 starts. It was his first full year on the road and away from his family, so it was hard for him to deal with the pressure of the European Tour all by himself.
After one particular missed cut, he just snapped.
McIlroy broke down in tears and "raided the minibar" after a MC in 2008
McIlroy recently appeared on Golf Digest's Local Knowledge podcast and spoke about one of the darker moments of his pro career.
"I was 18 years old, on the road by myself, loving it because it's independence," McIlroy said on the podcast. "I'd just missed a few cuts in a row, and I was in Korea — Jeju Island — playing the Ballantyne Championship. And I missed the cut again, so I was struggling. I had never felt so far from home and so lonely. I remember going back to my hotel room, at the end of the bed, crying, and I raided the minibar. Not the drinks. It was like Pringles, Coke, Toblerone.
"I just remember this complete meltdown."
The pressure that comes along with professional golf can crack even the most confident players in the world, especially at such a young age. McIlroy was down for a while at that point in his career, but he didn't stay there long.
How McIlroy got his swagger back
Away from his family and embarking on a lifelong dream by himself, McIlroy had a tough time dealing with the grind of pro golf when he first started playing on the European Tour full-time. He broke in that hotel room that day, but a few months later, he finally realized he belonged.
"This is how quick things can change in golf," he said. "So (the meltdown) was in April 2008. Fast forward six months to October '08, and I'm playing the Singapore Open, and I'm playing with Ernie Els in the third round. And we're in like the second-to-last group. I remember he hit driver off the first tee. And I'm like 'Wow, this is so cool, I'm playing with Ernie Els.' He hit driver off the first tee, and I hit my 3-wood past his driver. I was like, 'Oh yeah, this is really cool.'"
With a renewed confidence in his game, McIlroy reached the PGA Tour the following year and has now won 19 events and four major championships.