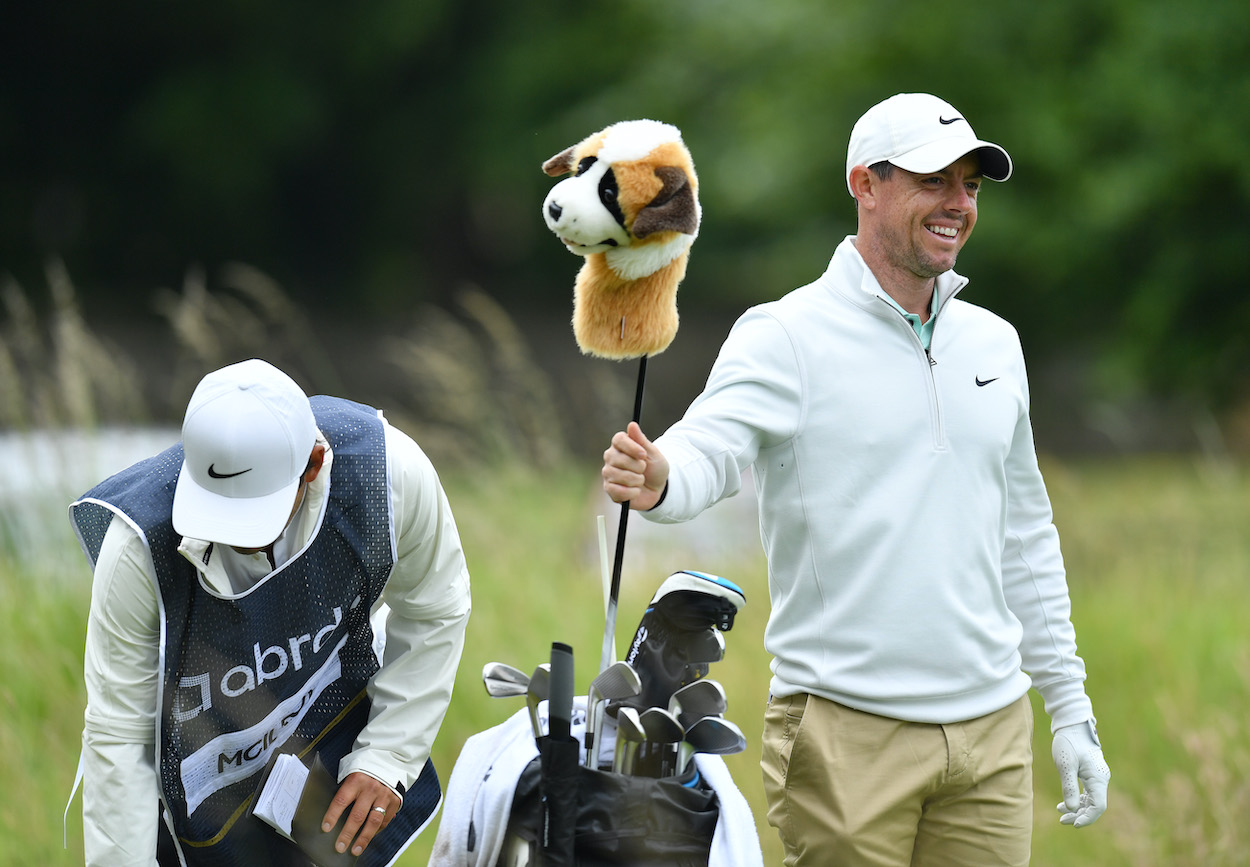 Rory McIlroy Stunned When a Drunk Fan Walks Past Security and Casually Steals a Golf Club From His Bag in Bizarre Moment at Scottish Open
Rory McIlroy couldn't believe when a golf fan got through security and stole a club out of his bag on the tee box.
It's been delightful to finally see fans back in action after a full year of empty arenas and silent sporting events. There's nothing quite like a full NBA Finals crowd erupting after a vicious dunk, a packed stadium going wild after a walk-off home run, or a throng of fans clapping and cheering after a golfer holes a long putt for birdie.
But as the passionate sports fanatics have slowly returned in full force to their happy place, so too have the liquored-up trouble-makers.
We've already witnessed NBA fans running on the court, throwing popcorn, and even spitting on players throughout the NBA playoffs, but those morons have nothing on the most bizarre fan interaction you'll ever see during a professional golf event. Rory McIlroy is still in shock hours later.
Rory McIlroy playing in Scottish Open ahead of 2021 Open Championship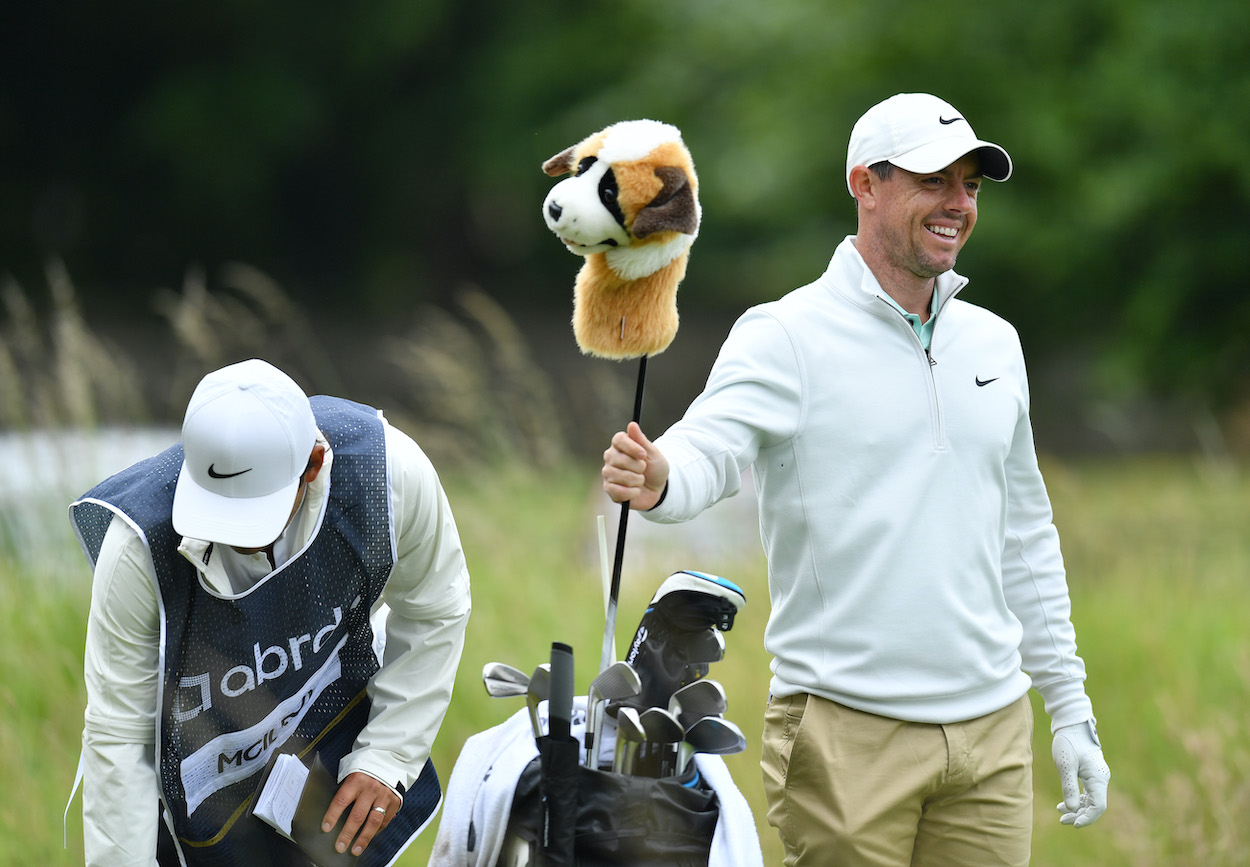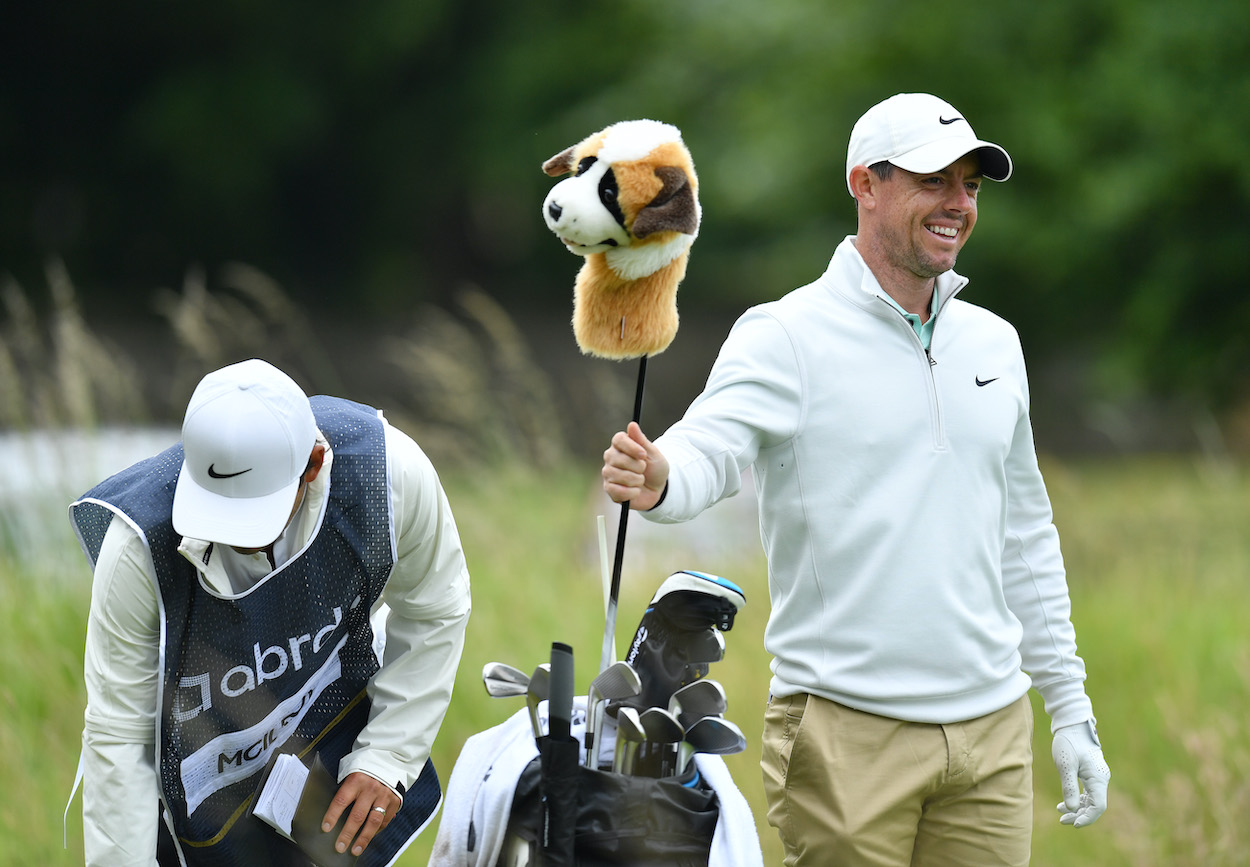 As the 2021 Open Championship creeps closer and closer, some PGA Tour players have already traveled overseas to get some practice in on European links courses. True links golf courses play much differently than most of the benign tracks in the United States, so pros like to warm up to the windy, rainy conditions before teeing it up at the year's most unique major championship.
For McIlroy, that involves playing in this weekend's abrdn Scottish Open at The Renaissance Club.
The Northern Irishman opened the tournament with a 1-under 70 on Thursday, and he followed that up with an even-par 71 a day later. But McIlroy's golf game was hardly the biggest story surrounding his Friday round in Scotland.
McIlroy stunned when a random fan swipes a golf club out of his bag
Friday started like any other tournament day in McIlroy's career. He woke up, got to the course early to warm up, and walked over to his first hole to get his round started.
But as he stood on the 10th tee box talking to his caddie, Harry Diamond, and fellow PGA Tour player, Jon Rahm, something incredible happened.
A random fan calmly walked right past security and up to the tee box. He attempted to swipe McIlroy's driver out of his golf bag at first, but he pulled off the headcover instead. After realizing his mistake, the fan walked right back to the bag and pulled out a 6 iron. No security to be found.
McIlroy, Diamond, and Rahm froze in shock as the fan moseyed over to the tee, plopped the headcover down on the ground, and looked to line up a practice shot with the club. Still, no security in sight.
After about 30 seconds, a tournament official finally approached the man, and security was called to the tee box. At last, a security guard arrived and escorted the fan off the tee box.
McIlroy couldn't believe what he just witnessed.
Thankfully, no one was harmed during the bizarre exchange.
What happened to the intruding fan?
After the instance on the 10th tee, McIlroy's biggest fan was ejected from the tournament and taken into custody. Rahm said after the round that a bit (or a lot) of liquid courage is what might've led to the incident.
"He came in so confident, and we thought he was going to take a picture or something. We thought he was maybe part of the camera crew or a photographer.
"After a little bit, when he walked back and they were taking him out you could smell the reason why it happened," Rahm said, referring to the stench of alcohol exuding from the fan.
McIlroy had little to say about the exchange after the round, but can you blame him? He's probably still trying to process what happened hours later.
Welcome back, fans!