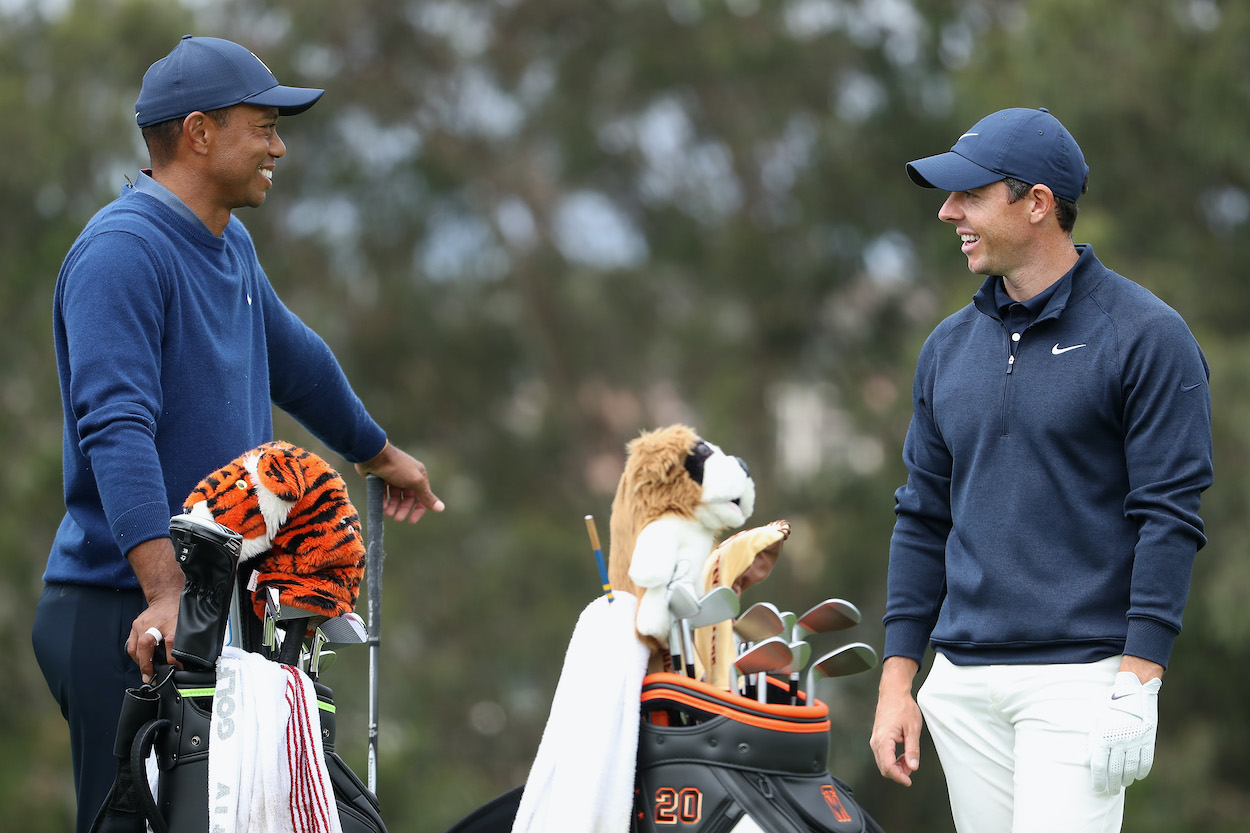 Rory McIlroy Provides an Uplifting Tiger Woods Update After His Frightening Car Accident
As golf fans around the world pray for Tiger Woods' recovery, Rory McIlroy provided an update that will make them breathe a sigh of relief.
Golf fans around the world are praying for PGA Tour icon, Tiger Woods, as he lays in a hospital bed with rods, pins, and screws in his leg. Woods was lucky to survive the devastating car accident that saw his vehicle flip off the road and end up on its side a few weeks ago in Los Angeles. Without much information coming out of Woods' camp, fellow PGA Tour star and close friend, Rory McIlroy, provided an uplifting update on the Hall of Famer's chances of leaving the hospital soon.
Tiger Woods suffers extensive leg injuries in frightening car accident
Two weeks ago, the golf world held its collective breathe after news broke that Tiger Woods was involved in a high-speed, single-car accident early in the morning in LA. Woods was found conscious in his flipped SUV by a nearby neighbor, and first responders eventually arrived to extricate him from the vehicle using the jaws of life.
Woods was rushed to nearby Harbor-UCLA Medical Center and was immediately treated for severe leg injuries. Rods, pins, and screws were inserted into his right leg during emergency surgery, but he thankfully didn't have any life-threatening injuries.
A few hours later, Woods' team released a statement via his official Twitter account.
"Mr. Woods suffered significant orthopedic injuries to his right lower extremity that were treated during emergency surgery by Orthopaedic trauma specialists at Harbor-UCLA Medical Center, a level 1 trauma center," Anish Mahajan, MD, Chief Medical Officer & Interim CEO at Harbor-UCLA Medical Center wrote in the statement. "Comminuted open fractures affecting both the upper and lower portions of the tibia and fibula bones were stabilized by inserting a rod into the tibia. Additional injuries to the bones of the foot and ankle were stabilized with a combination of screws and pins. Trauma to the muscle and soft-tissue of the leg required surgical release of the covering of the muscle to relieve pressure due to swelling."
Woods was recently moved to Cedars-Sinai Medical Center and remains there recovering from his injuries.
Rory McIlroy provides an uplifting Tiger Woods update
Tiger Woods' camp hasn't provided an official update on his health since Feb. 26, but anxious golf fans just received some uplifting news from none other than Rory McIlroy, one of Woods' closest friends on Tour.
"I've spoken to him a little bit," McIlroy told Jimmy Fallon on The Tonight Show ahead of The Players Championship this weekend. "He's doing better. I think all the guys have reached out to him. Hopefully, if things go well over the next week or so, he might be able to get home and start recovery at home, which would be great for him. See his kids, see his family.
"But yeah, he's doing better. And I think all of us are wishing him a speedy recovery at this point."
Tiger Woods is still busting chops from the hospital bed
You didn't think Tiger Woods would lose his competitive spirit and sense of humor in the hospital, did you? Later in McIlroy's interview, he mentioned Woods is still busting his chops away from the golf course.
"He texted me some words of encouragement before the final round of Bay Hill on Sunday," McIlroy said. "And things didn't quite go to plan, and he was the first one to text me and be like, 'What's going on here?' So even from the hospital bed, he's still giving me some heat."
Same old Tiger. Get well soon.