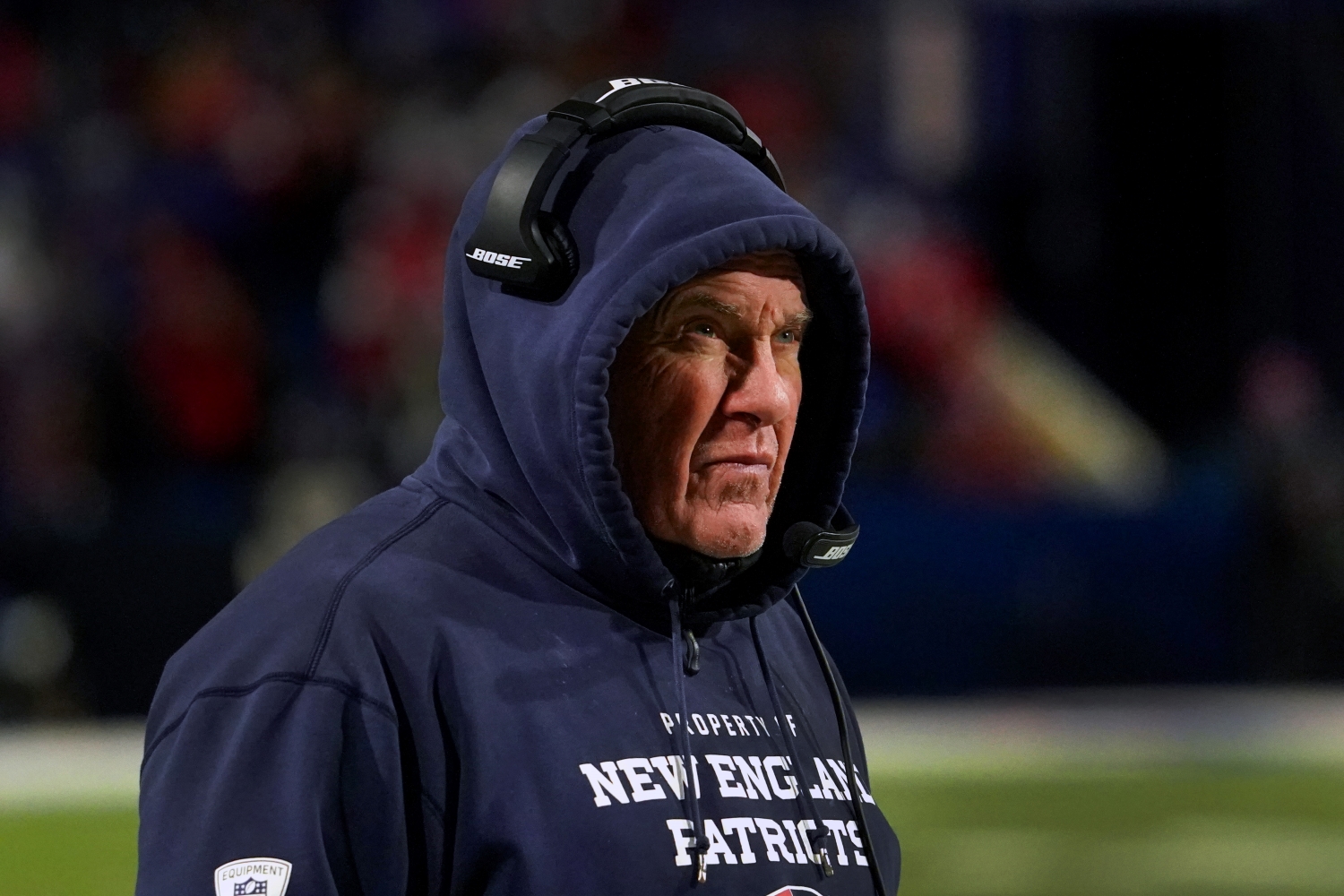 Bill Belichick Just Caught Another Well-Timed Break That Should Help the Patriots Defeat Their Latest Short-Handed Opponent
Bill Belichick's chances of moving to 10-4 went up hours before the Patriots-Colts matchup thanks to a key absence along Indy's offensive line.
The New England Patriots deserve credit for overcoming a disappointing 2-4 start and putting themselves firmly in the mix for the No. 1 seed in the AFC. However, while the players have stepped up and the coaching staff has dialed the right buttons, Bill Belichick's squad has also benefitted from facing several short-handed opponents.
And to no surprise, the Patriots caught yet another lucky break hours before they take on the Indianapolis Colts that should help them extend their winning streak to eight games.
Bill Belichick catches big break with Colts ruling out Ryan Kelly
Control what you can control. That phrase perfectly sums up the famous "Patriot Way" that helped Belichick rack up six Super Bowl titles as a head coach. But some aspects of football are beyond your control, and in the case of a player's availability, it's clear things can change quickly.
Unfortunately for Colts fans hoping for a home victory over the hottest team in the NFL, star center Ryan Kelly officially got ruled out for Saturday night's highly anticipated showdown. The two-time Pro Bowler missed Indianapolis' Week 13 win over the Houston Texans after testing positive for COVID-19. Despite missing practice Thursday due to a personal matter, Kelly was expected to suit up against New England.
However, instead of having the 2016 first-round pick anchoring the offensive line against the league's No. 1 scoring defense, the Colts will likely depend on 2020 fifth-rounder Danny Pinter to man the pivot position.
Needless to say, a front seven that includes Defensive Player of the Year candidate Matthew Judon, promising rookie Christian Barmore, and reliable veterans Dont'a Hightower, Kyle Van Noy, and Lawrence Guy faces a much easier task to control the line of scrimmage. If the Patriots take advantage of Kelly's absence, they can make life difficult for Carson Wentz, who must prove he can take care of the ball and make smart decisions in perhaps his biggest game as a Colt.
But this isn't the first time Belichick's received a well-timed break.
Patriots have prime opportunity to take advantage of yet another short-handed opponent
Have the Patriots shown tangible improvement on both sides of the ball since October?
Absolutely.
Have they also benefitted from not having to slow down some of the league's top playmakers?
Undoubtedly.
Sure, Belichick seems to have his team firing on all cylinders. With a dominant, opportunistic defense that's allowed an average of 15.4 points per game and a versatile offense led by impressive rookie Mac Jones, the Patriots certainly have the makings of a championship team.
Yet it's impossible to ignore the breaks they've received during their seven-game winning streak.
One reason the Carolina Panthers only mustered six points against Belichick's vaunted defense? They lost two starting offensive linemen to injuries.
The next week, the Patriots defeated the Cleveland Browns by 38 points. Of course, it helped that Odell Beckham Jr. had just been traded, and neither Nick Chubb nor Kareem Hunt suited up.
A shutout against the Atlanta Falcons on Thursday Night Football doesn't look quite as impressive when you consider Matt Ryan didn't have either of his top two weapons available. And after not having to face Calvin Ridley or Cordarrelle Patterson, the Patriots got to take on a Tennessee Titans team missing Derrick Henry, Julio Jones, and A.J. Brown.
Some stroke of luck, right?
Kelly's absence qualifies as another game-changing break for Belichick. Will superstar running back Jonathan Taylor have as much room to operate without one of the NFL's best centers paving the way? Could Wentz experience communication issues with Pinder? Will the former Philadelphia Eagles signal-caller face more pressure as a result of the downgrade?
Can New England overcome Damien Harris' absence?
Of course, the Colts aren't the only team that will be missing a key member of the offense. The Patriots won't have top running back Damien Harris available because of a hamstring injury. Ordinarily, that would represent a massive blow, but don't be surprised if the current leaders of the AFC East still run the ball effectively.
After all, can anyone stop Rhamondre Stevenson?
While Harris certainly deserves praise for his powerful, hard-charging running style and positive demeanor, it wouldn't be a stretch to say he's been outplayed by his first-year teammate. Stevenson has gone from being in the doghouse because of ball security and pass protection issues to being one of the team's most impactful players. His ability to break tackles and gain yards after contact has added a different dimension to an offense that ranks 10th in scoring at 26.9 points per game.
If Stevenson maintains a high level of play, that should help set up play-action opportunities for Mac Jones. After playing a backseat role (to put it mildly) on a blistery night in Buffalo against the Bills, expect the former Alabama star to have a significantly bigger impact on this game. The Colts don't boast top-end talent on the back end of their defense, so Josh McDaniels could look to take advantage with a collection of weapons that includes Kendrick Bourne, Hunter Henry, Jonnu Smith, Nelson Agholor, and Jakobi Meyers.
Ultimately, both teams have key players out of the lineup, but the Patriots have a capable replacement for Harris in the form of the surprisingly agile Stevenson.
Whether the Colts' backup center can hold up against a physical, powerful front seven is a whole other story.
All statistics courtesy of Pro Football Reference.