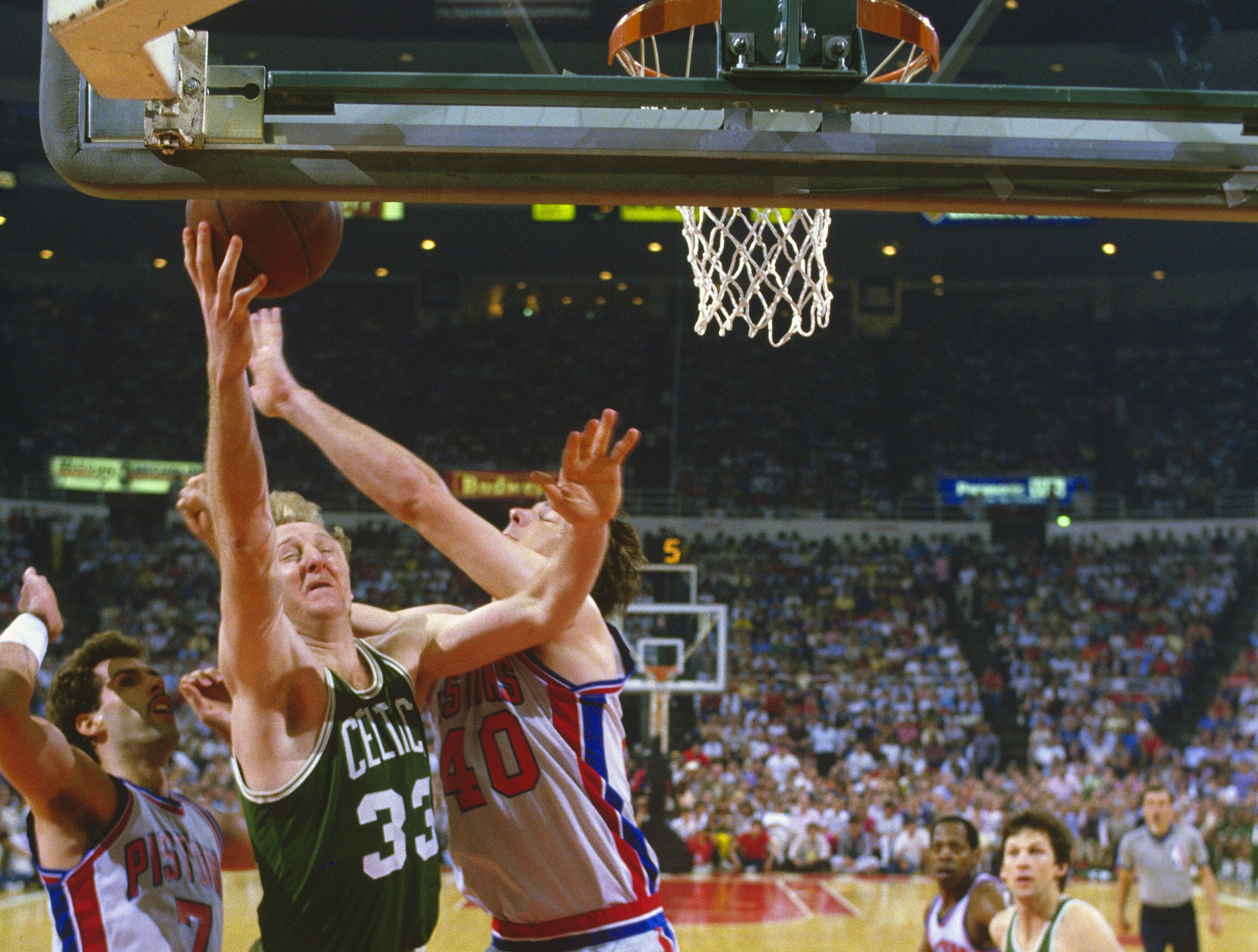 Bill Laimbeer Infamously Took Down Larry Bird and Then Suddenly Became 'Steve Glassman'
Bill Laimbeer quickly became Steve Glassman during the 1985 playoff series against the Boston Celtics.
While Bill Laimbeer wasn't well-liked outside of Detroit, the former Detroit Pistons center was highly disliked in Boston. Known for his cheap-shot antics and dirty play, Laimbeer and the Boston Celtics didn't mix well.
That became evident during the 1987 Eastern Conference Finals when Laimbeer brought down Bird with a hard foul in Game 3 in Detroit. The incident resulted in Laimbeer's ejection, and Bird was also tossed after retaliating by firing the basketball at Laimbeer. When the series shifted back to Boston, Laimbeer braced for a rude awakening. In fact, he wasn't even Bill Laimbeer anymore. He became Steve Glassman.
Bill Laimbeer never was welcomed by Larry Bird and the Boston Celtics
The Boston Celtics and those "Bad Boy" Detroit Pistons had some serious postseason battles in the mid-to-late 1980s. They squared off four times in the decade, with the Celtics winning the first two battles. The Pistons finally dethroned Boston in the 1988 conference finals and then beat them again the following year in the first round.
In the first playoff meeting in 1985, Laimbeer irked the Celtics by subtly throwing elbows at Celtics center Robert Parish.
"Laimbeer threw an elbow," Boston coach K.C. Jones said after the game, per United Press International. "A lot of times, the officials don't see it. Laimbeer does whatever he can get away with. And he does it all the time."
He also flopped his way throughout the game, drawing the ire of Bird.
"Bill Laimbeer is going to flop around like a fish out of water every time he gets a chance," Bird said then. "It's just the way he plays. He flops around out there. The rest of the guys play basketball. The referees watched him play 82 times this year. They still let him get all the calls."
The Celtics closed out the series in six games. In 1987, Parish had enough of Laimbeer's antics and pummeled him to the floor with multiple blows to the head. No foul was called. Boston outlasted Detroit in seven games, thanks to Bird's famous steal in Game 5 that ultimately saved the series for the Celtics.
Laimbeer turned into Steve Glassman in Boston
The Pistons won the first two games at home in 1985 to even the series with the Celtics. When the teams came back to Boston for Game 5, Laimbeer knew he was in for a rude awakening.
He registered at the team hotel as Steve Glassman, an old friend of his, according to Sports Illustrated. Laimbeer wanted to avoid any bitter phone calls from Bostonians after his takedown of Bird.
Glassman once told Mitch Albom of the Detroit Free Press that Laimbeer rubs people the wrong way even when he's off the court.
"He makes a terrible first impression," Glassman said. "I introduce him to people and they walk away saying, 'Where does that guy get off being like that?' But they don't know him. And he doesn't care, or at least he says he doesn't."
Laimbeer understood why some people are bothered by the things he does on the court.
"Look, I'll never be able to fly through the air like so many guys in this league," he said. "I realized early I was not going to be an all-time great player. So I do what I have to do to survive. I jostle people. Like when a guy is going to his favorite spot, I step in his way; I bump him; I don't let him get there; I bump, bump, bump."
He did say, however, that he never understood his reputation.
"I laugh at my reputation as a tough guy, though," he said. "I never fight. I walk away from it. I may have some altercations, but they're never real fights. People don't like that style? So what? As long as people in Detroit appreciate me, what do I care about Boston or Atlanta or Milwaukee?"