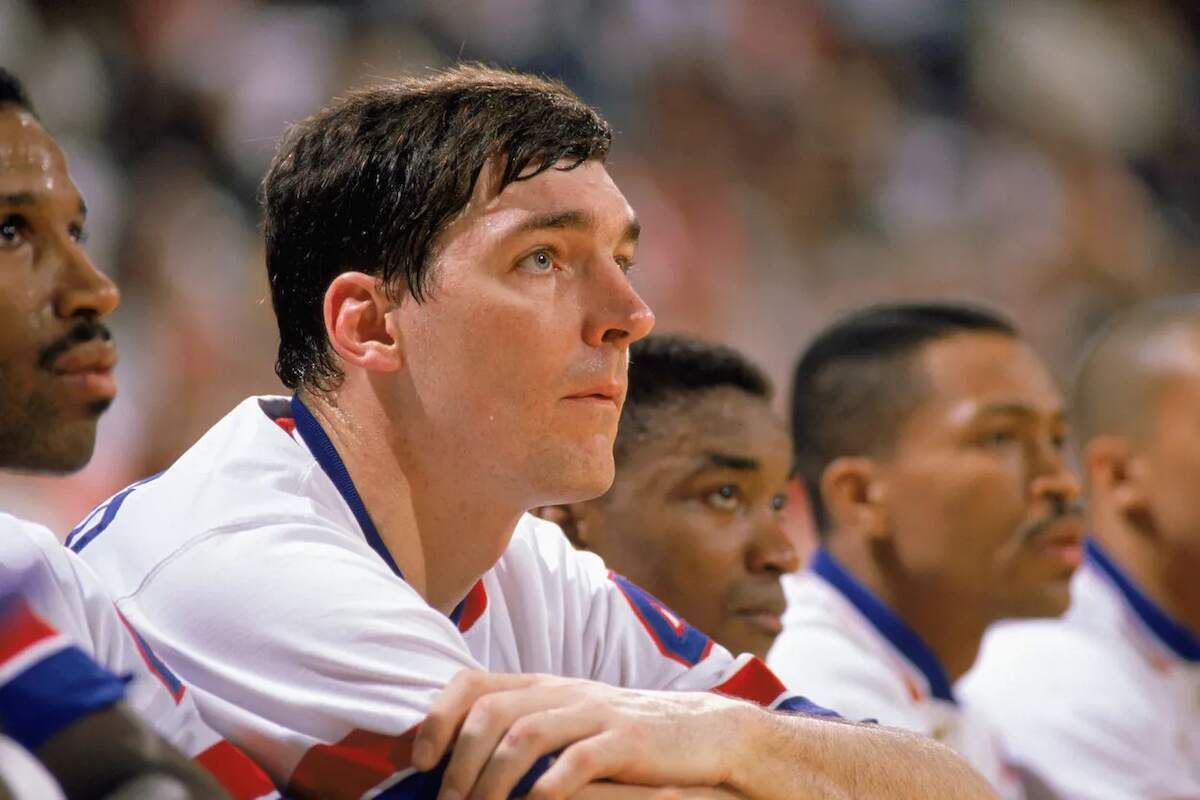 Bill Laimbeer's Father Sent Him a Humbling Message Upon Entering the NBA
Bill Laimbeer had a legendary career for the Detroit Pistons, but his NBA career started with his father sending him a humble message about money.
Future Detroit Pistons legend Bill Laimbeer had reason to jump for joy when he reached the NBA.
When a player is drafted or signs their first professional contract, it officially marks the culmination of a long journey. They have taken a monumental step in fulfilling their childhood dreams of reaching the pros.
Laimbeer's father was happy for him, but William Laimbeer, Sr., still had the edge over his son.
Bill Laimbeer's father sent him a humbling message
For many professional athletes, their first contract is the gateway to a new world beyond their uniforms and teammates.
Even with all that they lose from taxes and fees, the money those players get is still a life-changing amount. Bill Laimbeer wasn't one of those players, though, as his father was an executive with Owens-Illinois, which produces glass containers and paper products. 
According to Sports Illustrated, Laimbeer Jr. used to claim, "I'm the only player in the NBA who makes less money than his father." In ESPN's Bad Boys documentary, Laimbeer said he made less money in his rookie season with the Cavaliers than his father did at his job.
Such are the facts that come with growing up around money, as the Laimbeer family did. But if anyone in the NBA believed Laimbeer's affluent childhood would make him spoiled or unwilling to fight, they were in for a surprise.
Bill Laimbeer nonetheless became a Detroit Pistons legend
The Detroit Pistons were glad they had Bill Laimbeer. Other teams were angry they had to go against the star center.
A notoriously physical big man who never backed down from a fight, Laimbeer averaged 13.5 points and 10.1 rebounds in 937 games across 13 seasons with the Pistons from the spring of 1982 through early in the 1993-94 campaign.
Laimbeer appeared in four All-Star Games and won two rings with the Pistons. Some of Laimbeer's most memorable moments include fighting the Celtics and Bulls in brawls that got nasty.
How much money did Bill Laimbeer make in the NBA?
Bill Laimbeer made good money for his time, although it's nothing compared to what the league's top players make now. According to Basketball Reference, Laimbeer made $7.8 million from 1984–94. Signing a five-year contract worth $3.5 million in June 1984 certainly helped Laimbeer's bank account. 
According to the Inflation Calculator, the $500,000 Lambier earned in 1984 is worth over $1,471,000 million in 2023. Laimbeer has also benefited financially from being a longtime WNBA coach.
Now in his sixties, Laimbeer has been the head coach of three WNBA teams, the Detroit Shock, New York Liberty, and Las Vegas Aces. The two-time Coach of the Year won three WNBA championships with the Shock. In 2021, Laimbeer retired from coaching.
Stats and contract figures courtesy of Basketball-Reference.