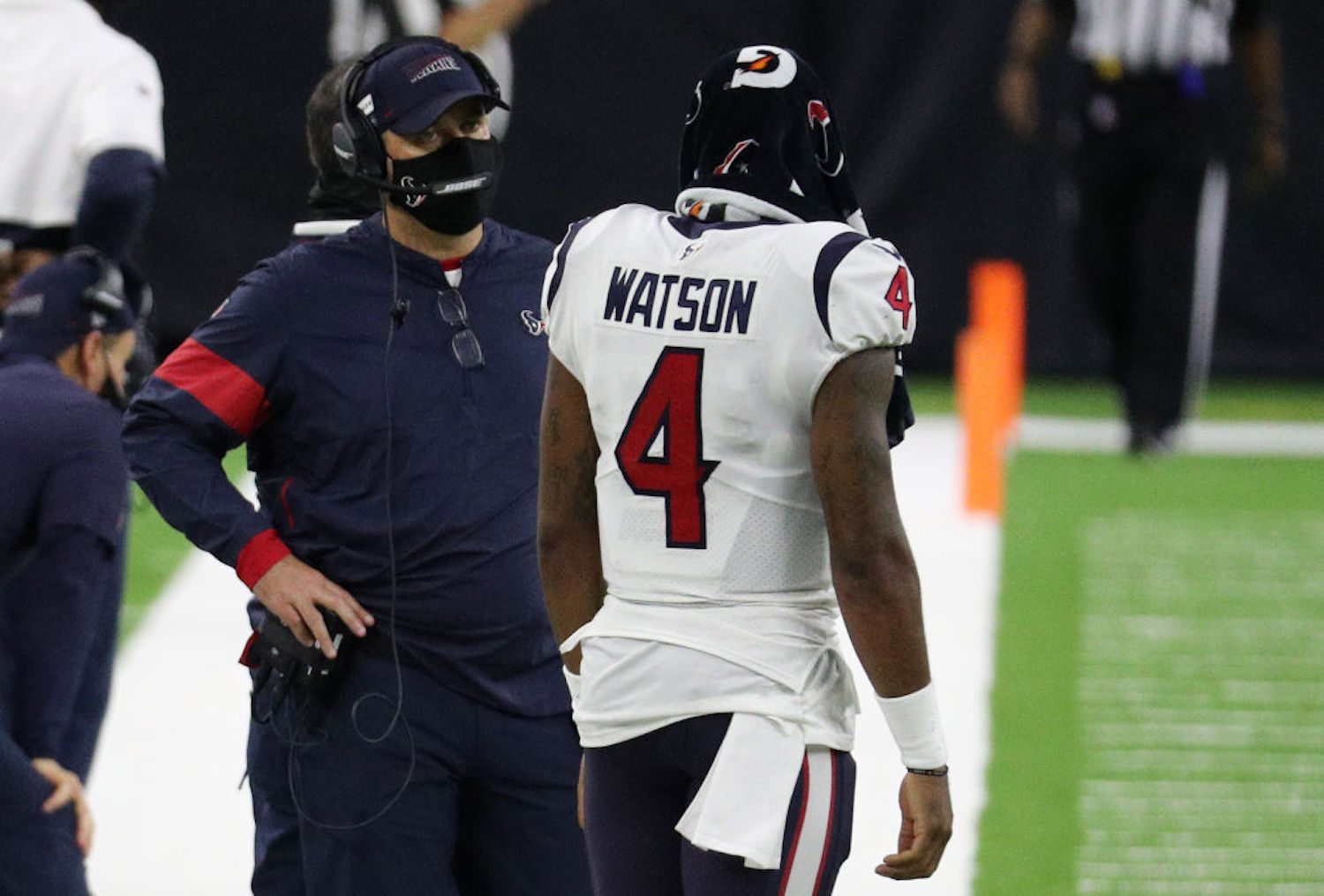 Bill O'Brien Wasted Deshaun Watson's Prime and Deservedly Got Fired for It
Bill O'Brien became the first head coach to get fired in 2020, and after ruining Deshaun Watson's prime years, he deserved to be.
Bill O'Brien just became the first NFL head coach to be relieved of his duties in 2020, and Texans fans must be popping champagne all across the Houston area.
O'Brien spent six full seasons with the Texans and only won two playoff games with one of the best quarterbacks in the NFL. Deshaun Watson has the talent to lead a team to the Super Bowl one day, but O'Brien's inability to surround him with explosive weapons and capable offensive linemen ruined the star QB's prime.
The Texans fired head coach Bill O'Brien on Monday afternoon
The Bill O'Brien era in Houston is finally over, as the Texans fired the longtime head coach on Monday afternoon, according to Adam Schefter of ESPN. O'Brien spent six full seasons with the team and went 52-48 in 100 regular-season games.
O'Brien led the Texans to the playoffs in four of the past five seasons, but Houston only won two postseason games during that span. The Texans had their best season under O'Brien in 2018, when the team went 11-5 in the regular season and won the AFC South.
O'Brien had one of the brightest young stars in the league in Deshaun Watson under center for the last four years, but he won just one playoff game with the transcendent superstar.
O'Brien's decisions since being named the Texans' GM earlier this year have been questionable, to say the least. None of them were aimed at helping Watson succeed, and it might end up ruining the QB's prime.
O'Brien wasted Deshaun Watson's prime
The Texans have a special quarterback in Watson on their roster, but O'Brien failed to utilize him in the right way since day one.
Over the first four years of his career, Watson has been forced to play behind a below-average offensive line the entire time. Watson is constantly running for his life every Sunday because he has no time to sit in the pocket and survey the field.
It all started in 2016 when the Texans let Brandon Brooks, their best offensive lineman at the time, walk in free agency. Then, in a desperation move, O'Brien traded two first-round picks for Laremy Tunsil, who's done little to help the offensive line woes.
On top of that, O'Brien traded away Watson's favorite target, DeAndre Hopkins, for a few peanuts and a paper clip. O'Brien sent Watson out on the field this year with two undersized, injury-prone receivers as his top targets, a battered offensive line, and a washed-up running back off a major injury.
That's not setting your franchise player up for success. O'Brien's horrid GM decisions got him fired four games into the season, and they put Watson in a terrible situation four years into his career.
Watson has an uphill battle to overcome O'Brien's mistakes
O'Brien might be out in Houston, but he still left Watson with a bottom-tier offensive line and one of the most underwhelming groups of weapons in the entire league. To make matters worse, the defense is giving up more than 30 points per game through four weeks.
Watson is all that's left in Houston, but one man can't win football games by himself. It's possible Watson is a top-five quarterback in the league and a Super Bowl MVP for a contending team, but we might never know because of O'Brien's incompetence.
He's gone now, but the O'Brien stench will linger in the Texans' organization for years to come.