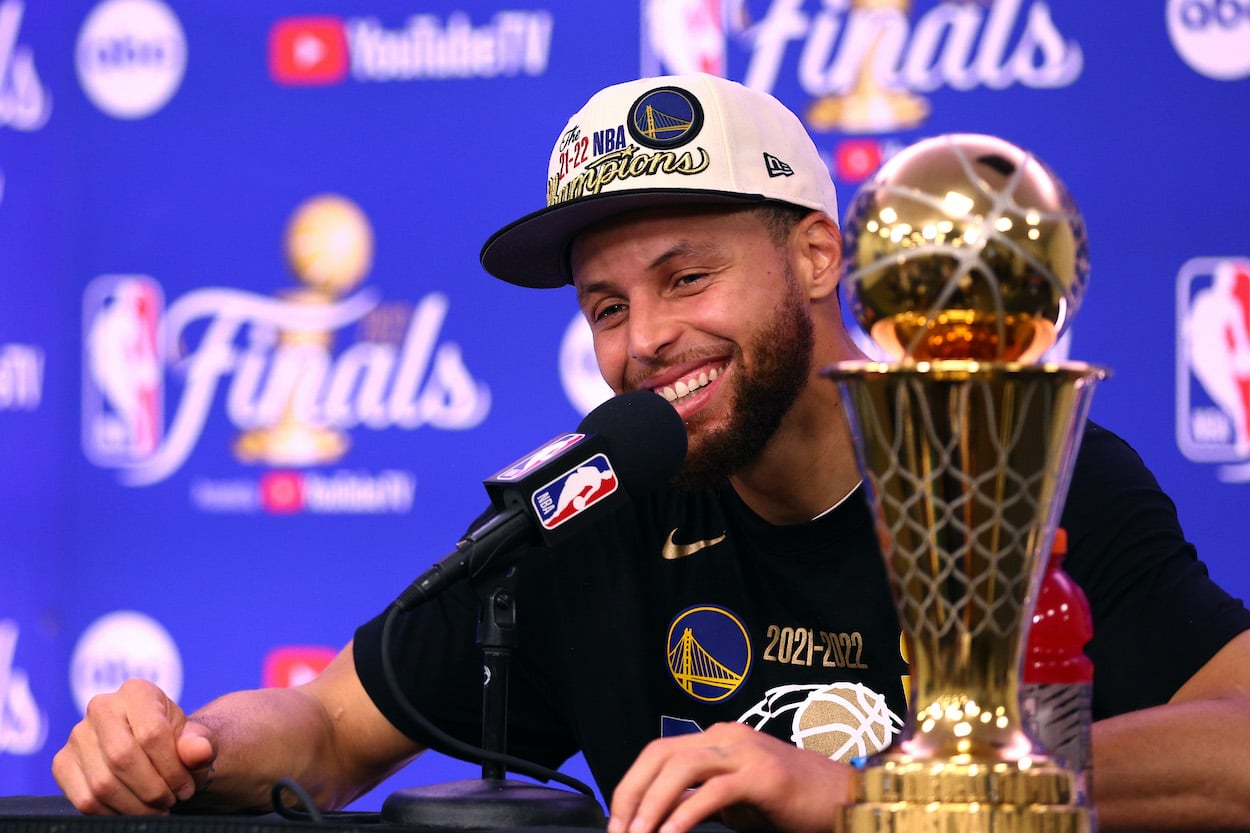 Bill Simmons Moves Stephen Curry Ahead of 6 NBA Greats and Into the Top 10 of His NBA 'Pantheon'
Stephen Curry just won his fourth NBA title and won his first NBA Finals MVP. This made Bill Simmons move Curry into his all-time top 10.
Sports media mogul Bill Simmons of The Ringer has his fair share of hot takes and out-there theories on sports. He can also be an obnoxious Boston homer. However, he did write one of the definitive books on basketball history (The Book of Basketball). So, his takes on professional basketball's past, present, and future can't be ignored. That's why it's so noteworthy that after the Golden State Warriors won the 2021-22 NBA title, Simmons now has Stephen Curry in his all-time top 10 "pantheon" of NBA superstars.
Bill Simmons moved Stephen Curry into his all-time top 10 after the Golden State Warriors most recent title
On his podcast, The Bill Simmons Podcast, following Game 6 of the 2022 NBA Finals, Simmons revealed to his friend and frequent guest, Joe House, that Stephen Curry is now in the top 10 of his "pantheon" of greatest players in NBA history.
Prior to the 2022 NBA Finals, Simmons said in a May 2021 episode of his podcast that Curry was the 16th-best player in history. However, this changed after Game 6:
I think he's in the top 10 for me now. … I had him behind the following six guys that I think he has now leapfrogged. The great Moses Malone. Shaquille O'Neal. God bless Shaq, but the flaw with him was those last four minutes in a close game. … This hurts, Hakeem Olajuwon. … So I've got him passing [Oscar] Robertson and [Jerry] West, and then [Kevin] Durant, because Durant never did this. You can't put Durant ahead of Curry. Durant was never decidedly the best player on a team that was built around him.

Bill Simmons on Stephen Curry
Simmons also noted that Durant had the chance to be the superstar to bring his team to a championship in 2016 with the Oklahoma City Thunder and again with the Brooklyn Nets the last two seasons but "didn't deliver."
This is hard for Durant fans to believe. They look at the 7-foot (come on, no way he's 6-foot-10) superstar with all his incredible skills and numbers to back it up and can't imagine that a 6-foot-2, 212-pound player from Davidson could be better than their hero.
However, Simmons is right on this. Curry is the better all-time player right now. He's also right about the nine players ahead of him.
Curry continues to make history
After Steph Curry moved into the top-10 of Bill Simmons' pantheon, the follow-up season wasn't great.
In the 2022-23 campaign, the Warriors struggled at times, producing a 44-38 record and finishing with the 6-seed in the Western Conference. That record was, in large part, due to an atrocious road mark. Golden State was just 11-30 away from the Chase Center. Only the bottom-feeding Detroit Pistons, San Antonio Spurs, and Houston Rockets were worse on the road.
NBA legends make their legacy in the playoffs, though, and that's exactly what Curry did in 2023.
Facing the 3-seed Sacramento Kings in Round 1 of the NBA playoffs, Curry was excellent throughout, averaging 31 points in the first six games to help the Warriors force a Game 7.
Then in Game 7, Curry showed Simmons (and the rest of the world) why he deserves to be at least among the top 10 NBA players of all time, and maybe even higher.
The Warriors were down two at halftime before the Golden State star took over in the second half, producing a performance for the ages. Steph dropped 14 in the third quarter and 16 in the fourth to lead his team to a 20-point victory and a series win.
With 50 points in the game, Curry became the all-time Game 7 single-game points leader in NBA history.
His 50-point outburst surpassed Dominique Wilkins with the Atlanta Hawks (47 points, 1988), Sam Jones with the Boston Celtics (47, 1963), and Kevin Durant with the Brooklyn Nets (48, 2021).
If Curry keeps playing like this when the chips are down in the 2023 NBA playoffs, Simmons (and others) may have to reevaluate where the superstar ranks among the all-time greats once again.
Stephen Curry is one of the best NBA players of all time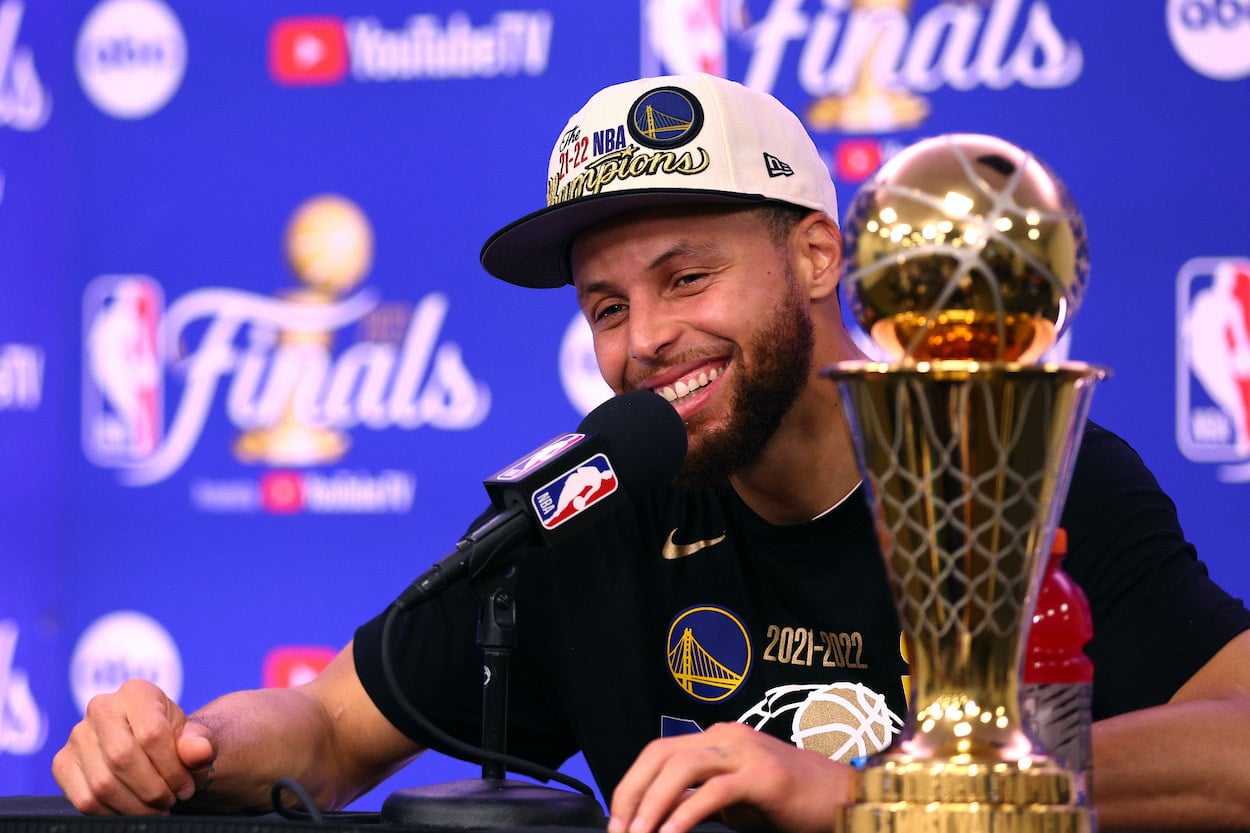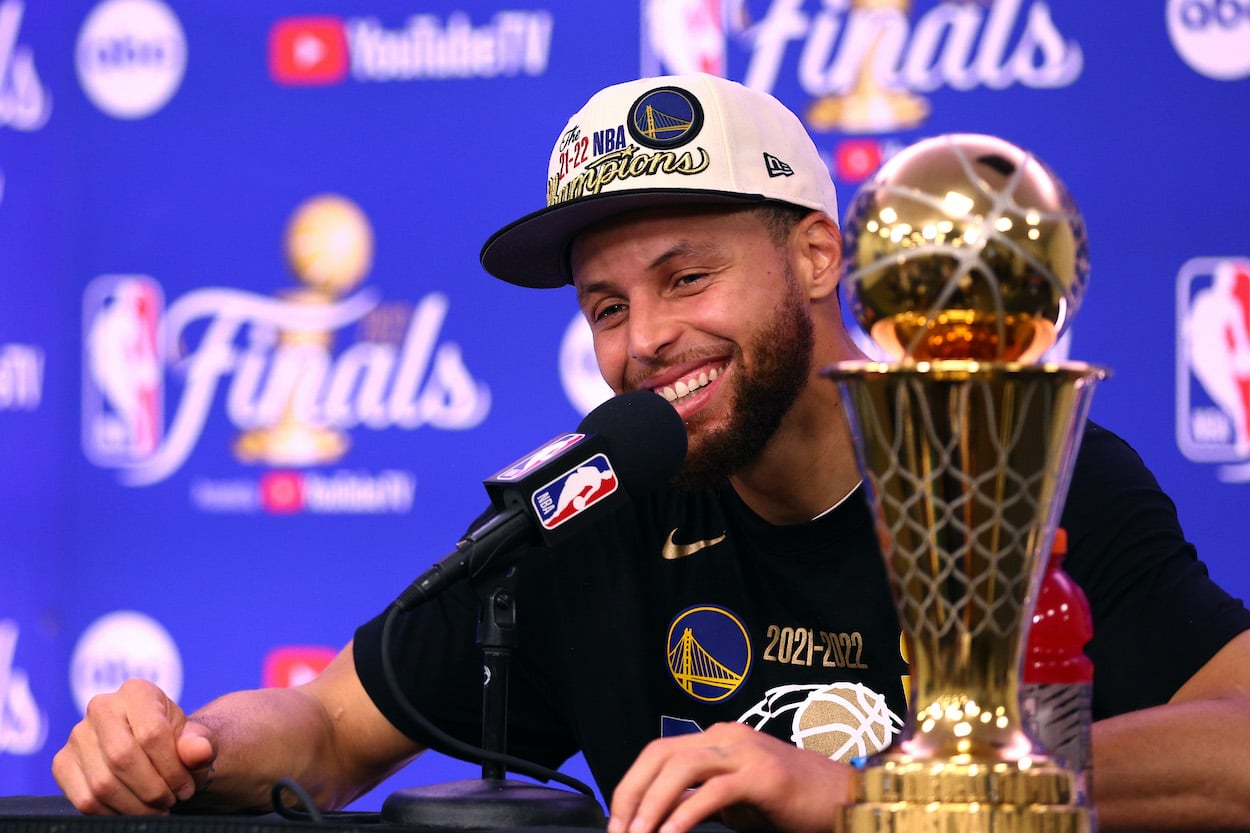 Steph Curry and the Golden State Warriors beat Bill Simmons' beloved Boston Celtics in six games to win the 2022 NBA Finals. This gives the Curry and the Warriors six Finals appearances and four NBA championships in eight years.
During this last series, Curry averaged 31.2 points, 6.0 rebounds, and 5.0 assists, shooting 43.7% from 3-point range. And while the overall numbers are fantastic, the timing and frequency of the big shots throughout the series were incredible.
Not bad for a skinny kid from Davidson.
From an all-time great perspective, Curry also won his first NBA Finals MVP Award. This is a big deal when comparing him against the legends of the game. The Finals MVP is the last major award Steph didn't have in his trophy case.
At 35, Curry is now among the most decorated players in the game. To go with his four titles and new Finals MVP, he also has eight All-Star appearances, eight All-NBA nods (with five first-team), two scoring titles, and two NBA MVP Awards.
With three or four good years left (and maybe more with his ability as a shooter), where does that put Curry on the list of the best players in NBA history?
Bill Simmons says that Steph is now solidly in the top 10.
Bill Simmons' top 10 'pantheon' NBA players
Bill Simmons moving Stephen Curry into his top 10 "pantheon" players in the NBA is a big deal. Simmons is a legit basketball historian, and he absolutely knows what he's talking about when it comes to these rankings.
The nine players Simmons has ahead of Curry are:
Michael Jordan
LeBron James
Bill Russell
Kareem Abdul-Jabbar
Magic Johnson
Larry Bird
Tim Duncan
Wilt Chamberlain
Kobe Bryant
This is a great list and one that represents the best players in the NBA well. You can quibble if LeBron James really deserves to be at No. 2 now or that Larry Bird and Magic Johnson could be a little higher and Tim Duncan could be a little lower.
Overall, though, this is an excellent list that is hard to argue with.
With Stephen Curry, Simmons says the argument is no longer him vs. Kevin Durant. It is now Curry vs. Kobe Bryant. While The Ringer founder says he "like the stuff Steph brings more," he still gives the No. 9 slot to Bryant for what Joe House calls his "force of will."
Deciding who are the GOATS of the game is one of the best conversations to have and a big reason we all love sports so much. When a player makes a major move into the upper echelon with a big title win, that's significant and special.
And that's exactly what Curry did, winning his fourth NBA championship and following it up with 50 in a Game 7.