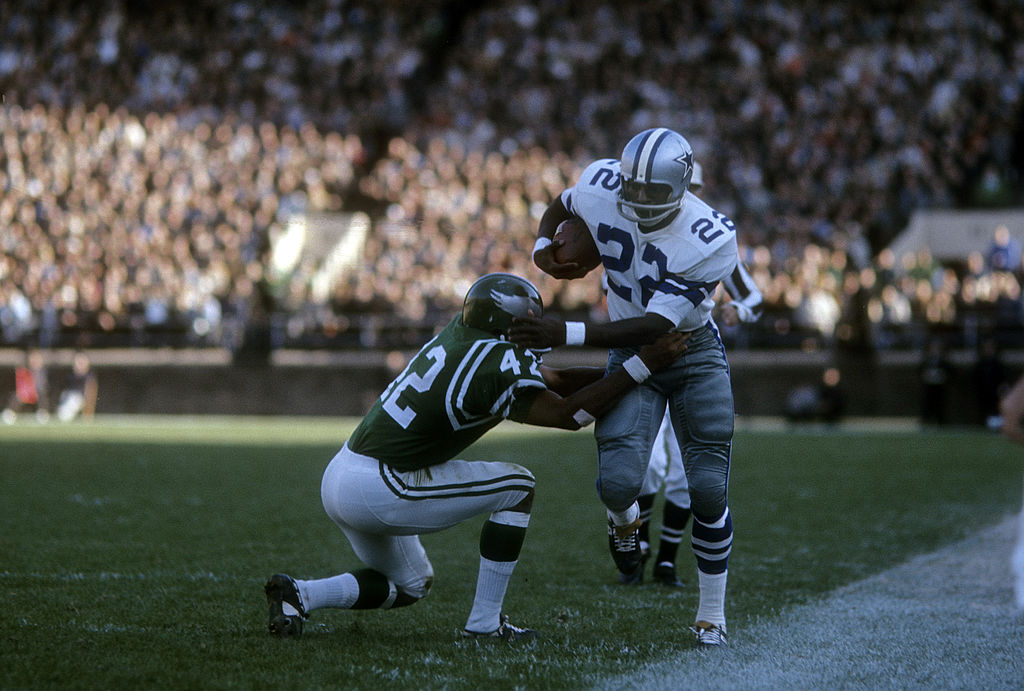 Bob Hayes Is the Most Successful Two-Sport Athlete That No One Talks About
Two-sport athletes fascinate fans. Bob Hayes might be the greatest two-sport athlete ever, but many people don't know who he is.
When people think of two-sport athletes, the first names that come to mind are probably Deion Sanders and Bo Jackson, who both played at high levels in both Major League Baseball and the NFL. But they weren't the first NFL players to play another sport. One of the first athletes to do it is one of the most successful two-sport athletes of all-time, but his name has also been largely forgotten by modern sports fans. Here's the story of Olympic sprinter and NFL wide receiver "Bullet" Bob Hayes.
Bob Hayes: the world's fastest human
Bob Hayes was fast. He ran 60 yards in 5.28 seconds — on a cinder track. His hundred-yard time was 9.1, and it took him 20.6 seconds to run 220 yards — into an eight mile-per-hour headwind.
A coach once asked him, spur-of-the-moment, to run a quarter-mile; Hayes did it in 48.6 seconds. He was chosen to compete for the U.S. at the 1964 Summer Olympics in Tokyo, and his football coach was reluctant to give him time off to train for the sprinting competition.
Hayes was considered so vital to the Olympic team that President Lyndon B. Johnson personally made a phone call to intervene. And it was a good thing he did because Hayes made history in Tokyo. He tied the world record in winning the 100-meter race, but his real crowning moment came as the anchor of the 4×100-meter relay.
With the team in fifth, Hayes took the baton two meters behind, but he ran his leg of the race in 8.6 seconds — still the fastest time ever — to give the U.S. the gold, finishing more than three meters ahead of the competition.
Bob Hayes' NFL career
The Cowboys selected Hayes in the seventh round of the 1964 NFL draft, hoping the track start could give the struggling team — which finished 4-10 the previous season — a boost. He quickly adapted to his role as a receiver, and his speed changed the game.
Zone defenses were essentially invented because no one player could keep up with him in man-to-man, which was the only kind of pass defense that existed back then. Gil Brandt, the Cowboys' director of player personnel at the time, called Hayes' speed "beyond belief," and legendary coach Don Shula has said Hayes "changed the game because of his speed."
Regardless of how defenses changed as a result of Hayes' speed, he still succeeded out of the gate. Hayes led the league in receptions each of his first two seasons, gaining over 1,000 yards in both 1965 and 1966 — in 13 and 14 games, respectively.
He scored 71 touchdowns in his 10 seasons in Dallas, a franchise record that stood until Dez Bryant passed him in 2017. To this day, Hayes holds a number of records that make him one of the Cowboys' best receivers in franchise history.
A rare successful two-sport star
It's one thing for an athlete to play two sports — which is rare in and of itself — but it's another to be among the best at both of your sports. Not only was Hayes a two-time gold medalist, but he also played in the Cowboys' first two Super Bowl appearances, helping the team win Super Bowl VI over the Dolphins.
To this day, Hayes remains the only person to have won both an Olympic gold medal and a Super Bowl ring. The Cowboys inducted Hayes into their Ring of Honor in 2001, in an emotional ceremony just days after 9/11. It was also about a year before he died on Sept. 18, 2002, at the age of 59. Hayes was inducted into the Pro Football Hall of Fame in 2009.