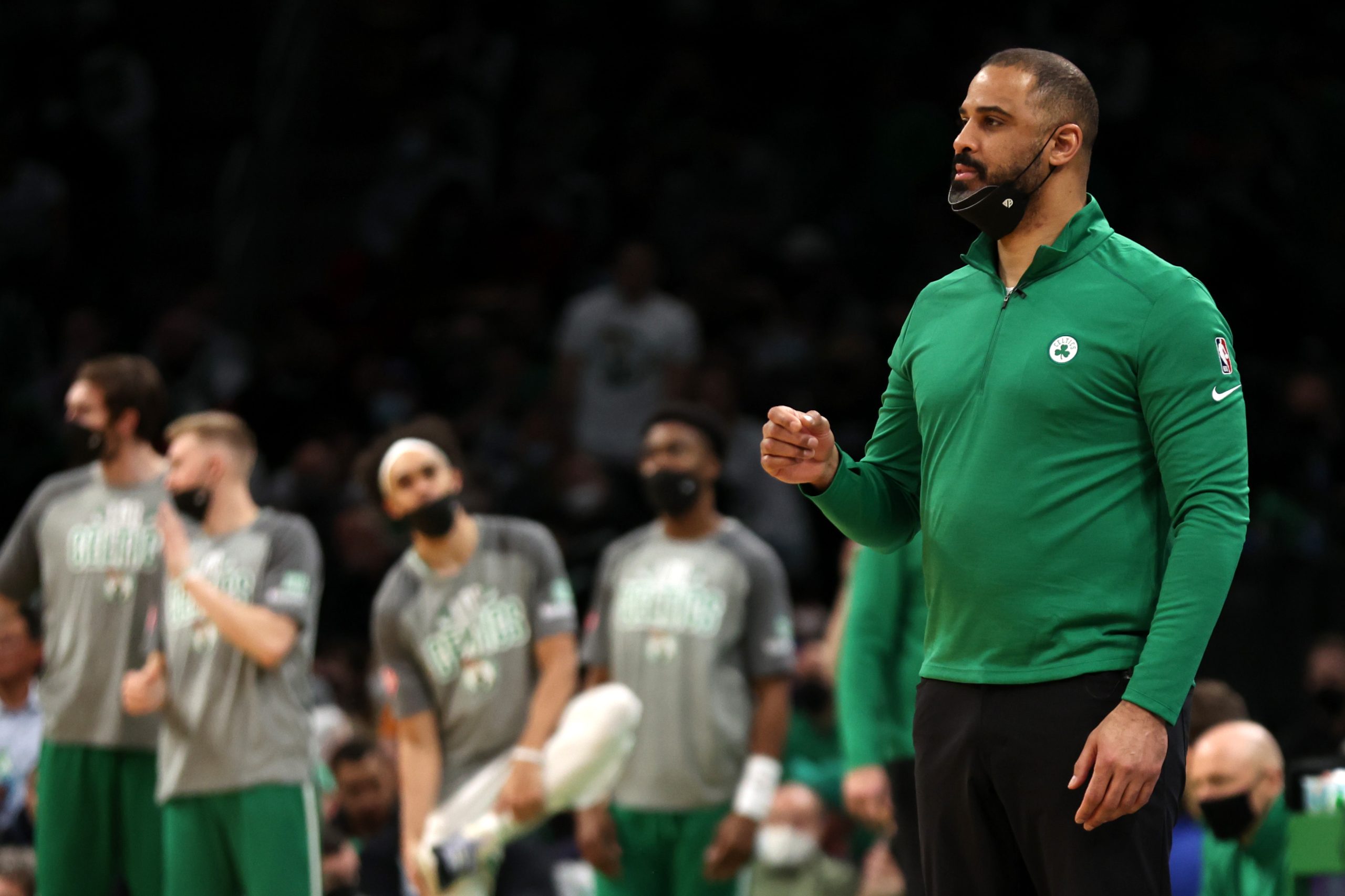 The Boston Celtics Just Answered a Major Challenge, but 'MVP' Ja Morant is the Next One
The Boston Celtics came up big after halftime Tuesday, rallying from a 17-point deficit against the Atlanta Hawks.
For a half, it looked like everything was falling apart for the Boston Celtics. Two days after surrendering 128 points to the lowly Indiana Pacers in a loss, the Celtics found themselves in an early hole at home against the Atlanta Hawks.
To make matters worse, Celtics star Jaylen Brown went down with an ankle injury and never returned. Despite the injury and a 17-point deficit in the first half, Boston answered a halftime challenge from first-year coach Ime Udoka. Next up for the Celtics is another significant challenge involving "MVP" Ja Morant.
The Boston Celtics overcame the loss of Jaylen Brown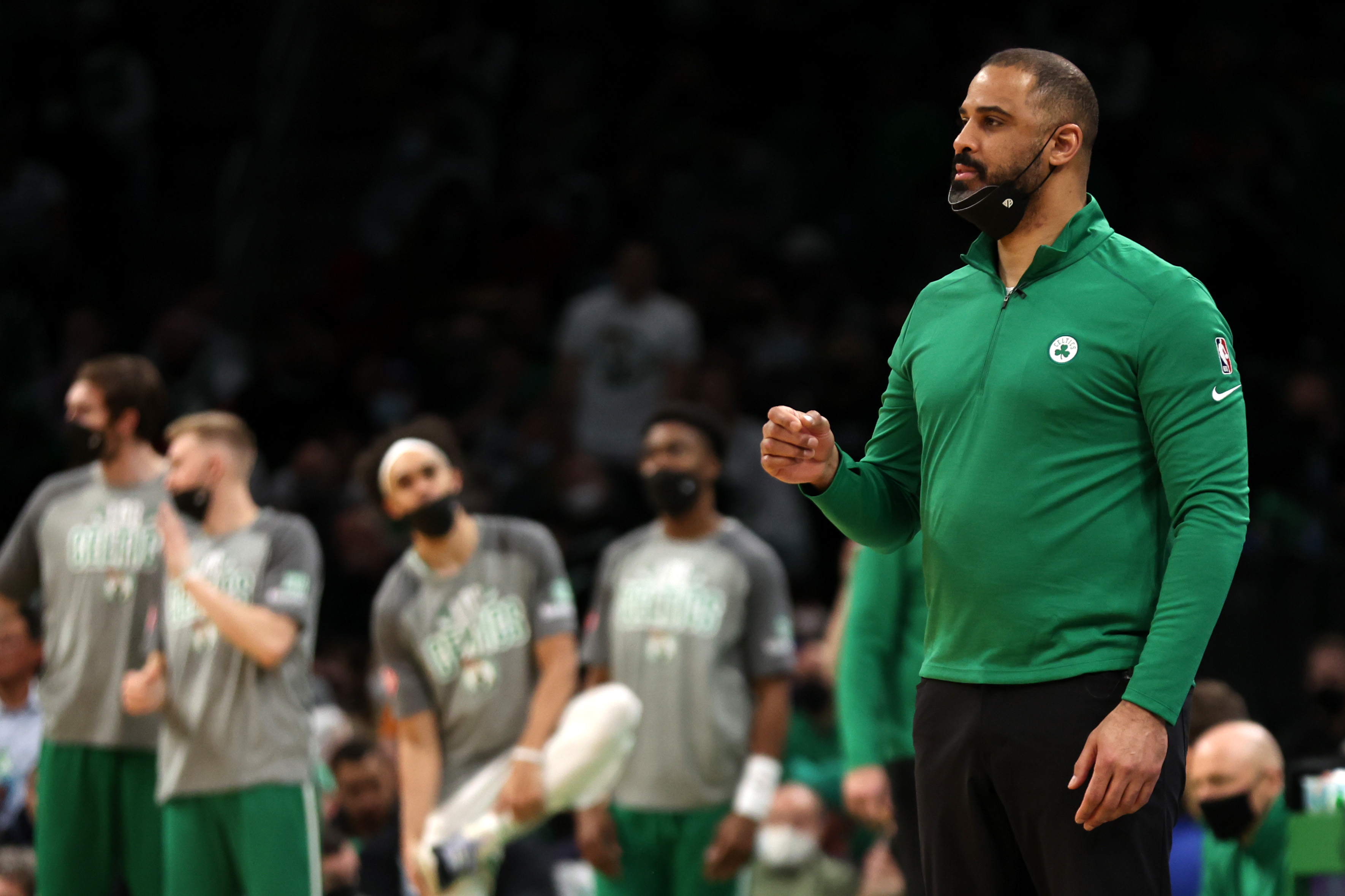 Brown left the game in the first quarter after rolling his right ankle while driving the lane. Although he walked off on his own, he never returned. The Hawks also made 14 of 20 shots from the floor in the second quarter to jump out to a 17-point lead. It seemed the Celtics were headed for their second straight loss against a sub-.500 team.
Instead, Jayson Tatum heated up, as did the bench.
Tatum finished with 33 points, while reserves Derrick White and Grant Williams each had 18 off the bench as Boston improved to 37-27.
What was most impressive is that they did it all with Brown in the locker room.
"It just shows, that if we continue to come out like this, this is the team that we are," said Marcus Smart, per ESPN. "This is the identity that we have. It's going to be hard for teams."
The Boston Celtics defense was challenged at halftime by coach Ime Udoka
After giving up those 128 points to the Pacers on Sunday and then 65 in the first half to the Hawks on Tuesday, Udoka challenged his team. At halftime, he told them he needed more physicality from them.
"Up the physicality," Udoka told reporters after the game, per CLNS media. "That's what we talked about and showed at halftime. It was a little carry-over from the last two games where we weren't at our best defensively. Obviously, it happened in the first half where (Hawks star Trae Young) came off clean too many times, got too many good looks."
Young, who also rolled his ankle but remained in the game, scored 31 points but had just nine in the second half.
Marcus Smart welcomed Udoka's challenge. Anytime physicality is involved, Smart is ready to go and will welcome that challenge every night.
"Every day. Every day. That's part of us. That's part of me," Smart said, per Keith Smith.
Grant Williams, Derrick White stepped up their game on both sides of the ball
Udoka said he felt the Celtics were a little "shell-shocked" when Brown went down. He credited White with his all-around effort to help overcome the loss of Brown.
"Offensively, it felt like we were a little — I don't know, shell-shocked with Jaylen going out," Udoka said postgame. "We kind of had to figure out how we were going to attack it, and Derrick was a huge part of that. Derrick was huge handling, scoring, distributing, defensively, all the way around. So it was huge to have a guy like him ready on a night when Jaylen goes out."
Williams also shined on both ends of the court. He said playing against Young will only help the Celtics when they square off against the Ja Morant and the Memphis Grizzlies on Thursday at home.
"Trae is a little more deep threat, shifty," Williams said after the game. "Ja creates a lot more downhill transition, creates a lot of flow for their team. Ja is an incredible player. He's the MVP in my eyes, this early in his career. Tremendous respect to him at what he's done."
Williams and White will need to step it up again Thursday as Brown has already been ruled out.