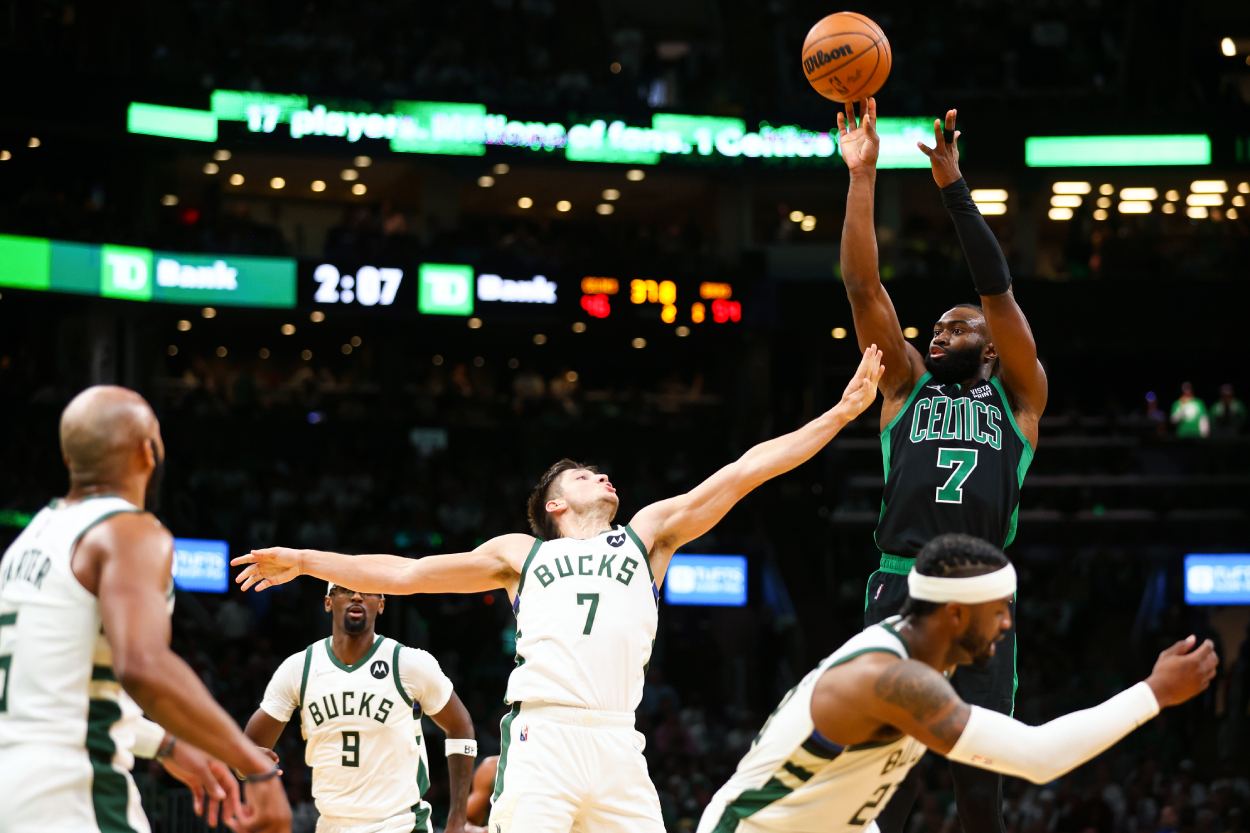 Boston Celtics Nearly Set an NBA Record Nobody Wants in Loss to Milwaukee Bucks
The Boston Celtics must go back to the drawing board after a woeful afternoon of shooting against the Milwaukee Bucks on Sunday.
The NBA game has changed drastically over the years. In today's game, teams rely on the three-point shot more than ever. The Boston Celtics have been known to chuck up three-pointer after three-pointer, and such was the case Sunday against the defending champion Milwaukee Bucks.
While the Celtics threw up 50 long-range shots, making 18 of them, their two-point shooting nearly had them in the record books for all the wrong reasons.
The Milwaukee Bucks stole homecourt advantage from the Boston Celtics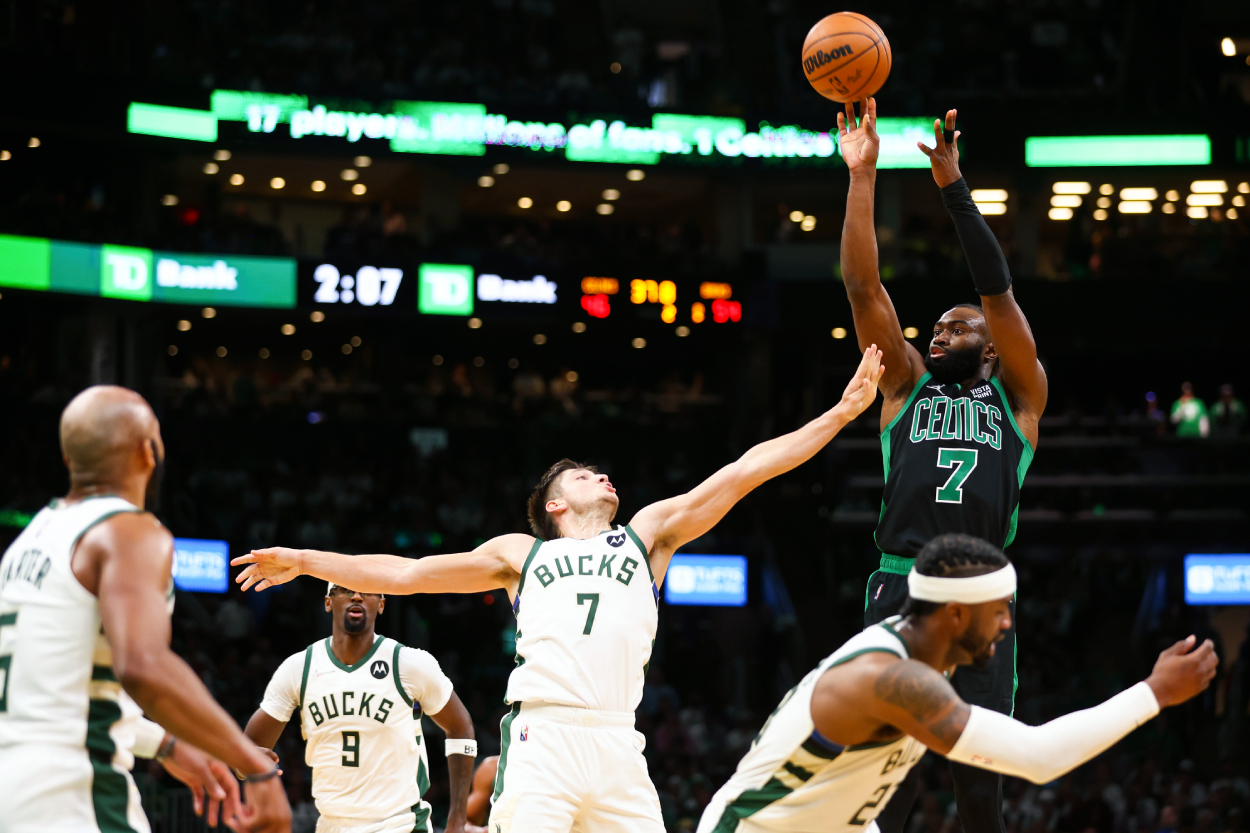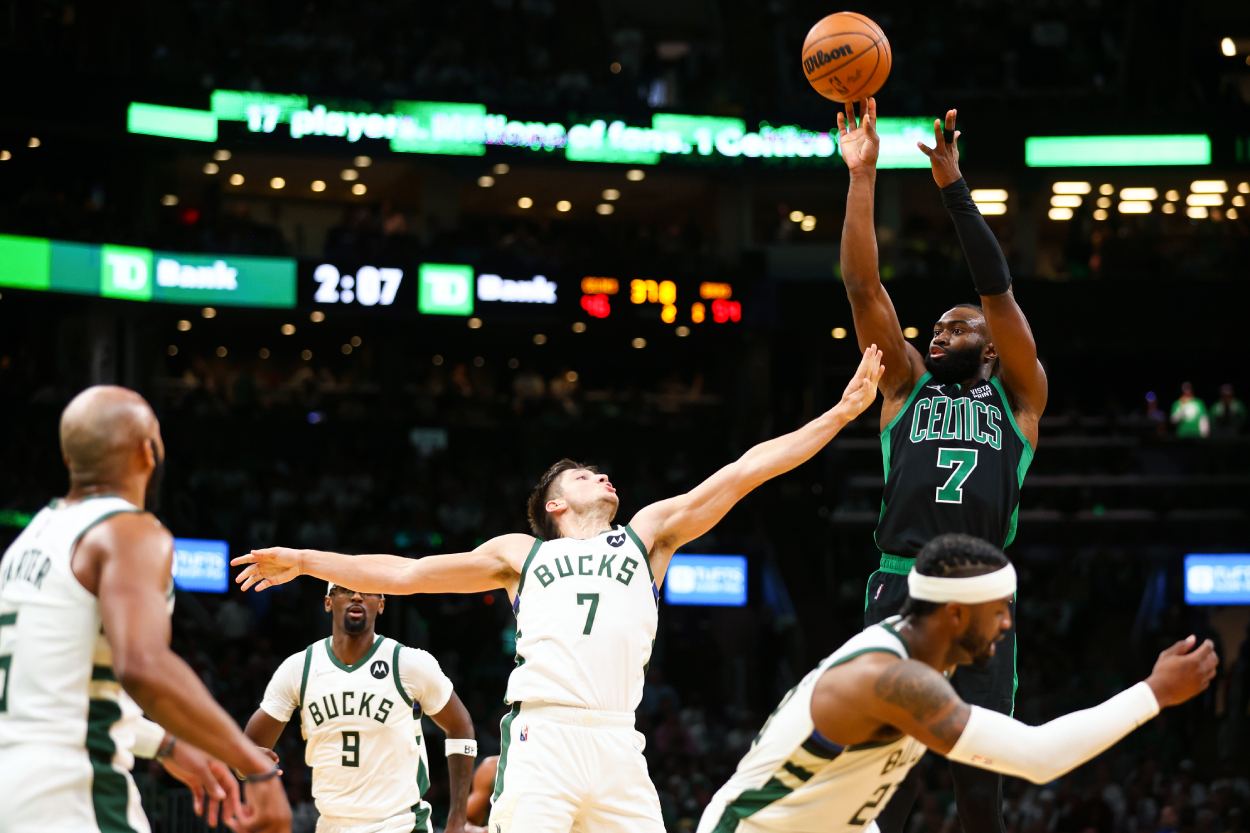 The Celtics had a performance to forget in Game 1 of the Eastern Conference Semifinals against the Bucks on Sunday. They will do just that.
Celtics guard Jaylen Brown said the Bucks punched the Celtics in the mouth after Milwaukee came into TD Garden on Sunday and left with a 101-89 victory. Now it's up to his team to put it behind them and respond in Game 2.
"Give credit to Milwaukee," Brown said postgame, per ESPN. "They did a good job and had a good plan but we missed a lot of open shots. They hit us in the mouth so we gotta be ready for the next one."
The next one is Tuesday night. Game 2 is never a must-win, but it's pretty close because the Celtics can't afford to head to Milwaukee down 2-0.
"They're the defending champs and we gotta come out and play basketball," Brown said. "We have to be ready to go no matter what the injury is or whatever it is that we're dealing with. You gotta have everybody connected and mentally locked in and be ready to leave it all out on the floor."
The Boston Celtics nearly set an NBA playoff record nobody wants
Boston's shooting was woeful in Game 1. They misfired on 32 three-point attempts, but that wasn't even the problem. Their shooting troubles came from inside the arc.
The Celtics made 10 two-point field goals all game. The NBA playoff record for the fewest two-point field goals in a contest is nine, set by the Houston Rockets in 2017.
The Celtics went 10-for-34 shooting inside the three-point line. Boston set a team record for fewest-made two-point field goals, breaking the old mark of 14. According to ESPN NBA analyst Kirk Goldsberry, the Celtics never made fewer than 14, and they've played 6,630 total games.
"We need multiple penetrations, multiple paint touches, and they did a good job as far as that," Celtics coach Ime Udoka said. "I think Jaylen and Jayson (Tatum) didn't have their best night offensively, missing ones that they normally are going to make, so those things combined obviously increase those numbers."
The Celtics will use Game 1 loss as a learning experience
It was ugly all around for the Celtics, who haven't been used to losing lately. It was the first loss of the playoffs and their first since April 7, that also coming at the hands of the Bucks.
Celtics center Al Horford said Boston would learn from the loss and bounce back Tuesday in Game 2.
"This one should hurt a little bit," Horford said, per ESPN. "We have an opportunity now to learn from this game, see how we can be better as a group and come out and do that Tuesday."
Udoka managed to find a positive in a game that didn't appear to have many for Boston.
"Offensively, not our best night. I thought we guarded well enough," Udoka said. "To lose a 12-point game when we shot so poorly bodes well for us. In a way it's good to get this dud out of the way, offensively."