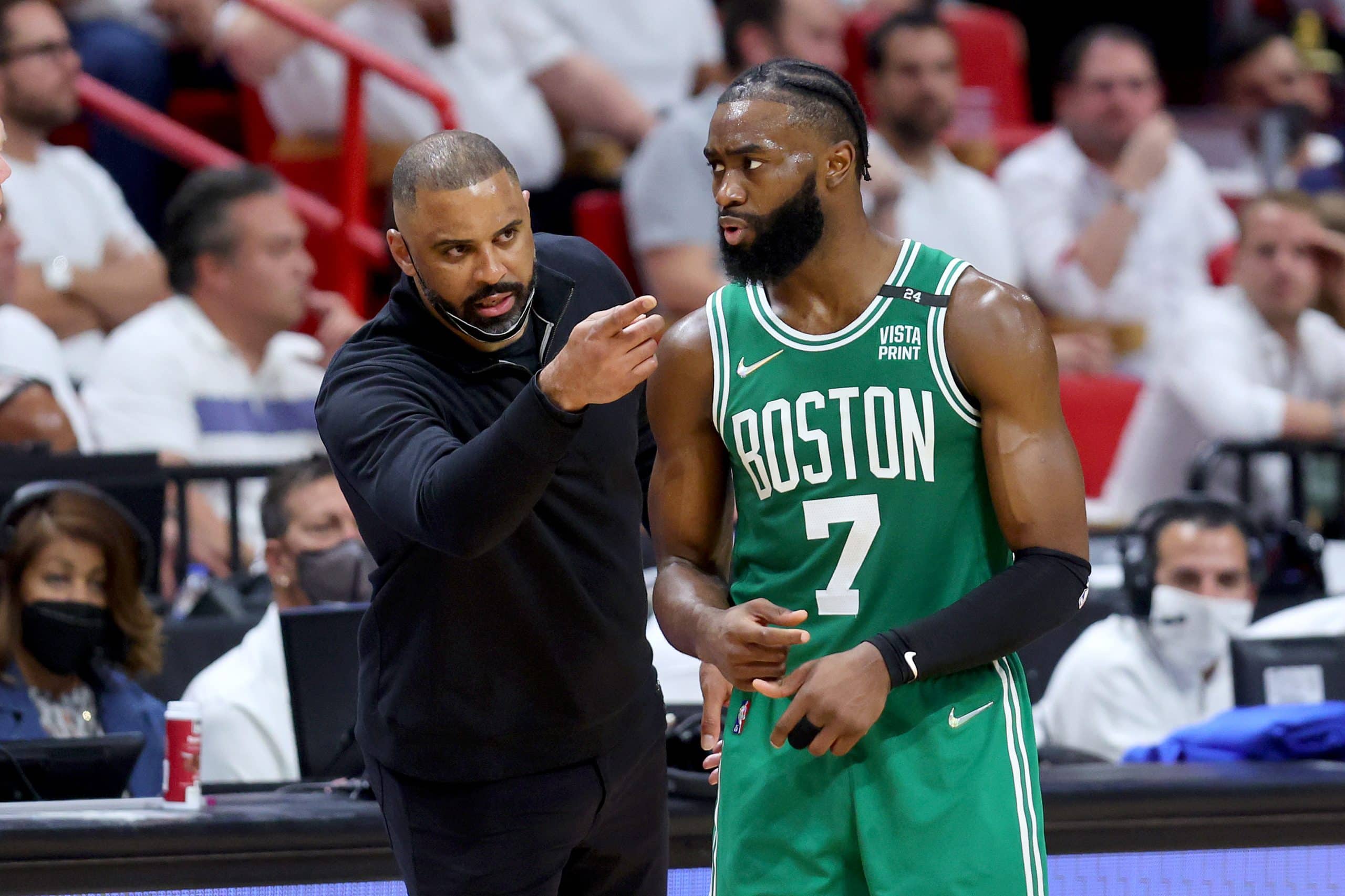 Boston Celtics Notes: Ime Udoka Not Shy In Calling Out Jayson Tatum After Embarrassing 3rd Quarter
The Boston Celtics find themselves in a 1-0 hole after a third-quarter meltdown Tuesday night.
Despite blowing another double-digit lead in Tuesday's Game 1 loss to the Miami Heat, Boston Celtics coach Ime Udoka said he found some positives. He got some strong play from his young players in Payton Pritchard and Aaron Nesmith. Robert Williams, after sitting out much of the Eastern Conference Semifinals against the Milwaukee Bucks, came through with a big performance in the absence of Al Horford.
Udoka also said his team won three out of the four quarters. That's not much of a consolation prize for the Celtics or their fans, but the coach had no problem calling out three-time All-Star Jayson Tatum and other veterans for their dismal third-quarter performances.
Boston Celtics coach Ime Udoka called out Jayson Tatum after rough third quarter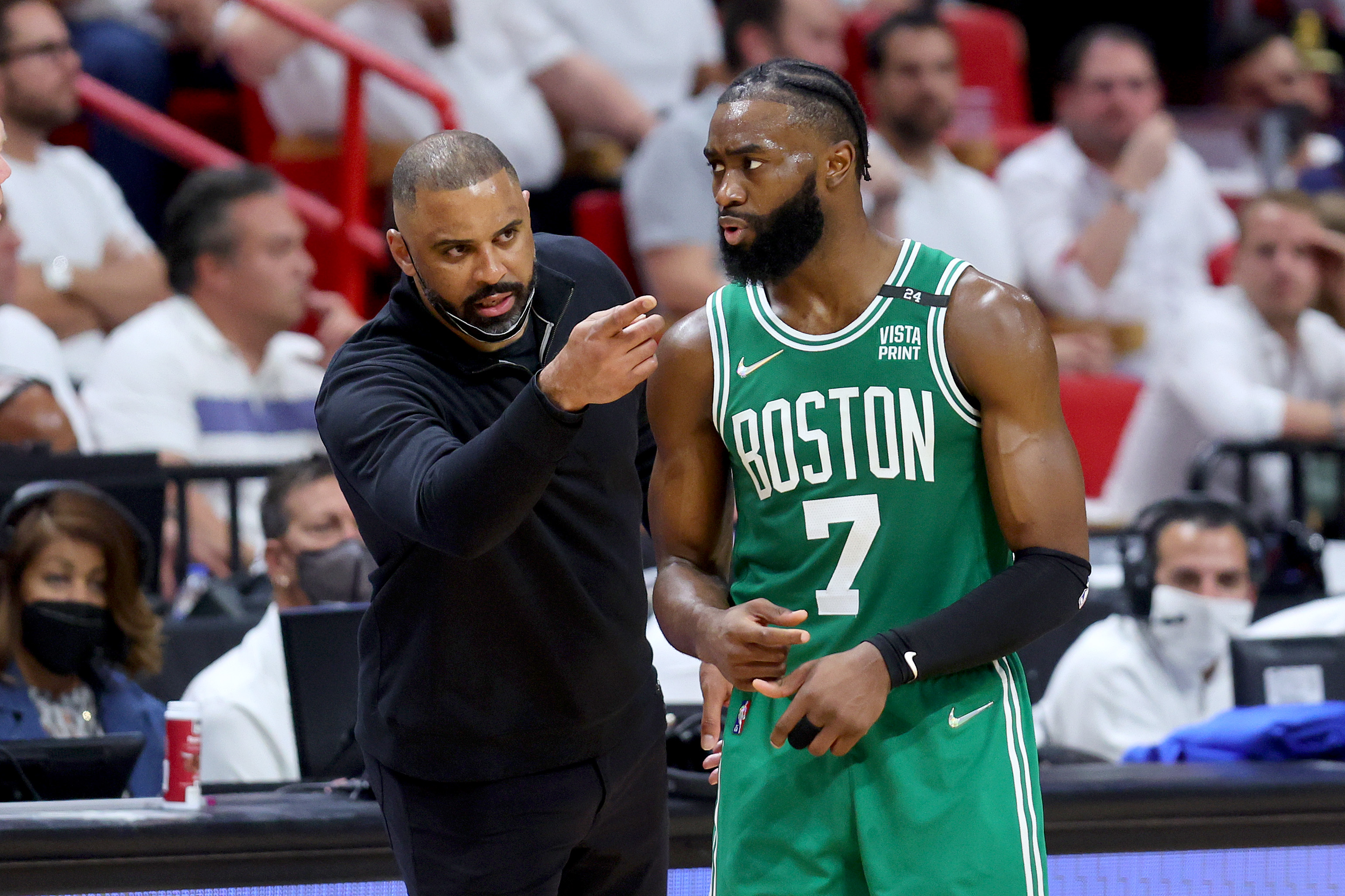 The Celtics looked good for a half. Despite getting news a few hours before game time that starters Marcus Smart and Al Horford wouldn't play, Boston more than held its own against the top-seeded Heat.
The Celtics held a 62-54 lead at halftime. They played good fundamental basketball in the first 24 minutes.
Then the third quarter happened.
Miami was a completely different team, and so was Boston. The Heat opened the third quarter with a 22-2 run and outscored the Celtics 39-14 in the quarter to turn the eight-point deficit into a 17-point advantage after three quarters.
"We got out-toughed, out-physicaled," Udoka said postgame, per CLNS Media. "They looked like they wanted to come out in the second half and up their physicality and aggression on both ends. They did that. We had eight of our 16 turnovers in that quarter."
Tatum had six of those turnovers. On consecutive possessions, he was careless with the ball, turning it over as Miami turned the miscues into points.
"Obviously, Al and Marcus are two of our veteran guys who calm us down at times," Udoka said. "You might miss that some. It wasn't just young guys in Payton and those guys. It was Jayson and some of our veterans making the same mistakes."
The Boston Celtics got burned by Jimmy Butler
Jimmy Butler was the best player on the court Tuesday. Butler is a competitor, and his teammates feed off him, especially in that third quarter. He finished with 41 points and took charge when needed.
Heat coach Erik Spoelstra summed up Butler perfectly after the game.
"Jimmy Butler is an elite competitor," Spoelstra said, per ESPN. "There's a lot of guys in this league that are playing basketball. He's competing to win. That's a totally different thing and he does that as well as anybody in this league."
Butler also summed up his own performance perfectly.
"I continued to play basketball the right way: Shoot the ball when I'm open, attack, hit the open guy," he said. "Honestly, it was a team effort."
Butler was a big part of that physicality Udoka talked about. Instead of jacking up threes all night as the Celtics typically do, he takes it to the hoop and welcomes the contact. He went 0-for-2 from three-point land but made 17 of 18 free throws. On the other side, Tatum remained wildly inconsistent with his long-range shooting, making two of nine from beyond the arc. Tatum went 12-for-24 in Games 6 and 7 against the Bucks but was 5-for-27 in Games 3-5.
"I want to run into people and see who falls down first, who is going to quit first," Butler said, per The Athletic. "I think that's the style of basketball I like to play. And so do they. And, you know, I was 0-for-2 from 3 tonight. I want to go 0-for-0 next game because I just want to keep banging into people."
Udoka couldn't give a whole lot of information on Horford
Smart's absence was somewhat expected. He injured his foot in Game 7 against the Bucks and was immediately listed as questionable for the opener against the Heat.
The Horford news came about three hours before tipoff Tuesday when Shams Charania of The Athletic tweeted the Boston center was in health and safety protocols.
Udoka said as much as he could about the situation.
"As always we don't comment on the status of our guys," Udoka said, per Yahoo Sports. "He's feeling fine and go from there. Wait to see results and future tests."
It's the third time Horford has been placed in health and safety protocols. Udoka wasn't sure how much time he'd miss.
"It's unsure. That's more of a medical question, honestly," Udoka said. "But there are different protocols and tests that have to be passed, and we'll know more going forward. But it's not a definite that he's out for two games."