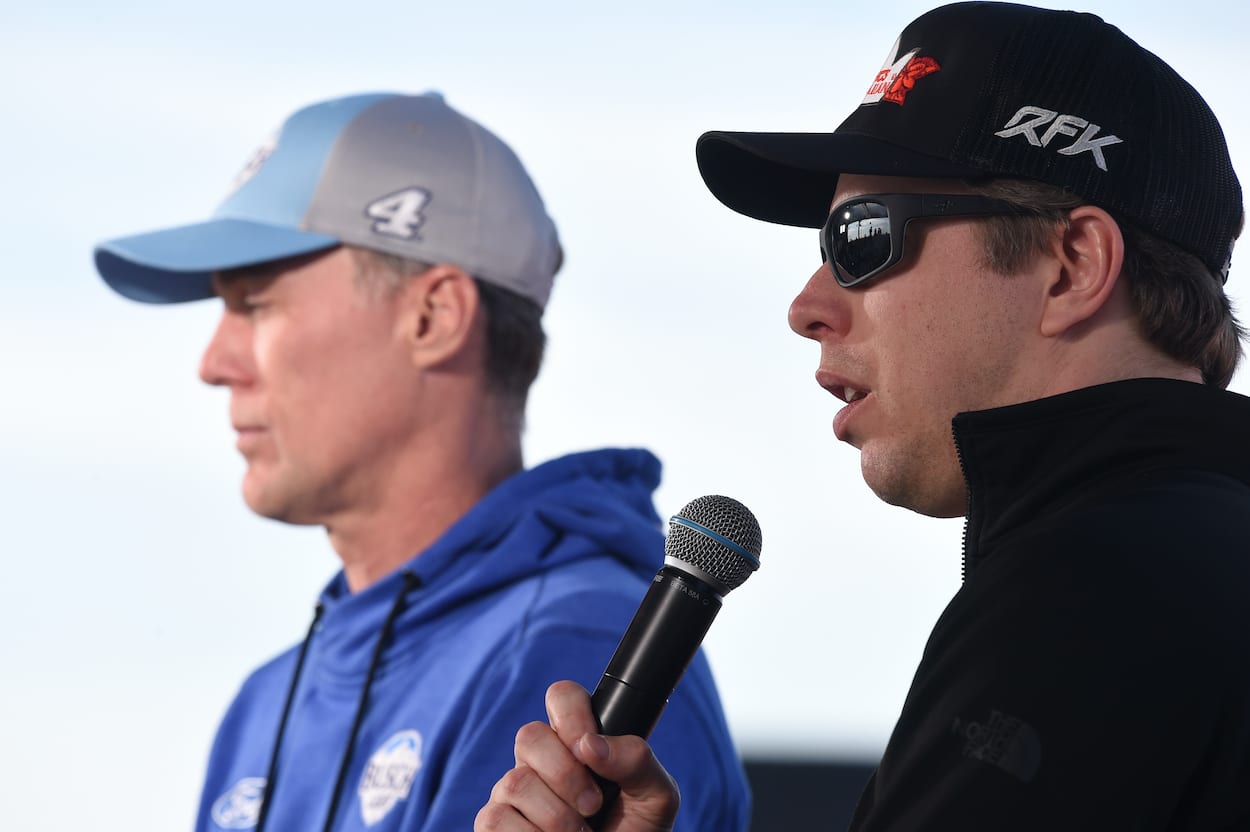 Why Brad Keselowski 'Has Money' on Kevin Harvick Wrecking Austin Cindric or Tyler Reddick During Coca-Cola 600
Brad Keselowski predicted during Sunday's rain delay at Charlotte Motor Speedway that Kevin Harvick will wreck Tyler Reddick or Austin Cindric in the Coca-Cola 600.
Brad Keselowski won the Coca-Cola 600 in 2020. Kevin Harvick has won the crown jewel race a couple of times. No one would be surprised if either driver made it to Victory Lane on Monday after the longest race on the NASCAR Cup Series schedule.
Interestingly, on Sunday, during the rain delay, the 2012 champion didn't make any predictions about who he thought would win the race, but he did suggest that the 2014 champion would have revenge on his mind and predicted that he would wreck Austin Cindric or Tyler Reddick.  
Brad Keselowski witnessed shenanigans during drivers-only broadcast
Brad Keselowski served as the host in Fox's Charlotte studios during Saturday's drivers-only broadcast. He was joined by Aric Almirola and Ricky Stenhouse Jr. A few miles away at Charlotte Motor Speedway, Kevin Harvick worked with Penske teammates Joey Logano and Ryan Blaney in the booth while Tyler Reddick and Austin Cindric served as pit road reporters.
Unfortunately, with weather delaying and eventually postponing the Xfinity race, the drivers were put in the uncomfortable position of filling air time. That included both Reddick and Cindric interviewing more than a dozen drivers during the broadcast.
However, at one point, the drivers took a break from the interviews, and the show returned to the Charlotte studio, where Keselowski and company were assisted by Fox regulars Shannon Spake and Jamie McMurray. After a lengthy conversation between the group, Spake wanted to catch up with the pit reporters, and the broadcast returned to the track and, more specifically, inside Harvick's motorhome.
After Happy had mentioned earlier in the show how he had raided Darrell Waltrip's motorhome during rain delays back in the day, including toilet papering the inside, the Fox crew and drivers-reporters went to work and did the same, rummaging through his bus, eating his food, making popcorn, and drinking juice. 
The network showed a split screen with the shenanigans inside the motorhome in one box and the driver watching it all happen in the other.
"100 percent fired," Harvick said while smiling and watching the pit reporters make themselves at home inside his bus.  
Keselowski predicts Harvick will wreck Austin Cindric or Tyler Reddick
On Sunday, Fox found itself in a familiar position with more rain at the track. Except this time, the on-air regulars passed time by interviewing numerous drivers in the garage, including Denny Hamlin, Kyle Larson, and Brad Keselowski.
During a conversation with the Roush Fenway Keselowski co-owner, Chris Myers brought up the day before and how the driver was one of several participating in the drivers-only Xfinity Series broadcast.  
"Austin Cindric kind of stole the show playing reporter. You were in the studio doing the easy TV job," Myers said.
"So easy back here," Keselowski joked. "It's just so easy. I'd rather drive the racecar. I'm just glad that I wasn't Austin Cindric or Tyler Reddick because, you know, they toilet papered Kevin Harvick's motorhome." 
"We all saw it," Myers said as the broadcast showed video from inside Harvick's bus the day before. 
"The inside," Clint Bowyer pointed out.
"I got money on one of these two guys getting wrecked today by Kevin Harvick," Keselowski said.
Aligns with what Harvick said earlier this year
While Keselowski was joking, it's not a stretch to think that Harvick may not wreck Cindric or Reddick for their involvement in the prank, but he might send them a message. That aligns with what the 47-year-old said earlier this year before the Daytona 500 when asked if he planned on being more aggressive in his final year. 
"Dale Jr. summed it up best for me," Harvick told reporters. "He said, 'This is your NFG Tour. I said, 'You're right.' If we have to settle scores, we settle them immediately. We aren't waiting until next week."
Fans should keep an eye on the No. 4 car whenever it gets around the Nos. 2 and 45 during Monday's 600-mile race. When it happens, you can bet both drivers will at least be thinking about all that fun they had Saturday at Harvick's expense and wonder if payback might be coming.
To stay up to date on the latest happenings in NASCAR, including breaking stories you can't find anywhere else, follow Kyle on YouTube and Twitter.