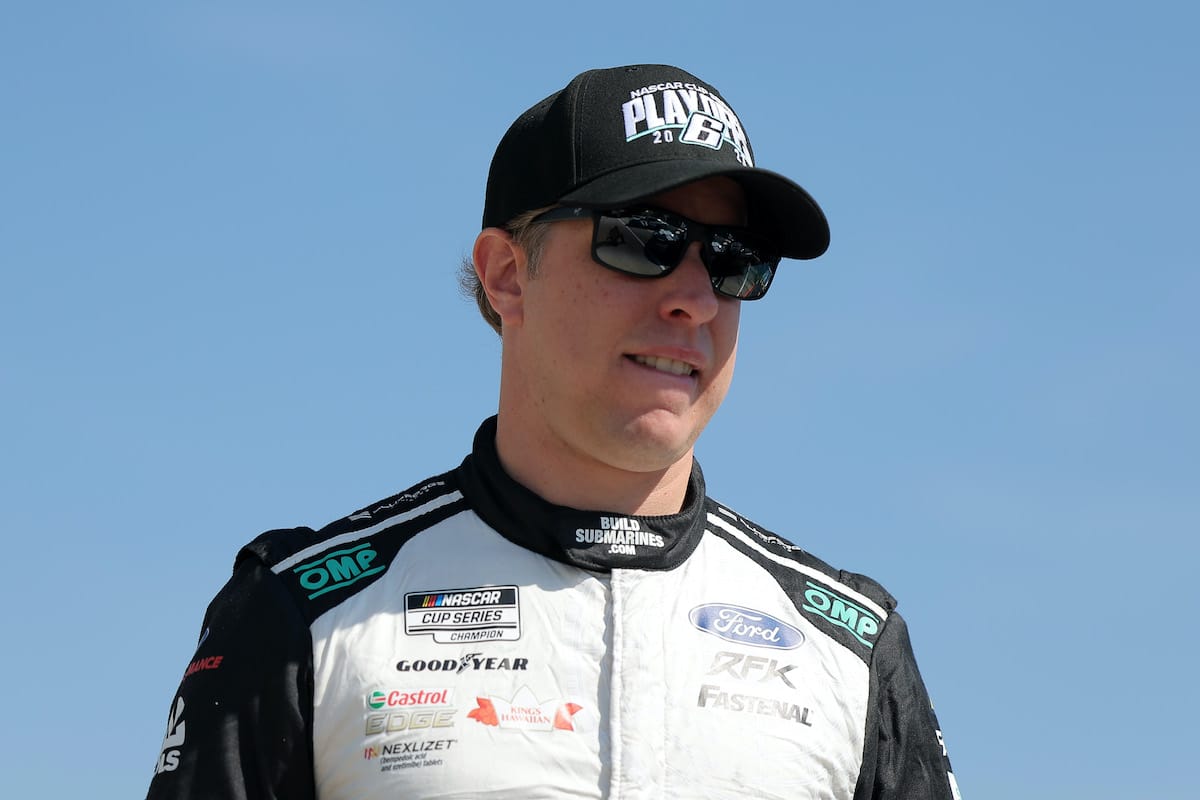 Brad Keselowski Talks About How He's Gone From 'Idiot' to 'Hero' in the Last Year
Brad Keselowski addresses the turnaround at RFK and how he's gone from an idiot to a hero in the last year.
Brad Keselowski and Chris Buescher both advanced to the second round of the 2023 NASCAR Cup Series playoffs. It's a dramatic improvement in performance over the first year at Roush Fenway Keselowski when neither driver made the postseason. 
This weekend, before the first race of the Round of 12 at Texas Motor Speedway, the 2012 Cup Series champion talked about his organization's meteoric rise over the last year and how he's gone from idiot to hero during that same time. 
Brad Keselowski struggles in first year with RFK
Brad Keselowski finished second and sixth in the final points standings in 2020 and 2021, respectively. It didn't feel like the driver was far off from possibly claiming a second title. Then, unexpectedly, after the 2021 campaign, he announced that he was leaving Penske and joining Roush Fenway as a part-owner and driver for the 2022 season.
Growing pains were expected. Growing pains are what happened. 
Keselowski struggled to the tune of six top-10 results all season, including a single top five. He missed the playoffs and finished 24th. Teammate Chris Buescher also missed the postseason but had a better overall season, with 10 top 10s, including a win in the Bristol Night Race.
Keselowski and teammate Chris Buescher run well in 2023
This season has been notably different for Keselowski and Buescher. The Texan, once again, has led the way for RFK, recording three wins at Richmond, Michigan, and Daytona in the regular-season finale.
Keselowski still hasn't made a trip to Victory Lane with RFK but has had a solid season. He's recorded 14 top-10 finishes, six of them inside the top five, including a pair of runner-ups at the first race in Atlanta and the second race at Daytona behind his teammate. 
Both advanced to the Round of 12, and before the first race of the round at Texas Motor Speedway, Keselowski was asked about the team's dramatic turnaround in 2023. 
"It's funny how the rhetoric changes," he said. "A year ago, I was the idiot that left the team that finished fifth and sixth in points the last few years, and had a shot to win races and championships to, I think I finished 28th in points. And now, this year, I'm the hero, or whatever you want to call it. 
"It's kind of like you're never as good and never as bad as whatever people might be saying about you. As I would have told people last year when I looked like maybe a not so smart person — things are better than you think they are. I would say right now — got to keep it calm and not get too caught into our own press clippings at the moment. 
"We're just trying to enjoy the ride. Nothing is given. Everything is earned. We have a lot of work left in front of us but I'm excited about the group of people we have. There's some really good people in this company and on these teams and we can do a lot of damage."
Keselowski spoke in general terms, but that's because he knows both cars could do damage in the remainder of the playoffs, and in the years to come.
Oh what a difference a year makes.
To stay up to date on the latest happenings in NASCAR, including breaking stories you can't find anywhere else, follow Kyle on YouTube and Twitter.