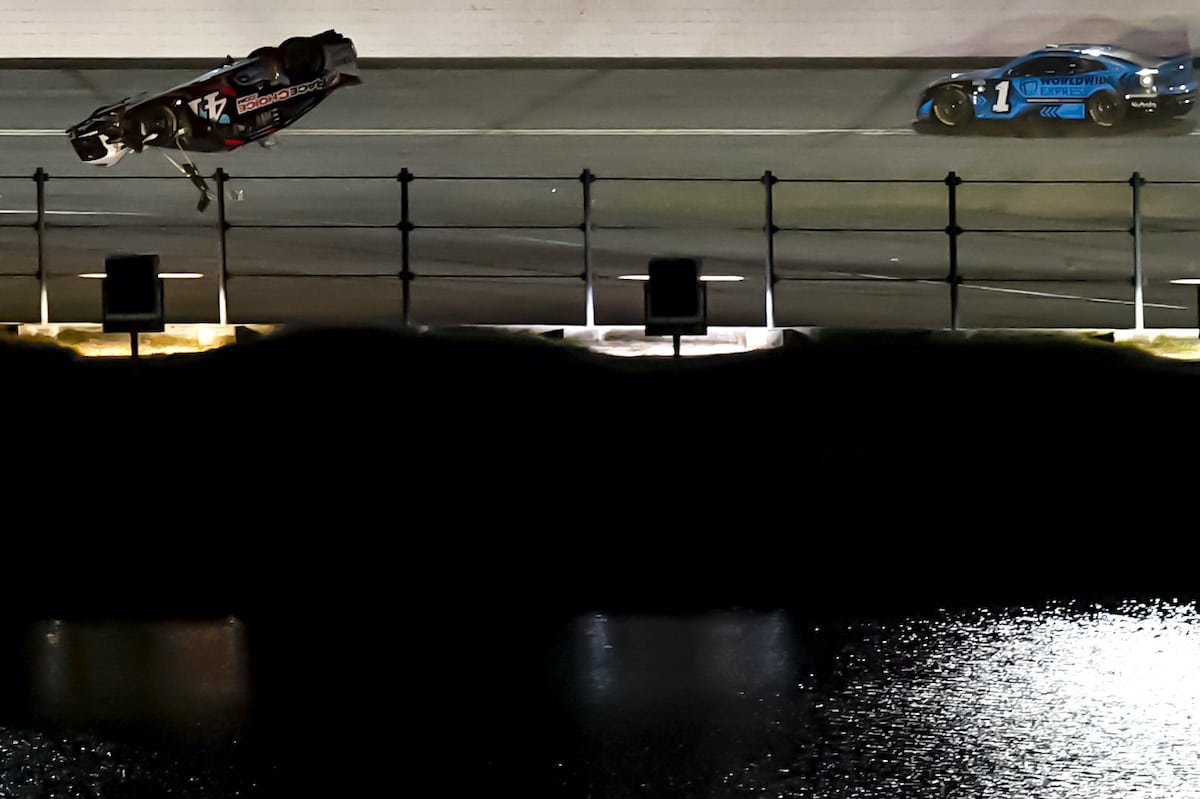 Michael Jordan Expresses Concern When Reacting to Violent Ryan Preece Crash at Daytona 
Michael Jordan happily congratulated his driver, Bubba Wallace, on making the playoffs, but also expressed his concern for Ryan Preece's violent crash.
Michael Jordan was at Daytona International Speedway on Saturday night to see if Bubba Wallace could make the playoffs and, in the process, make history for his 23XI Racing organization by advancing two cars to the postseason for the first time in the company's three-year history. Jordan got what he wanted.
However, His Airness, the rest of those in attendance, and those watching at home got to see much more than that, including an amazing stretch of three-wide racing, a green-white-checkered finish, a last-lap pass, and "the big one." Incredibly, that's not what everyone, including Jordan, was thinking or talking about after the race. Fans were instead focused on the condition of Ryan Preece following his violent crash, where he flipped an unbelievable 11 times. 
Ryan Preece involved in violent crash at Daytona
Ryan Preece already made headlines earlier this year for a massive crash at Talladega when he t-boned Kyle Larson in the race's closing laps. On Saturday, the Stewart-Haas Racing driver added another much more violent chapter. 
Once again, it happened in the final laps when Erik Jones made an awkward push on the No. 41 car, which then went left, crossed the nose of teammate Chase Briscoe, before getting sideways, and then shockingly lifting off the ground.
The car flipped upside down before it crashed back down to earth on the driver's-side roof on a portion of the infield grass. Unfortunately, the soft turf, which instinctively might seem beneficial, turned out to be the worst thing that could have happened. The car dug into the sod and started a barrel roll unlike any other.
The SHR car flipped an unbelievable 11 times in various different directions before finally coming to rest on the grass. During its many tumbles, the 3,500-pound vehicle plowed into the ground, with explosions of dirt producing a dark cloud that enveloped the car, making it disappear from various angles. In addition, numerous destroyed pieces of the car, including the roof hatch, flew off in any number of directions. 
After several tense moments, including the inability of his team to communicate with him over the radio, safety workers assisted the 32-year-old out of his car, where he climbed on a stretcher and headed to the infield care center. 
He was later taken to the hospital, where he remained overnight before being medically cleared and released to return home to North Carolina.
Michael Jordan reacts to Preece accident
Chris Buescher won the race, his third victory in the last five events. But the big winner for Jordan was Bubba Wallace, who finished 12th, and more importantly, clinched the 16th and final playoff spot on points. After the race, the 23XI co-owner found his driver to congratulate him on his well-earned achievement. 
The pair initially exchanged hugs and pats on the back before Jordan found crew chief Bootie Barker and the pit crew for more congratulatory handshakes. He eventually returned to his driver for another hug and then started a conversation. 
"How's RP?" Jordan asked. 
"I don't know," Wallace replied.
"That was a pretty ugly hit," the team co-owner said, looking down at Barker, who said several inaudible words off camera.
"He's alright," the crew chief said. 
"Yeah, I saw him talking. Seemed like he was OK," Jordan said.
"The clips — they made them more collapsible," Barker said, referring to the modifications on the car. 
"That was a direct hit, though, at that speed, man," Jordan suggested, shaking his head before appearing to mouth a four-letter word. "Man, I'm glad I can't fit into one of these." 
Jordan shook Barker's hand a final time and began to walk away.
Interestingly, in that moment, when he could have been solely focused on his driver and the team's accomplishment, the basketball legend showed a compassionate side, and confirmed that he's a true NASCAR fan, expressing concern about another driver involved in a terrible accident. 
To stay up to date on the latest happenings in NASCAR, including breaking stories you can't find anywhere else, follow Kyle on YouTube and Twitter.