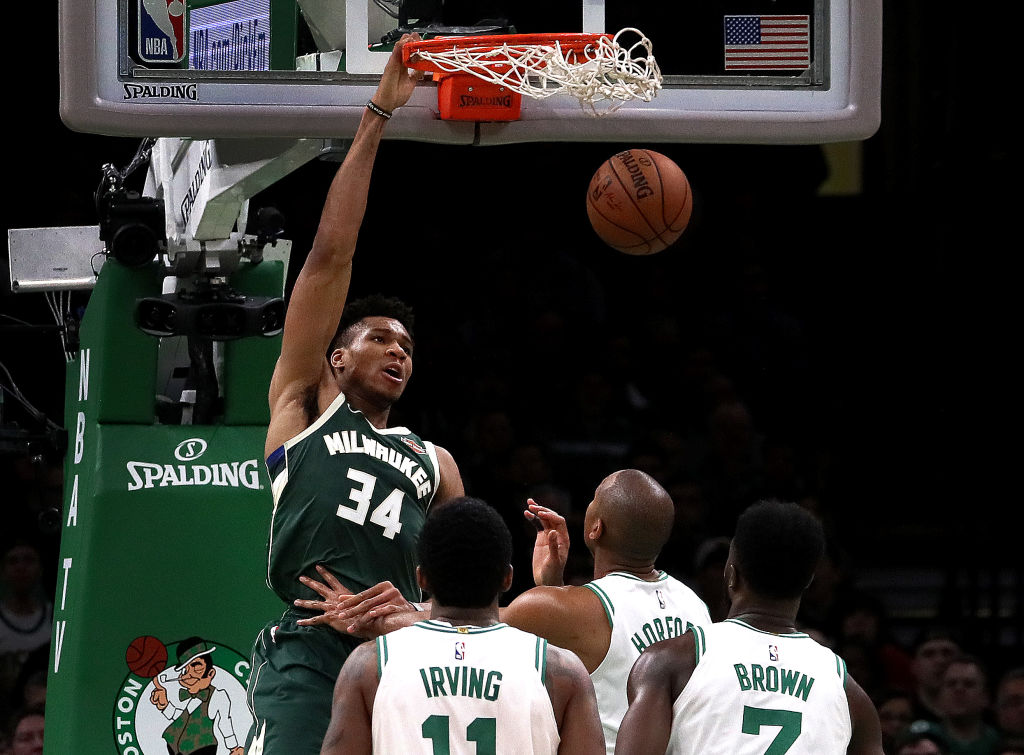 Celtics Coach Brad Stevens' Giannis Antetokounmpo Comments Prove He Loves Everything About the Greek Freak
Milwaukee's Giannis Antetokpoounmpo took the NBA by storm this season, and Boston Celtics coach Brad Stevens can't hide his feelings for him.
After the Milwaukee Bucks' series-clinching win against the Boston Celtics in Game 5 of the Eastern Conference semifinals, Celtics coach Brad Stevens made some comments about Giannis Antetokounmpo and how dominant he was during the series.

In our preview for the series, we believed Giannis would have an excellent matchup against the Celtics as no one on the team has the athleticism or defensive skill to slow him down. But Antetokounmpo almost single-handedly ended Boston's playoff run, and Stevens couldn't help but gush over the Greek Freak. Today we will look at his series against the Celtics and ask: Could he possibly end up in Boston?

Unbelievable regular season
This has easily been Giannis Antetokounmpo's best season since coming into the league. He averaged 27 points and 12 rebounds per game during the regular season, and he has almost an equal shot at winning the MVP as media favorite James Harden.

Antetokounmpo has increased his stats across the board, and his only glaring weakness was he shot 25% from behind the arc. His outside shooting has been the big question mark of his skill set, but even without range, he continues to improve. We could be looking at a player that could potentially average 30 points and 15 rebounds per game in a season or two.

This series against the Celtics and Eastern Conference Finals
Antetokounmpo put up great numbers against Boston in the five-game series. After a rough Game 1 where he scored just 22 points, he scored 29, 32, and 39 points, respectively, before limited minutes in a blowout win left him with just 20 in the final game.

The series win against Boston led Milwaukee to a matchup against the Toronto Raptors for a trip to the NBA Finals. The first game saw the Bucks pick up the 108-100 win, which also helped them maintain home-court advantage early in the series. Antetokounmpo put up 24 points and shot 7-of-16 from the field in the opener against Toronto.

The Bucks didn't play great, and they needed a big game from Brook Lopez to pick up the win, but we expect Giannis to come back in full force.

What were the Giannis Antetokounmpo comments Brad Stevens made?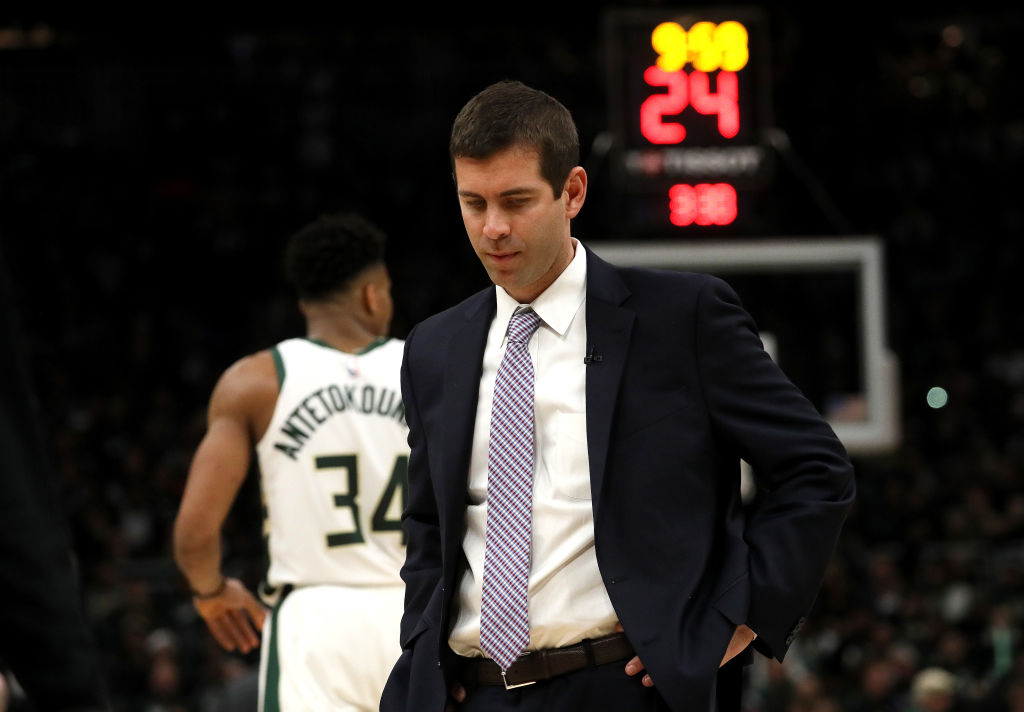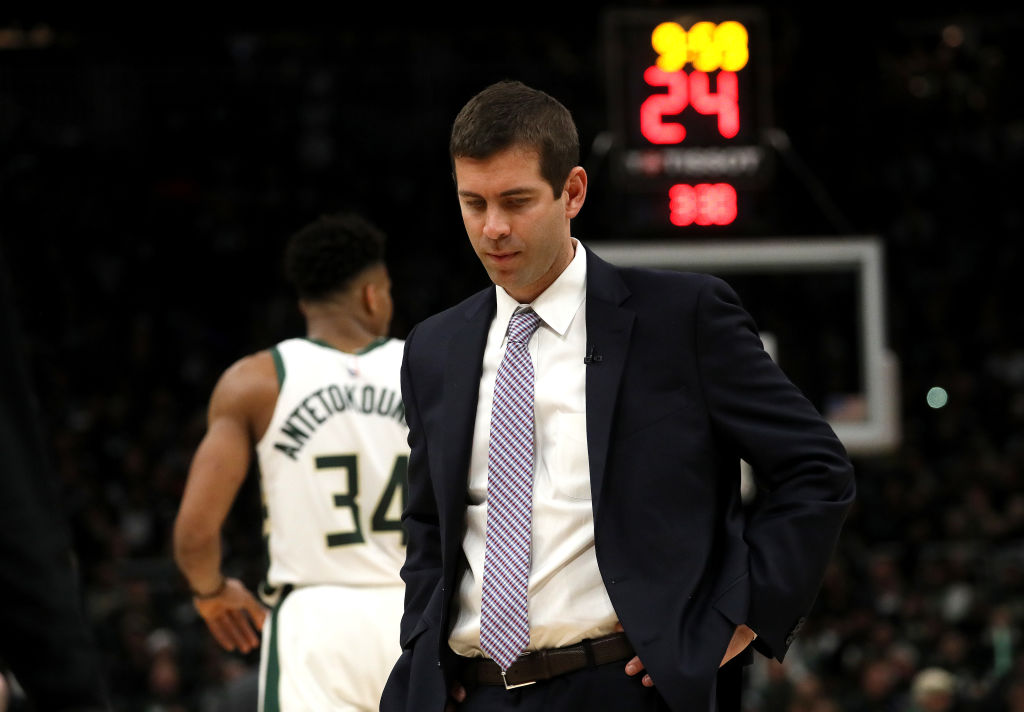 There's no doubt Giannia Antetokounmpo added to his list of admirers this season, but Brad Stevens took the gushing to another level. His comments aren't tampering, but they're not far off, either.

"I can't tell you how much respect I have for the way he operates, who he is and everything else," Stevens said, according to Jay King of The Athletic. "We just have to make it as tough as we can."

Boston Globe reporter Adam Himmelsbach revealed another fawning comment from Stevens about Antetokounmpo:

"What's made him so good this year and it's continued in this series is his passing," Stevens said. "If all he did was lower his head and drive…you'd be able to sink in, help, take charges. You wouldn't feel good in the morning but you'd do it. But his passing is just really good."

Giannis isn't going anywhere
Although Brad Stevens had a lot of nice things to say about Giannis Antetokounmpo, there is no way Milwaukee lets him leave town for any reason. He has crashed through the ceiling of his potential before the 2013 draft, and he could be a few levels above that ceiling soon. Unless he requests a trade out of town, we don't see him ever leaving Milwaukee.

He loves the city, his family lives in the city, and he's already one of the faces of the league with major endorsement deals, including T-Mobile. You also have to look at things from a purely basketball perspective. The Bucks have the No. 1 seed this year and could be the best team in the conference for the entire prime of Antetokounmpo's career.

There may be a lot of changes with some of the contenders in the Eastern Conference with free agency looming, but we strongly believe that Milwaukee will remain a contender for the next five or six seasons.