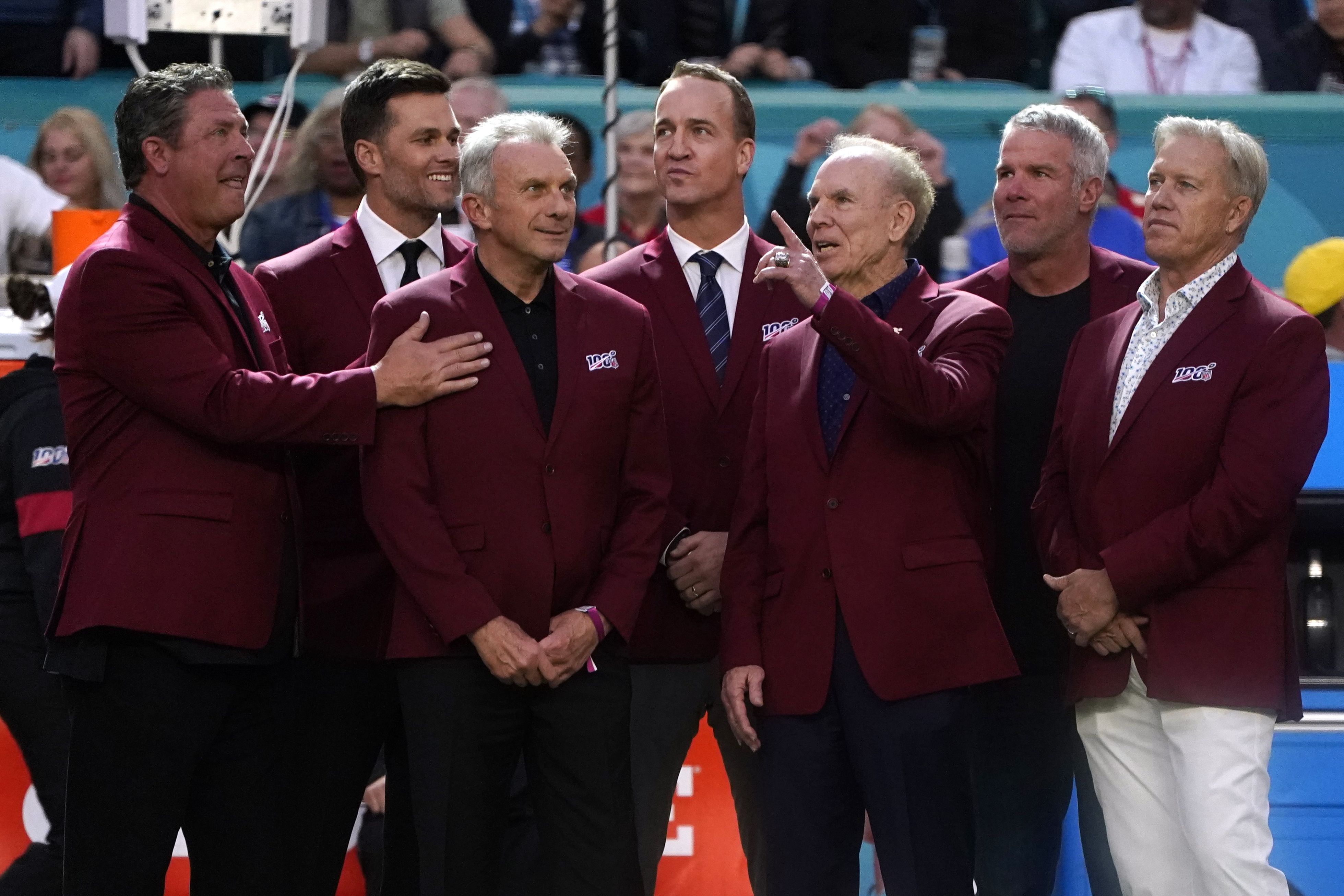 Brett Favre Reveals Intimate Conversation With Tom Brady Before He Left New England
Former Green Bay Packers quarterback Brett Favre reveals the intimate conversation he had with Tom Brady before he left New England.
Long before Tom Brady left the New England Patriots, Brett Favre left the Green Bay Packers. Favre's departure was a lot more complicated as he retired and then unretired and was ultimately traded. During last year's Super Bowl festivities, Favre found himself alone with Brady during a ceremony to honor the NFL's 100th Anniversary All-Time Team. Favre recently revealed some details of the conversation that took place in the short time they were together.
Brett Favre's ugly split with the Green Bay Packers
Brett Favre spent 20 years in the NFL, 16 of them creating a legacy with the Green Bay Packers. After Favre went 0-for-4 passing in his career with the Atlanta Falcons, he was traded to the Packers. In his first season with the Packers, Favre filled in for an injured Don Majkowski in 1992 and never looked back.
Favre started in an NFL-record 297 straight games during his Hall-of-Fame career. He was named MVP of the league three times and was named to the Pro Bowl 11 times. He was also a Super Bowl champion. Favre did, however, have an ugly breakup with the Packers and it began when the team drafted Aaron Rodgers in the first round of the 2005 NFL draft.
Beginning near the end of the 2006 season, there was speculation Favre would be retiring soon. In March of 2008, he formally announced his retirement in a tearful farewell. Four months later, he filed for reinstatement after he asked for, and was not granted, his release. With tensions growing during camp, it was mutually agreed that it was best for Favre to move on. In August of 2008, Favre was traded to the New York Jets.
Tom Brady bolted from New England after 20 years
Nobody has a better resume in the history of the NFL than Tom Brady. Like Brett Favre, Brady got his big break because of an injury. When quarterback Drew Bledsoe went down with a chest injury against the New York Jets in 2001, Brady took over. He stepped in and guided the Patriots to a shocking victory over the St. Louis Rams in Super Bowl 36.
The win over the Rams was the first of six Super Bowls collected by Brady. In his 20 seasons with the Patriots, Brady was also a three-time MVP. He made the Pro Bowl 14 times and never had a losing season. Brady led the NFL in touchdown passes four times.
When Brady and the Patriots couldn't agree to terms on a contract extension, he tested free agency for the first time in his career. The Buccaneers signed Brady to a two-year deal worth $50 million. In his first year with the team, he's taken the Bucs to the Super Bowl.
Favre reveals details of conversation with Brady
Brett Favre was a recent guest on Doug Flutie's first podcast, Flutie Flakescast, and he spoke of the time when he and Tom Brady were together before Brady left New England. The two were part of a group that was being honored as part of the NFL's 100th Anniversary All-Time Team during Super Bowl weekend last year. Brady was inquisitive about Favre's departure from Green Bay.
"We had a couple of minutes where we actually had space," said Favre. "You can imagine there's all the players and security. We had a few minutes where it was just us two. He, very serious demeanor, just said, 'hey Brett, when you went to Minnesota, was it worth it? Would you do it again?' I said absolutely. I don't know what your circumstances are, but New England would be stupid to not bring you back."
Favre continued. "He said, 'it's a mutual thing and I'm exploring my options.'" Favre told him he had nothing to prove and even if he went somewhere and it didn't work out, Brady would still be considered the best ever. "He said, 'I'm thinking about doing it,'" Favre said. "Now he didn't talk about a team. I think he was just exploring. Now I don't know what it's like to change teams during a pandemic and not be able to meet, throw, and gain some chemistry… It's a challenge, but he's obviously handled it very well."