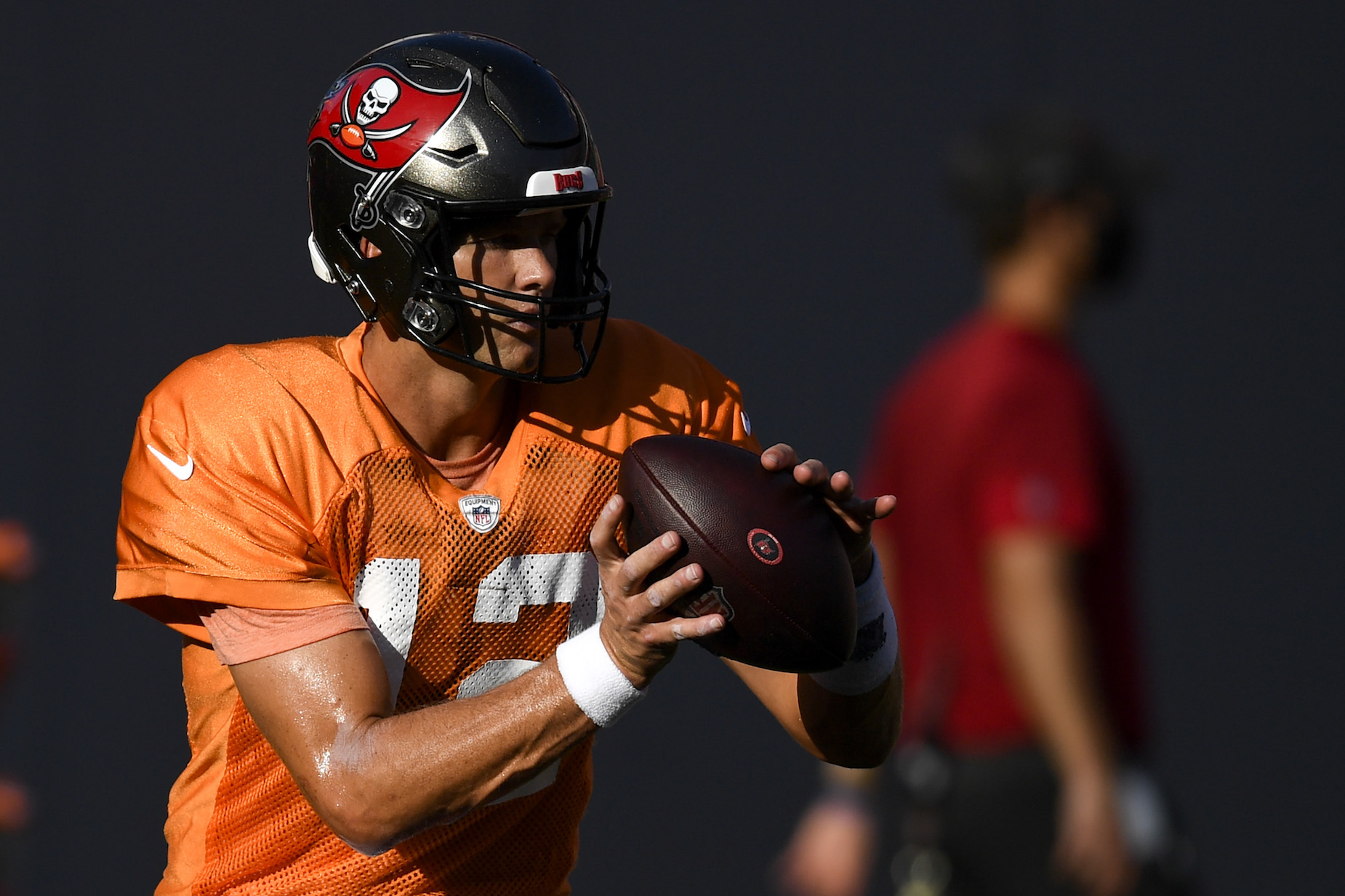 Tom Brady Is Loving Life in Tampa Bay After Spending 20 Years With the New England Patriots
While Tom Brady has only spent a few months with the Tampa Bay Buccaneers, he's already loving one aspect of Florida life.
When the New England Patriots first take the field for Week 1 of the 2020 NFL season, most fans will probably have to do a double-take. For the first time in two decades, Tom Brady won't be leading Bill Belichick's offense onto the field; the veteran quarterback, of course, hit free agency and headed south to Tampa Bay.
Although he's only been with the Buccaneers for a matter of months, Tom Brady has taken to Florida pretty naturally. In fact, he's already appreciating the warmer weather after 25 years in the northern part of the country.
Tom Brady's rise to stardom in New England
These days, it seems unbelievable to think of Tom Brady as anything other than a living legend. When the quarterback first joined the New England Patriots, though, that would have seemed like a fantasy.
After playing his college football at Michigan, Brady joined the Patriots as the 199th pick of the 2000 NFL draft. As that status would lead you to believe, no one expected much from lanky rookie; Drew Bledsoe, for example, never thought he would become anything more than a career backup.
Before long, though, Brady got his big break. During the Patriots' Week 2 game in 2001, Mo Lewis knocked Drew Bledsoe out of the game; Brady was forced into action and, by the following Sunday, had claimed the starting job. From there, the rest is history.
During his time in Foxborough, Brady established himself as one of the greatest winners in modern sports. While the quarterback was never the most athletic man on the field, that didn't cause him too many issues; he won 219 games with the Patriots, throwing for almost 75,000 yards and completing 541 touchdown passes. He also won six Super Bowls and claimed three MVP awards along the way, earning him a place in the NFL pantheon.
Feeling at home thanks to Tampa Bay's temperature
After 20 years in New England, though, Tom Brady decided to head south and take his talents to Tampa Bay. While we can debate the exact reasons why he chose to leave the Patriots, one thing does seem clear: on a personal level, the quarterback appreciates the perks of living in Florida.
On Dax Shepard's "Armchair Expert" podcast, Brady discussed some of the personal realities of moving from Massachusetts to Florida. While his daughter isn't the biggest fan of the heat—she also had some concerns about celebrating Halloween and Christmas in the warmer climate—the NFL veteran has no desire to experience any more New England winters.
"But for me, yeah, I like it hot every day now," Brady explained, according to Fox Business. "I'm never going back to cold weather. I did 25 years of it."
Beyond the warm weather, Tom Brady should be pretty happy with the Tampa Bay Buccaneers
On a human level, Tom Brady clearly appreciates life in Florida. From a footballing perspective, though, things should be even better.
Although Brady did win six Super Bowls in New England, the 2019 Patriots roster wasn't what it once was; at various points, we saw the quarterback become frustrated with his lack of offensive options. That won't be a problem in Tampa Bay, though. Barring any unforeseen changes or injuries, the Buccaneers will line up with Mike Evans, Chris Godwin, and Rob Gronkowski on offense. Ronald Jones II and Leonard Fournette will also add some extra punch from the backfield.
Based on everything we know about Tom Brady, he'll believe that the Tampa Bay Buccaneers have a legitimate shot at a Super Bowl title. Even if that doesn't pan out, though, the NFL veteran can enjoy some warm, Florida weather.