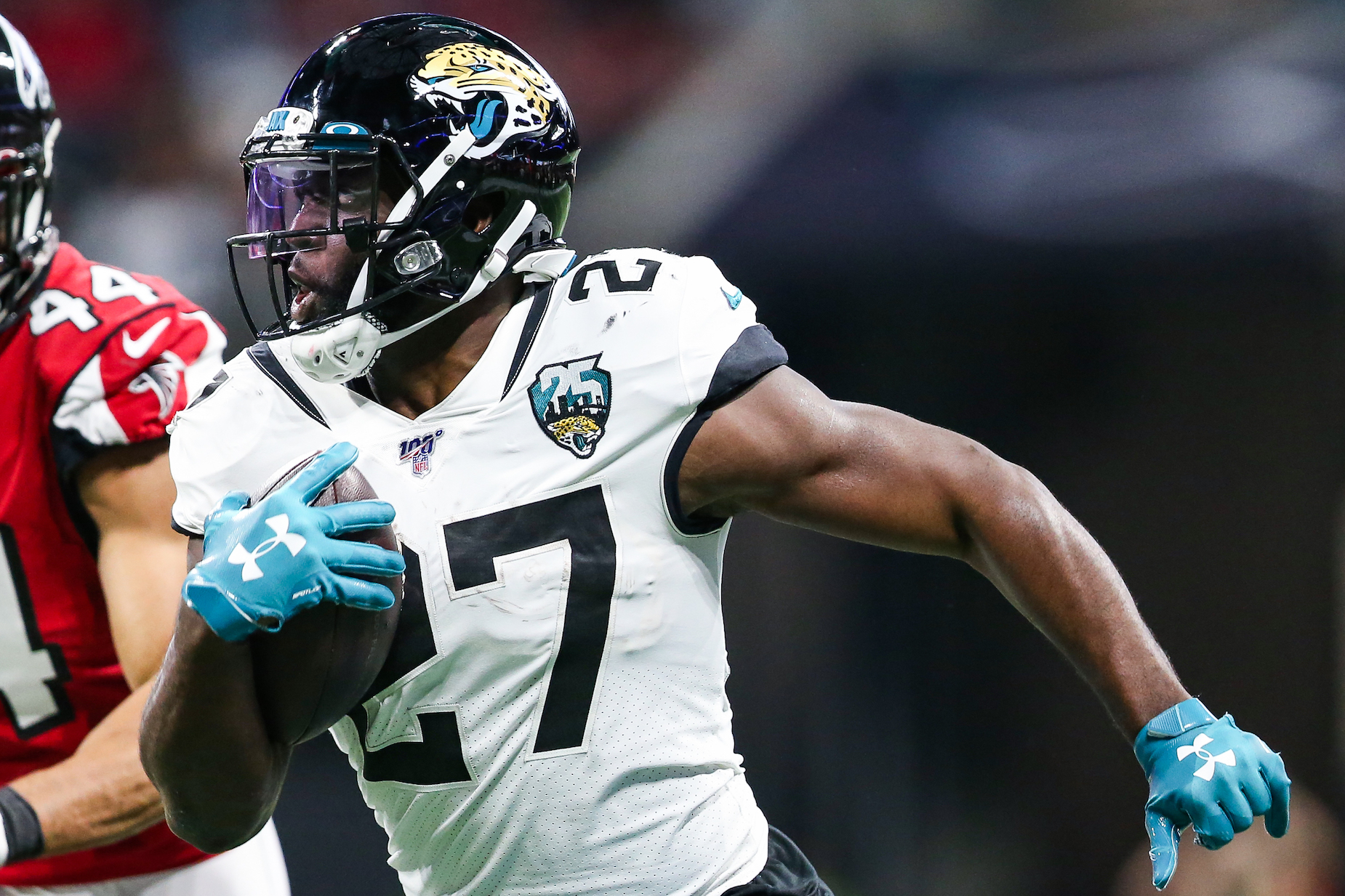 How Much Salary Will Leonard Fournette Earn With the Tampa Bay Buccaneers?
Leonard Fournette is the newest member of the Tampa Bay Buccaneers. How will the move across Florida affect his salary?
A few days ago, Leonard Fournette occupied the top spot on the Jacksonville Jaguars depth chart. On August 31, however, the club cut the running back; after clearing waivers, he's since found a new home on the opposite side of the state. As of Wednesday night, Fournette became a member of the Tampa Bay Buccaneers.
Beyond the convenience factor—in the grand scheme of things, it's easier to move within Florida than it is to cross the country—Fournette was probably lured to Tampa Bay by the chance to join a stacked, Tom Brady-led offense. A former fourth-overall pick isn't going to play for pennies on the dollar, though. So how much salary will Fournette earn in Tampa Bay?
Leonard Fournette's football career to date
No player wants to go from the first round of the NFL draft to the waiver wire within a few seasons. While that's exactly what happened to Leonard Fournette, the running back has shown flashes of brilliance during his football career.
After bursting onto the New Orleans football scene as a high school freshman, Fournette accepted a scholarship to LSU. While he broke the 1,000 rushing yard plateau as a freshman, the running back exploded during his second NCAA campaign; he piled up 1,953 yards, averaging 6.5 yards per carry, and 22 rushing touchdowns.
After an injury-plagued junior season, Fournette entered the 2017 NFL draft. The Jacksonville Jaguars snagged him with the fourth-overall pick, hoping that he could become the next Maurice Jones-Drew.
Although Fournette showed flashes of brilliance, he never developed into a legitimate star. He accumulated 1,040 rushing yards and scored nine touchdowns as a rookie, but struggled through a hamstring injury in 2018. During the 2019 campaign, he did post 1,152 rushing yards, but only found the end zone three times; it is worth noting, though, that most of those yards came from explosive three games.
Earning a base salary of $2 million with the Tampa Bay Buccaneers
Despite those flashes of brilliance, Leonard Fournette is no longer a member of the Jacksonville Jaguars. The club looked to trade him and, after they failed to find any takers, simply waived the running back; he's since cleared the waiver wire and joined the Tampa Bay Buccaneers.
That move, however, comes with a bit of a pay cut. According to USA Today Sports, Fournette had one year and $4.167 million remaining on his rookie contract; since he cleared waivers, though, that deal is irrelevant. His new deal in Tampa carries a base salary of $2 million; NFL.com, however, noted Ian Rappaport believes the contract can reach $3.5 million with rushing-yard and playing-time incentives.
There's still a chance that Fournette could recoup his 2020 Jaguars salary, too. According to Adam Schefter, the running back filed a grievance for that money; it's currently unclear how that process will play out.
Leonard Fournette probably won't complain about that smaller salary, though
At the end of the day, no one other than Leonard Fournette knows where the running back's priorities lie. In theory, though, moving to Tampa is worth the salary reduction.
In 2017, the Jaguars went 10-6 and made it to the AFC Championship; since then, the club hasn't even made the playoffs. Joining a Tampa Bay offense that features Tom Brady, Mike Evans, Rob Gronkowski, and Chris Godwin seems like a no-brainer. In a best-case scenario, Fournette can become a significant piece of the offense and chase a Super Bowl title. If things go belly-up, he'll at least have a better chance to put up strong individual numbers and earn a job during next year's free agency.
No one, not even NFL players with millions of dollars in the bank, ever wants to see their salary shrink. Leonard Fournette, however, probably won't mind getting a smaller paycheck from the Tampa Bay Buccaneers this season.
Stats courtesy of Sports-Reference and Pro-Football-Reference