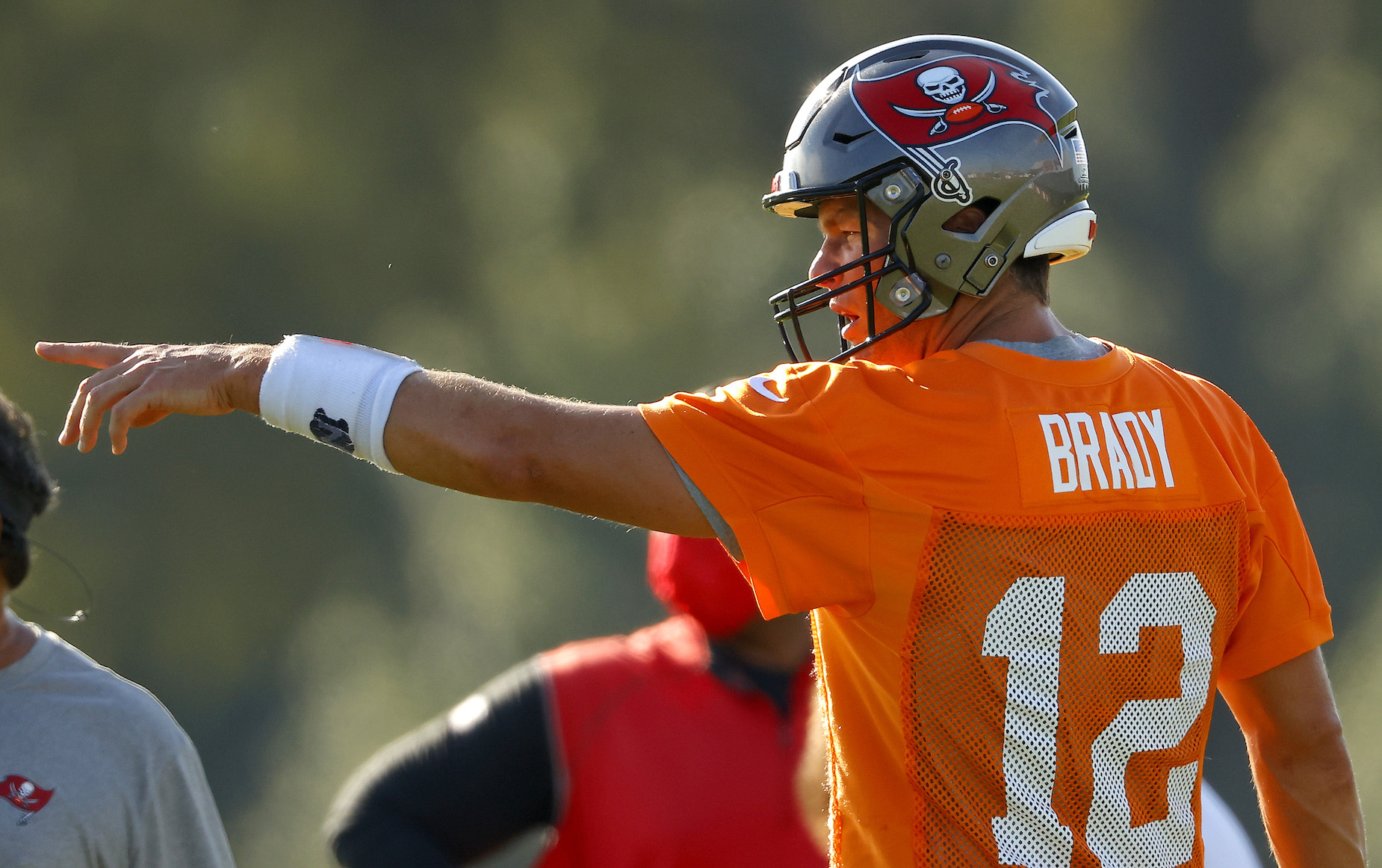 Tom Brady's Presence in Tampa Has Already Prompted an Intimate Change in His Center's Pants
Tom Brady's arrival in Tampa Bay has shaken things up in the Buccaneers organization. The team's center, for example, has had to make a personal change for the quarterback.
After 20 years of working with Bill Belichick in New England, Tom Brady decided that he wanted to try something different. That, of course, meant hitting free agency and joining the Tampa Bay Buccaneers. While the NFL season is yet to kick-off, the veteran quarterback's mere presence in Florida is already prompting some changes.
Although center Ryan Jensen may not be a household name, he and Tom Brady have already gotten up close and personal. Once the 2020 campaign kicks off, Jenson's pants will be a bit different, thanks to some specific instructions from his new quarterback.
Tom Brady has officially become a Tampa Bay Buccaneer
Over time, it becomes impossible to imagine certain players wearing anything other than one specific uniform. That certainly was the case with Tom Brady and the New England Patriots.
Brady, of course, arrived in Foxborough as an unheralded sixth-round pick; Drew Bledsoe, for example, never thought the young quarterback would ever become more than a career backup. Fate, however, had other plans, and Brady went on to win six Super Bowls.
All good things, however, must come to an end and, in March, Brady confirmed that he would be leaving New England in free agency. He then agreed to a two-year contract with the Tampa Bay Buccaneers, giving him a chance to make up for lost financial time and help a new team get over the hump.
While there have been some missteps along the way—the quarterback worked out in a park that was closed due to the coronavirus pandemic and accidentally walked into the wrong house—Brady has received rave reviews during his early time in Tampa Bay. On the field, he's also inspired some changes.
Tampa Bay's center has to stuff a towel down his pants
During his time in the NFL, Tom Brady has learned what it takes to play at the highest level. As a quarterback, that includes receiving a dry, sweat-free ball from the center.
As detailed by Eduardo A. Encina of the Tampa Bay Times, that's accomplished by a very specific technique. While the finer details aren't known to civilians, it involves the center sticking a towel and plenty of baby powder down the back of his pants.
According to Encina's explanation, Brady texted center Ryan Jenson about the technique before demonstrating it in person at a workout. The instruction didn't stop there, though. During a recent practice, "Brady did his own inspection of his sweat experiment, pulling the back waistband of Jensen's pants and looking down."
To Jensen's credit, though, he's taking everything in stride. When a six-time Super Bowl champion asks you to stick a towel down the back of your pants, you don't ask questions.
"It's an adjustment a little bit having a towel down the rear side, but if that's what Tom wants and that's going to help him be a better quarterback, I'm gonna do what I have to do," the center said. "It's been an easy adjustment. The first couple it was a little uncomfortable, but just like anything you get used to it."
Tom Brady will be hoping his towel technique pays dividends in Tampa Bay
At the end of the day, though towels and baby power don't win Super Bowl titles. Tom Brady and the Tampa Bay Buccaneers, however, will be hoping that their new relationship works well for both parties.
From the quarterback's perspective, Brady landed in a pretty sweet spot. With Mike Evans, Chris Godwin, and Rob Gronkowski in the lineup, he'll be spoiled for choice. After a frustrating year throwing to the likes of Gunner Olszewski in New England, the NFL veteran will be looking to show that he's still got something left in his arm.
On the Buccaneers' side of things, they'll presumably be hoping their new signal-caller can help take the organization to the next level. Coaches love to talk about 'learning to be a professional' and 'knowing what it takes to win'; it's hard to think of anyone with more experience under his belt than Brady. While towels and baby powder don't win games in isolation, things like that can help foster a culture and set organizational standards. Preparing for games and avoiding stupid mistakes might not make it onto the highlight reel, but they can be the difference between success and failure.
With all of that being said, though, we'll just have to wait and see how Tom Brady does in Tampa Bay. If nothing else, we know he won't be receiving any sweaty snaps from Ryan Jensen.