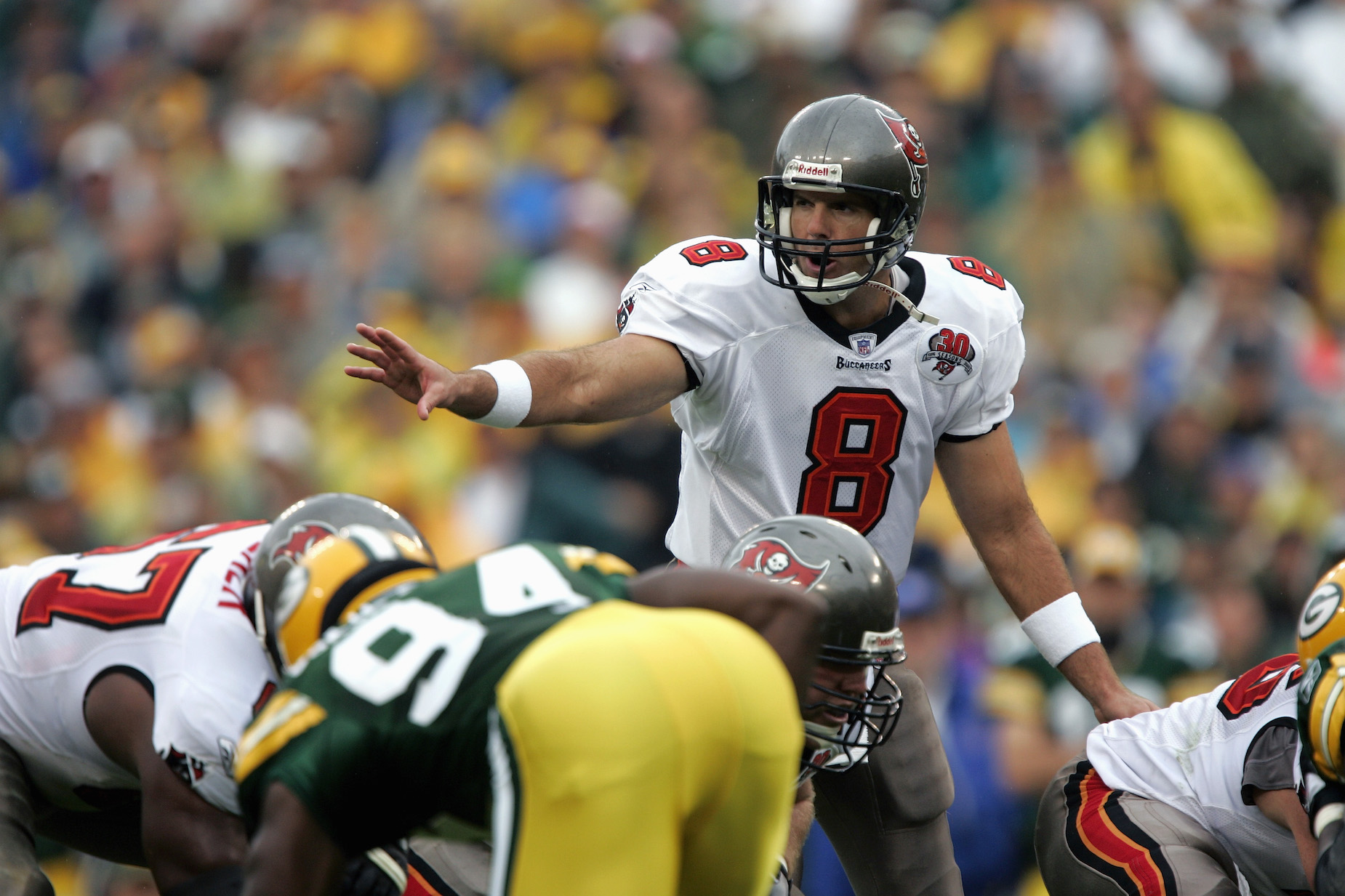 Brian Griese Turned a Childhood Tragedy Into 'His Purpose' in Life
Before he ever made it to the NFL, Brian Griese tragically lost his mother. That loss, however, helped the quarterback find his true purpose in life.
From afar, being an NFL quarterback seems like a pretty sweet gig. While there are some obvious drawbacks, like public scrutiny and crunching hits, there are also some incredible perks. All the money and fame in the world, however, can't make life completely perfect. Brian Griese knows all about that painful reality.
When he was still a child, Brian Griese's mother, Judi, tragically died after losing her battle with breast cancer. While that shook the future quarterback and ESPN analyst to his core, it also set the stage for his future "purpose."
Brian Griese's football career
As the son of an NFL quarterback, Brian Griese seemed destined for sporting greatness. While he never turned into a legitimate star, he did spend 11 seasons in the pros.
After playing his high school ball in Florida, Griese headed to the University of Michigan. He didn't earn a scholarship, however, and walked onto the Wolverines football team. The quarterback's time in college was a bit of a mixed bag—he threw for 3,663 yards and 27 touchdowns over three seasons—but he did claim a Rose Bowl MVP award and, perhaps more importantly, won all three of his games against Ohio State.
Griese then entered the 1998 NFL draft and earned the Denver Broncos as a third-round pick. He spent his rookie campaign backing-up John Elway; after that, though, he took over the starting job. Despite spending four seasons under center, though, he couldn't establish himself as a top-tier quarterback.
After that, Griese bounced around the league a bit. He spent a season with the Miami Dolphins, taking over the top job after Jay Fielder got injured; the next year, he joined the Tampa Bay Buccaneers until suffering a torn ACL. The veteran QB then joined the Chicago Bears, stepping in for a struggling Rex Grossman before returning to Tampa Bay to finish out his career.
Dealing with a childhood tragedy
Given his father's football career, it would be easy to assume that Brian Griese grew up with a silver spoon in his mouth. As a childhood, however, his life was rocked by tragedy.
When Brian was seven-years-old, his mother, Judi, was diagnosed with breast cancer; she died five years later when the future quarterback was 12. Despite grieving alongside his dad and brothers, Griese felt alone.
"I didn't feel like I had anybody to talk to about it," he told Nicki Jhabvala of The Athletic. "I didn't know any other 12-year-old boys that were going through what I was going through and lost a parent. I didn't really talk about it with a whole lot of people."
In the best of circumstances, dealing with the loss of a parent is incredibly challenging. Griese, however, wasn't even a teenager yet; that made things even tougher.
"So it was a very difficult time to deal with grief and the loss of your attachment figure at any stage in life, but at the stage in life for me personally where you're really forming who you are," he continued. "It affected me for my entire life."
Brian Griese turned that tragedy into 'his purpose'
Even as he grew up, played college football, and made it to the NFL, Brian Griese never forgot what it was like to lose his mother at an early age. In 2001, however, he finally figured out how he could make a difference.
On a date with Brook McClintic, a Ph.D. student, the conversation turned to the topic of helping children. That discussion revealed a common interest and set the stage for a larger project.
"A little more than a year after that first date, Griese and McClintic opened Judi's House on St. Paul Street," Jhabvala explained. "Relying mostly on volunteers and a small staff, Judi's House quickly became a haven for those like Brian, who suffered through the death of a family member and felt lost."
Since then, Judi's House has continued to grow. In addition to free-of-charge counseling services, there's also a research component, helping "track the prevalence of grief, to evaluate clients' different needs and to monitor the effect of their services."
While he was never a world-beater, Brian Griese spent more than a decade in the NFL. He has a Super Bowl ring and, as of 2020, is part of ESPN's Monday Night Football broadcast. Judi's House, however, stands out.
In The Athletic, Nicki Jhabvala's headline says it all. "From tragedy, Brian Griese found his purpose: helping Denver's grieving families."
Stats courtesy of Sports-Reference and Pro-Football-Reference