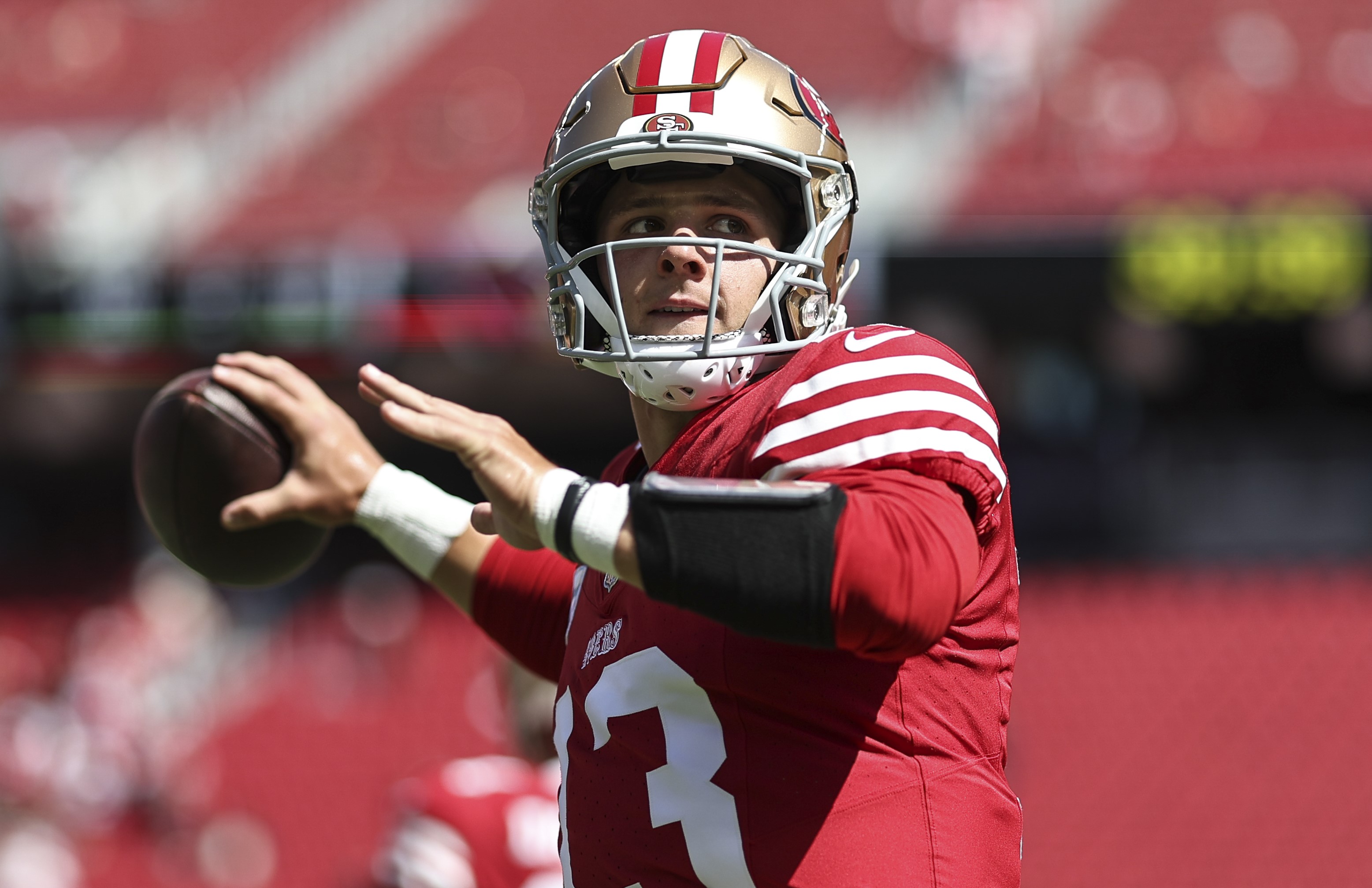 Brock Purdy Still Living the Simple Life Despite Blossoming Into an NFL Star
Brock Purdy and the San Francisco 49ers look to go to 5-0 when they face the Dallas Cowboys on Sunday night.
It's refreshing to watch San Francisco 49ers quarterback Brock Purdy. By now, everyone knows his story. He was the final pick in the 2022 NFL Draft and pressed into the starting role after injuries mounted at the QB position.
Despite having 261 players selected in front of him, Purdy has proven to be the best pick of the bunch. He's never lost in nine NFL starts and has the composure of a seasoned veteran. Purdy has quickly shed the Mr. Irrelevant label but refreshingly still lives the simple life.
Brock Purdy lighting it up while laying low
Brock Purdy won the starting job this season, beating out Trey Lance, a player the Niners mortgaged a good part of the future to select with the third overall pick in 2021. With Purdy's emergence, the Niners admitted their mistake with Lance, sending him to the Dallas Cowboys this year for a fourth-round pick.
"We took a shot, and it didn't work out," Niners GM John Lynch said after the trade to the Cowboys. "We own that, and we take accountability for it."
They also took a shot with Purdy, and it's certainly working out. He won all five of his regular-season starts last year and is 4-0 through four games this year. He's completed 72.3% of his passes in 2023 and has yet to throw an interception. At 23 years old, Purdy is showing he can be the leader of a veteran team that's favored to represent the NFC in the Super Bowl.
With Purdy-Mania taking over the NFL, the young QB continues to live his life as he's back in his days as a quarterback at Iowa State. He recently admitted on "The TODAY Show" that he still has a roommate (offensive lineman Nick Zakelj) and they split the rent. You won't see him driving any new fancy cars, either.
"So, I still have a roommate, one of the offensive linemen here," Purdy said. "So he and I are still splitting rent. I still drive my Toyota Sequoia and other than that, it's pretty simple."
Purdy has always maintained the same demeanor, according to his former QB coach
While many are surprised by the success of Purdy, Dan Manucci isn't. Manucci, a former Kansas State quarterback who was a backup in the NFL, was Purdy's personal quarterback coach. He told Sportscasting in January that Purdy is the same person he was in high school.
"I had him in the summer when he was going into the 10th grade," Manucci said then. "He was focused, had a great work ethic, and he was dialed in. He was always, 'Thank you, sir.'
"I could work him all day, and he'd never get bored with the process. We'd work on footwork, balance, mechanics, transfer of weight. With him, we had to get his release a little higher. His poise doesn't surprise me. I've seen it since high school. I've also seen his mobility and escapability. He's always looking to grow."
The only surprise for Manucci was how far Purdy fell in the draft.
"I felt (he'd go) third to fifth round," Manucci said. "I couldn't believe he kept dropping. He had a hell of a career and broke every Iowa State record. He was MVP of the Fiesta Bowl. Thank God (49ers coach Kyle) Shanahan and (GM) John Lynch realized reps and success meant something."
Purdy faces a tough test Sunday night when his Niners host the Dallas Cowboys.