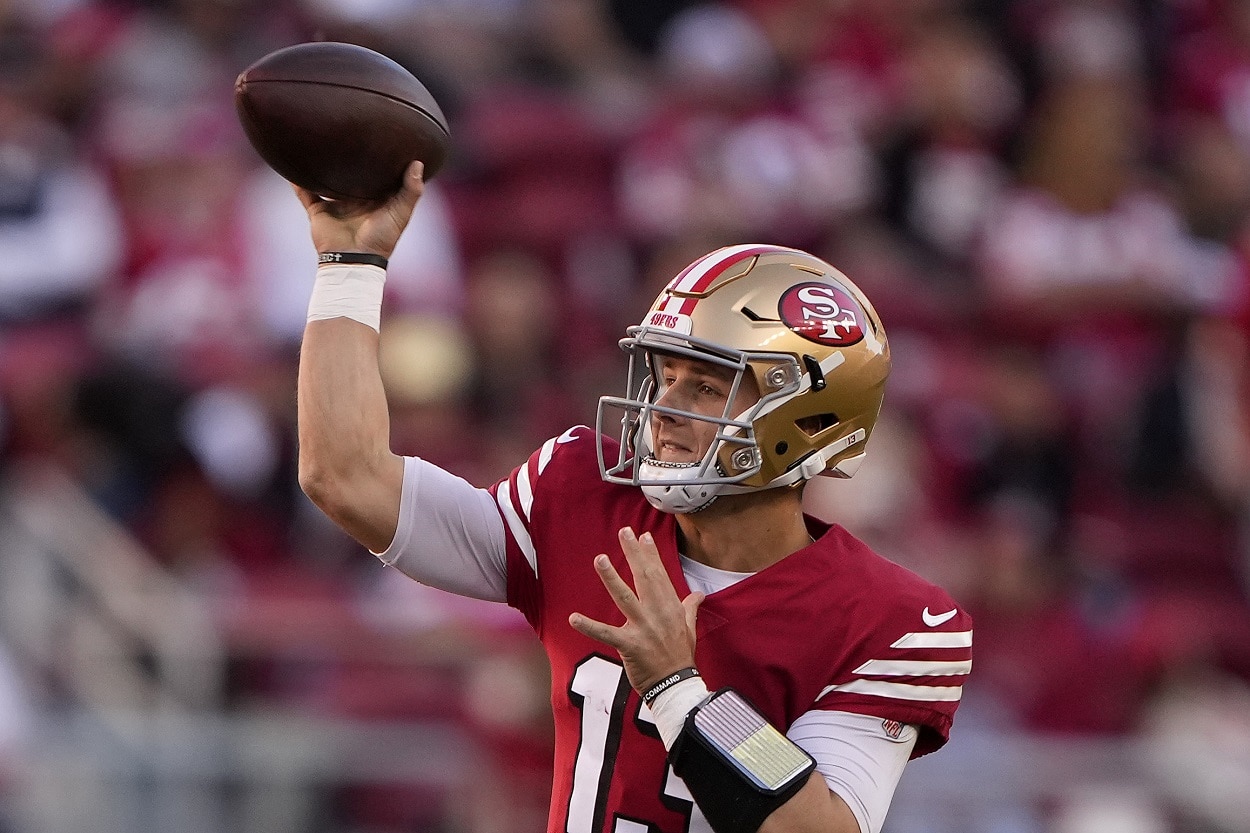 Brock Purdy Shares His Real Feelings on Being 'Mr. Irrelevant'
San Francisco 49ers QB Brock Purdy comments on the "Mr. Irrelevant" tag.
No matter what he does throughout his career, Brock Purdy will forever be the "Mr. Irrelevant" of the 2022 NFL Draft. It just goes with the territory of being the final pick.
Despite the moniker, Purdy has proven to be plenty relevant for the San Francisco 49ers this year. When Trey Lance went down with a fractured ankle in Week 2, the Arizona native became the backup to Jimmy Garoppolo.
And when Garoppolo broke his foot in Week 13, Purdy was thrust into the QB1 role and became the first "Mr. Irrelevant" to ever throw a touchdown pass in a regular season, actually tossing a pair in the Niners' 33-17 win over the Miami Dolphins.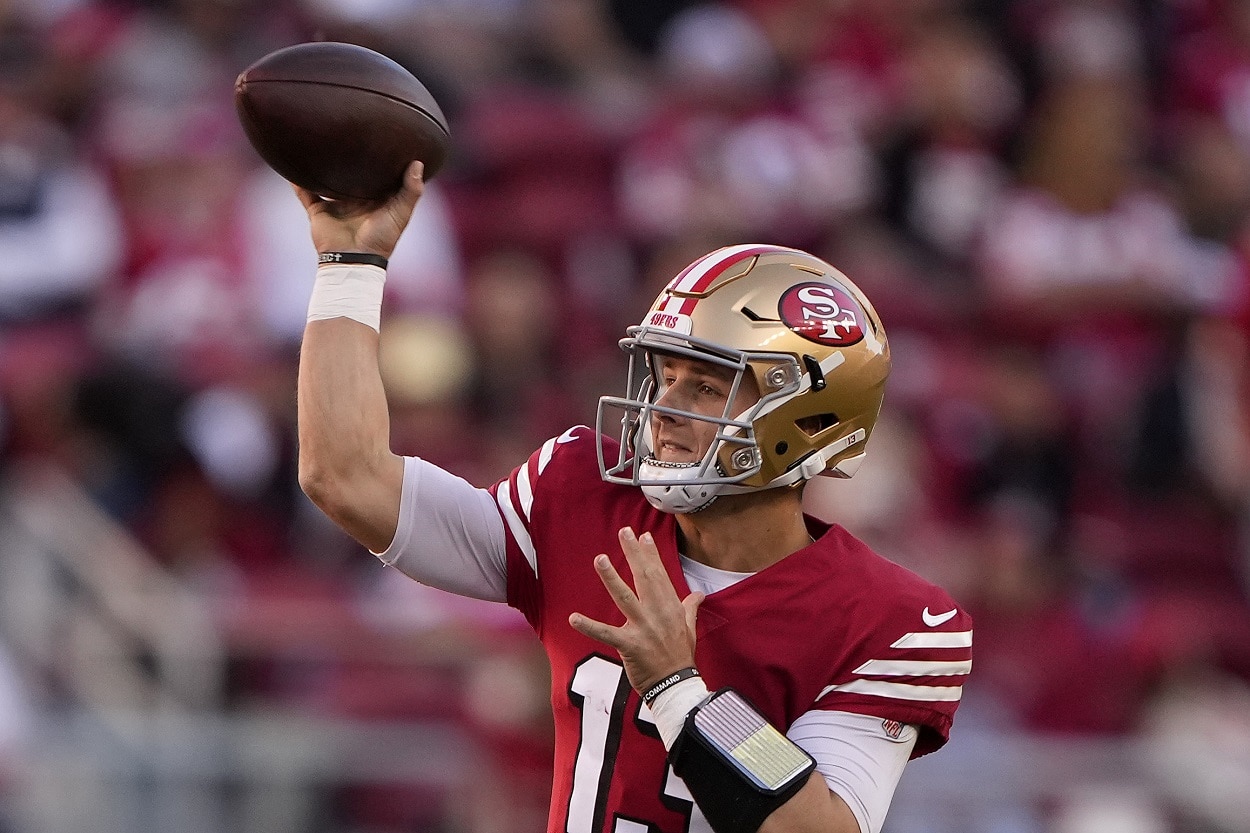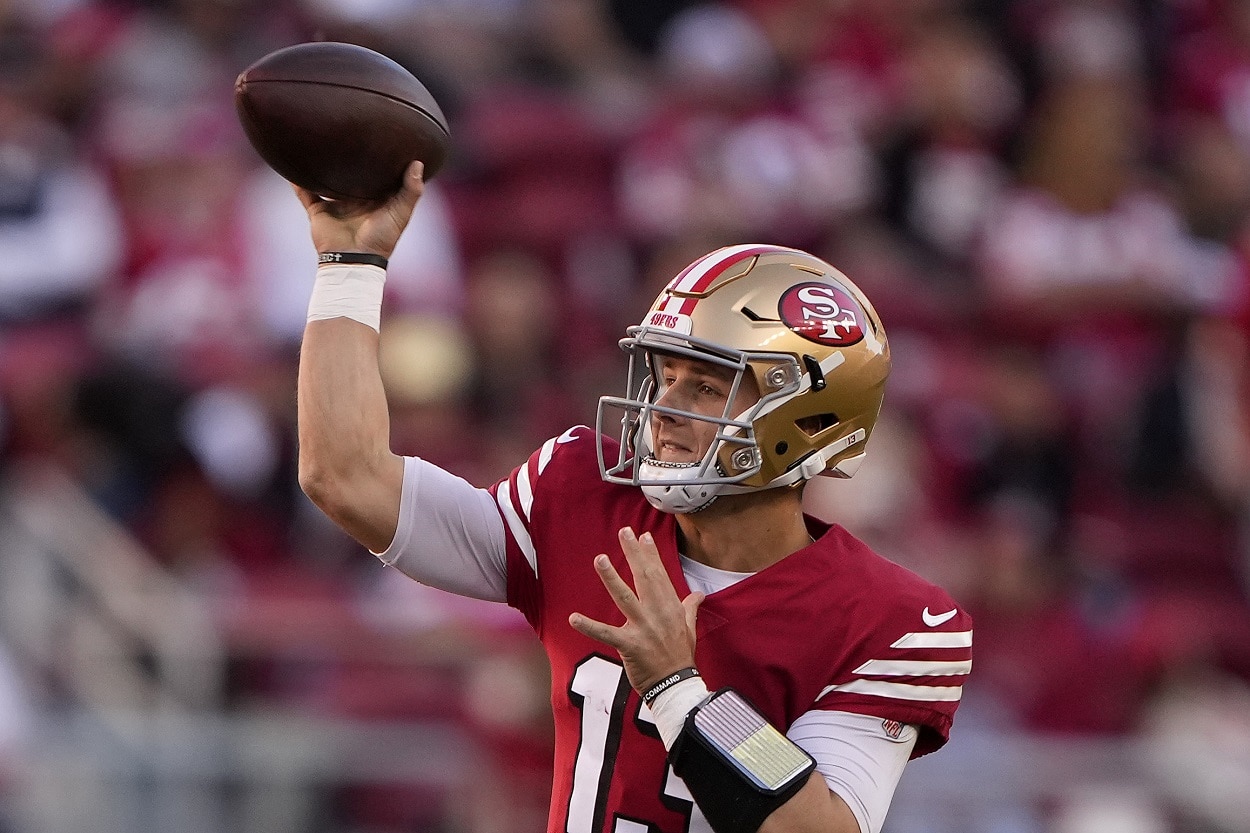 Now, the former Iowa State star is tasked with truly leading a team with Super Bowl aspirations, a journey that begins with his first-ever NFL start on Sunday. And that first start just happens to be against another late-round quarterback who wasn't projected to do much with his pro career, that being Tom Brady. Of course, Brady wasn't quite a "Mr. Irrelevant," but he was famously taken in the sixth round of the 2000 NFL Draft with the 199th overall pick.
He'll also share the field with the most successful "Mr. Irrelevant" of all time, Buccaneers kicker Ryan Succop, who was the first final pick to play and win a Super Bowl as a starter.
So how does Purdy actually feel about the tag that will inevitably follow him throughout his career?
Brock Purdy reveals how he feels about being "Mr. Irrelevant"
As it goes with just about every "Mr. Irrelevant," Purdy has answered plenty of questions about the nickname since San Francisco selected him with the 262nd pick back in April.
And now that he's got the spotlight on him, the soon-to-be 23-year-old isn't holding back on how he truly feels about the tag.
"Definitely, I think there's always been an edge to myself. People, they make a joke out of it and whatnot, and it's all fun and games in terms of taking the trip and meeting great people and that kind of thing. But for myself, I've always believed that I don't care what slot, what round, what pick that I get picked or if I was undrafted.

"My whole thing was, man, I just want to go out and prove to myself that I can play at this level. And so that's always been my mentality."

Brock Purdy on being "Mr. Irrelevant"
The trip Purdy is referring to is Irrelevant Week, a summer celebration in which the final pick of the draft is honored with various festivities. The weeklong celebration was started by the late Paul Salata, a former NFL wide receiver who created the "Mr. Irrelevant" moniker as he wanted to eliminate the stigma of being the last pick as he believed it's an honor to be drafted at all.
Purdy clearly feels the same way and has embraced the role. But he also knows he's got a job to do and is ready to get to work.
Have thoughts on this topic? Keep the conversation rolling in our comments section below.