Brock Purdy's Personal QB Coach, Dan Manucci, Unfazed By 49ers Rookie's Success: 'I've Seen It Since High School'
San Francisco 49ers rookie quarterback Brock Purdy is shocking the NFL world, but one person who's not surprised by the QB's success is Dan Manucci. Manucci has been mentoring Purdy since high school and has witnessed the poise, confidence, and athleticism that's helped guide the Niners into Sunday's conference title game against the Philadelphia Eagles.
We caught up with Manucci, a former NFL quarterback himself, to discuss what he already knew about the player known as "Mr. Irrelevant."
Dan Manucci has been Brock Purdy's QB coach for years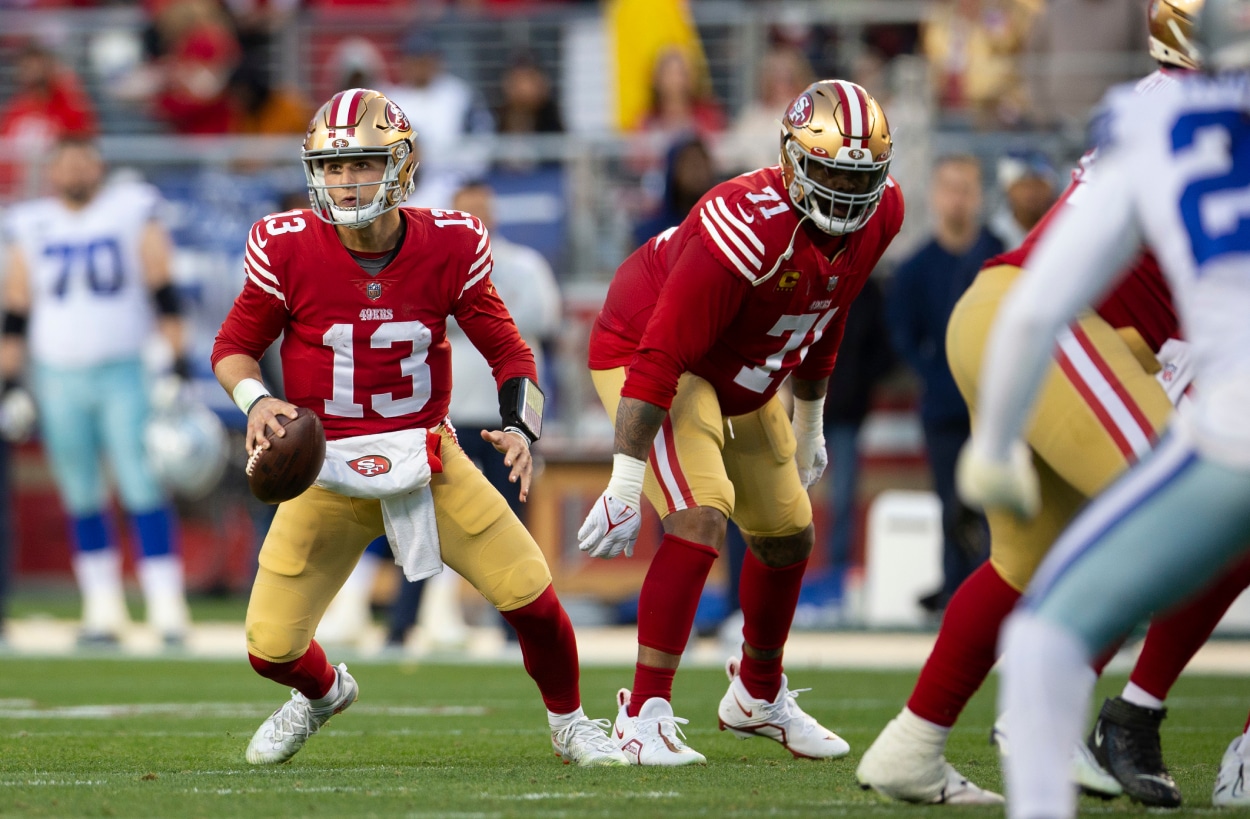 The Buffalo Bills selected Manucci in the fifth round of the 1979 NFL Draft after a college career at Kansas State. He spent two seasons in the league as a backup but also played in the Canadian Football League and the USFL. After his playing days, he's devoted his time to grooming young quarterbacks, hoping to get them to the next level by emphasizing mechanics.
Manucci has worked with Purdy, the last player taken in the 2022 NFL Draft who has stepped in and gone 7-0 as an NFL starter, since Purdy was in the ninth grade. Not only has Purdy captured the nation with his win streak, but he's wowed many with his remarkably calm demeanor, especially for a rookie.
Manucci said the Purdy you see today with the 49ers is the same Purdy he saw in high school.
"I had him in the summer when he was going into the 10th grade," Manucci told Sportscasting on Wednesday. "He was focused, had a great work ethic, and he was dialed in. He was always, 'Thank you, sir.'
"I could work him all day, and he'd never get bored with the process. We'd work on footwork, balance, mechanics, transfer of weight. With him, we had to get his release a little higher. His poise doesn't surprise me. I've seen it since high school. I've also seen his mobility and escapability. He's always looking to grow."
Manucci was only surprised by the round Purdy was drafted
Purdy was third on the list of Niners quarterbacks when the season began. Trey Lance, the player San Francisco traded up for to select third overall in 2021, opened as the starter and suffered a season-ending injury in Week 2. Veteran Jimmy Garoppolo was next in line, but he went down with a serious foot injury that's kept him out of action since early December.
Enter Purdy. Referred to as "Mister Irrelevant," the name given to the last player drafted, he has shown to be anything but. He started the final five games of the regular season, winning all of them and helping the 49ers secure the No. 2 seed in the NFC playoffs. He threw 13 touchdown passes and four interceptions in that stretch, completing 67.1% of his passes. Purdy has also won his first two playoff games.
"He's rolled with the Mr. Irrelevant," Manucci said. "He's had fun with it."
Manucci, who has been working with young quarterbacks for 30 years, said he was surprised Purdy lasted so long in the draft.
"I felt (he'd go) third to fifth round," Manucci said. "I couldn't believe he kept dropping. He had a hell of a career and broke every Iowa State record. He was MVP of the Fiesta Bowl. Thank God (49ers coach Kyle) Shanahan and (GM) John Lynch realized reps and success meant something."
Manucci said he still is in touch with Purdy, and the rookie QB has made him a 49ers fan.
"We text at least once a week," Manucci said. "I told him I'm 1-0 against Joe Montana. I didn't start, but, still, I'm 1-0 against him."