Brock Purdy Overcame Nick Saban's Massive Disrespect
As a 3-star prospect out of Perry High School in Arizona, Brock Purdy was probably never going to start at Alabama. However, he took a visit there anyway, and Crimson Tide head coach Nick Saban completely ignored him. That slight from Saban lit a fire under the San Francisco 49ers QB that seems to still drive him today, as the seventh-round rookie continues to make an incredible mark on the NFL in 2023.
Nick Saban disrespected Brock Purdy in high school
After his senior season of high school football, Brock Purdy made recruiting visits to different colleges, including the perennial SEC powerhouse, Alabama.
On campus in Tuscaloosa, head coach Nick Saban wasn't all that interested in Purdy. In fact, he didn't even bother meeting the young QB, according to Matt Barrows in The Athletic. Saban sent an assistant coach to meet Purdy, and the assistant shared that Saban didn't think the signal-caller was Crimson Tide material.
However, after talking to the assistant, Purdy realized Saban didn't know who he was.
When Purdy returned from the trip, he told his high school coach, Preston Jones, "'He didn't really know me, Coach.' (Saban said), 'You're below average in height. Your arm strength is whatever. Your accuracy is average.' And as soon as he mentioned the accuracy, Brock knew right away: 'This guy doesn't know me.' Because, if anything, that's his strength. He goes, 'Coach, he didn't know who I was.'"
That slight made Purdy want to go somewhere to "kick [Saban's] ass."
Brock Purdy ended up at Iowa State, where he appeared in 48 games over four seasons. The 6-foot-1 passer threw for 12,170 yards with a 67.7% completion rate and 81 touchdowns. That was enough for Kyle Shanahan and the San Francisco 49ers to take a chance on the QB with the final pick of the 2022 NFL Draft.
Purdy is making Saban look bad at the NFL level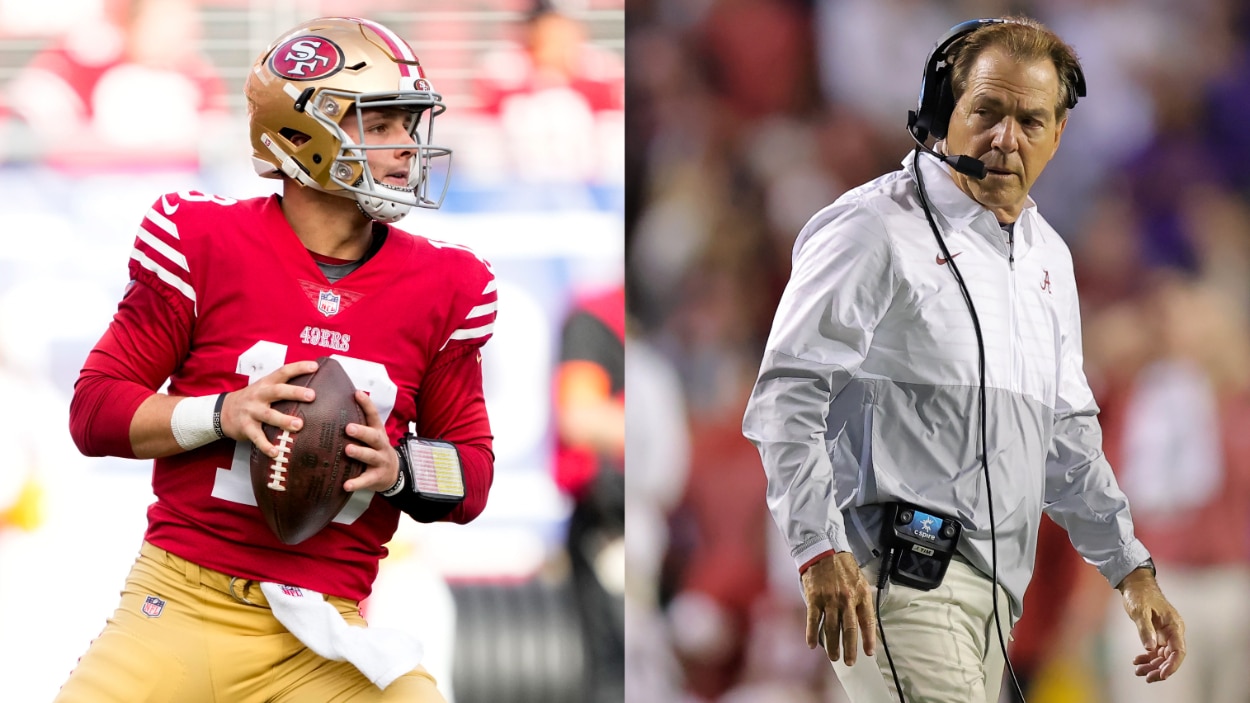 Nick Saban has done pretty well without Brock Purdy. at Alabama However, the story about him dismissing a recruit like that does make him look bad. And if Purdy keeps playing like he's playing, Saban could ultimately look incredibly bad in the eyes of history.
Since taking over for an injured Jimmy Garoppolo, Purdy is 7-0 as a starter and has led the 49ers into the NFC Divisional Round. And he saved his best game for the playoffs, going for 32 yards and three touchdowns in the team's 41-23 Wild Card blowout of the Seattle Seahawks.
It is an incredible run for "Mr. Irrelvant" of the 2022 draft. It's an incredible run for any young, late-round QB. In fact, the only time in recent memory that we've seen anything like it was in 2001.
That season, the No. 199 overall pick — 63 ahead of where Purdy went — of the 2000 NFL Draft took over in his second season for an injured Drew Bledsoe and led his team to a Super Bow; championship.
Is Brock Purdy the new Tom Brady?
It's too early to make that proclamation just yet. But if Purdy wins a Super Bowl like Brady did, it will be impossible not to start the comparison. And if the 49ers QB does have anything that even resembles a Brady-like career, Nick Saban and his dismissive non-meeting with Purdy will continue to look worse and worse over time.