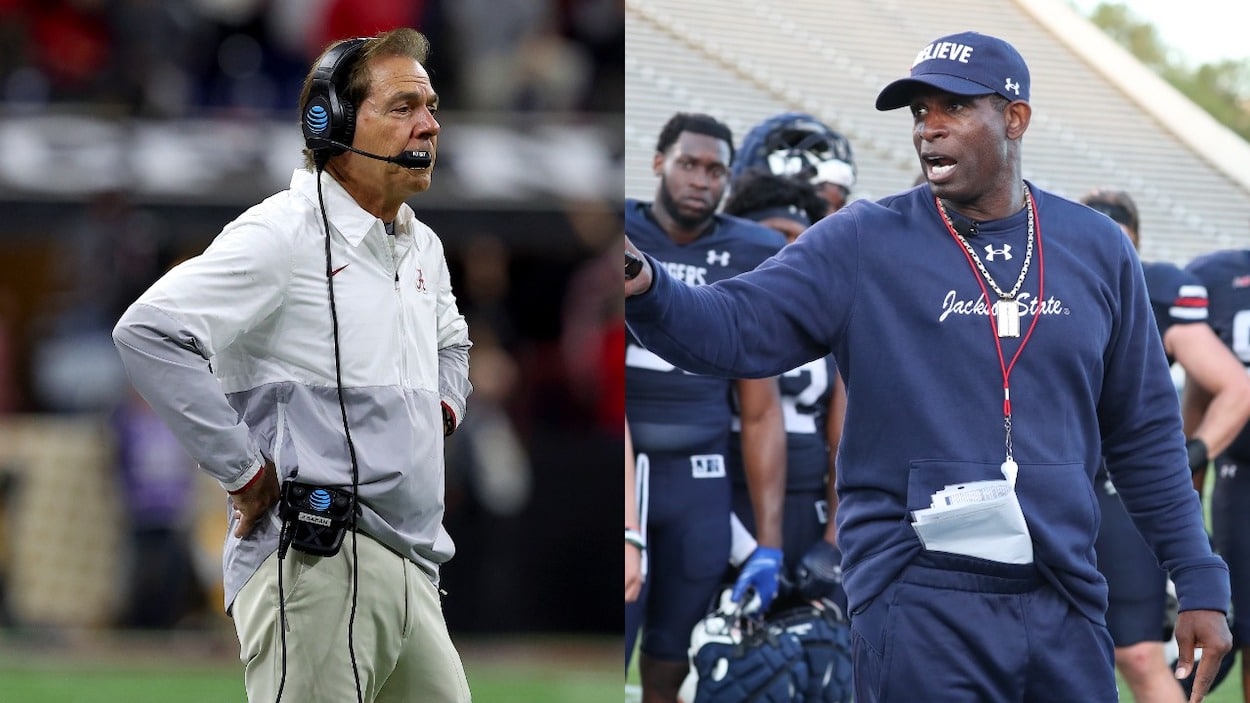 Deion Sanders Fires Back at Nick Saban After Alabama Coach Accuses Jackson State of Paying $1M for a Player
Jackson State head coach Deion Sanders issued a fiery response after Alabama's Nick Saban accused his school of paying a player $1 million.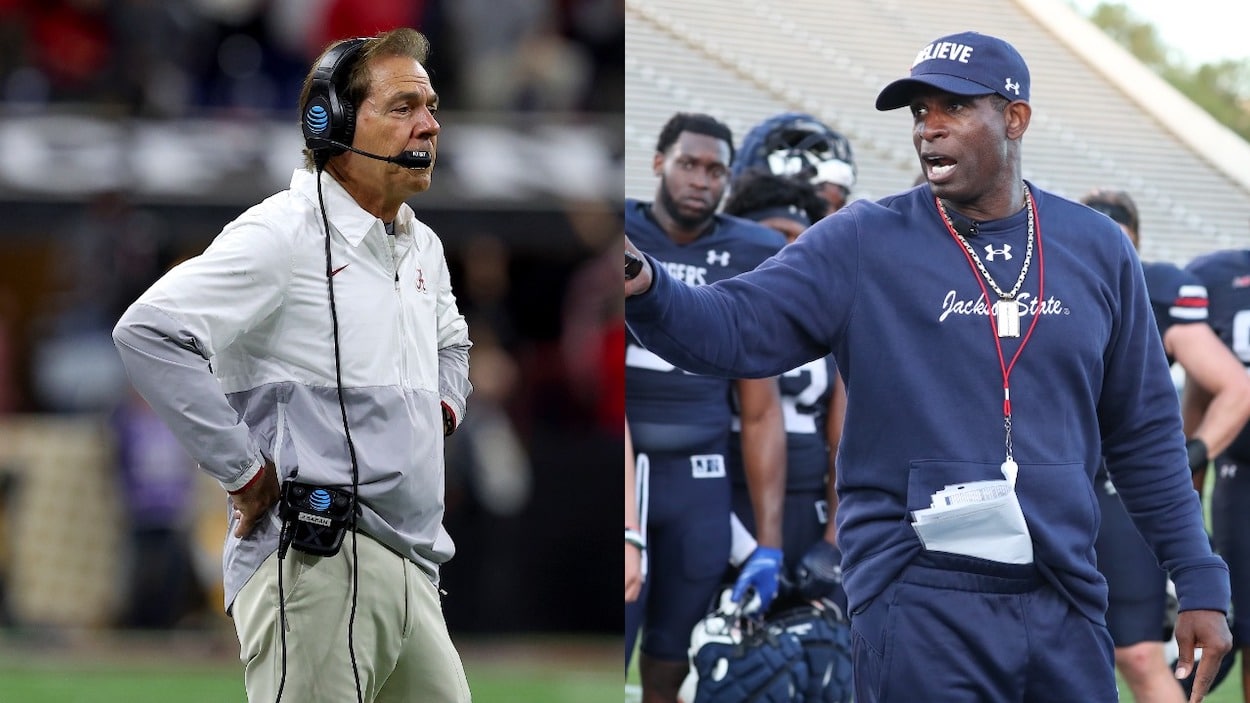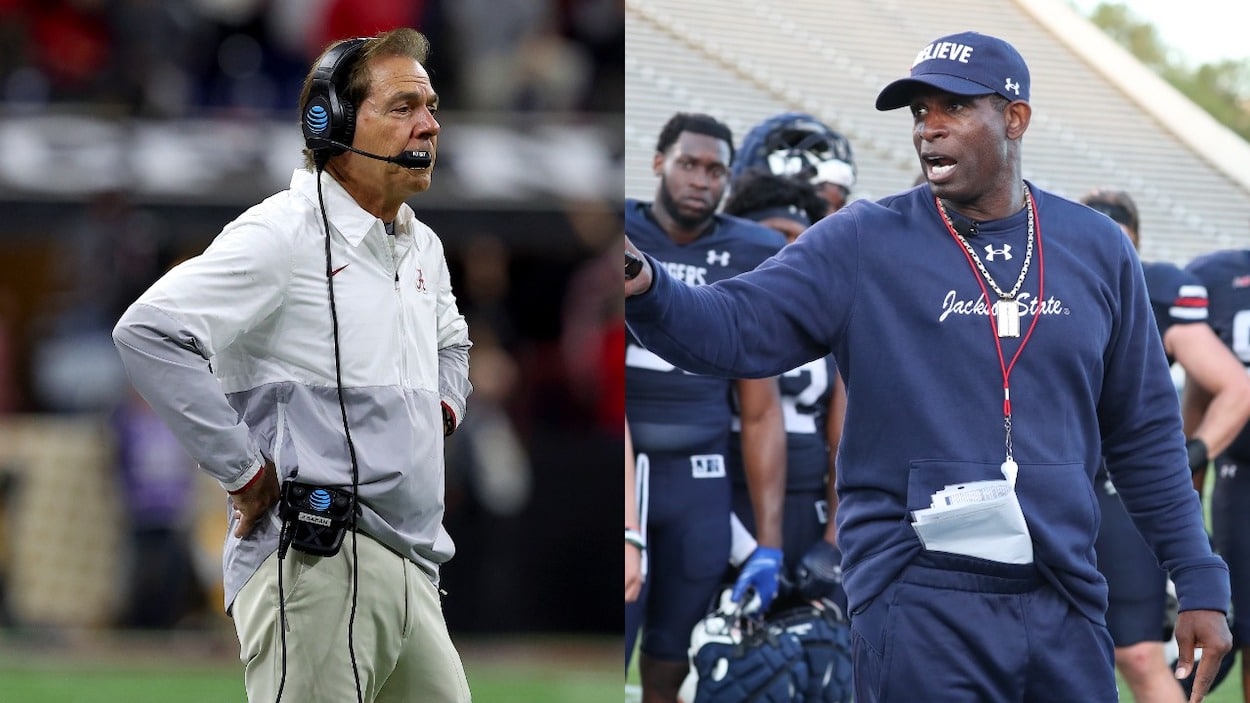 Alabama Crimson Tide football coach Nick Saban (unsurprisingly) doesn't like that college athletes can capitalize on their name, image, and likeness (NIL) now. That's why — in a shock to no one — he recently ranted and raved against the rule. The seven-time national champion coach even called out schools by name. Jackson State was one of these schools, and head coach Deion Sanders isn't too happy about that.
Nick Saban went off on several schools about paying players, including Deion Sanders' Jackson State
When the NCAA lost its ability to control players' name, image, and likeness and collegiate athletes gained the ability to profit from NIL, it changed the status quo in college sports forever.
No one is more invested in keeping the status quo than Alabama football coach Nick Saban, which is why his recent public comments on how bad NIL is for college sports were utterly predictable.
Just because it was easy to see coming, though, doesn't mean Saban sounded any less whiny saying it.
During a recent event for "local business leaders" in Birmingham, Alabama, per ESPN, Saban joined Crimson Tide basketball coach Nate Oats and a moderator on stage to discuss a wide range of topics. When the issue of NIL came up, that's when Saban started his sob story. He told the crowd about his recruiting class:
I mean, we were second in recruiting last year. [Texas] A&M was first. A&M bought every player on their team — made a deal for name, image, likeness. We didn't buy one player, all right? But I don't know if we're gonna be able to sustain that in the future because more and more people are doing it. It's tough.

Nick Saban on Texas A&M
It wasn't just Jimbo Fisher's Aggies who got the brunt of Saban's frustration. The Miami basketball program got it too for paying players "$400,000" to go there, and Deion Sanders' Jackson State got a shout out as well: 
Hell, read about it in the paper. I mean, Jackson State paid a guy $1 million last year that was a really good Division I player to come to the school. It was in the paper, and they bragged about it. Nobody did anything about it. 

Nick Saban on Jackson State
After the event, the quote made it to Coach Prime. 
Deion Sanders isn't happy with Nick Saban's assertion he paid a player $1 million
Since taking over at Jackson State, an HBCU in Jackson, Mississippi, former NFL legend Deion Sanders has found quite a bit of success. 
Over the course of a pandemic-shortened 2020 season and a full 2022, Sanders in 15-5. He went 11-2 last season, which included an undefeated record in the SWAC and a bowl appearance. 
He's also lured several top recruits to a program that hasn't produced any NFL stars since Hall of Famers Walter Payton and Jackie Slater came out of JSU in the late 1970s. This includes five-star, No. 1 overall cornerback in the Class of 2022, Travis Hunter. 
When Sanders caught wind that Saban was claiming JSU paid Hunter $1 million to come play for his team, "Prime Time" was not happy and took to Twitter to express his displeasure, tweeting: 
You best believe I will address that LIE Coach SABAN told tomorrow. I was & awakened by my son @ShedeurSanders that sent me the article stating that WE PAYED @TravisHunterJr a Million to play at @GoJSUTigersFB! We as a PEOPLE don't have to pay our PEOPLE to play with our PEOPLE.

Deion Sanders on Nick Saban
In this response, Sanders points out one of his main selling points for the Jackson State Tigers. The former NFL star is convincing Black players that coming to play for an HBCU can benefit everyone involved, both on and off the field. 
The other selling point for Hunter is surely that, as a cornerback, his coach will now be one of the most electrifying CBs of all time in Deion Sanders. 
The young prospect also responded to Saban, tweeting: I got A mil? But my mom still stay in a 3 bed room house with five kids," with a pair of laughing emojis. 
Jackson State should be loaded next season
Since Deion Sanders became the head football coach of the Jackson State University Tigers, the program has accomplished historic things in recruiting for an HBCU. 
Sanders' first recruiting class was the best-ever for an HBCU, according to GoJSUTigers.com. Deion's son, Shedeur Sanders, led the class as a four-star quarterback. Along with him came the nation's top JUCO recruit, De'Jahn Warren (DB), and former four-star transfers Abdul-Malik McClain (LB), Isaiah Bolden (DB), Javorrius Selmon (CB), and Aubrey Miller, Jr. (LB). 
The following year's class, headlined by Travis Hunter Jr., was just as good, if not better. 
In addition to Hunter, Deion brought in four-star wide receiver Kevin Coleman and more three- and four-star transfers such as Antonio Doyle Jr. (LB), Keveon Mullins (TE), Camron Buckley (WR), Josh Griffis (DE), Evan Henry (OL), Jason Mercier (EDGE), Simi Moala (OL), Mike Pleas (LB), Tru Thompson (DT), and Jordyn Williams (WR). 
Either Deion Sanders is a heck of a recruiter with a pitch young players love, or Jackson State has incredibly deep pockets.
While Saban may think the latter, the former is what seems to be true. 
Like Sportscasting on Facebook. Follow us on Twitter @sportscasting19 and subscribe to our YouTube channel.