Deion Sanders Reveals How He Shocked the College Football World and Stole the No. 1 Recruit From Florida State
Deion Sanders stunned the college football world this week by flipping Travis Hunter, the No. 1 high school recruit in the country, from Florida State to Jackson State on National Signing Day. Rumors immediately started to surface that a generous NIL deal might've played a role in Hunter changing his mind, but Sanders squashed those rumors by revealing just how he made the biggest splash of the college football recruiting season.
Deion Sanders shocks the college football world
Jackson State has never been a destination for the top high school recruits in the country. Well, until now.
With Sanders at the helm, Jackson State has become a force to be reckoned with at the FCS level, and more and more players are starting to want to compete for one of the greatest to ever do it on a football field.
On National Signing Day earlier this week, Sanders made the biggest splash of the day by flipping the No. 1 recruit in the 2022 class from Florida State to Jackson State. Travis Hunter, the star cornerback out of Suwanee, Georgia, will now get to prepare for a possible future in the NFL under arguably the greatest CB of all time.
Sanders reveals how he landed the nation's No. 1 recruit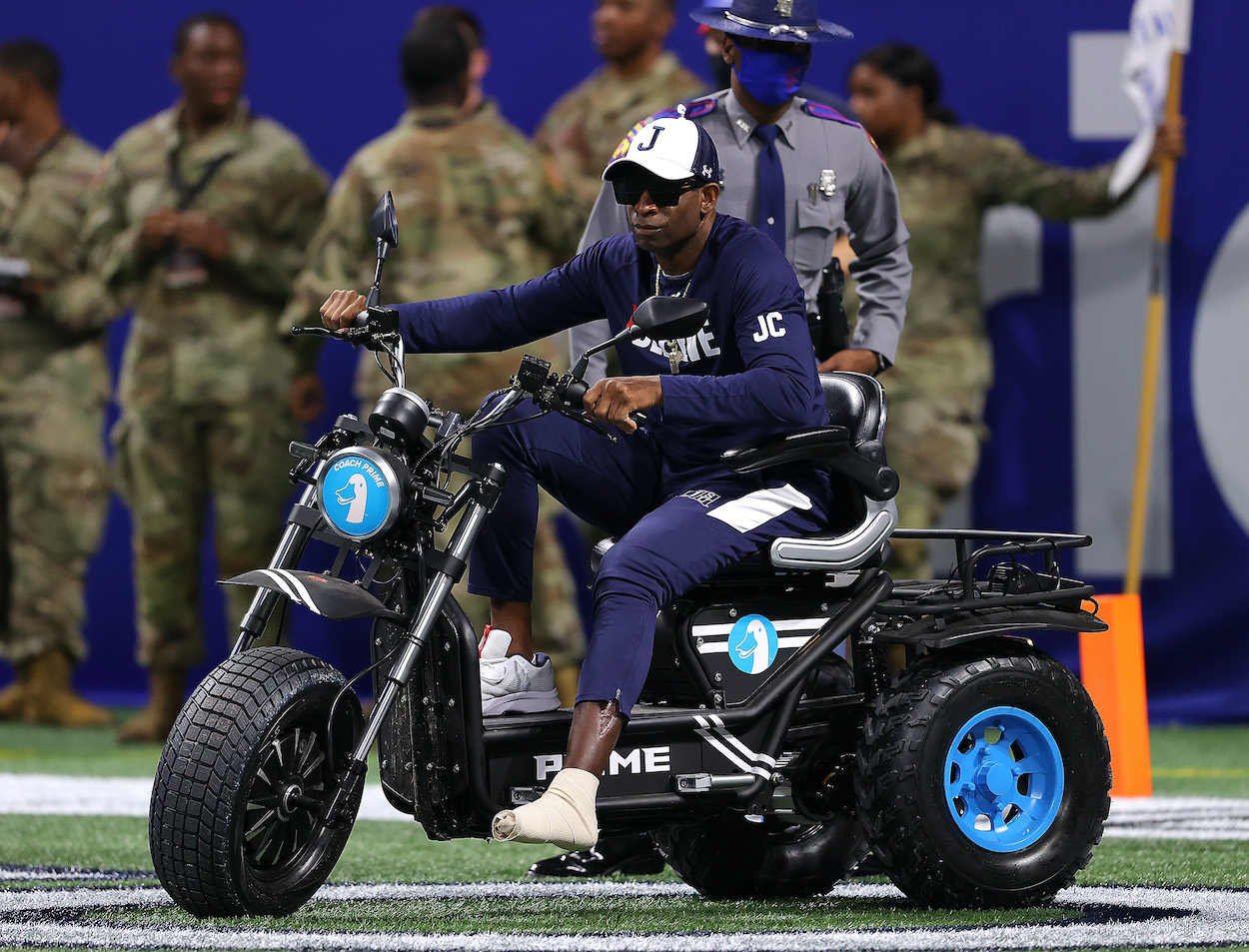 A few days after shaking the college football world to its core, Sanders appeared on Barstool Sports' Pardon My Take podcast and spoke about his hectic week. Apparently, landing Hunter was simple as being honest and bonding over fishing.
"You've got to understand, man, we're just honest, forthright, and the kid is a DB/WR. Who better to talk to him about that than me?" Sanders said. "A kid that wants to go to the next level in everything he does, and we just click, we communicate. He loves fishing, I love fishing. … And his mother and his stepfather were unbelievable. The connectivity that we had with them, I think that's what really sealed it. When you win mama, and you win the kid, shoot, that's it, it's a wrap, it's over."
Money had nothing to do with it
All throughout the week, rumors flew around the internet that Hunter had been offered an NIL deal worth at least $1 million. Many proposed that Barstool Sports, the company that produces Sanders' 21st and Prime podcast, was behind the deal. But in an appearance on ESPN's Keyshawn, JWill & Max this week, Sanders firmly denied those rumors.
"We didn't pay him! We ain't got no money! We ain't got no money!" Sanders said with a laugh. "I heard a million and a half, and I heard Dave Portnoy over at Barstool. That's the biggest lie I ever heard. You know what that is? That means we kicked your butt, we took what was ours, and now you gotta make up an excuse why.
"Ain't nobody get no a million and a half. I wouldn't pay my son a million and a half on NIL. How am I gonna coach a guy making more than me?"
He's got a good point there.
Like Sportscasting on Facebook. Follow us on Twitter @sportscasting19.