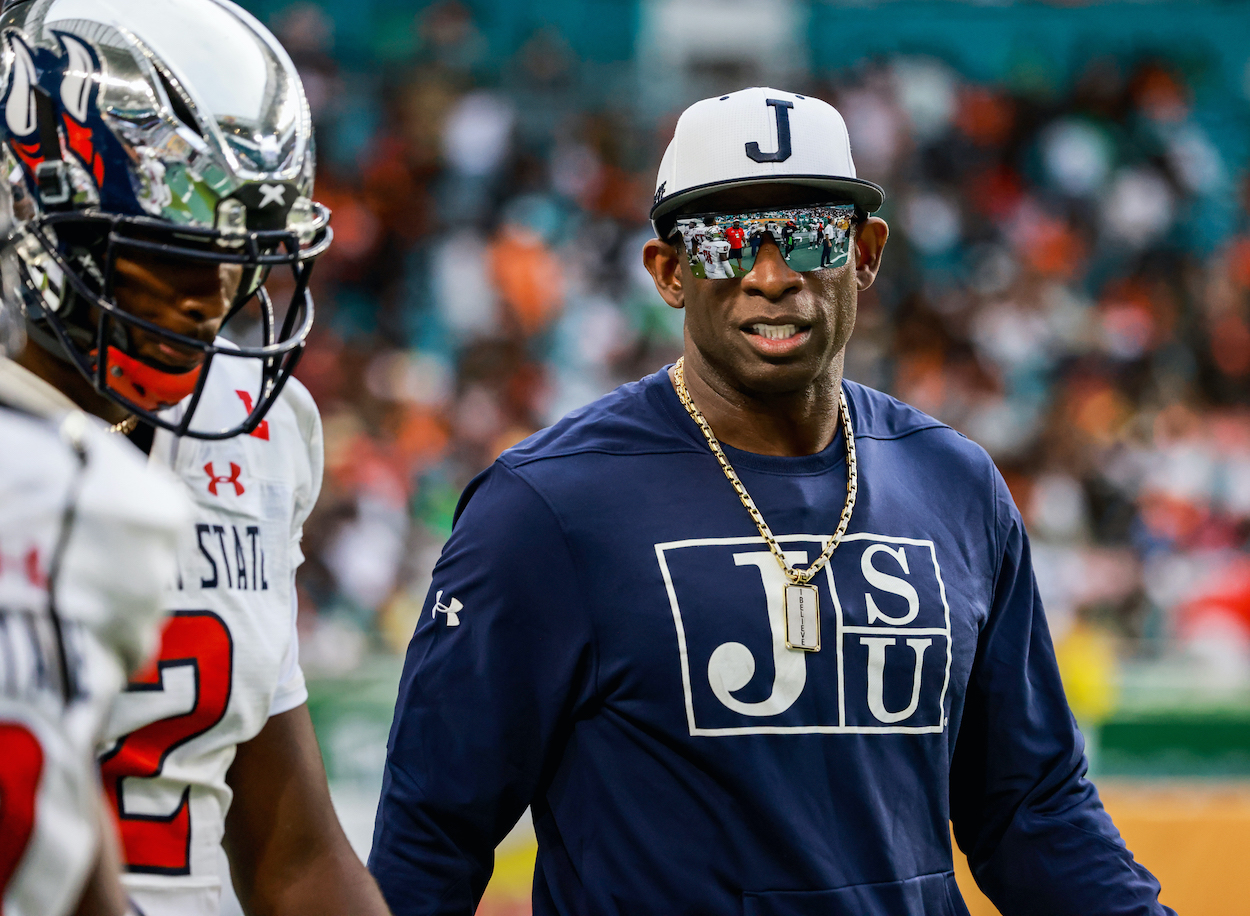 NBA Legend Endorses Deion Sanders as Next Dallas Cowboys Head Coach
With his success at Jackson State, some think that Deion Sanders would make a great NFL coach, including a certain NBA legend.
Hall of Fame cornerback Deion Sanders spent five of his 14 NFL seasons with the Dallas Cowboys. He won a Super Bowl with the franchise and made three of his six All-Pro squads with America's Team.
Now, Sanders is "Coach Prime," leading a resurgence at Jackson State. However, at least one Cowboys fan thinks he should be the next head man in Big D. That's NBA legend Shaquille O'Neal.
Deion Sanders is impressing as head coach of Jackson State
The Jackson State University Tigers football program has a rich history. The HBCU was particularly relevant from a football perspective in the late 1960s and '70s, producing NFL Hall of Famers like DB Lem Barney, LB Robert Brazile, T Jackie Slater, and "Sweetness" himself, RB Walter Payton.
In recent years, Jackson State has faded into relative football obscurity as most Football Championship Subdivision teams have. The program has only produced one drafted NFL player in the last 20 years (WR Jaymar Johnson, 2008, No. 193, Minnesota Vikings).
However, that's about to change soon, thanks to Deion Sanders.
Sanders took over as head coach of the Jackson State Tigers in 2020. While helping the program navigate COVID-19-disrupted seasons, he's posted a 15-5 record and led the team to its first two Bowl Game appearances since 1971.
Jackson State is also now a player on the national recruiting scene. In 2021, he landed four ESPN top 300 recruits, including the No. 63 player in the country (QB Shedeur Sanders, who happens to be Deion's son). A year later, he brought in two more top 300 players, WR Kevin Coleman (No. 62) and CB Travis Hunter (No. 2).
The Tigers are now the favorite to win a second-consecutive SWAC title, which is great for the school. However, it also means "Coach Prime" might get some big offers to leave soon.  
Shaquille O'Neal has an idea for who should be the next coach of the Dallas Cowboys
Growing up, NBA Hall of Famer Shaquille O'Neal's stepfather was in the Army and, because of that, the future NBA star lived in several places, including New Jersey, Germany, and Texas. The O'Neals eventually settled in San Antonio, Texas, for Shaq's high school career and, like many Texans, Shaq became a Dallas Cowboys fan.
Recently, he joined the Rich Eisen Show and guest host Suzy Shuster. As Shaq often does, he shared his thoughts on a wide range of subjects, including his beloved Cowboys.
Shaq told the host that he recently floated an idea on his podcast about who the next Cowboys coach should be:
If you look at the job Deion Sanders is doing at Jackson State, that's the type of energy we need with the Cowboys. I don't know who the new coach of the Cowboys is, but I think he should bring Deion back home. He played there. He knows the system, he knows what it takes to play. I think he can definitely get the guys ready. So, Deion Sanders should be the next Cowboys coach.

Shaquille O'Neal on Deion Sanders as the next Dallas Cowboys head coach
Shaq then shared that Sanders helped "hold me accountable" during his NBA career. He told Shuster that the NFL icon would say to him, "Hey man, you're missing too many free throws. Or, hey man, you put on some pounds. Hey man, you're not doing this. Hey man, stop fighting."
It's an interesting idea, but as good as Sanders has been at Jackson State, would he be able to translate that success to the NFL.
Would Deion Sanders be a good NFL coach?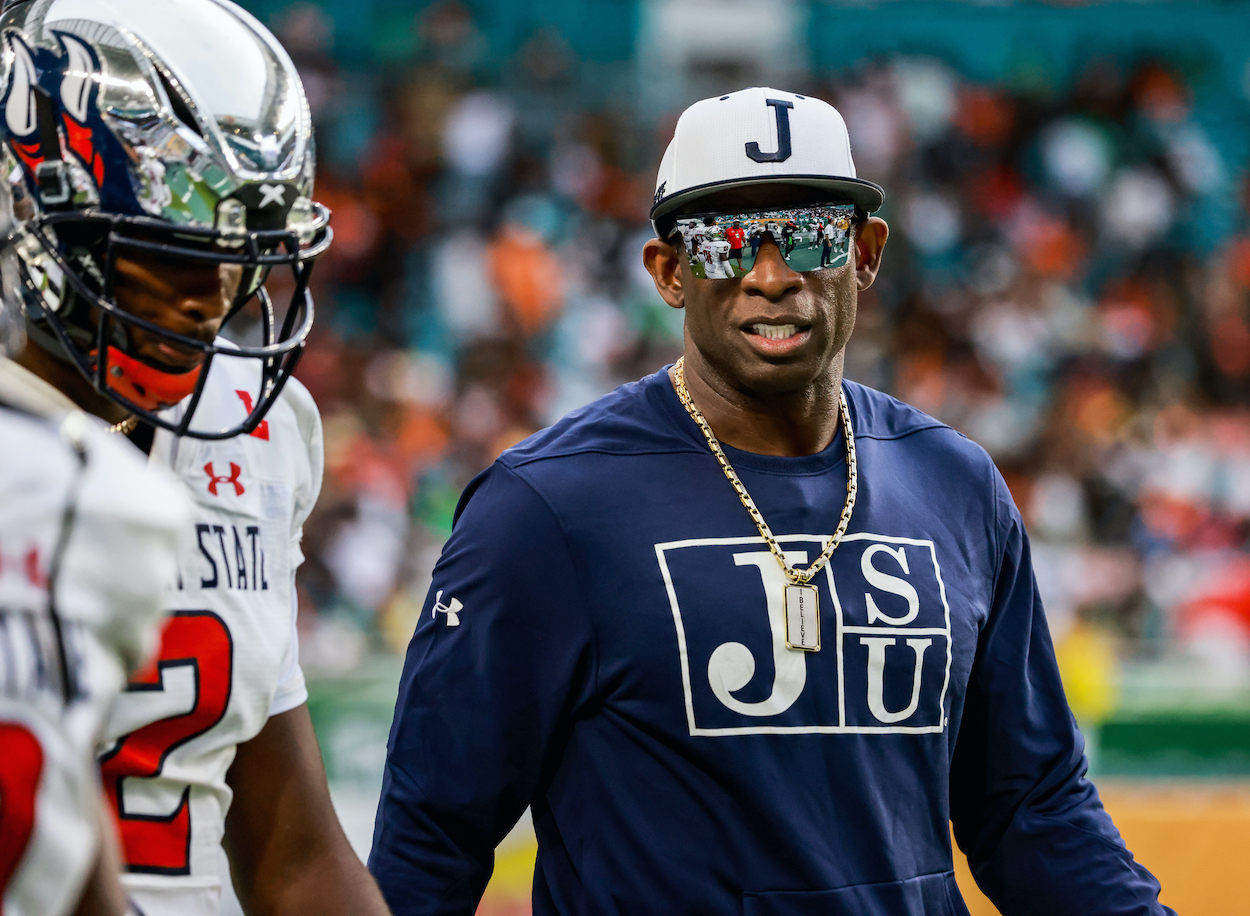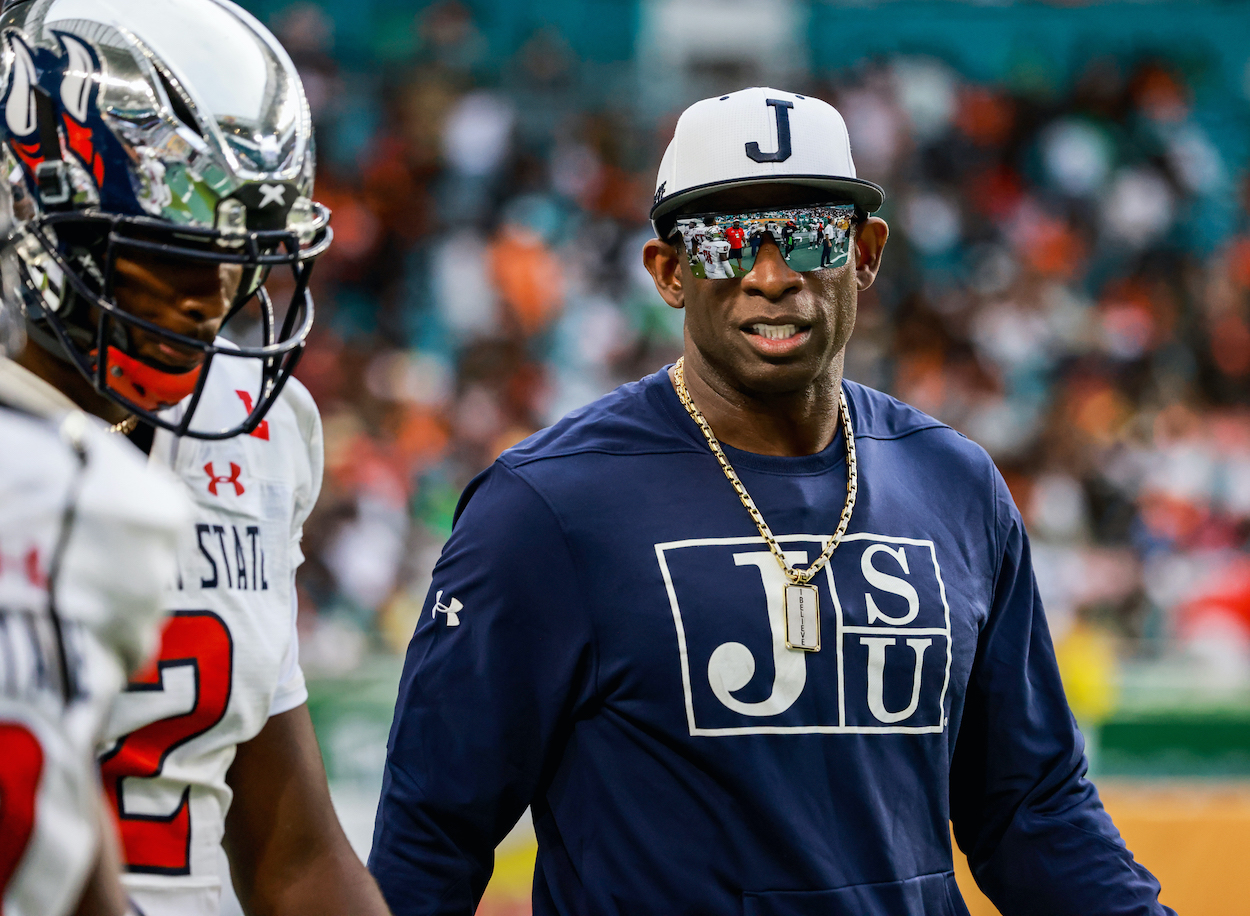 Would Deion Sanders be a smart choice as the next head coach of the Dallas Cowboys?
Obviously, it's impossible to say for sure, and there are valid arguments for and against.
The naysayers would point to the fact that Sanders is having success at an FCS school and not in the SEC. Also, in the NFL, you can't just walk into recruits' homes and charm them into joining your team — which the charismatic Sanders excels at.
On the other hand, Sanders has demonstrated he's a very capable CEO-type, which is what NFL coaches need to be these days. Sure, he might not be calling plays at an NFL level. Still, if he can surround himself with talented assistants, motivate his players, and, as Shaquille O'Neal noted, hold them accountable, that's a proven recipe for NFL success.
In the end, Sanders has been incredibly successful with everything he's done in his life. He's an NFL Hall of Famer, a former Major League Baseball player, a highly entertaining analyst, and now, a successful college coach.
You can doubt Sanders' ability to succeed at the NFL level because you've never seen it, but that begs one question. What in Deion Sanders' life leads you to believe he won't be successful in whatever he does next, just like he's succeeded at everything else?  
The answer is nothing, which may mean "Coach Prime" is the answer to solving Jerry Jones' troubles with the Cowboys.
Like Sportscasting on Facebook. Follow us on Twitter @sportscasting19