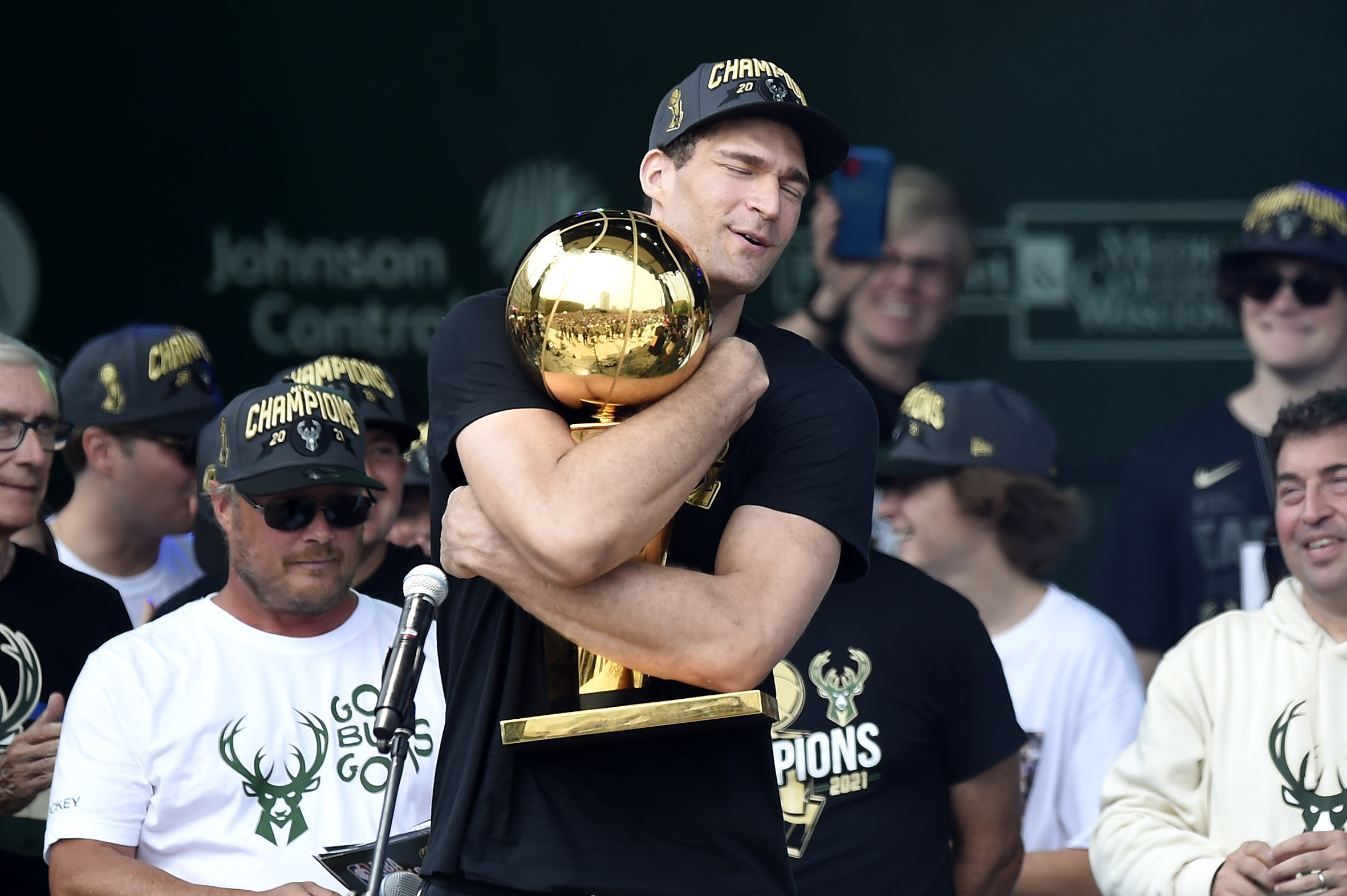 Brook Lopez Excited to See the Milwaukee Bucks Championship Rings Because His Bizarre Dream Wouldn't Let Him
Brook Lopez will finally get a chance to see the Milwaukee Bucks championship rings Tuesday.
Tuesday night can't come quick enough for Brook Lopez. Not only is that when his Milwaukee Bucks host the Brooklyn Nets in the NBA season opener, but that's also when he'll finally see his championship ring. Lopez and the Bucks haven't seen the rings yet, but the Bucks' big man said he thought he was about to in a bizarre dream that had an odd twist.
Brook Lopez and the Milwaukee Bucks begin their quest for a title repeat aganst the Brooklyn Nets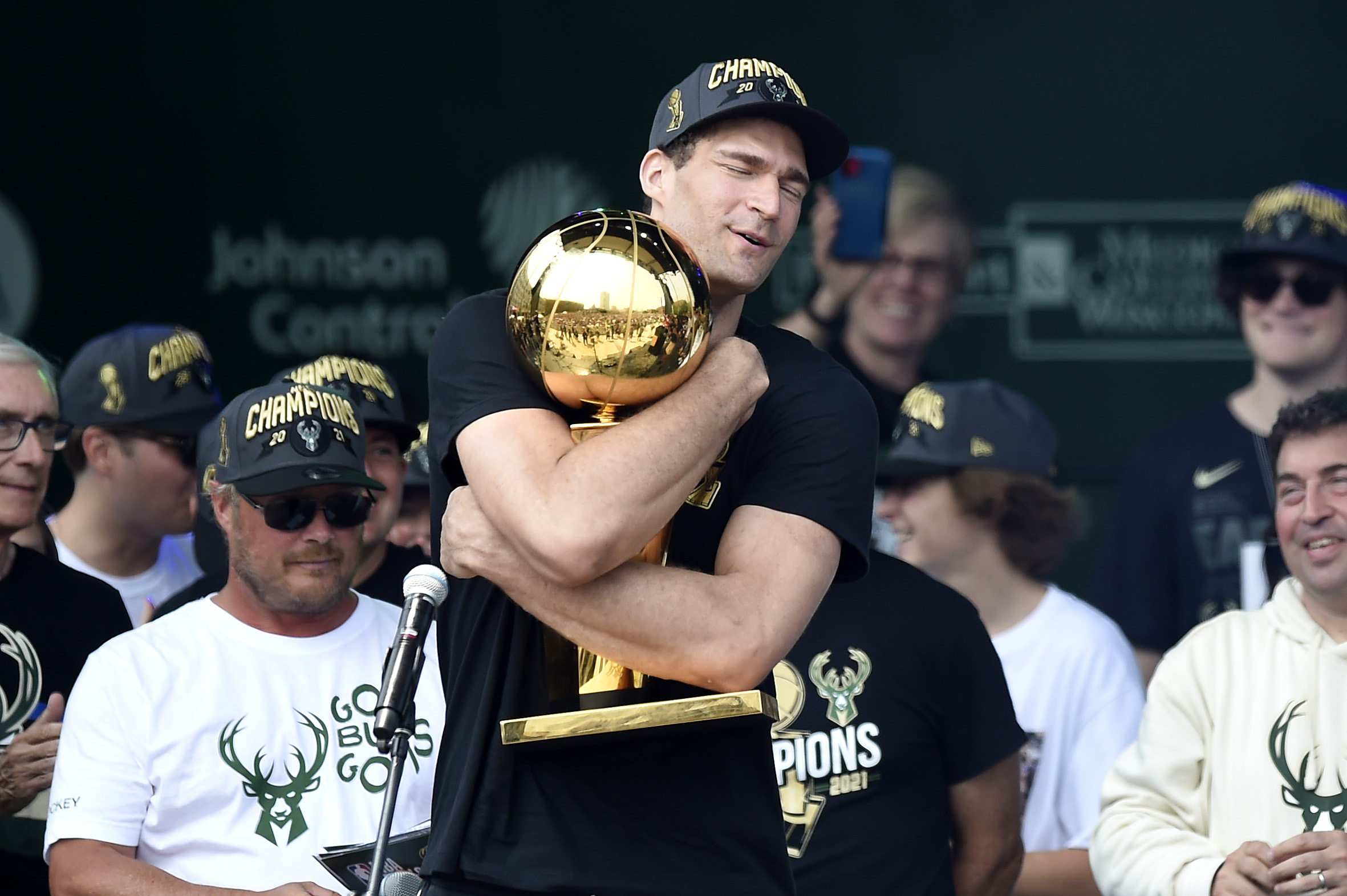 For Lopez, Tuesday is more than a ring ceremony and a night to open the NBA season. It's a chance to go up against a team he's all too familiar with. The New Jersey Nets selected Lopez, out of Stanford, with the 10th overall pick in the 2008 NBA Draft. He spent the first nine years of his professional career with the Nets.
Lopez remains the Nets' all-time scorer with 10,444 points, outscoring Buck Williams by four points. He's also the all-time leader in blocks with 972.
The Bucks ousted the Nets in last year's postseason to earn a berth in the Eastern Conference Finals. The Nets were hampered by injuries with James Harden playing on a sore hamstring. Kyrie Irving missed the final three games of the series with a badly sprained ankle suffered in Game 4.
Brooklyn will again be without Irving on Tuesday. Irving has not been vaccinated against COVID-19, and a New York City mandate states that anyone who enters an indoor arena, including Barclay's Center and Madison Square Garden (homes of the Nets and New York Knicks), needs at least one vaccination shot.
Irving could have participated in road games, but the Nets put out a statement this week stating he would not have "part-time availability."
Brook Lopez is eager to see what the Milwaukee Bucks championship rings look like
It's been almost four months since the Bucks knocked off the Phoenix Suns in six games to win the 2021 NBA Finals. The celebrations have died down, although there will be a brief one prior to Tuesday's game with the Nets. That's when members of the Bucks will have their ring ceremony.
Lopez said he's looking forward to seeing them. In fact, he had a dream about them but never got the chance to get a look at them.
"I did have a dream about it about a week ago," Lopez told Stephen Watson of WISN12 News last week. "But we were all wearing gloves in the dream, so I didn't get to see the ring.
"There was a glove over the ring. We all had them. They were there, but there were gloves on. I don't know what that means or anything, but I guess my subconscious was trying to hide what it looked like. So it'll be a nice surprise when we finally see it."
Giannis Antetokounmpo feeling better as the season draws near
After the preseason opener, Bucks star Giannis Antetokounmpo said he felt like he was in prime basketball shape. He felt his conditioning and timing were off.
"I was way farther behind than I expected," he said, according to the Green Bay Press-Gazette.
Things were much better in Wednesday's preseason game against the Utah Jazz. The Greek Freak poured in 21 points in 21 minutes. The Bucks lost, but Antetokounmpo felt more like himself.
"I just felt better, felt better from the first game, got a long ways to go, gotta keep enjoying the game, keep working on my craft, but yeah, it felt better than the first game, I'm not gonna lie," Antetokounmpo said. "Hopefully as we move forward, we can get better as a team, and I can maybe individually get to my spot better and be sharper, be more comfortable out there."
The Bucks are getting stronger, and they'll be ready to go Tuesday night to tip off the NBA season. Lopez & Co. will finally get a chance to see those rings.