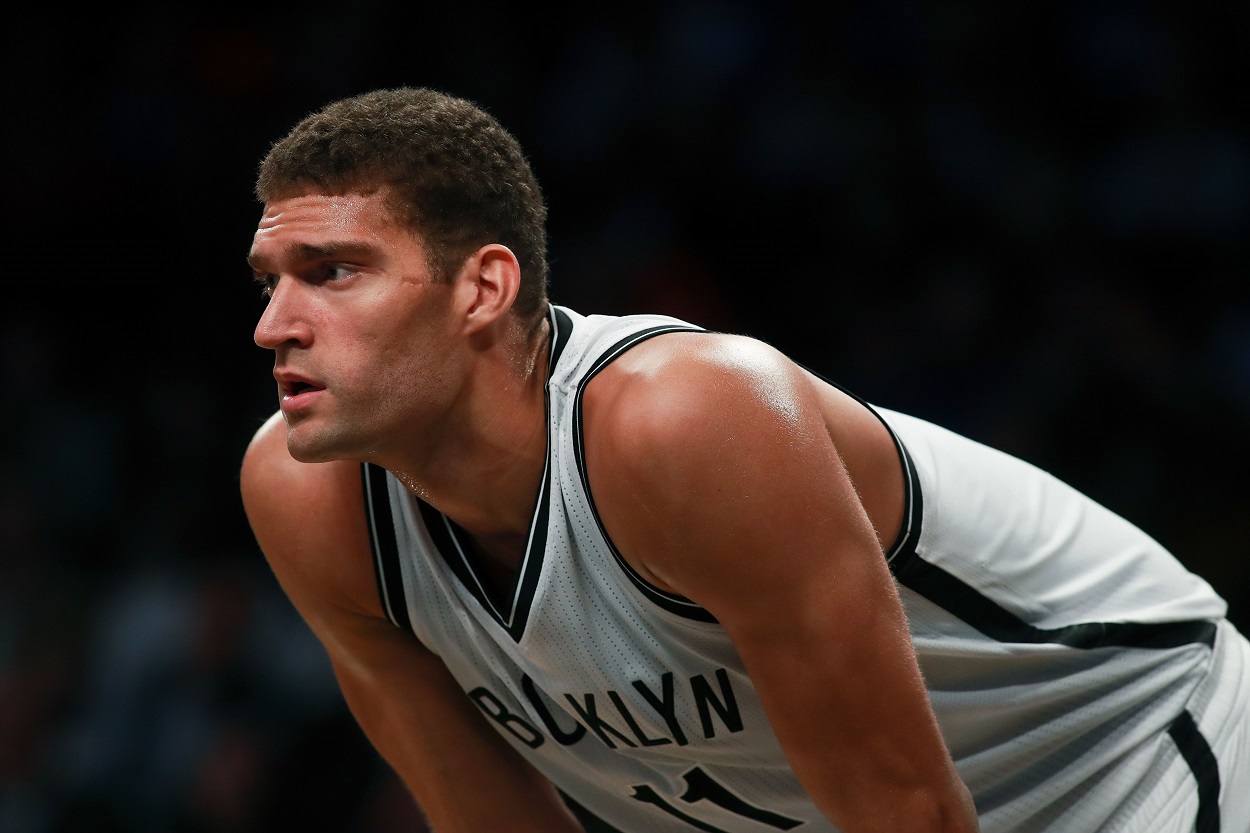 You May Be Surprised to Know Brook Lopez is the Nets' All-Time Leading Scorer and That Nobody Has Ever Played 10 Years With the Franchise
Not only is Brook Lopez the all-time leading scorer for the Nets, he's also the all-time leader in seasons played for the franchise.
Since being traded away from the Brooklyn Nets following the 2016-17 season, Brook Lopez has seen his scoring average drop significantly. And nobody is saying that's a bad thing as it's simply a matter of circumstance. During his nine-year run with the Nets, he was typically the number one offensive option. But that wasn't the case in his lone season with the Los Angeles Lakers and definitely hasn't been the case in his three seasons with the Milwaukee Bucks.
However, with Giannis Antetokounmpo sitting out Game 5 of the Eastern Conference Finals on Thursday night, the Bucks needed everyone to step up in his absence. And Lopez did just that with a superb throwback performance, hitting 14 of 18 shots from the floor for a team-high and career playoff-high 33 points in Milwaukee's 123-112 victory over the Atlanta Hawks.
So as Lopez continued to hit bucket after bucket against Atlanta, I started digging around a little bit, looking for his overall career high and things of that nature. If you're wondering, it was a 39-point effort against the Detroit Pistons on April 6, 2011, just at the tail end of his third season with the then-New Jersey Nets.
But during my digging process, I came across some much more interesting data. For example, did you know that Lopez is the all-time leading scorer in the 50-plus-year history of the Nets franchise? And did you know that his nine seasons with the team are the most in franchise history? It just fascinates me that nobody has played more than a decade with the Nets, who are one of just three current NBA franchises to have never had a player with a double-digit tenure.
Brook Lopez is the all-time leading scorer in the history of the Nets franchise
Taken with the No. 10 overall pick in the 2008 NBA draft, Lopez averaged 18.6 points per game over the course of his nine-year run with the Nets, which actually doesn't even crack the franchise's top 10 as it pertains to scoring average. The top spot belongs to Rick Barry, who averaged 30.6 points per game in his two seasons with the franchise when they were still the New York Nets in the ABA. And No. 10 is the late, great Drazen Petrovic, who scored 19.6 points per game over two and a half seasons before tragically dying in a car accident in 1993.
However, in terms of overall points, Lopez takes the top spot as he scored 10,444 points for the Nets, just four more than Buck Williams, who spent eight seasons with the team. What makes Lopez's feat all the more incredible is the fact that he missed nearly two full seasons. He played just five games in 2011-12 due to a broken foot and an injured ankle and then appeared in just 17 games in 2013-14 with another foot injury.
But even more incredible is the fact that Lopez is able to be the Nets' all-time leading scorer is because the franchise has never had a single person play more than his nine seasons.
Lopez played nine seasons with the franchise, more than any other player in history
As the Nets have been around since 1967, first in the ABA and then the NBA beginning in 1976, one would think that at least one player would have played at least a decade with the franchise, especially since free agency wasn't as big of a thing back in the day and players often spent long periods of time with one team.
But Lopez's nine seasons are surprisingly the most of any player in Nets history, although he's only second in number of games played with 562. That particular list is topped by Williams, who is one of three to play eight seasons with the Nets, the other two being Mike Gminski and Jason Collins. Nine played seven years with the team, a list that includes Jason Kidd, Richard Jefferson, and Kerry Kittles, while three others played six seasons.
So in 54 years, only 16 have played more than five seasons with the franchise, which makes it a little difficult to build the true team chemistry it takes to win an NBA championship. Maybe that's why they're one of 11 teams to never win a title, a list that could possibly go down to 10 if the Phoenix Suns keep doing what they're doing. Of course, the two aren't always directly related but it certainly doesn't help. Perhaps a full season of Kevin Durant, Kyrie Irving, and James Harden can change that.
The Nets are one of just three NBA franchises to have never had a player spend at least 10 years with the team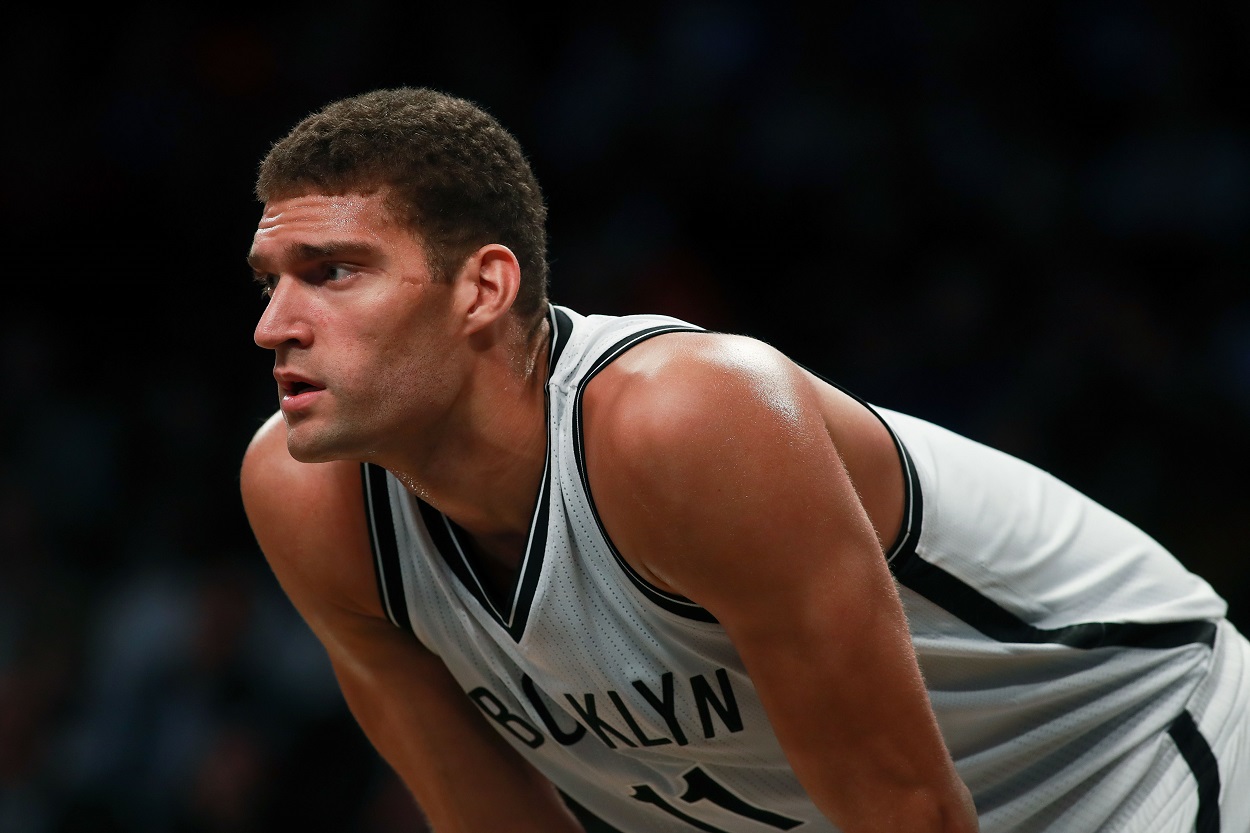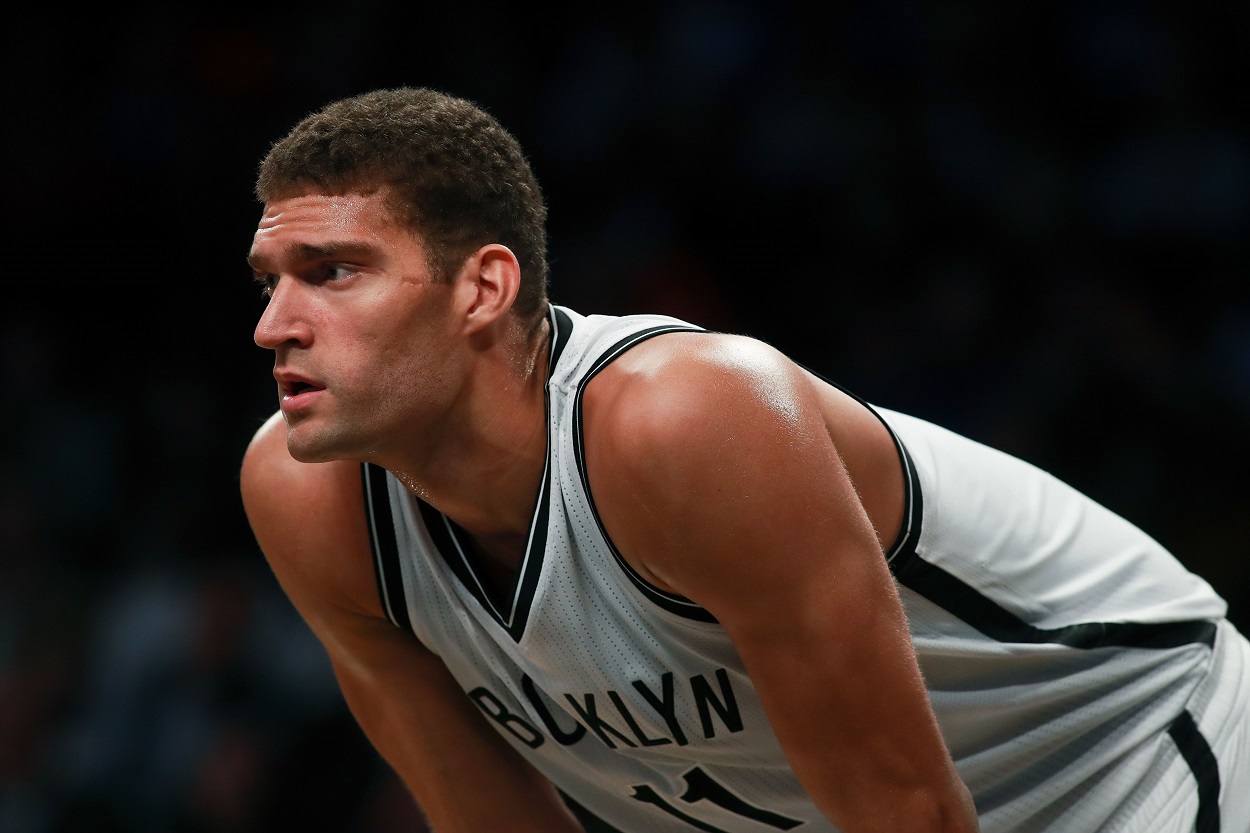 As it stands right now, the Nets are one of just three NBA franchises to have never had a player reach a double-digit tenure, the other two being the New Orleans Pelicans and the Toronto Raptors, the latter of which may change soon depending on what happens this summer with unrestricted free agent Kyle Lowry, who has played nine seasons north of the border. Here's a look at the most seasons played for every current NBA franchise.
Atlanta Hawks-Dominique Wilkins (12)
Boston Celtics-John Havlicek (16)
Brooklyn Nets-Brook Lopez (9)
Charlotte Hornets-Muggsy Bogues, Dell Curry (10)
Chicago Bulls-Michael Jordan (13)
Cleveland Cavaliers-Anderson Varejao (13)
Dallas Mavericks-Dirk Nowitzki (21)
Denver Nuggets-Alex English (11)
Detroit Pistons-Joe Dumars (14)
Golden State Warriors-Chris Mullin (13)
Houston Rockets-Hakeem Olajuwon (17)
Indiana Pacers-Reggie Miller (18)
Los Angeles Clippers-DeAndre Jordan (10)
Los Angeles Lakers-Kobe Bryant (20)
Memphis Grizzlies-Mike Conley (12)
Miami Heat-Udonis Haslem (18)
Milwaukee Bucks-Michael Redd (11)
Minnesota Timberwolves-Kevin Garnett (14)
New Orleans Pelicans-David West (8)
New York Knicks-Patrick Ewing (15)
Oklahoma City Thunder-Nick Collison (14)
Orlando Magic-Nick Anderson, Jameer Nelson (10)
Philadelphia 76ers-Hal Greer, Dolph Schayes (15)
Phoenix Suns-Alvin Adams (13)
Portland Trail Blazers-Clyde Drexler (12)
Sacramento Kings-Sam Lacey (12)
San Antonio Spurs-Tim Duncan (19)
Toronto Raptors-DeMar DeRozan, Kyle Lowry (9)
Utah Jazz-John Stockton (19)
Washington Wizards-Wes Unseld (13)
As for the longest-tenured player for the Nets right now, that would be Joe Harris, who just finished up his fifth season in Brooklyn and is signed through the 2023-24 campaign, which would give him eight years with the team if he stays for the duration of his contract.
So Lopez's record of most seasons played with the franchise isn't going anywhere anytime soon, nor is his scoring record. But if he keeps doing what he's doing with the Bucks, he may lose
Stats courtesy of Basketball Reference