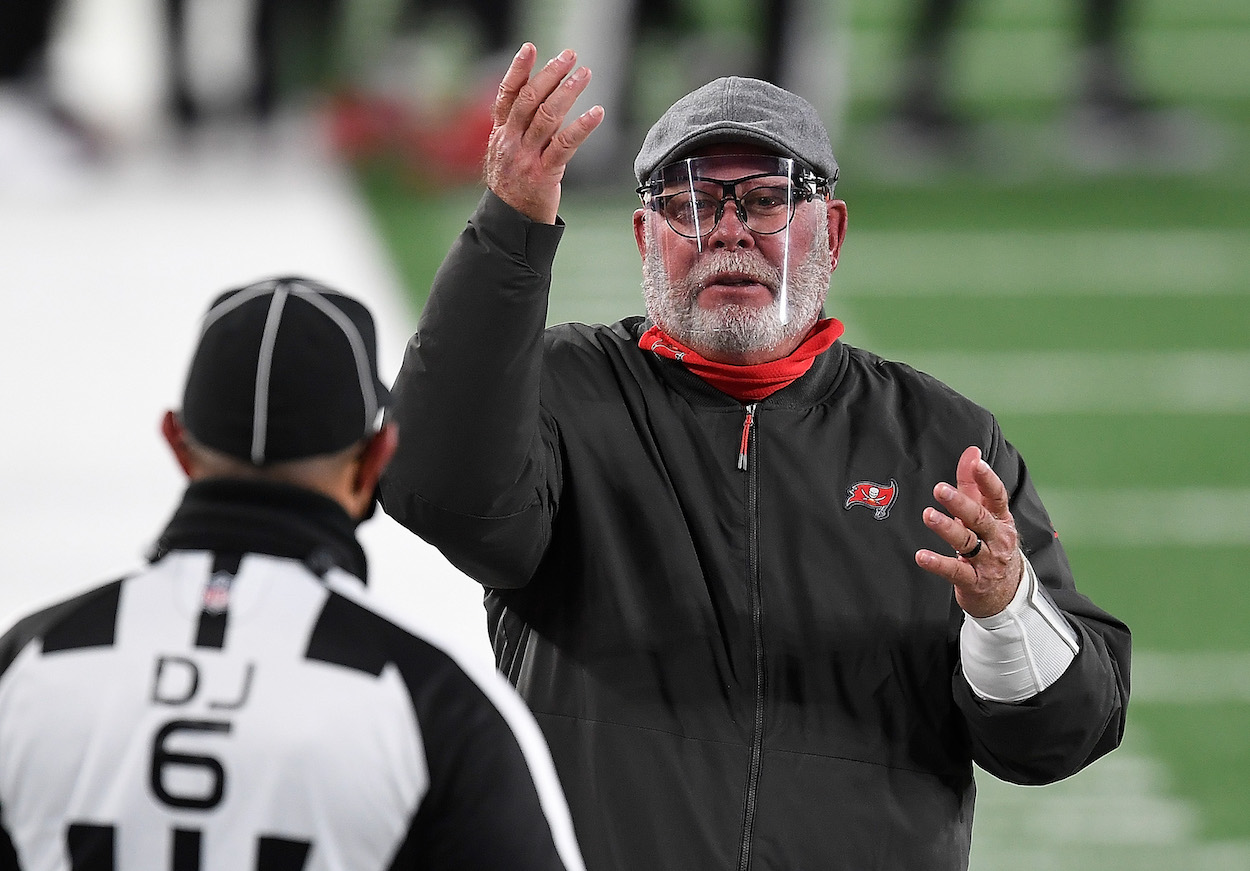 Bruce Arians Decided to Pursue a Coaching Career After a Terrifying Incident Where a Man Held Him at Gunpoint
Bruce Arians paid his dues in becoming one of the best NFL head coaches. However, his career almost ended before it ever got started when he was held at gunpoint in a terrifying incident.
Bruce Arians is considered one of the best offensive minds in the NFL. The Tampa Bay Buccaneers head coach has worked with some of the best quarterbacks in the history of the league in Peyton Manning, Ben Roethlisberger, and now Tom Brady. Arians is a two-time AP NFL Coach of the Year. And now, he is trying to add a Super Bowl title as a head coach to his impressive resume.
Incredibly, all of it almost never happened. His career and life nearly came to an abrupt and tragic end before it ever got started during a frightening incident one night at a bar in Blacksburg, Virginia. Here's a look back on that terrifying night and how it changed the course of his career and life forever.
Bruce Arians has had a lengthy NFL career
While most casual fans know Bruce Arians as the head coach of the Tampa Bay Buccaneers and the Arizona Cardinals before that, he has more than paid his dues through the years. He began his NFL journey back in the late 1980s as a running backs coach for the Kansas City Chiefs. 
After a couple of years in Kansas City and several other coaching stops in college, Arians joined the NFL coaching ranks permanently as the quarterbacks coach for the Indianapolis Colts in 1998, where he coached Peyton Manning in his rookie season. Several years later, he was named the offensive coordinator of the Cleveland Browns. 
For the next decade, Bruce Arians split time between Cleveland and the Pittsburgh Steelers, where he started as the team's wide receivers coach in 2004, before getting promoted to the offensive coordinator in 2007. In 2009, he was part of the Steelers squad that won the Super Bowl.
Arians rejoined the Colts in 2012 for a season before being named head coach of the Arizona Cardinals in 2013. His career record as a head coach in the NFL is 80-49-1 and he has been the AP's NFL Coach of the Year on two occasions in 2012 and 2014.  
Bruce Arians paid his dues before the NFL
Bruce Arians' football life began as a player at Virginia Tech, where he was the team's quarterback. In 1974, Arians ran the wishbone attack during his senior season and rushed for 243 yards and eight touchdowns. He threw for 952 yards, with three touchdowns and seven interceptions.
Upon completing his playing days, Arians transitioned into coaching, where he worked at his alma mater as a graduate assistant for three seasons. After a three-year stint at Mississippi State as the wide receivers/running backs coach, Arians landed a job as the running backs coach for the University of Alabama and legendary coach Paul "Bear" Bryant.
Bruce Arians stayed for a couple of seasons with the Crimson Tide before he got his first chance as a head coach with the Temple Wildcats in 1983. He stayed until 1988 and compiled a 21-39 record. 
Being held at gunpoint changed his future plans
While Bruce Arians has established himself as one of the NFL's top coaches by his two Coach of the Year awards and his most recent accomplishment, taking the Tampa Bay Buccaneers to the Super Bowl, all of it almost never happened. 
In his book The Quarterback Whisperer, which was published in 2017, he details how one night during the 1970s he was working behind the bar at a nightclub when a man entered the establishment looking for trouble. The man, which Arians described as someone out of the movie Deliverance, declared he was looking for a fight. Trying to diffuse the situation, Arians told the man he'd give him free beer but asked him to fight somewhere else.
A couple of hours passed, and the man, now intoxicated, began pinching the backsides of several different women in the bar. Arians intervened and asked him to leave.
"The mountain man pulled out a black handgun and stuck it in my belly. 'Throw me out now,' he calmly said to me. I was terrified. It's generally not good when an intoxicated man is pointing a gun at you. But just then the nightclub owner, wielding a blackjack (baton), clubbed the man over the head, knocking him out cold.
"That was my last night of bartending. I realized, when that gun was jammed in my gut, that perhaps coaching would be a better career path."
And what a career path it has turned out to be.