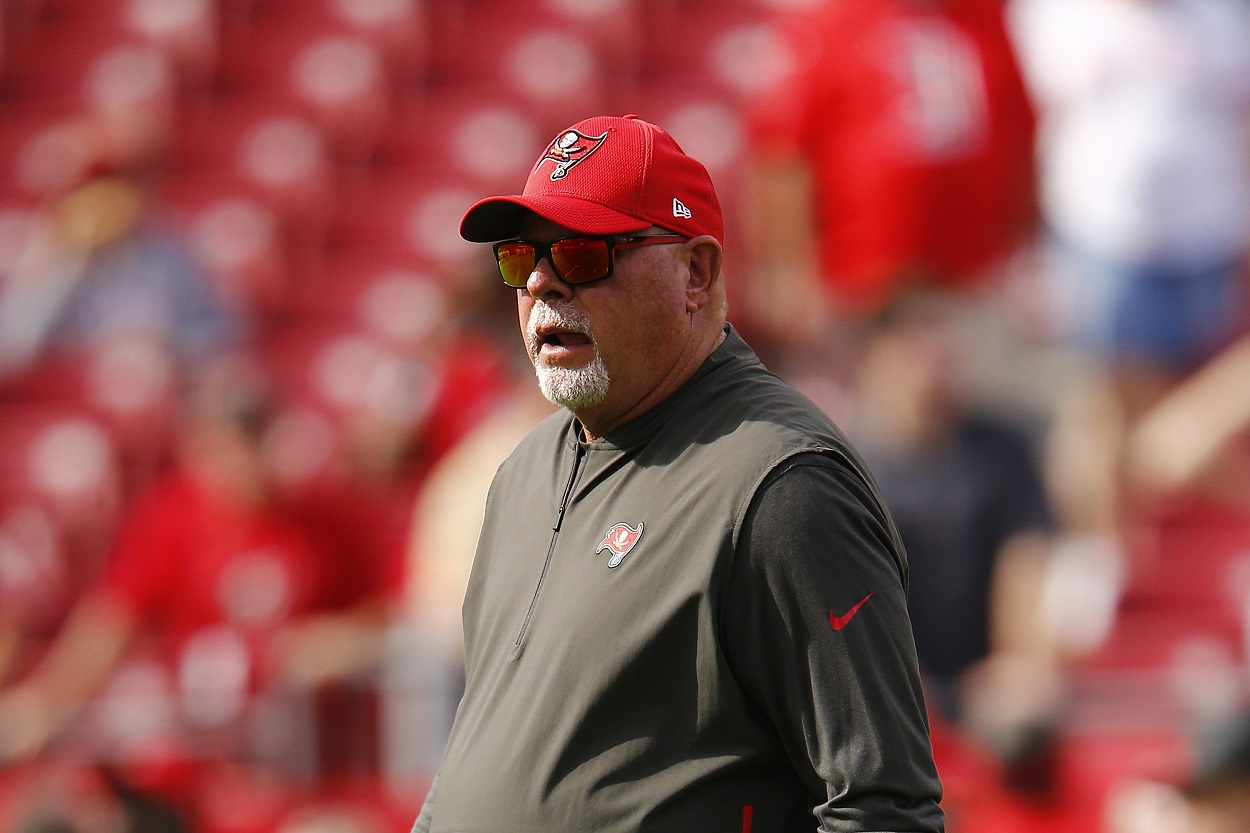 Bruce Arians Has Battled Three Forms of Cancer, Is Missing Part of a Kidney, and Now Has a Chance to Make Super Bowl History
Tampa Bay Buccaneers head coach Bruce Arians has been treated for three different types of cancer but now has the chance to make Super Bowl history.
As Bruce Arians prepares for his first Super Bowl appearance as a head coach — remember he won two rings with the Pittsburgh Steelers as an assistant — it's sometimes easy to forget just how long he's been a coach. Now in year 45 between college football in the NFL, Arians has essentially seen and done it all…well, except win a title as the guy anyway.
But if his Tampa Bay Buccaneers can knock off the defending champion Kansas City Chiefs on Sunday, not only will Arians get that monkey off his back but he'll also set a Super Bowl record in the process.
It's certainly been a long journey for Bruce Arians to get to this point but that journey has also included some battles that didn't take place on the football field. What some may not know (or perhaps remember) about the 68-year-old is that he's been treated for three different forms of cancer and is missing part of a kidney as a result of his last diagnosis.
Bruce Arians has been coaching for 45 years
For those who may be a bit unfamiliar with Bruce Arians' coaching career, here's a quick rundown of all the jobs he's held following his playing days at Virginia Tech.
1975-1977: Virginia Tech Hokies — Graduate assistant
1978-1980: Mississippi State Bulldogs — Running backs coach and wide receivers coach
1981-1982: Alabama Crimson Tide — Running backs coach
1983-1988: Temple Owls — Head coach
1989-1992: Kansas City Chiefs — Running backs coach
1993-1995: Mississippi State Bulldogs — Offensive coordinator
1996: New Orleans Saints — Tight ends coach
1997: Alabama Crimson Tide — Offensive coordinator
1998-2000: Indianapolis Colts — Quarterbacks coach
2001-2003: Cleveland Browns — Offensive coordinator
2004-2011: Pittsburgh Steelers — Wide receivers coach ('04-'06), Offensive coordinator ('07-'11)
2012: Indianapolis Colts — Offensive coordinator, Interim head coach
2013-2017: Arizona Cardinals — Head coach
2019-current: Tampa Bay Buccaneers — Head coach
As you can see, that's quite the impressive coaching resume. In 45 total seasons, Arians has obviously held a number of different roles with each presenting its own set of challenges and battles.
However, on three separate occasions, Bruce Arians has had to fight much tougher battles than he'd ever see on a football field.
Bruce Arians has been treated for three different forms of cancer and is missing part of one of his kidneys
Ahead of the 2007 NFL season, Pittsburgh Steelers offensive coordinator Ken Whisenhunt left the team to become the head coach of the Arizona Cardinals, which left Bruce Arians with a decision to make. He could follow Whisenhunt to become the offensive coordinator in Arizona or remain with the Steelers to take the same position Whisenhunt had just vacated. Arians obviously chose the latter but when he went to take his yearly physical, he learned he had prostate cancer, a diagnosis that was thankfully followed by successful surgery.
Then, in 2013, which was Arians' first year as head coach of the Cardinals, ironically replacing Whisenhunt, he was treated for cancerous cells found in his nose.
Just over three years later, in December 2016, Arians went to the doctor to get a hernia checked out, at which point the ultrasound revealed he had renal cell carcinoma, a form of kidney cancer. Arians finished up the regular season, a campaign in which the Cardinals went 7-8-1 and missed the postseason, and then underwent surgery in February 2017 to have part of his kidney removed.
He was able to get through one more season in Arizona but then left the Cardinals despite having multiple years left on his deal. His health concerns seemed to have played a part in his decision but after a season at CBS as an analyst, Arians came out of retirement in 2019 to become the head coach of the Tampa Bay Buccaneers. On an episode of Real Sports with Bryant Gumbel, he said that he'd have no problem dying while coaching football.
"You can die at any moment doing anything. I mean, so why not do what you love to do? If I die on game day, have a drink. Celebrate."

Bruce Arians
Now cancer-free, Bruce Arians could end up celebrating the biggest win of his career on Sunday at the Super Bowl and if that happens, he'll set a new NFL record.
If the Buccaneers win on Sunday, he'll become the oldest head coach to win a Super Bowl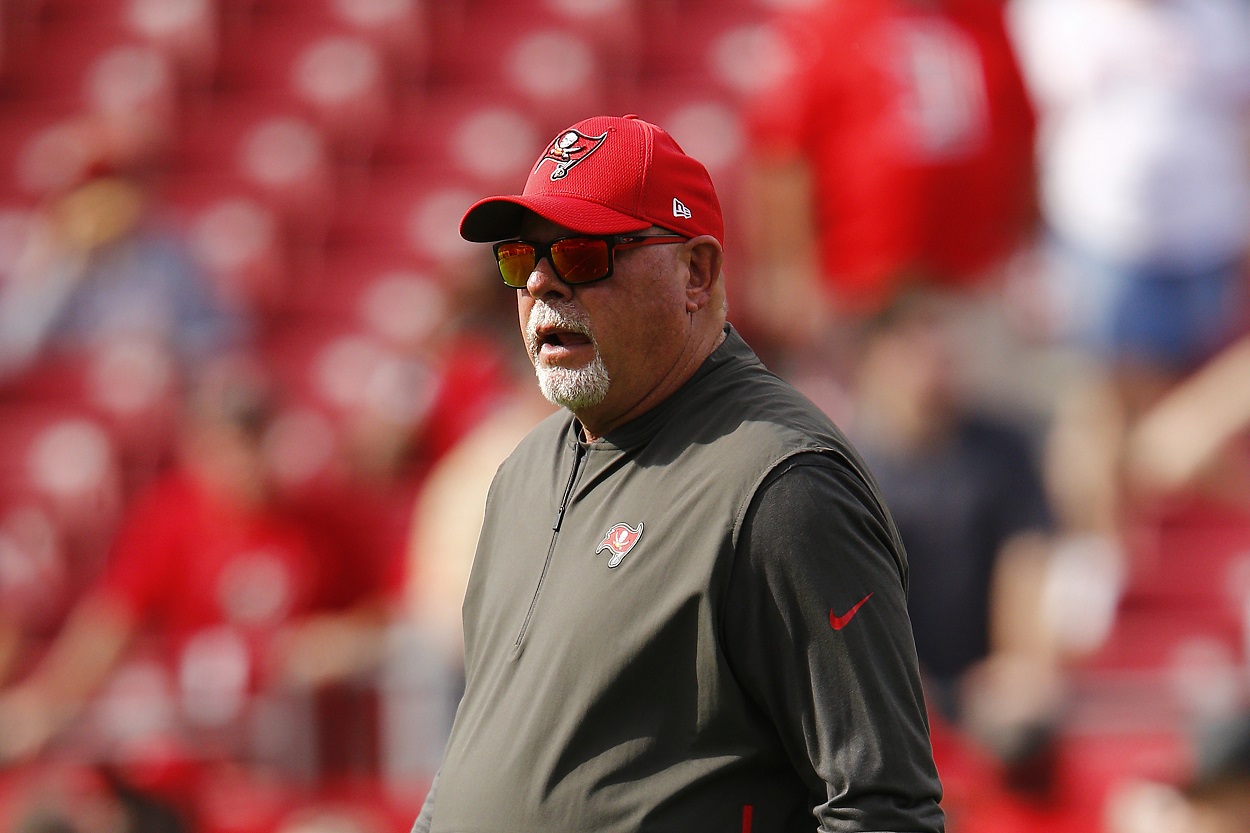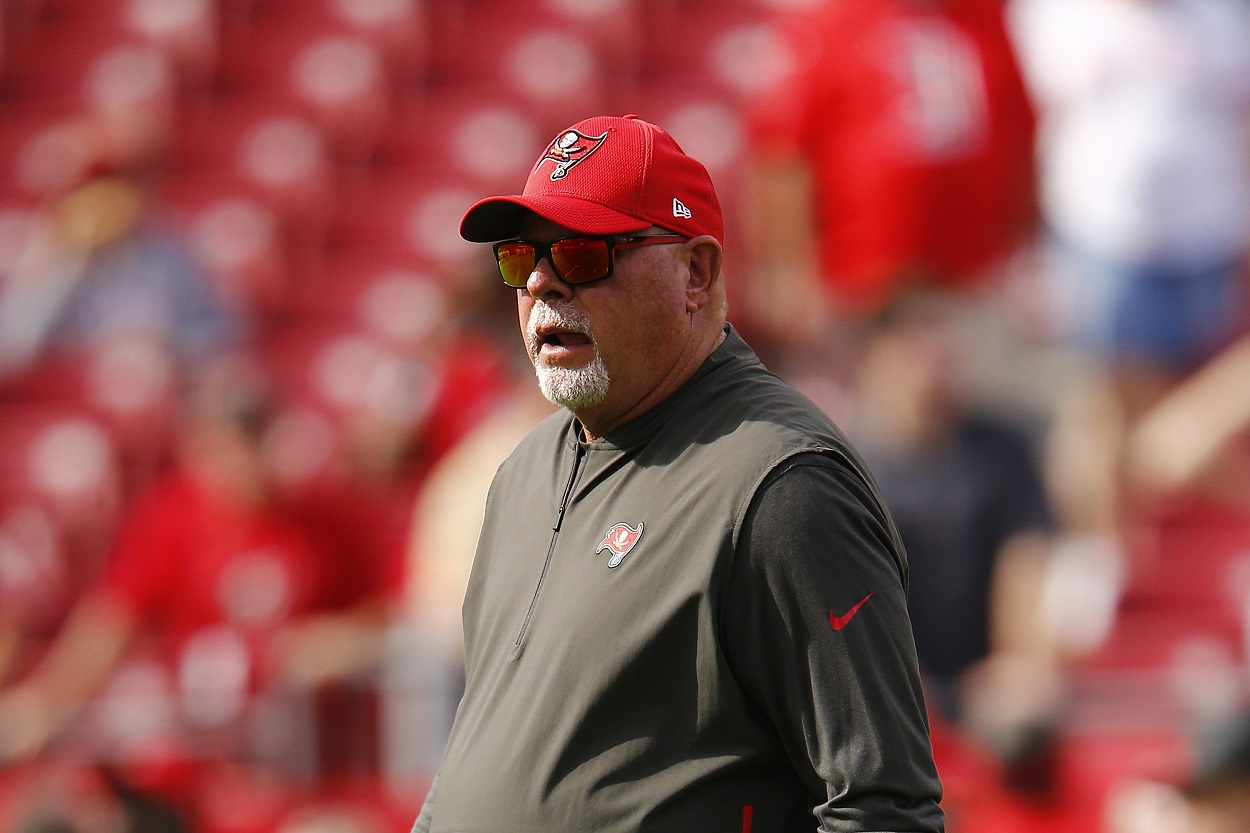 If the Tampa Bay Buccaneers can upset the favored Kansas City Chiefs in Super Bowl 55, Bruce Arians would become the oldest head coach in NFL history to win the big game at age 68. The record currently belongs to Bill Belichick, who won Super Bowl 53 with the New England Patriots at the age of 66.
But even if Arians and the Bucs don't win on Sunday, the fact that he's even coaching in this game is cause for celebration. And no matter what the outcome of Super Bowl 55, he's already said that he'll back on the sidelines next season.