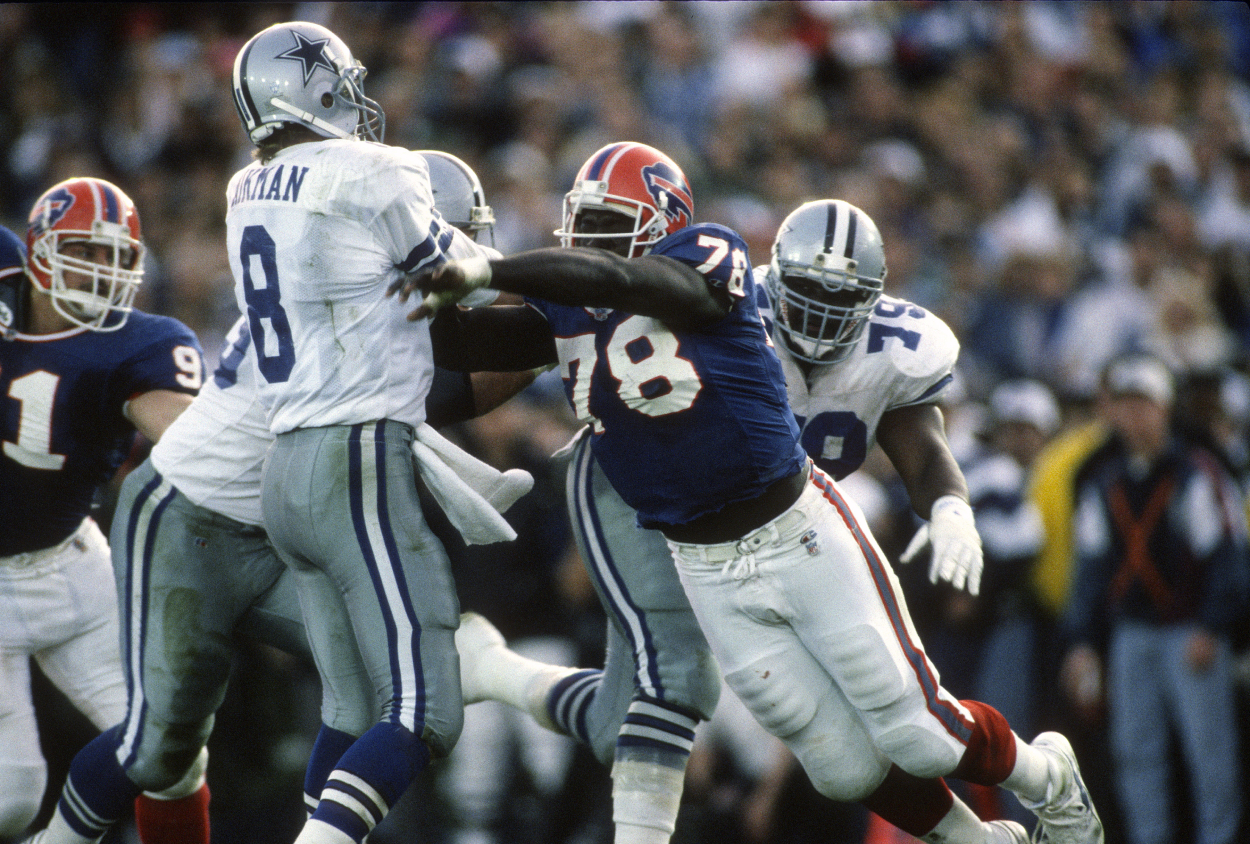 Bruce Smith Was a Sack Specialist but the Buffalo Bills Legend Was More Impressed With Another of His On-Field Feats
Bruce Smith was much more than just a defensive end who sacked opposing quarterbacks.
Bruce Smith certainly lived up to the hype of being the No. 1 pick in the 1985 NFL Draft. Considered one of the best defensive ends ever to put on a uniform, Smith helped the Buffalo Bills play in four consecutive Super Bowls. He also is the league's all-time leader in quarterback sacks.
Smith recently admitted getting to the quarterback was always a goal but it was never his only objective while on the football field.
Bruce Smith stands tall on the all-time NFL sacks list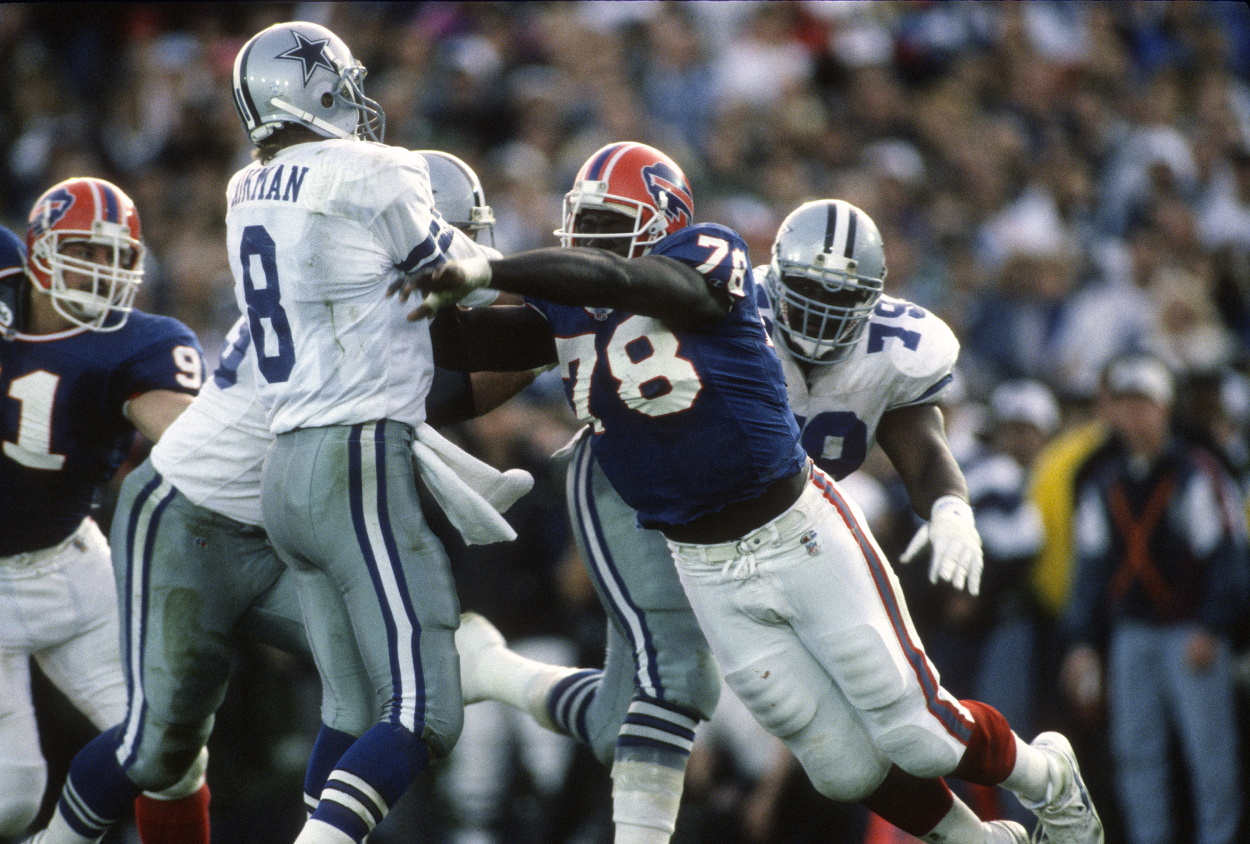 Smith spent 19 seasons in the NFL, the first 15 with the Bills. No player is credited with more sacks than the 6-foot-4, 262-pound defensive end out of Virginia Tech. He finished his professional career with 200 sacks, two more than Reggie White.
During his career, Smith brought down 76 different quarterbacks, according to ESPN. No player was taken down by Smith more than former New York Jets QB Ken O'Brien, who was flattened 17.5 times.
"I guess I got him where he is today," O'Brien said. "He was just a freak. He was explosive, quick step off the ball. Strong, quick with his hands."
"Bruce was one of just a handful of guys that you had to know where he was on the field at all times," said former New England Patriots quarterback Drew Bledsoe. "He was just such a physical presence, played with such great intensity, had such great speed that he could single-handedly ruin a game if you didn't pay close attention to him.
"He had a pretty darn good motor. Bruce was not one of those guys that took a lot of plays off. He played hard almost all the time, at least as far as I can remember."
Bruce Smith is more impressed with something other than the sacks he had
Smith had 13 seasons with double-digit sacks. His best statistical season came in 1990, when he finished with a career-high 19. He was an 11-time Pro Bowler and was named All-Pro in eight seasons.
Smith was named the Associated Press Defensive Player of the Year in 1990 and 1996. He was inducted into the Pro Football Hall of Fame in 2009.
Although Smith was the best at sacking quarterbacks, it wasn't his only job on the field. He recently admitted sacks were important to him, but he took a lot of pride in reaching another record that very few people ever seem to talk about.
"Sacks were extremely important, but to get a sack, you had to stop the run," Smith told former teammate Doug Flutie on the most recent episode of the Flutie Flakescast podcast. "I took a lot of pride in that, which a lot of critics and commentators don't even talk about. I've gotten more tackles in the history of the NFL than any other defensive lineman."
Smith had two seasons where he had more than 100 combined tackles. He finished his career with 1,224.
Smith revealed the secret to his sacks success
While Smith spoke with Flutie, he revealed his success in getting to quarterbacks. He said there was more to just raw athletic ability and overpowering offensive lineman.
"It was predetermined based upon film study of that particular opponent during the course of the week," Smith said. "I knew what his weaknesses were. I knew what his strengths were. When we were playing in Buffalo, I knew he couldn't hear the snap count. I knew if he was lazy with his hands or if he didn't have good speed."
He said his coaches, specifically Ted Cottrell, taught him to focus on the intricate details of the position. He also said he took better care of himself physically.
"I started to put that all together with the fact that I started staying in shape year-round instead of just six months out of the year. My eating habits improved. I lost weight.
"When I walked out on that field, I had confidence because I was prepared."
Being well-prepared and being the physical specimen Smith was, proved deadly for most of his opponents.