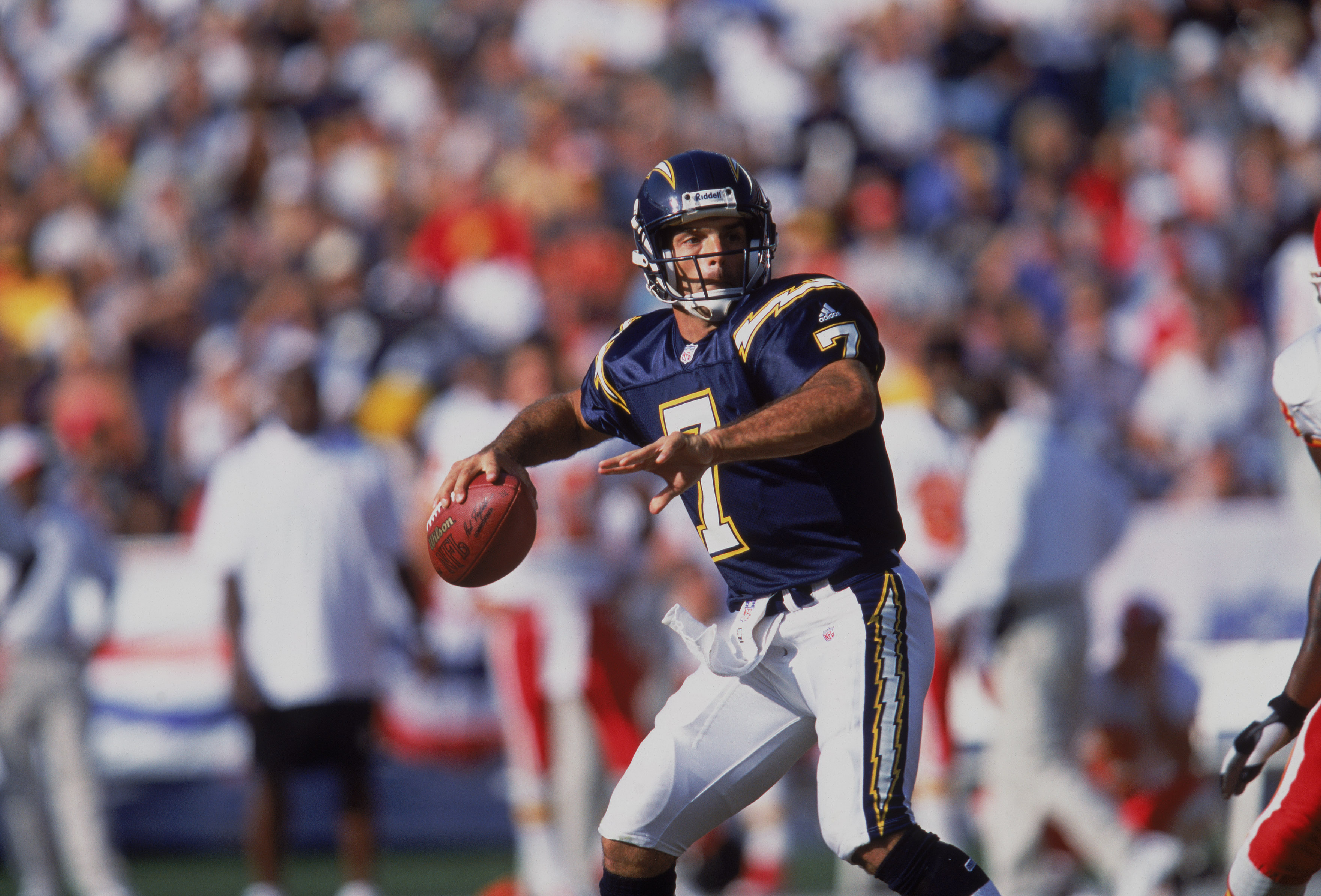 Rob Gronkowski Reveals How Doug Flutie Inspired Him as a Child
Rob Gronkowski reveals the reason he admired Doug Flutie when he was growing up.
Aside from playing football, there's not a whole lot in common between Rob Gronkowski of the Tampa Bay Buccaneers and former quarterback Doug Flutie. Gronk is a 6-foot-6, 268-pound tight end, while Flutie is a generously listed 5-foot-10 quarterback. The two met up on Flutie's Flutie Flakescast podcast last week, and Gronkowski explained how Flutie inspired him when Gronk was growing up.
Rob Gronkowski just won his fourth Super Bowl
Rob Gronkowski had hung 'em up. He retired after the 2018 season after spending nine seasons with the New England Patriots. With New England, Gronk was a five-time Pro Bowler, one of the NFL's top tight ends, and a three-time Super Bowl champion.
After sitting out the entire 2019 season, Gronk had the itch to return to football. When Tom Brady bolted New England and signed with the Tampa Bay Buccaneers after 20 years with the Patriots, Gronk followed suit. He announced he was returning to the NFL and the Patriots traded him to the Bucs.
In his first year with the Buccaneers, Gronkowski caught 45 passes and had seven touchdowns. He helped guide the Bucs to a Super Bowl victory over the Kansas City Chiefs after winning three straight playoff games on the road. For his career, Gronkowski has 100 touchdown receptions, postseason included.
Doug Flutie had quite the professional career
After a stellar college career at Boston College, Doug Flutie, the 5-foot-10 scrambling quarterback, played 12 seasons in the NFL. His NFL career was sandwiched around an eight-year career in the Canadian Football League. He also played in the now-defunct USFL.
After a year in the USFL, Flutie, who had been selected in the 11th round of the 1985 NFL draft by the Los Angeles Rams, was traded to the Chicago Bears. He made his NFL debut in 1986, appearing in four games with the Bears, starting one. He was then traded to the New England Patriots in the strike-shortened 1987 season, where Flutie crossed the picket line to play. Flutie played with the Patriots through 1989 and then joined the CFL.
In Canada, Flutie became a hero and is considered one of the best players in CFL history. He threw for better than 41,000 yards and racked up 270 touchdown passes. He returned to the NFL in 1989, playing three seasons with the Buffalo Bills. Flutie then played four years with the San Diego Chargers before returning to the Patriots for a year.
Gronkowski reveals why he always admired Flutie
Last week, Doug Flutie had Rob Gronkowski on his Flutie Flakescast podcast and Gronk did whatever he could to get on the show. As a kid he always loved Flutie and he said he was excited to talk to him. "I'm actually still in my car," Gronk said. "I parked on the side of the road just so I could do this interview and podcast with you, Doug."
Gronk grew up in Buffalo and Flutie was a big hit as the quarterback of the Buffalo Bills. "When I was growing up, I was eating Flutie Flakes every morning. I had to come on this podcast no matter what the situation was," Gronkowski said. Flutie asked him if that was the key to becoming an all-world tight end. "Yes, 100 percent," Gronk said. "I was growing up in Buffalo and, let me tell you, Flutie Flakes was one of the biggest hits I remember as a kid.
"And let me tell you, I don't know how much sugar you put on those flakes, but they were delicious. I was actually inspired by you and I had Gronk Flakes and I think it was the same exact company that produced (the Flutie Flakes)." There you have it, Gronk at his finest.