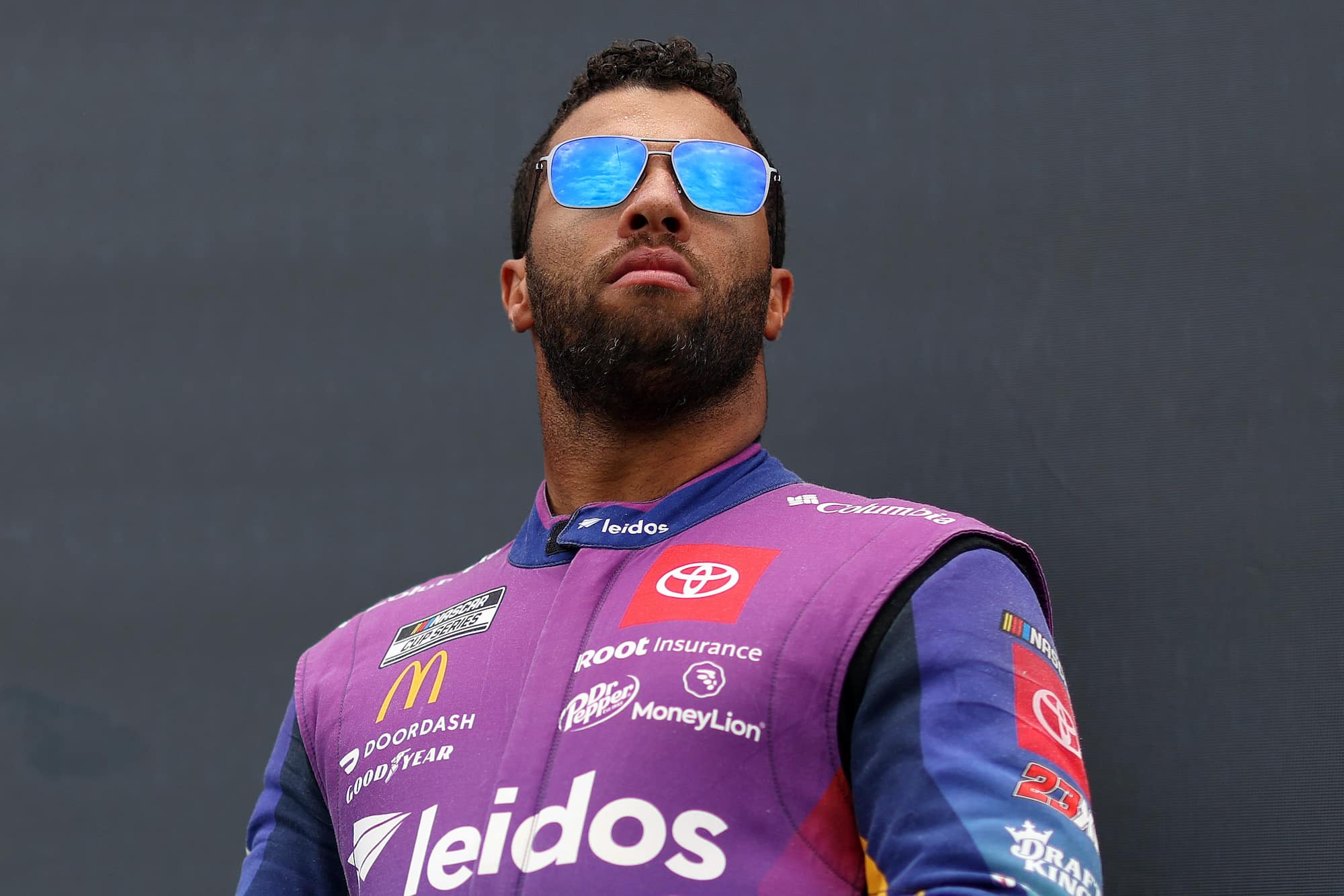 Bubba Wallace Addresses Chase Elliott Penalty and Surprisingly Reveals the Advice Michael Jordan Gave Him About Future Retaliation
Bubba Wallace talked about Chase Elliott's penalty before Sunday's race at Gateway and admitted that Michael Jordan gave him advice about future retaliation.
Bubba Wallace retaliated and hooked Kyle Larson last fall at Las Vegas. NASCAR suspended him one race. A week ago, Chase Elliott retaliated and hooked Denny Hamlin during the Coca-Cola 600. The sanctioning body dispensed the same one-race suspension to the Hendrick Motorsports driver.
During Sunday's pre-race show at World Wide Technology Raceway, the 23XI Racing driver talked about the penalty to his friend and the sport's most popular driver and revealed during that conversation how team co-owner Michael Jordan has offered him advice on the best retaliation in the future. 
Bubba Wallace suspended one race after Las Vegas incident with Kyle Larson
Bubba Wallace was running outside of Kyle Larson at Las Vegas during the fall race last year when the No. 5 car slid up the track coming out of Turn 4, his momentum escorting the No. 23 car into the outside wall.
Moments later, the 23XI Racing driver responded by driving down the track and hitting the right rear of the HMS car, which sent it right and into the outside wall for a hard impact. Christopher Bell was also involved in the incident.
While Wallace exited his car and went down into the infield grass where he confronted Larson and shoved him several times, when NASCAR announced it's one-race suspension penalty several days later, officials indicated the punishment was solely for what happened on the track and not anything else. 
A precedent had been set. 
Wallace shares thoughts on Chase Elliott penalty
Last Monday at Charlotte, in a strange role reversal of sorts, it was Chase Elliott in an HMS car getting squeezed up into the outside wall by 23XI Racing co-owner and Joe Gibbs Racing driver Denny Hamlin. The 2020 champion responded after coming off the wall by turning left into the No. 11 car, immediately sending it to the right for a hard hit. 
NASCAR gave the No. 9 pilot a one-race suspension.   
Before Sunday's race at World Wide Technology Raceway, Wallace visited with Chris Myers, Clint Bowyer, and guest analyst Kenny Wallace on pit road and was asked his thoughts on the Elliott situation and penalty.
"I mean, they're keeping it consistent, right? I think that's what we asked for," Wallace said. "A lot of the times, we give them a lot of grief for being so inconsistent, so to me, that was the same thing as what happened at Vegas with me and the No. 5 car, and he's taking a week off for it. 
"It is what it is. I said it earlier as well. NASCAR's laying their foot down with this new car. Look at the No. 14 penalty. We've paid a lot of money in fines. We, as the Cup Series, have paid a lot of fines this year, and they're not messing around."
Admits Michael Jordan talked to him about future retaliation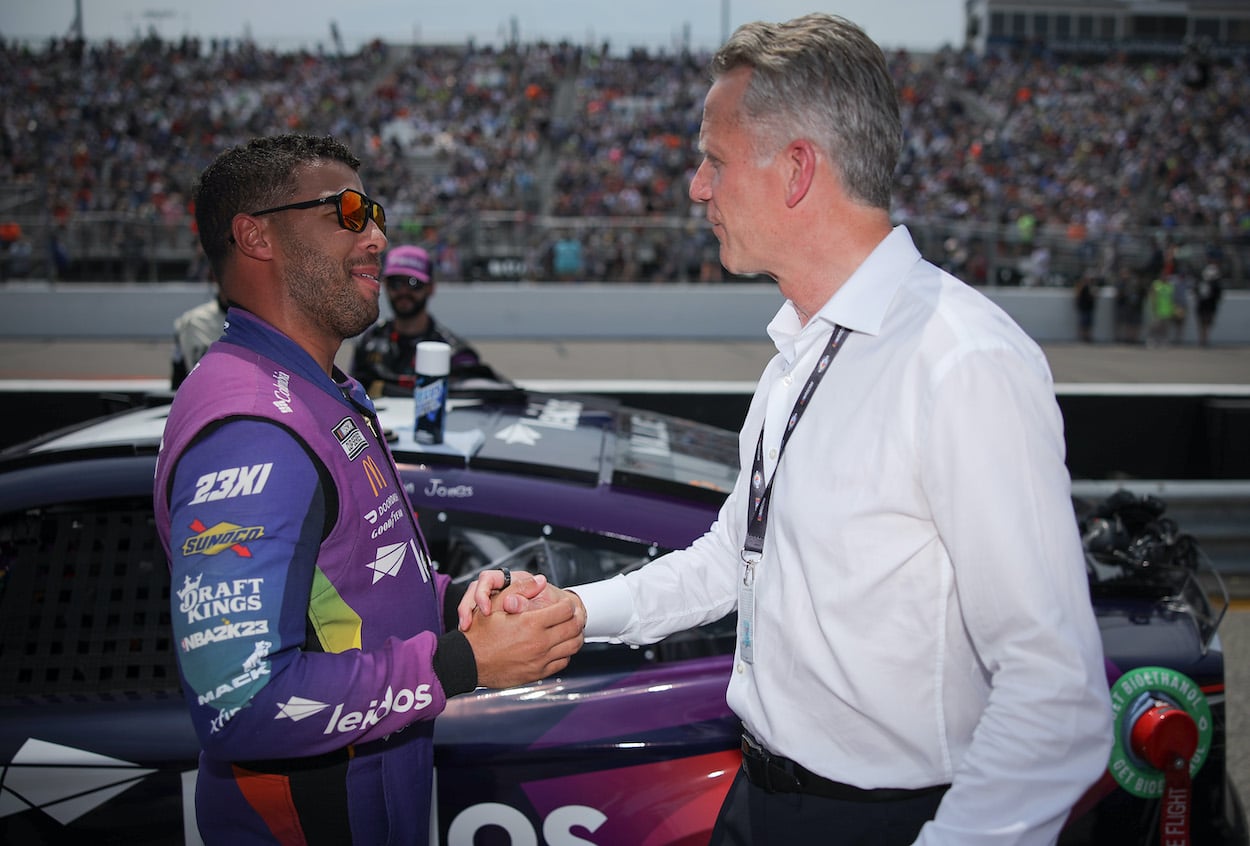 After discussing the upcoming race and hot conditions, Kenny Wallace circled back and asked the 29-year-old if he gets in a conflict with another driver, does he retaliate or has everybody learned their lesson? 
"I've learned my lesson for sure," Wallace said.
"Breaking news! Breaking news!" the former driver joked, which drew a laugh from the driver and those in the conversation.
"Vacations are fun but they don't pay very well, do they?" Bowyer chimed in.
"Our policy and MJ will text you that right away is, you go beat them on the racetrack. That's your retaliation," Wallace said. 
If there's anyone who knows a thing or two about using different ways to find motivation, it's Jordan. He was quite effective using it to his advantage, as evidenced by his career numbers. If Wallace can follow that same formula, and most importantly, keep his emotions in check, there's no reason why he can't find success as well.
To stay up to date on the latest happenings in NASCAR, including breaking stories you can't find anywhere else, follow Kyle on YouTube and Twitter.