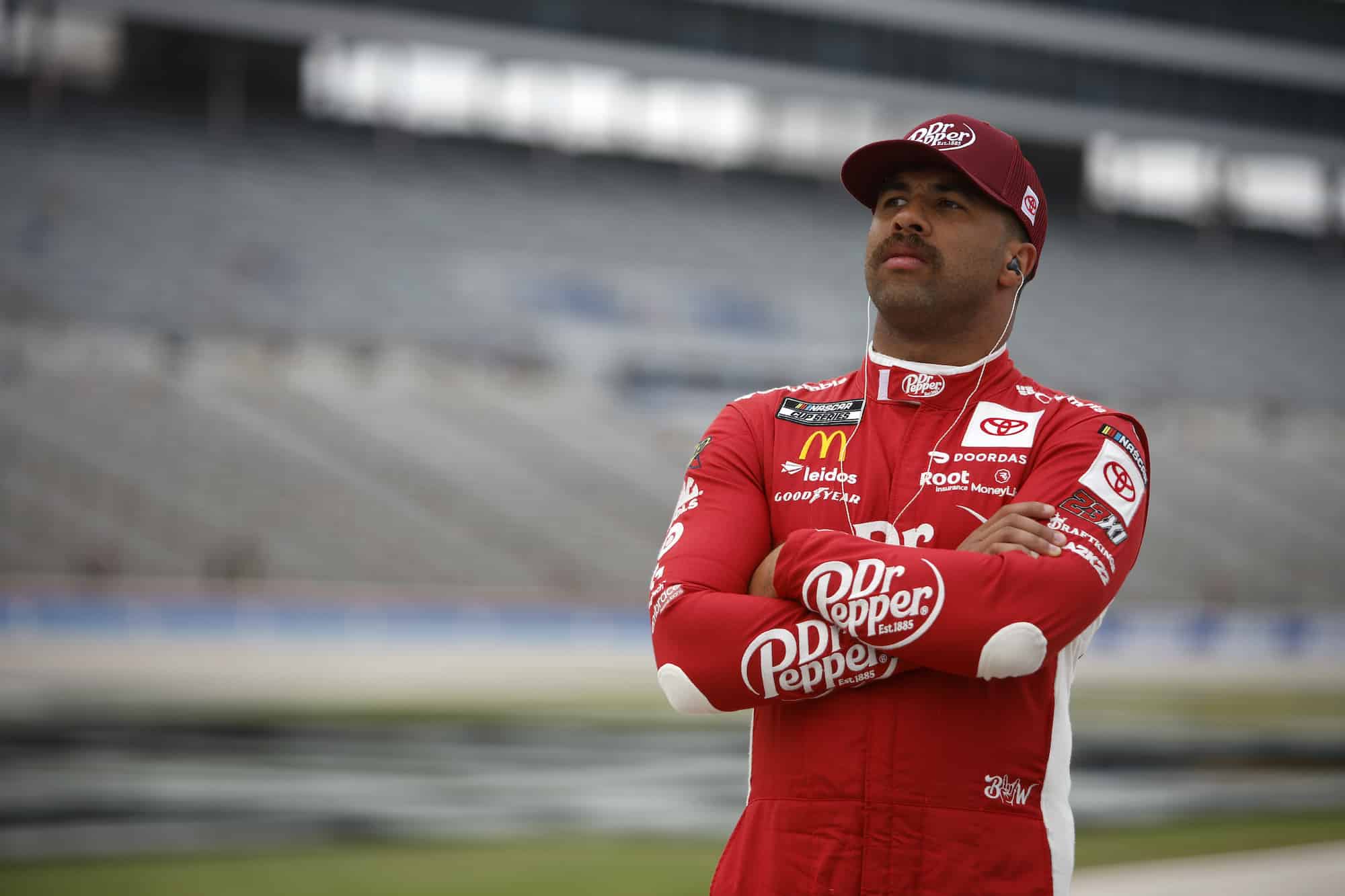 Bubba Wallace Bluntly Admits He Called Out Pit Crew for Repeated Miscues This Season and Identified What He Expects Going Forward
Bubba Wallace admitted to reporters that he called out his pit crew members for repeated mistakes this year and set expectations for them moving forward.
Bubba Wallace has had an up-and-down second season with 23XI Racing. In the most-recent points race at Kansas, he earned his second top-10 finish of the year. Most pundits think the 28-year-old should have more top performances but pit crew problems have dogged the No. 23 car all season.
At Texas, Wallace visited with reporters and revealed he had met with his pit crew a few days earlier and called them out for their mistakes with the hopes it will motivate them to improve as the team makes a push to move up the standings and potentially make the playoffs. 
Bubba Wallace endures pit crew problems throughout season
Bubba Wallace opened the 2022 season with a strong runner-up performance at the Daytona 500. Unfortunately, it wasn't a predictor of things to come. 
Since that race, Wallace has been consistently inconsistent. He's finished five times between 13th and 19th. He's recorded five finishes in the 20s. And he's been saddled with a couple of DNFs. 
His most recent performance at Kansas, he earned his second top-10 finish of the year, finishing 10th, but only after he was penalized twice for pit crew mistakes, including a driver over the wall too soon and a loose tire. And that was just the most recent missteps by the crew.
At COTA, he lost a wheel and crew chief Bootie Barker and two crew members served NASCAR's standard four-race suspension. It's a pattern. Pit stop problems have been persistent all year.
Bubba Wallace calls out pit crew members 
Bubba Wallace met with reporters over the weekend before the All-Star Race and talked about the season, including the pit crew problems. He also talked about a recent open and honest discussion he had with several pit crew members.
"We did not have a great day on pit road," Wallace said he told them, referring to Kansas. "We look at the possibility of winning that race and it was very high and we never gave ourselves a chance every time we hit pit road. 
"They're young. Some of them, it's their first year in Cup. There's a lot of potential there with our group, and they have to realize that, in the moment, you're going to make mistakes, but you got to forget and move on. No matter who says what or what's thrown at you, you've got to erase the bad and be ready to show up again. You have multiple times when it's your opportunity to shine and compete every time. I look at that as an opportunity. For me it's an opportunity to showcase what you have. 
"You're going to mess up. I mess up. I messed up California. I messed up at Phoenix. I messed up a lot of races, but the opportunity to come back out and compete again gives you that second chance. Grow from that. Learn from that. I told them I'm not sorry what I said. I said it. It's out there. It is what it is. I call it how I see it. We sucked that day."
Pit crew reacts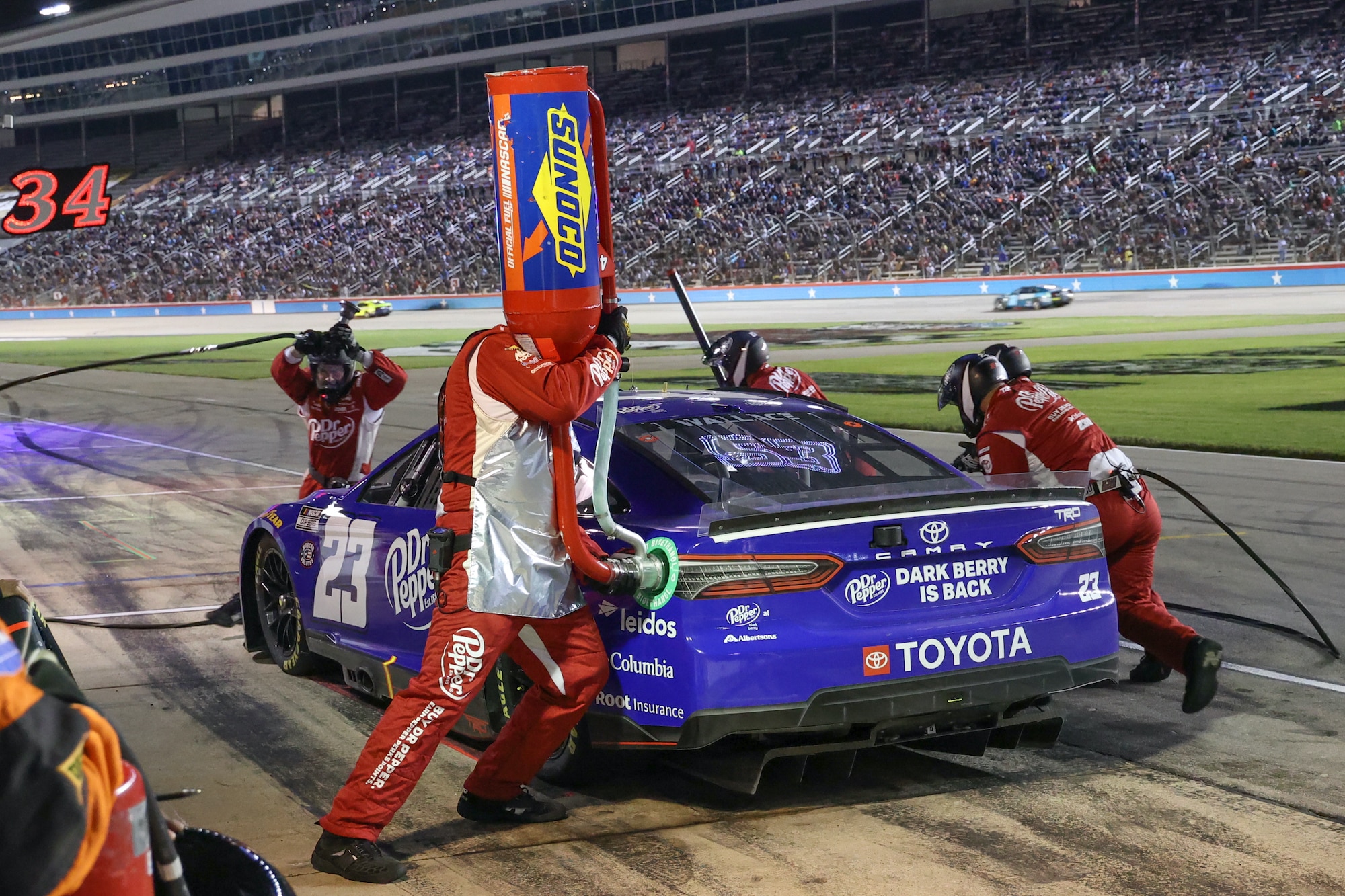 After detailing the difficult conversation, Wallace was then asked how the team took his criticism. He said unsurprisingly they didn't flinch. 
"They took it very well," Wallace said. "I said, 'How do you guys feel?' 'Ah, we're good.' I said, 'That's bulls***. Tell me how you really feel.' He's like, 'Man, we're just trying to get through it.' And that's when we went into that long discussion. I told them that the biggest thing that we can have is each other's backs. 
"Calling them out is really not having their backs, but like I said, I call it how I see it. Pisses some people off. You know, I've been called worse and I learn from that and it makes me stronger. All these guys have come from the football ranks. What I said is just like a drop in the bucket. And they said that too – 'it really doesn't bother us.'"
Whether or not his team received the memo is still TBD. We'll get a good barometer this weekend at Charlotte when the team will be put through an endurance test in the longest race of the year at the Coca-Cola 600. 
Like Sportscasting on Facebook. Follow us on Twitter @sportscasting19 and subscribe to our YouTube channel.