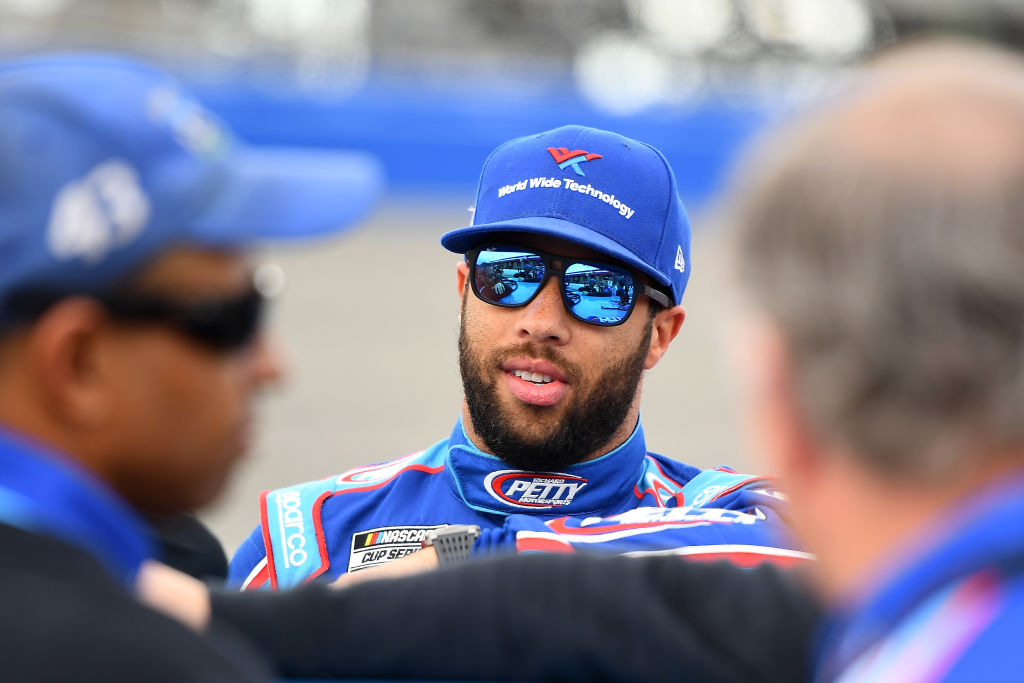 Bubba Wallace Finally Admits President Trump Was Right
After the President called out Bubba Wallace and suggested the NASCAR driver should apologize, Wallace has finally admitted the President was right about one thing.
In the last few months, Bubba Wallace has been the frontman for NASCAR in the national conversation on racial injustice and police brutality. While his unexpected rise to prominence has been positive in that is has allowed Wallace to share his voice and experiences as the lone Black driver on the NASCAR Cup Series, it has also been fraught with peril.
With increased exposure comes increased criticism. One of Wallace's biggest critics has been the President, who recently delivered a stinging rebuke calling on Wallace to apologize for a recent incident before a NASCAR race. Wallace has responded and, in doing so, admitted the President was right.   
President tweets that Wallace should apologize for hoax
On July 6, almost two weeks after a noose-like rope was discovered in Bubba Wallace's garage, the President took to Twitter with his sights clearly set on the NASCAR driver to discuss that incident among other things.
"Has @BubbaWallace apologized to all of those great NASCAR drivers & officials who came to his aid, stood by his side, & were willing to sacrifice everything for him, only to find out that the whole thing was just another HOAX?" Trump tweeted. "That & Flag decision has caused lowest ratings EVER!"
The President's reference to the "flag decision" pertained to NASCAR's decision weeks earlier to permanently ban all confederate flags and memorabilia from NASCAR events at the suggestion of Bubba Wallace, who offered up the idea in an interview with CNN. Two days after the Wallace interview, NASCAR announced the ban. 
Bubba Wallace admits President was right
Bubba Wallace initially responded to the President's tweet that day, where he wrote: "To the next generation and little ones following my foot steps.." with the hashtag #LoveWins. Wallace then included an inspirational note to his fans that concluded with: "Last thing, always deal with the hate being thrown at you with LOVE! Love over hate every day. Love should come naturally as people are TAUGHT to hate. Even when it's HATE from the POTUS. Love wins."
After that initial response, Bubba Wallace went on the "Jimmy Kimmel Live" show where guest host Anthony Anderson interviewed him and talked about the President and his attack on Twitter. It was during that conversation that Wallace admitted the President was right.
"When I first read it, I was like, 'Man, there's so much more things that are going on in the world that I feel like he should be worried about.' But it's hard to get people to understand, especially when the facts are delivered on the table and they've been there for two weeks now," Wallace told Anderson.
"So to be late to the party is one thing and to be wrong on the factual information is another. But all in all, he did get one thing right in his tweet, though. The great officials that continue to stand behind me, NASCAR drivers and officials have continued to stand behind me through it all. He got that part right."
NASCAR competitors and officials have supported Wallace 
As the President suggested and Bubba Wallace confirmed during the Kimmel interview, NASCAR drivers and officials have been there for him since it all started. And in doing so, NASCAR has surprised many inside and outside the racing community by its very progressive stance on issues regarding race since the death of George Floyd. 
In addition to NASCAR President Steve Phelps addressing the racial injustices with drivers and publicly, Wallace's competitors created a video that presented a unified message calling for an end to systemic racism and police brutality. The drivers all posted the video to their various social media accounts simultaneously.
Some drivers have been more outspoken, like rookie Tyler Reddick, who shut down the President not long after his original tweet calling on Wallace to apologize.
"We don't need an apology. We did what was right and we will do just fine without your support," the 24-year-old wrote. Reddick's tweet was later deleted but not before it was seen publicly and delivered a powerful message that no one—not even the President—will intimidate Wallace or any of the NASCAR family for standing up for what is right. 
It's still too early in Bubba Wallace's young racing career to identify his legacy on the track. Off the track, however, Wallace will be remembered as someone who was thrust into the spotlight through no fault of his own and handled it beautifully by educating his fellow drivers, the NASCAR family, and the world, and in the process made the world a better place.