Bubba Wallace Swerved off the Road When He Saw Oncoming Traffic and Failed His First Attempt at a Learner's Permit
NASCAR Cup Series driver Bubba Wallace had a tough time getting the hang of every-day driving as a teen.
A conviction for embezzlement will usually disqualify candidates for a bookkeeping position. Dropping out of high school is not the path to medical school. But Bubba Wallace is living proof that a bad teen driver can still go on to make a living in the NASCAR Cup Series.
Wallace appeared on Jimmy Kimmel Live! last week between the Daytona 500 and the race at Auto Club Speedway in Fontana, California, sharing some old stories to the amusement of the talk-show host and the audience.
It turns out his driving background is not as strong as one might expect.
Bubba Wallace had an up-and-down eight days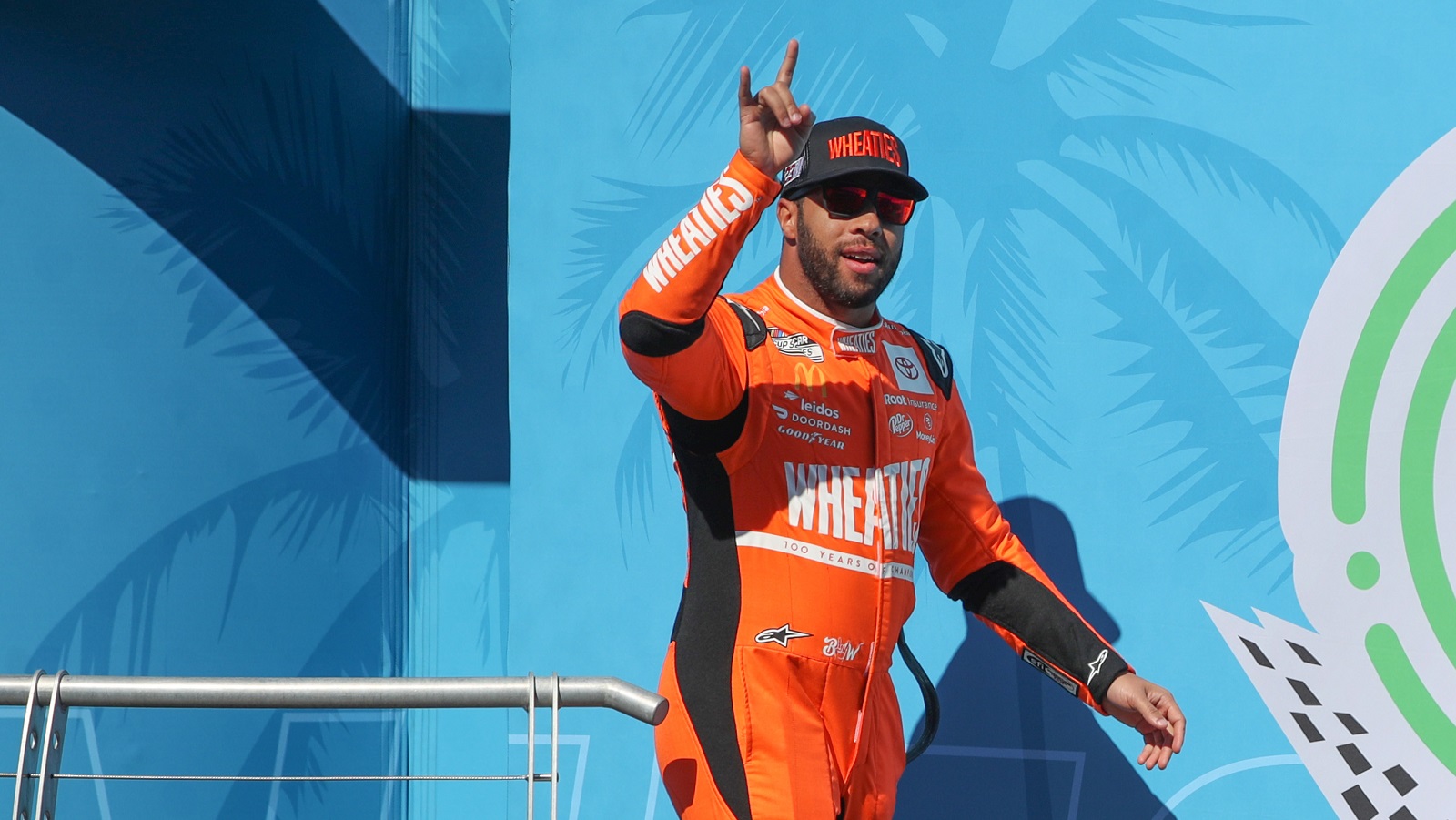 Like him or not, Bubba Wallace is proving himself to be a competitive NASCAR Cup Series driver, particularly on the superspeedways. Wallace, 28, entered his fifth full season with momentum thanks to his first victory in the sport's top series, followed by the expansion of 23XI Racing that brings new resources and expertise to the team.
While it's true that rain shortened the event, Wallace won the playoff race at Talladega last season to continue a string of successes on superspeedways. He was second in his Daytona 500 debut in 2018, added a runner-up finish in the summer race there last season to close out the regular season, and opened this year with an oh-so-close second-place finish to Austin Cindric in the 500.
To be sure, he has work to do on the shorter tracks and the road courses. But Wallace does have seven top-five finishes and six other results in the top 10 so far in his career.
Nineteenth place at Fontana, where most of the Toyotas had their share of trouble, wasn't ideal. But Wallace figures to be a playoff contender right down to the wire in 2022.
Bubba Wallace failed his first attempt at a learner's permit
With NASCAR traveling to Fontana, California, last week, talk-show host Jimmy Kimmel took advantage of his availability to bring Bubba Wallace on the show to chat. Anyone who's seen Wallace in front of a camera will vouch for the quality of his interviews, and the Mobile, Alabama, native didn't disappoint this time.
His willingness to 'fess up to stuff scored laughs from the host as well as the audience. Chief among his revelations was that Wallace may have been an accomplished karting competitor as a teen, but he needed some remedial work on the way to earning his learner's permit at the age of 17.
"I failed the written part," Wallace admitted. "It was the stop sign and the railroad crossing. I waited like six months to go back and do it."
Certainly, grasping the nuances of stop signs and railroad crossing signs is pretty important. But once he got on the road, Wallace had bigger issues than that.


He swerved off the road when he saw oncoming traffic
Bubba Wallace began his karting career when he was 9 years old, and that taught him racing fundamentals that would carry over to his professional career. But it also posed issues the first few times adjusting to the family car because Wallace was used to driving with the flow of traffic and not against it.
"When I did get my permit and I drove for the first time it was with my parents," Wallace told Kimmel. "'Hey, you want to run to the grocery store?' I was like, 'Sure, I'll drive.' I swerved off the road twice when a car came at me because I'm used to riding with traffic, driving with traffic.
"That took me a while to get comfortable with, so I was not the best driver during the whole driver's ed course. I mean, I literally swerved off the road."
He's worked through that. So, there's no need to worry if you see Wallace in oncoming traffic on the way to McDonald's or the supermarket.
Like Sportscasting on Facebook. Follow us on Twitter @sportscasting19.