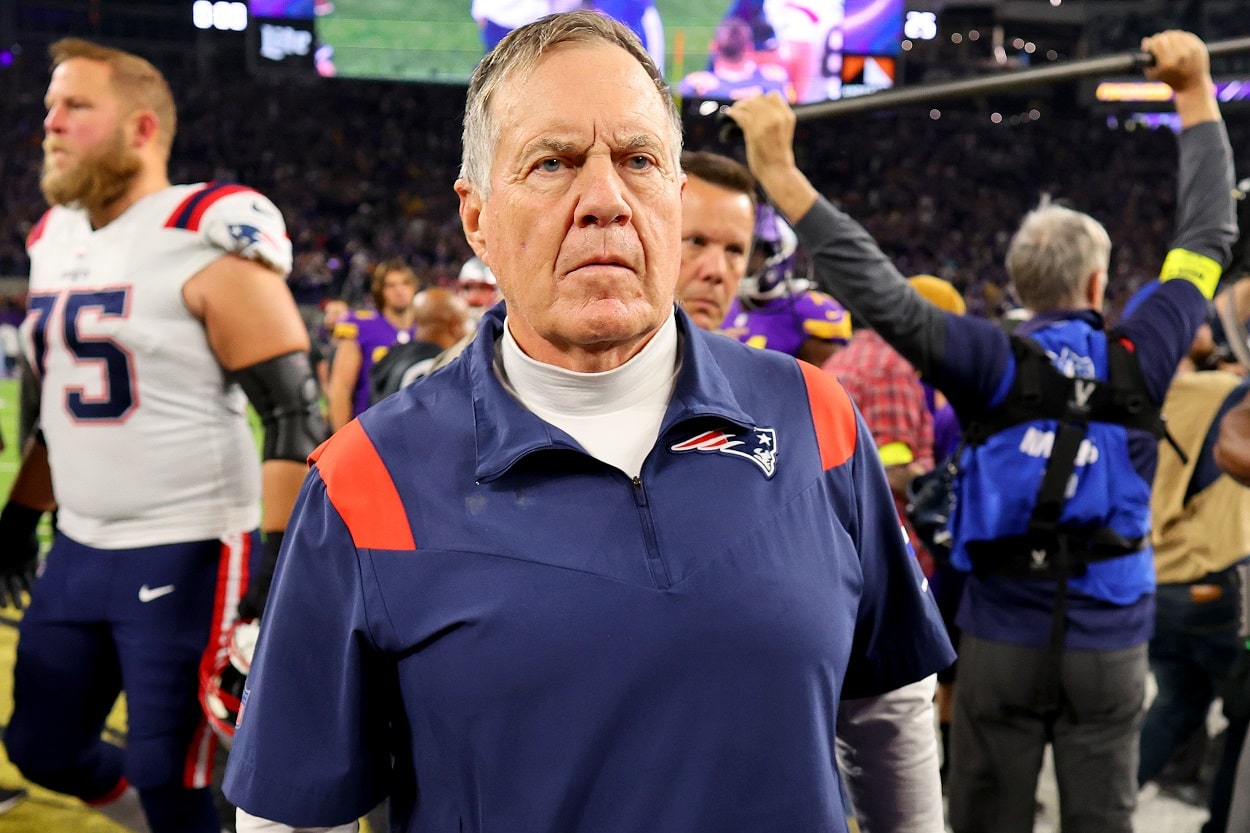 The Buffalo Bills Have a Chance to Force Robert Kraft to Finally Accept the Brutal Truth About Bill Belichick
Bill Belichick and the New England Patriots have had problems closing out quality opponents in recent years.
The New England Patriots may have a 6-5 record, but they've failed to close out games against quality opponents. 
Then again, that isn't anything new. 
Actually, the Patriots have had this problem dating back to 2019. That, of course, was Tom Brady's final season in Foxborough, and it ended with a first-round playoff loss to the Mike Vrabel-led Tennessee Titans. 
Now in year three of the post-TB12 era, New England still hasn't figured out how to consistently defeat playoff-caliber teams. Amid another inconsistent campaign that's included some tough-luck losses, Bill Belichick faces a steep challenge Thursday night to take down a Buffalo Bills team that's become a Super Bowl contender under Josh Allen. 
While the legendary coach has shown he can still make average quarterbacks look bad, it's clear the Patriots have problems putting together a complete effort when they face more talented passers. 
And that's precisely what makes the Week 13 edition of Thursday Night Football such a monumental test of Robert Kraft's patience. 
After all, if the Bills handle business at Gillette Stadium and hand the Patriots their sixth loss of the season, Belichick's boss may have no choice but to finally accept the truth about his highest-paid employee.  
Bill Belichick's inability to defeat better teams has become a theme over the last few seasons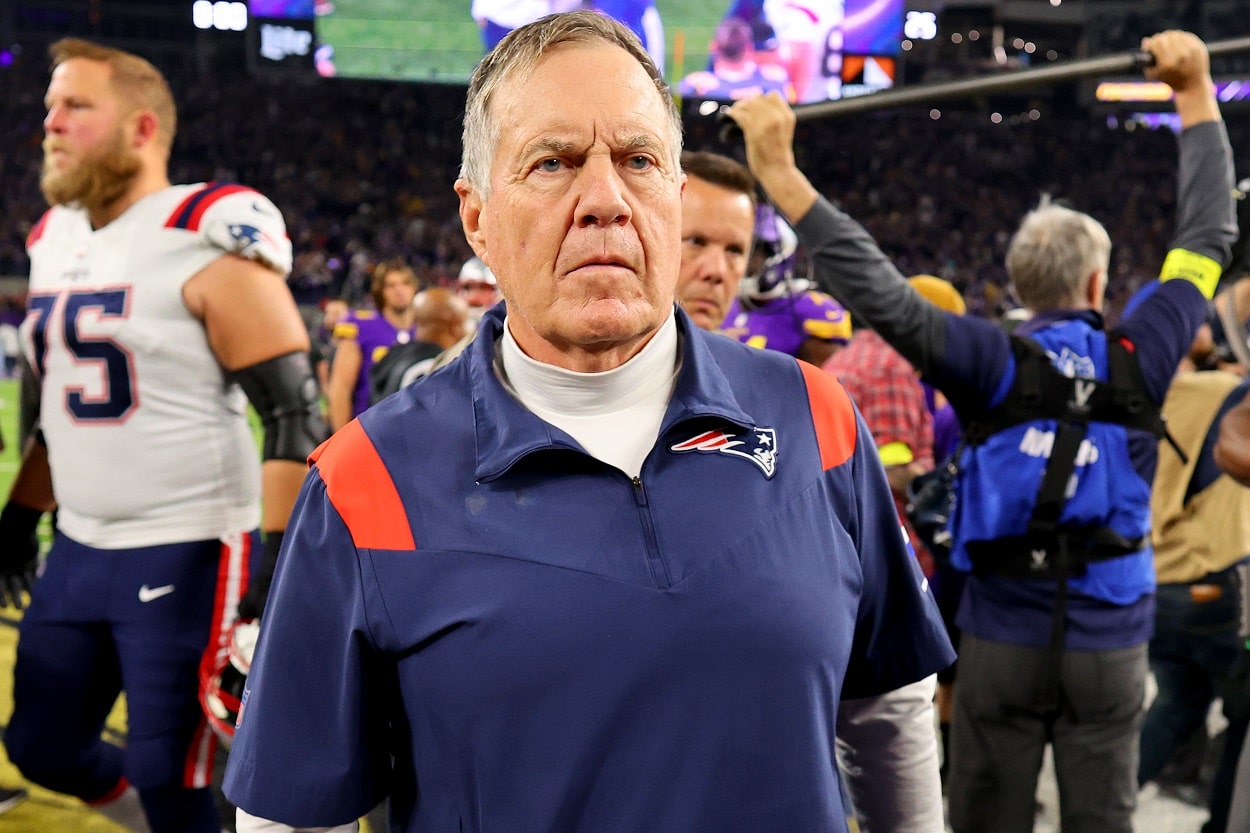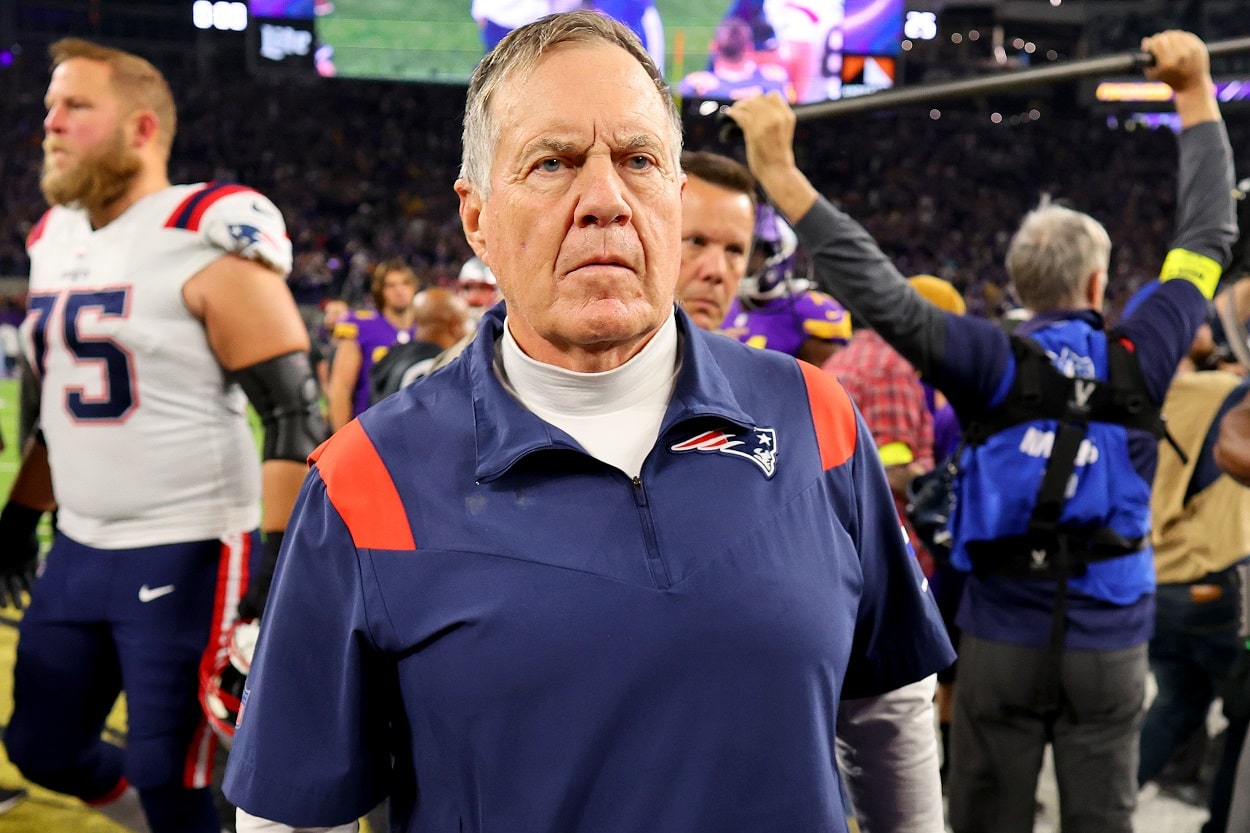 The second-winningest coach in NFL history would catch Don Shula quicker if he could win against above-average teams. While Belichick enjoyed plenty of success with Tom Brady as his quarterback, he's found it much more challenging to secure victories with Cam Newton and Mac Jones at the helm.
Obviously, downgrading at the most important position contributed to the Patriots missing the playoffs in 2020 and suffering a first-round exit last season. And you could certainly put some blame on Jones for the team's underwhelming 6-5 record. 
However, it's undeniable that Belichick hasn't been able to outcoach his contemporaries since he took down Sean McVay in Super Bowl 53.
From going 7-9 in his first year without Brady to losing several winnable games, Belichick did nothing to poke holes in the idea that Brady was chiefly responsible for the Patriots' unprecedented two-decade run of success. 
This season, the story has mostly been the same. 
Although the Patriots remain in the running for a Wild Card spot, they remain far behind the upper-echelon teams in the AFC. Belichick's squad has suffered losses to the Miami Dolphins and the Baltimore Ravens–both of whom should qualify for the playoffs. Plus, New England made several costly errors on Thanksgiving night that allowed the Minnesota Vikings to move to 9-2. 
At this point, there's enough evidence to show that Brady did make a difference. And there's sufficient data that proves Belichick is good enough to expose the likes of Zach Wilson and Jared Goff but not good enough to hold elite quarterbacks and teams in check.
Another loss to the Bills may make Robert Kraft finally see the light
With their postseason hopes firmly on the line, the Patriots can't afford to come up short against the Bills in Foxborough. However, given their struggles against Justin Jefferson and Co., it's fair to wonder whether New England's sixth-ranked scoring defense will be able to slow down Stefon Diggs and the league's second-ranked offense. 
Considering the Patriots failed to force the Bills into a single punt during last season's lopsided playoff loss, the odds of Belichick drawing up a game plan and having the players execute it look slim. 
If New England's defense gets exposed yet again in a high-profile game, that will only give skeptics more reason to doubt the team's ability to hold opponents out of the end zone. After all, even the historically dominant Boogeyman-led defense of 2019 couldn't hold up when it mattered most. 
Belichick is supposed to bring that extra edge to the equation that can make a difference in a close matchup. But if he has to shake Sean McDermott's hand after a loss for the third straight time, could he get called into his boss's office? 
Robert Kraft essentially chose Belichick over Brady by getting involved and playing at least some role in the Jimmy Garoppolo trade. Yet sticking with one of the best coaches of all time and letting the greatest player of all time leave for nothing looks like one of the worst decisions in sports history.
Not only has Brady enjoyed ample success in his new NFL home, but the Patriots have been bypassed by the Bills and Dolphins in their division and are just trying to avoid finishing behind the New York Jets. 
Can Kraft accept that? 
For someone who sat at the top for so long, seeing Belichick consistently fall short in big moments has to be highly concerning. If the trend continues Thursday, how much more evidence will the Patriots' 81-year-old owner need before he accepts his team no longer holds the ultimate trump card at head coach? 
If anything, Belichick's strangely conservative tendencies and highly questionable personnel moves have done the opposite of setting the team up for success.
Things could quickly go from bad to worse in New England
The outcome of Thursday's showdown between the Patriots and the Bills has significant implications for New England.
A victory would represent a substantial morale boost for a team coming off a stinging loss to the Vikings that included a few controversial flags. Plus, according to FiveThirtyEight, a win over the Bills would boost the Patriots' playoff odds to 55%. 
On the other hand, a home loss would lower New England's chances of earning a postseason berth to just 23%. 
Unfortunately for Belichick, NFL schedule makers ensured his team would face one of the most difficult slates down the stretch. Not only do the Patriots have to face the Bills twice, but they also have road matchups against the Arizona Cardinals and Las Vegas Raiders and home games against the explosive Cincinnati Bengals and high-flying Miami Dolphins.

Needless to say, New England has the unenviable task of trying to overcome a sluggish start against a series of talented signal-callers in Josh Allen, Kyler Murray, Joe Burrow, and Tua Tagovailoa. 
So, if the Bills' speed and physicality prove too much to handle Thursday, that doesn't bode well for a Patriots team that has one of the most demanding second-half schedules in the league. And if Bill Belichick struggles to inch closer to Shula, it will surely be interesting to see how Robert Kraft responds. 
Because if things go from bad to worse in December and January, it might be time for some spring cleaning in Foxborough. 
Have thoughts on this topic? Keep the conversation rolling in our comments section below.