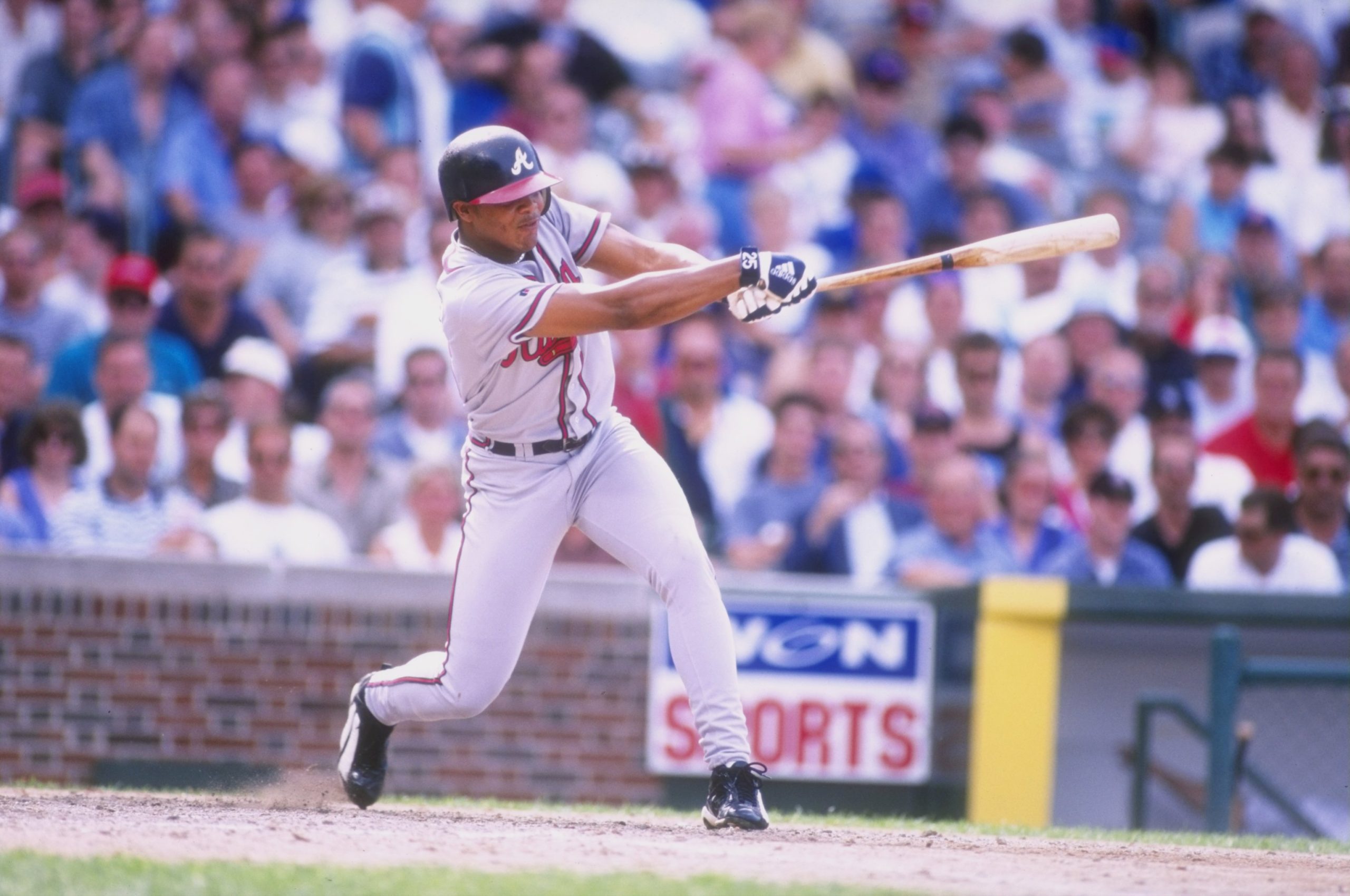 Former Atlanta Braves All-Star Andruw Jones Wishes He Had His Son's Baseball Resume
Andruw Jones' son might hear his name called first in June's MLB Draft.
Just how good is Major League Baseball's draft prospect Druw Jones? His scouting report has him head and shoulders above his father, former Atlanta Braves five-time All-Star Andruw Jones.
In 2005, Andruw Jones slugged a league-leading 51 homers and added an MLB-best 128 RBI. He also added another Gold Glove to his resume. By all scouting reports, the younger Jones is the better of the two. Druw Jones is expected to be the top pick in this year's MLB Draft, leaving his father to say, "I wish I had that resume."
How good was Andruw Jones?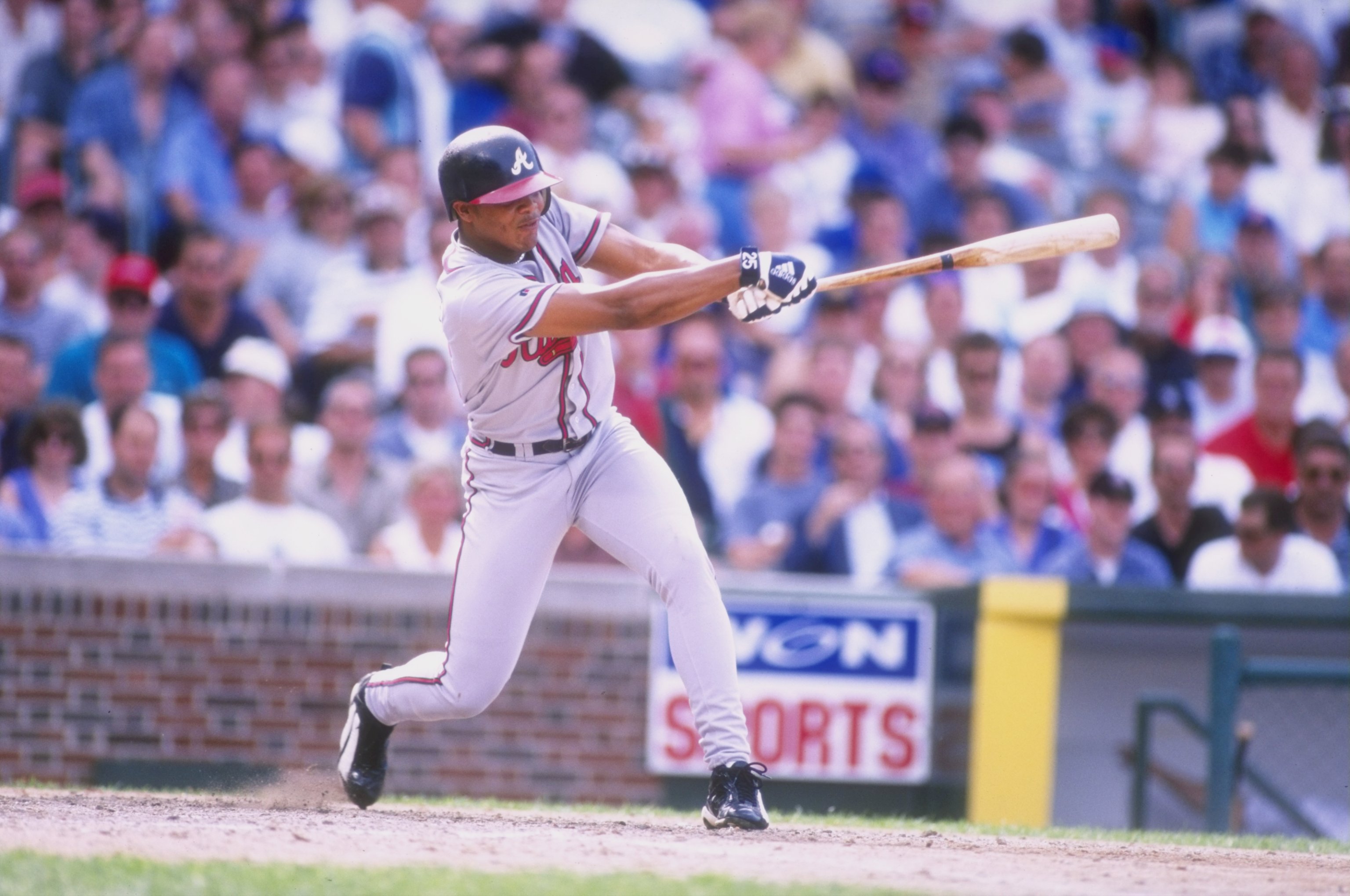 The elder Jones burst into the big leagues as a 19-year-old prospect and smacked a pair of home runs in Game 1 of the 1996 World Series. He lived up to his billing as a future star, lasting 17 years in the majors. He played his first 12 with the Braves.
Jones had a nice blend of power and speed and was considered one of the best outfielders in baseball. He collected nine Gold Gloves and covered as much ground as any outfielder in the game. Jones was on the Hall of Fame ballot this year, but like everyone else except for David Ortiz, he didn't get in.
Former pitcher Curt Schilling, also on the HOF ballot, believes Jones is Hall-worthy.
"Yes, HOF every day of the week and twice on Sunday," Schilling wrote on Twitter on Jan. 20 regarding Jones. "When you are one of the 5 best to ever play a position in a sport that's over 100 years old you are one of the all-time greats. Not to mention he was a kind young man. Otherworldly talent."
Jones finished his MLB career with 434 home runs and 1,933 hits in addition to being one of the best outfielders to ever play the game.
Andruw Jones wishes he had his son's resume
Druw Jones is taking after his father. Many expect him to be better. He's an 18-year-old high school student at Wesleyan High School in Georgia and is projected by many as the top pick in June's MLB Draft. He's a 6-foot-4, 180-pound center fielder and possesses all the skills his father had and more.
Perfect Game says he has "advanced footwork and athleticism" to go along with his strong arm. The scouting report also says he's "a polished hitter who can drive the ball to all fields." He also has a "low tension swing with plus bat speed and plenty of impact at contact."
Even his father is impressed.
"It sounds like a good resume (laughs.) I wish I had that resume." he said, per The Athletic. "He's a good defender. I don't know where he gets that from. He goes out there and makes things happen. Since he was five, six years old. I watched him play in the infield and he was trying to be like Edgar Renteria — every time he'd dive and throw the ball from his knees.
"And I was like, where does this kid get this from? Obviously, he'd been watching baseball. He's like, "I'm like Edgar Renteria." I always thought he was a really good shortstop coming up through that age, and obviously, he's pretty comfortable playing outfield. He can do whatever he wants. He's a great athlete."
Jones jumped from A-ball to the big leagues in 1996 and wasn't too happy
The elder Jones is now working for the Braves in the front office as an assistant in baseball operations. He recently spoke about his time as a young player, referencing his first taste of the big leagues.
In 1996, he quickly climbed the minor-league ranks, working his way from A-ball all the way to the big leagues. He appeared in 31 games with the Atlanta Braves, smacking five home runs and earning a trip to the World Series. Back then, the rapid advancement didn't make him too happy.
"I'm not gonna lie, I was mad," he told The Athletic. "We had a really good team and we were trying to win a championship (at High-A Durham). We had Wes Helms, we had Ron Wright, we had a great team at Durham. It was crazy.
"We were trying to win a championship in A-ball, and all of a sudden you're in the World Series in the same year. I was like, "oh my God, what's going on?" But I really didn't think much about anything, to be honest.
"I was just having fun, just going out there and playing baseball, something that I love to do. That's the thing that I'm trying to pass to these young kids — hey, go out there and just have fun and enjoy the game, because the more you put your mind on it, the harder it'll get."